The Ultimate Guide to Dog Car Safety
Keep your pooch protected when they come along for the ride
You're ready to hit the road, and there's no way you'd head out the door without your four-legged travel companion.
A dog can be a more pleasant backseat driver than any human passenger, but it's important to keep them protected during a car trip.
Let's take a drive through the do's and don'ts of bringing your dog in the car, and how to make the ride as safe and comfortable for them as possible.
TL;DR
It's dangerous for dogs to eat in a moving vehicle, hang out the window, roam unrestrained, or ride in the front seat. 

Your pooch should always travel in a car with a crash-test certified dog car safety restraint—like a safety harness, pet travel carrier, or travel crate.

Keep a kit in your car with items that will help them stay safe and comfortable for any ride—like extra collars or harnesses with tags, a portable water bowl, and a muzzle.

A Lemonade Pet policy could help cover the medical costs of your pooch's car-related accidents and illnesses—such as the vet bills for diagnosing and treating motion sickness, or x-rays for a potential broken leg.
How should my dog not ride in the car?
Regular safety features in a car (like seat belts and airbags) are not designed for dog safety— and could actually harm them.
There are some things that you definitely shouldn't let your pooch do when they're traveling in an automobile—like sticking their head out the window, riding shotgun, or hanging out alone in a hot car.
"But my dog loves sticking her head out the window!" you might be saying. "The wind through her fur, the sun on her face—she's in heaven!" Sorry to be the bearer of bad news here. Much as you'd never let your toddler stick his head out the window while you're speeding down the highway, you should ensure your pup is safe and sound at all times.
Let's review the don'ts of driving with your dog.
Don't give them treats or meals while driving
Even if your dog is being a really good boy or girl during a long ride, you shouldn't reward them with a treat while you're driving, since it's a choking hazard. The motion alone could make them choke, and you'll be distracted and delayed in helping them if you're behind the wheel.
In addition, feeding your dog in a moving vehicle could leave you with a car-sick pup. Dog motion sickness can affect any pooch (we'll touch more on this later), but is more common for puppies and younger dogs. Limit their food intake in advance of a car trip, too. If they're prone to motion sickness, they shouldn't eat more than a light meal 3 to 4 hours before hitting the road.
Don't let them hang out the window
There are few beings who enjoy feeling the breeze on their face more than your dog. But letting your pooch hang out the window unrestrained during a drive can be dangerous.
The wind can dry out their eyes or blow debris off the road into their face, and is a leading cause of aural hematoma (a blood blister on their ear flap). They could also get smacked by a tree branch or a passing vehicle—not to mention there's the risk they'll jump out the window at the first sight of a squirrel or be ejected from the vehicle in a crash. They can still enjoy a cracked or open window, but only with their full body inside the vehicle, secure in the safety of a dog car restraint.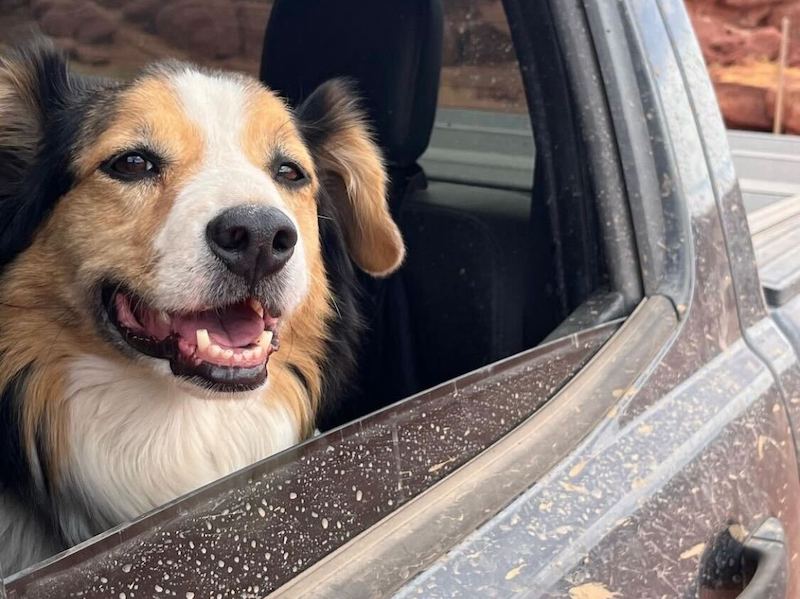 Don't let them roam unrestrained
You wouldn't let any human passenger in your car roll around on the seat or floor, and your dog should be no exception. Letting your dog roam freely in a moving vehicle increases the risk of injury to both human and four-legged passengers (especially in a crash where your pooch could become a projectile).
Plus, unrestrained dogs are more distracting to the driver. There's a higher chance you'd need to take a hand off the wheel or take your eyes off the road to stop them from hanging out the window or climbing into the front seat.
And don't forget: When you're driving with your pooch in tow, child-lock all the doors and windows.
Don't let them ride in the front seat
If you're on a solo road trip, it's tempting to have your best bud riding shotgun. But it's also super dangerous to have them sit there (or, even worse, lounging on your lap while you drive).
Sitting or standing on your lap while you're behind the wheel can be a distraction to you and other drivers on the road. Also, if your dog is on your lap during a car crash, they could get seriously injured by the airbag. The same goes for a canine in the passenger seat, even if she's using a car harness.
What are the best dog car safety restraints?
Protect your pooch with a dog car safety restraint—whether you're running quick errands with your Pomeranian in the Prius, or em-barking on an epic road trip out West with your Australian Shepherd in the Subaru.
There's no lack of car safety restraints on the market to protect your four-legged travel companion. Just keep in mind: Not all pet safety products are created equal. The non-profit organization Center for Pet Safety (CPS) evaluates popular pet safety products—like safety harnesses, pet travel carriers, and travel crates—for accident preparedness using lifelike crash test dogs.
From the results, they developed safety standards and certifications to inform pet parents and advise pet product manufacturers. Check out which products earned crash test certification from CPS.
Let's take a spin through the types of products that are meant for dogs to safely ride in the car, and a few that are designed especially for the event of an accident.
Dog seat belts
One of the easiest ways to keep your dog restrained safely and comfortably in the car is with a dog seat belt. It's as simple as clipping one end to a collar or harness on the dog, and clicking the other end into the buckle of the car's seat belt system.
You'll generally have the option to adjust the length of a dog seat belt. So you can decide how much freedom to give your pooch in the back seat. The tether should stay short enough that they would remain in the vehicle in the case of a crash.
There aren't currently any crash-test certified dog seat belts on the market. But the best practice to protect your dog in an accident would be to clip the dog seat belt to a proper harness, not your pet's collar.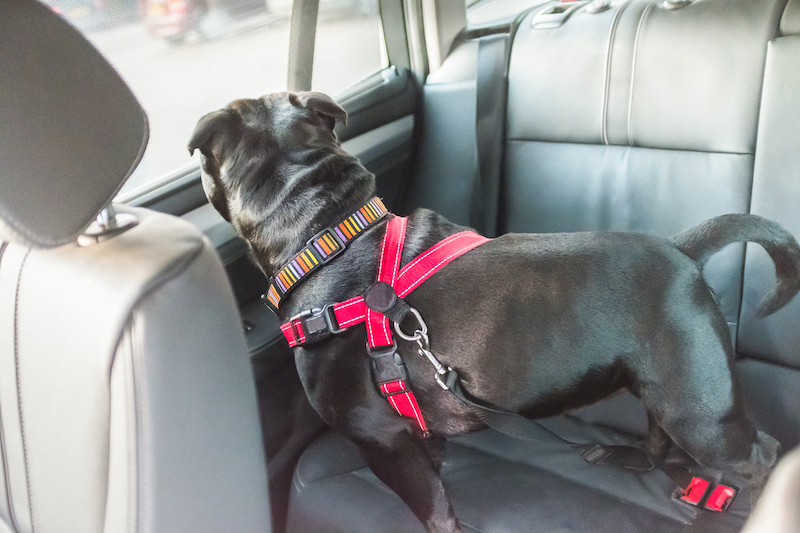 Dog safety harnesses
Dog safety harnesses offer better protection than seat belts in the case of a crash, but they will restrict their movement more. The safety harness is secured by slipping the car's seat belt through designated points on the back.
Once the car ride is over, some safety harnesses can conveniently double as walking harnesses. This can make for an easier transition between car and land for both you and your pooch.
Certain harnesses, like the Sleepypod Clickit Sport, are CPS crash-test certified for pups weighing between 18 and 90 pounds.
Dog travel carriers
Pet carriers can double as safe car travel restraints if they include designated points to secure a seat belt.
But before you strap your fur fam's carrier into the car with a seatbelt, make sure it is crash-test certified. If it's not—and you really have no other option at the moment—then place it on the floor of the backseat behind the driver's or passenger seat).
There are some dog travel carriers that are designed and built to protect pups for the road ahead. Take the CPS certified Gunner Kennel G1 Small for example. It's not cheap, but it's practically indestructible.
Dog crates
Crates can be a safe option for dogs to sit and lie down comfortably during a car trip, especially if they're already crate-trained. Adding some bedding and toys into the mix can make for a cozier ride.
Place the crate on the floor of the backseat if there is enough room. If the dog crate comes with crash-test certified strap loops, you could put it on the backseat and secure it with a seatbelt, or in the cargo area of the car with designated crate straps. Never, ever put your dog's crate in the bed of a pick-up truck.
There are a few dog crates on the market that are CPS crash-test certified—like some sizes of the Gunner Kennel G1, Lucky Kennel, and Rock Creek Crate's Aluminum Kennel. This certification is under the condition that the crate is being used with strength-rated anchor straps (which are generally sold separately).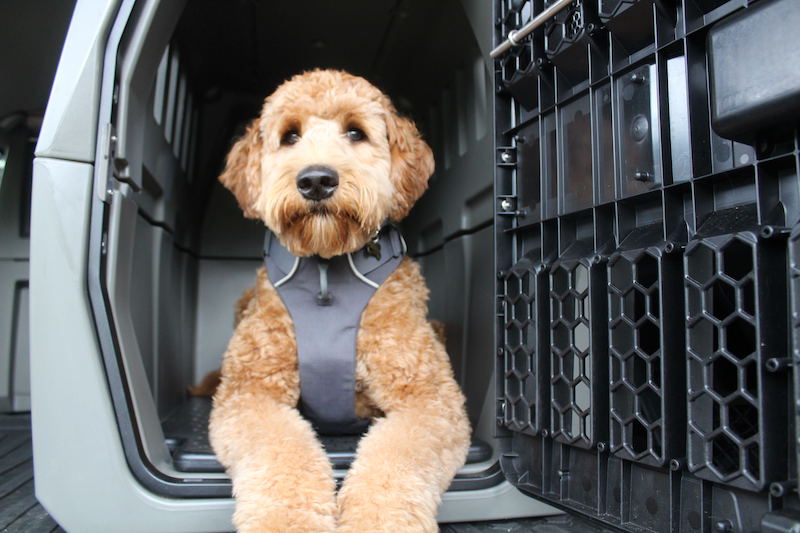 Dog car seats
A dog car seat is essentially a little basket, secured by a seat belt to the back seat, that your pooch can sit inside. Adorable! They're usually best-suited for smaller pups, though, and aren't the best option if you're concerned about accidents.
While your pet might feel comfortable and supported in a dog car seat, it won't protect them from a crash, unless it includes extra safety measures—like a safety harness.
Dog back seat hammocks
Setting up a dog hammock in your back seat can act as a protected space for your pooch to lie down comfortably in the car. But this option is more about convenience than safety.
Back seat dog hammocks attach to the front and back headrests of the car. Your fur fam can hang out in the hammock without jumping to the front seat, sliding off the backseat, or destroying the car's upholstery. But it won't do much to protect them in a collision, without adding some of the additional safety features we've already discussed.
On longer car trips, what should I pack to keep my dog safe and comfortable?
It's important to take certain safety precautions when your fur fam joins you on a road trip—like confirming that the places you plan to visit are pet-friendly, and making plenty of pit stops.
Keep a kit with these items in your car to ensure their safety and comfort during the ride:
Extra collars or harnesses with tags, plus extra leashes
Dog waste bags
Portable water and food bowls, plus food and treats
Bottled water or bottled tap water from home
Medication and a digital copy of their medical and vaccination records
Crash-test certified dog car safety restraint
Muzzle: Certain places might require one for your dog to enter. Plus, in the case of an accident, even the least aggressive dog might act out from stress. Putting a muzzle on them can help protect them and others.
What's the safest way to take my dog in a car to the vet when they're sick or injured?
When your pooch isn't feeling well, you want to get them the care they need as quickly and safely as possible.
Maybe your vet can come right to your doorstep to check on them, or maybe you live somewhere with access to pet-safe carshares or pet ambulances. Keep in mind: These may not be the best options for a time-sensitive situation, and the travel expenses might not be covered by your pet health insurance.
Make a plan for how you would get your fur fam to the care they need in case of an emergency. If that plan includes riding in the car, they'll likely need to be secured with a dog car safety restraint. Depending on the severity of the situation, your fur fam might need to be swaddled in a blanket or towel, with another towel wrapped over their head, in order to safely transport them.
In instances where your pooch needs to be driven to emergency care, you're obviously going to be really worried about getting them help fast. The stress could lead you to be a panicked driver—which wouldn't be safe for you, your pet, or anyone else on the road. It could be a safer choice to ask a friend or family member to drive (while you focus on comforting your dog or monitoring the situation from the back seat).
Does pet insurance cover my dog if they get sick or injured in the car?
Some dogs can't wait to hit the open road. But sometimes they can suffer from car sickness or anxiety from a car ride.
As we've mentioned, dogs also risk getting hurt when they ride in the car. Even a dog car harness with the highest safety rating can't guarantee that your fur fam would leave a crash completely unharmed.
That's where pet health insurance comes in. A Lemonade Pet policy could help cover the medical costs of your pooch's car-related accidents and illnesses. This could include diagnosing and treating motion sickness, or taking x-rays if your dog injures their leg in a fender bender.
We go the extra mile for your pup's health and safety, offering five optional add-ons that you can mix and match on your policy—including for physical therapy and behavioral conditions. These additional coverages could help take the edge off of Scout's costly vet-prescribed chiropractor sessions after straining his neck in a crash, or for medication that your vet recommended for Clover's car ride anxiety.
Before you go…
Did you know that Lemonade also offers awesome car insurance coverage? Lemonade Car can help cover you and your car from things like a crash, weather damage, and vandalism.
Also, when you buy a Lemonade Car policy and include both collision and comprehensive coverage, it could help cover your pet if they get hurt while they're in the car. (Plus you'll be eligible for discounts on both of your Lemonade policies when you bundle.)
Ready to take Lemonade Pet for a spin? Get your quote started below.
---
Please note: Lemonade articles and other editorial content are meant for educational purposes only, and should not be relied upon instead of professional legal, insurance or financial advice. The content of these educational articles does not alter the terms, conditions, exclusions, or limitations of policies issued by Lemonade, which differ according to your state of residence. While we regularly review previously published content to ensure it is accurate and up-to-date, there may be instances in which legal conditions or policy details have changed since publication. Any hypothetical examples used in Lemonade editorial content are purely expositional. Hypothetical examples do not alter or bind Lemonade to any application of your insurance policy to the particular facts and circumstances of any actual claim.
This post is general in nature. Any statement in this post does not alter the terms, conditions, exclusions, or limitations of policies issued by Lemonade, which differ according to your state of residence. The terms, conditions, exclusions, or limitations applicable to your policy depend upon your unique circumstances, and you are encouraged to discuss your specific circumstances with your own professional advisors. The purpose of this post is merely to provide you with information and insights you can use to make such discussions more productive. Naturally, all comments by, or references to, third parties represent their own views, and Lemonade assumes no responsibility for them.
Coverages and other features described may not be available in all states.