Creating Your Puppy's Perfect Schedule
Build the best routine for your growing pup.
When you bring home a new furry family member, everything changes. Your normal routine goes out the window and you're suddenly focused on feeding your puppy, taking them outside, playing with them, and making sure they have plenty of time to nap.
While your schedule may have changed, it's also important to recognize your puppy is probably facing an entirely new lifestyle, too. One of the best ways to help your puppy settle into their new home is to establish a schedule that you both can follow.
A schedule gives you both a routine, and it can give your puppy the security they crave, since they'll know what to expect throughout the day. This routine can promote good habits and behavior, help with training, and even help the two of you bond.
A schedule serves another important purpose: It keeps you from forgetting anything important! This is particularly true when you and other family members are caring for a puppy together. When everyone has agreed on set mealtimes, playtimes, and times for walks, you'll know that your puppy is getting consistent care, no matter who is on "puppy duty."
To create a daily schedule, you will need to consider the different elements that make up your puppy's day.
Here's what we'll be covering:
Feeding
When your puppy eats will affect other elements of your schedule, like potty and walk times, so it's easiest to start by building your schedule around your puppy's mealtimes.
Young puppies often eat three or four times a day, which helps to keep their blood sugar stable. Once your puppy reaches six months of age, you can feed them just twice a day.
You'll want to ask the breeder or rescue about your puppy's mealtimes prior to taking them home. When you first bring your puppy home, try to stick to the existing schedule. If those times really don't work well for you, gradually change them by moving the times forward or backward just a few minutes per day. Try to avoid any big, sudden changes, which can upset your puppy's digestive system and make them wonder where their meal is.
Once you've identified your puppy's mealtimes, plan to also take your puppy outside for a walk or potty break about 30 minutes after each meal.
Taking your puppy out promptly after they eat can help to avoid accidents in the house. When you feed your puppy will also be influenced by where you live. For example, in hot places like Arizona, it might already be too hot to take your pup out for a walk at 8AM, so feeding might need to happen closer to 5:30AM so you can be home from your walk by 6:30. (If those times sound shocking to you, well… welcome to pet parenthood!)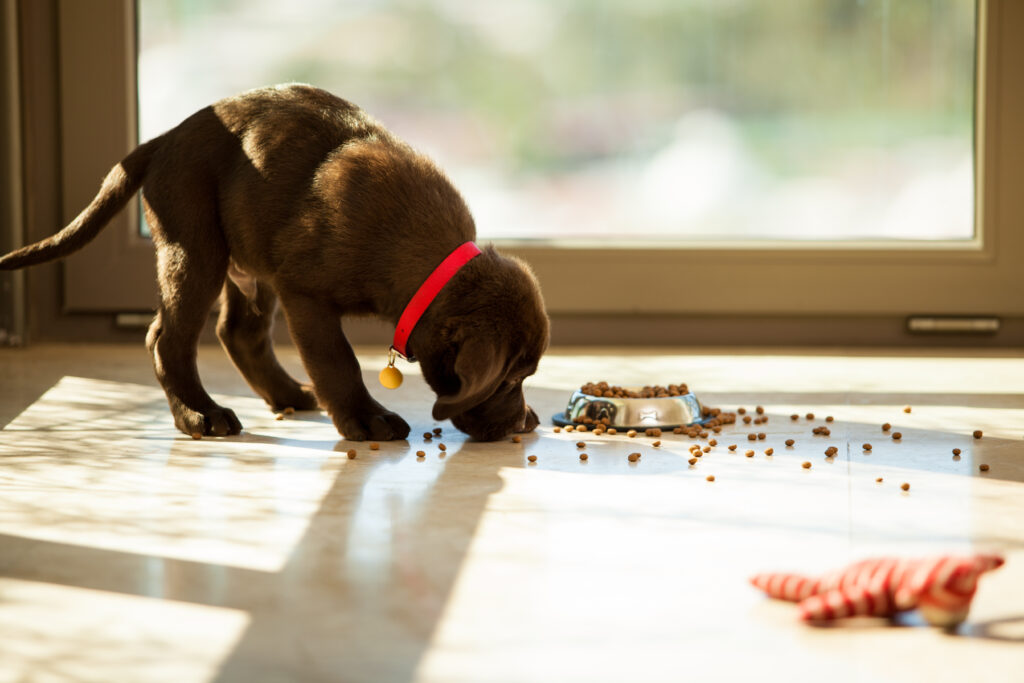 What should I be feeding my puppy?
As your puppy grows, you'll need to adjust how much food and the type of food you feed them. It's important to feed a quality puppy food designed to support growth. Puppy food has higher amounts of fat and protein, giving your puppy the nutrition they need to grow up big and strong. Your vet can help recommend the best food for your puppy.
You can also ask your vet how much food you should be giving your pup. Most puppy food will include a chart of recommended feeding amounts based on your puppy's weight. It's important that your puppy gains weight as they grow, but you also want to avoid your puppy becoming overweight.
Your vet will also check your pup's weight during their vaccination appointments and check-ups, and will suggest any feeding changes.
Sleeping
It might seem like your pup is absolutely full of energy and mischief, but they should be spending most of the day asleep. According to the American Kennel Club, puppies sleep between 18–20 hours a day. As your puppy ages, they'll need less sleep, but it's important to build plenty of naps into your pup's schedule.
Plan on giving your puppy multiple nap times per day, each lasting between a half hour and two hours. These naps should occur after some sort of activity, like a walk or play session, when your pup is tuckered out. You might notice your puppy starts sleeping for shorter periods of time as they age, so you may be able to shorten or eliminate a nap time.
You'll also need to introduce your puppy to the idea of sleeping through the night, so your whole family can get some Zs. Young puppies may need to go potty once during the night, but that will really depend on your puppy's needs. Try to schedule your puppy's bedtime so that it correlates with the time when the rest of the family goes to bed, that way the house is quiet and your pup is more likely to sleep soundly.
Don't give your puppy food or water for at least two hours before their bedtime. Take your puppy out for a quick potty and playtime just before going to bed, which will set them up to sleep through the night.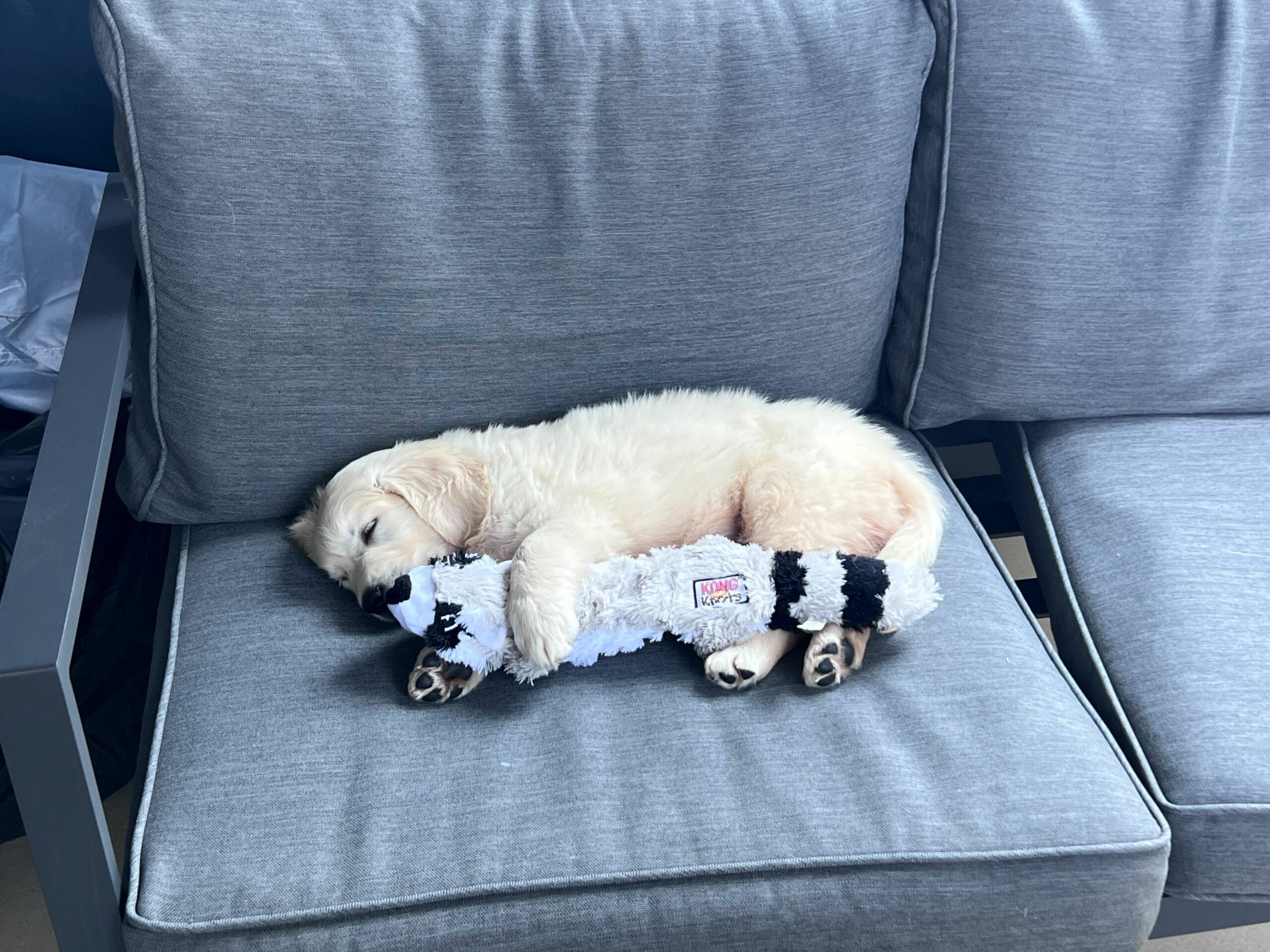 Playtime
Puppies are balls of fluffy energy, and playtime is super important to their development. It provides mental stimulation, and it also gives your furry family member a chance to get rid of some extra energy, making it easier for your puppy to stay out of mischief, follow the rules, and get plenty of restful sleep. Playtime is also a valuable chance to bond with your puppy.
While playtime is great, it's important not to overdo it. Too much exercise could damage your young puppy's developing joints, leading to health issues like arthritis. So embrace playtime, but do so in moderation. Even if your pup could run around for hours on end, it doesn't mean they should. It's your job as a pet parent to pump the brakes a bit.
A good rule of thumb is to give your puppy five minutes of exercise at a time for every month of their age, and you can repeat that playtime up to twice per day. If your puppy is four months old, you could do two 20-minute play sessions per day. Once your puppy is an adult dog, you can lengthen those play and exercise sessions.
Remember that even when you're playing with your pup, you have the chance to teach them important lessons—like not to bite humans or chew on furniture.
Potty break & walks
You will need to build plenty of potty breaks and walks into your schedule to help keep your puppy from having accidents. Younger puppies will need to go outside more often, including right after they wake up from a nap, after eating, first thing in the morning, last thing at night, and within five or 10 minutes after drinking water.
Plan a potty break every one to two hours for a two-month-old puppy, and every two to three hours for a three-month-old pup. You can keep extending the time between potty breaks to five to six hours once the puppy is six months old. Instinct Dog Behavior & Training has a few great charts that can help you to understand how to schedule your potty times.
Puppy pads can help with housetraining, but it's important to consider the pros and cons to decide if they're right for your fur fam. They're convenient and make for easy clean-up, but if you introduce them while potty training your pup, some puppies will get confused about whether they're supposed to do their business outside or inside. Puppies sometimes like to play with the pads (ugh), or even eat them, which can make for a very unpleasant trip to the emergency vet.
Vet visits
Vet visits are another important part of caring for a puppy. From the time your puppy is eight weeks old to the time they turn 16 weeks old, they will need two or three vet appointments for their puppy vaccinations. Your vet will also recommend scheduling an appointment to have your pup spayed or neutered, often by the time they're six months old.
Before your puppy's first birthday, you may have spent hundreds of dollars at the vet. The good news is that pet health insurance can help take the bite out of some of those bills.
Lemonade Pet offers a preventative care package designed especially for puppies and kittens. If you sign your puppy up for pet insurance, you can choose to get them covered for up to 6 annual vaccinations or boosters, spaying or neutering, microchipping, two annual wellness exams, heartworm and flea medication, and blood and fecal tests.
Training
You can start training your puppy as soon as they come home, but keep those lessons short and sweet.
The length of your training time and the structure of your training schedule will depend on your puppy's age. A good rule of thumb is to keep these sessions to 15 minutes or less. You can start leash training your pup immediately, and you can use your walks as training opportunities.
Work a little training into your daily routine and your new puppy will learn these new lessons in no time. Consistency and communication is key. If you commit to a training schedule and reinforce good behavior, you'll be well on your way.
Be sure to practice new skills consistently, over stretches of time. Even if your puppy nails 'sit, stay' in one day, you probably shouldn't wait a whole week before practicing the skill again. Growing pups are using tons of mental energy, and consistent practice helps their adorable brains absorb information. Don't get frustrated if it takes a long time before they pick up a new skill. Practice makes better.
Check out these fantastic puppy training videos for additional ideas and help.
What does a typical puppy schedule look like?
Every puppy schedule will look a little different, based on their needs and your availability. Here's an example of a top-notch puppy schedule to help you to get started. As you can see, it's a lot of work—especially if you don't have the ability to work from home.
| Time | Activity |
| --- | --- |
| 7:30AM | Wake up, potty break, meal, water |
| 8:00AM | Potty break, walk, naptime |
| 11:00AM | Playtime |
| 11:30AM | Meal, water |
| 12:00PM | Potty break, naptime |
| 2:00PM | Walk, training session |
| 3:00PM | Potty break, naptime |
| 5:00PM | Meal, water |
| 5:30PM | Potty break, playtime |
| 6:00PM | Naptime |
| 8:00PM | Meal, water |
| 8:30PM | Potty break |
| 9:00PM | Family time, training |
| 10:00PM | Potty break, bedtime |
Before we go take a nap…
Having a schedule can help both you and your new furry family member to settle into your life together. The consistency that your routine provides is super valuable to a young pup.
Like all good habits, soon you won't even have to look at your schedule, since you and your puppy will have it down pat—and if you're late for a walk, playtime, or feeding, you can bet your best friend will remind you!