Virtual Vet Visits: What You Need to Know
Could this digital alternative take the stress out of vet visits?
Telehealth has grown exponentially during the pandemic, and pet owners are increasingly utilizing virtual vet visits to address minor pet health concerns without the hassle of an in-person visit to the veterinary clinic. (Anyone who has tried to put a neurotic cat into her carrier has the scars to prove it.)
But are online vet consultations a viable replacement for traditional veterinary care? We'll delve into the details, so you can discuss with your vet whether telemedicine might be the right option for your furry family member.
Without further ado, we're putting the "Zoom" back in "zoomies."
Here's what we'll cover:
What is a virtual vet visit?
Virtual vet visits, also known as telemedicine or televet consultations, are exams performed by licensed veterinarians via phone or video call. Pet parents might be asked to take their pet's vitals, capture their pet's symptoms in a picture or on video, or engage in messaging with the veterinary team.
If the vet feels they can adequately diagnose your pet using veterinary telemedicine (via Zoom, Skype, Google Hangout, or FaceTime), they may prescribe medication or outline a treatment plan on the spot. However, be prepared for the possibility that your vet may recommend an in-person visit to perform necessary diagnostics, such as blood tests or x-rays.
To save time, money, and ensure your pet receives the care they need ASAP, consider calling your veterinary clinic to describe your pet's symptoms and determine if a virtual appointment is appropriate before scheduling.
Tip: If the virtual consultation is via video chat, make sure your cat or dog is nearby, and adequate lighting is available, so the vet can remotely inspect your pet as easily as possible.
Does pet insurance cover virtual vet visits?
In some cases, yes.
With Lemonade, virtual vet visits can be covered if they are related to eligible conditions under your accident and illness policy and you have the Vet Visit Fee add-on.
If you have a Preventative Care package, routine wellness exams need to be performed in-person in order to be eligible for coverage.
Keep in mind a couple of things when it comes to virtual vet visits and your Lemonade coverage:
The vet performing the virtual exam must be a licensed vet in the U.S.
In some cases, additional follow-ups, exams, or testing outside of the virtual visit may be required. Some conditions may necessitate in-person evaluations or diagnostics.
Learn more about how pet insurance can help take the bite out of vet bills—apply today!
How much do virtual vet visits cost?
Virtual vet visits typically cost between $45 and $125, with prices varying depending on the vet or ER. In comparison, in-person vet visits for accidents and illnesses usually run between $45 and $300.
While virtual vet visits may be more convenient, they are not necessarily more affordable than in-person visits. Talk to your vet about the availability and costs of telehealth services at your clinic.
Lemonade Pet policyholders also have access to Chewy's Connect with a Vet service, which allows you to chat with veterinary professionals on any aspect of your pet's health and well-being. Keep in mind that this service is a supplement to in-person or virtual vet exams, and the Chewy team cannot prescribe medication or diagnose illnesses.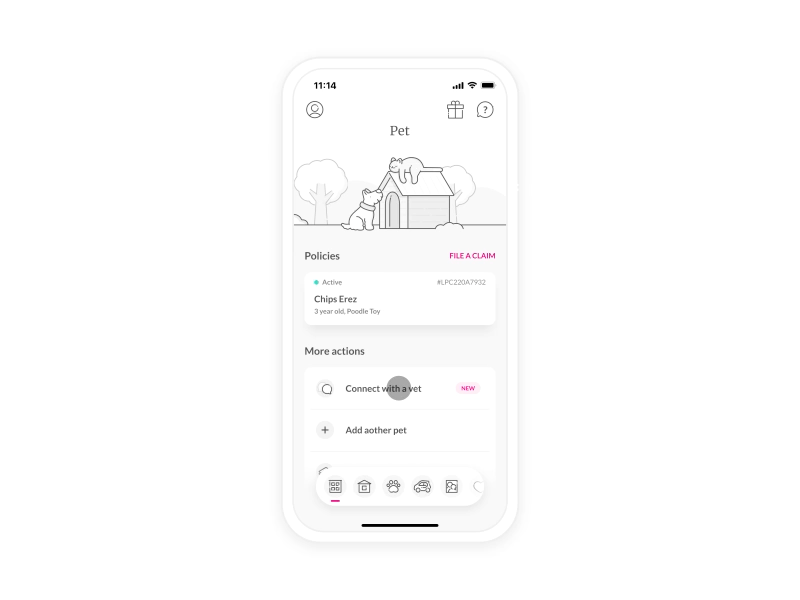 When should you close your laptop and rush your pet to the vet?
If any of the following signs or symptoms apply to your vet, an in-person vet visit is probably needed in order to address your pet's medical emergency ASAP:
Difficulty breathing.
Refractory vomiting.
Seizures.
Difficulty urinating for more than 24 hours.
If your pet has ingested something toxic (prescription meds, poison, cleaning supplies)
If your pet has experienced trauma, like falling from a high place or being hit by a car
If you are unsure if what your pet is experiencing classifies as an emergency, it may be best to call your veterinarian before scheduling a virtual appointment.
Before we go…
In conclusion, telehealth services and virtual vet visits offer a convenient alternative to in-person visits for minor health concerns, allowing pet parents to access professional pet care from the comfort of their homes. However, it's essential to recognize the limitations of online veterinarian consultations and prioritize in-person care for more severe health issues.
By understanding the benefits and drawbacks of virtual appointments, pet owners can make informed decisions about their pets' health and well-being, ultimately providing the best care possible.