Furnished Vs. Unfurnished Apartments: What's Right for You?
They're definitely convenient, but not for everyone.
When moving into a new apartment, you might be seeking instant convenience—or a blank slate to make your own. Depending on those preferences, a furnished rental might be a good fit.
Here's what we'll discuss:
What does "fully furnished" or "partially furnished" mean?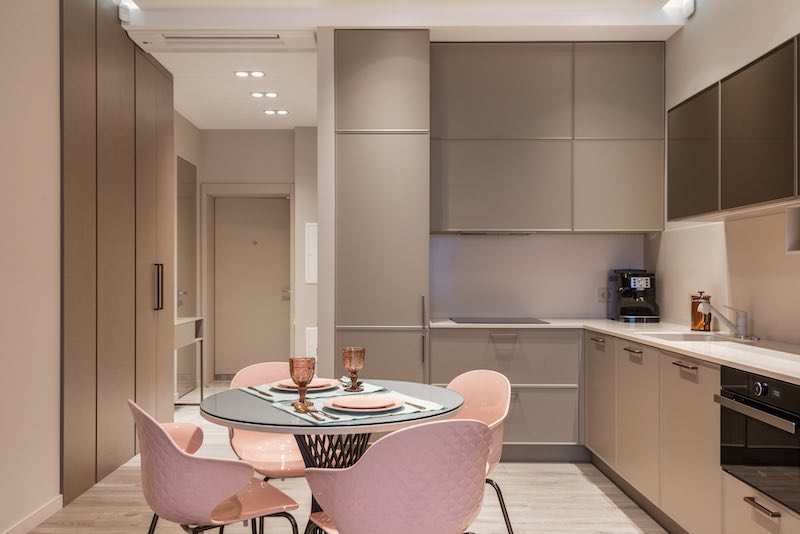 Usually, a fully furnished apartment will come with all the stuff you'd need to live comfortably without having to purchase additional furniture or essentials.
This typically includes a bed and bed frame, dresser, sofa, table, chairs, and often, kitchen appliances like a fridge, stove, and sometimes even smaller appliances like a microwave or coffee maker. Some fully furnished places will even include kitchen utensils, cookware, and other things.
It's like walking straight into a ready-to-live space; all you really need to bring are your personal belongings.
Other apartments might be "partially"or semi-furnished, perhaps missing items like a TV, a full set of kitchenware, or a coffee table. However, it's important to understand that the definition of "furnished" might differ from landlord to landlord—so ask!
Furnished VS. unfurnished apartments
A furnished apartment isn't for everyone. But it could be a hassle-free option for many.
"Furnished and semi-furnished apartments are great solutions for people entering a new stage in life—perhaps students graduating college, those moving to a new city to start a career, graduate students moving for school, or empty nesters in need of a new home for their next chapter," says Ben Funk, VP of Growth at Ori, a company offering stylishly furnished apartments whose modular features help maximize the use of smaller spaces.
Pros of a furnished place:
It's just easier: If you don't have or need your own furniture, you can just pack your personal stuff and move in without having to worry about buying, moving, and setting up furniture.
Cheaper for short-term stays: While furnished apartments often have higher monthly rents, they can be more cost-effective for short-term stays.
Saves time: Searching for furniture, waiting for delivery, and setting everything up takes time and effort.
Great if you're not fussy: AKA, if your personal aesthetic tends toward "IKEA, or whatever's the cheapest."
Cons of a furnished apartment:
Less flexibility and individual touch: Moving into a furnished apartment can feel a bit impersonal, akin to living in a hotel suite.
Potentially higher rent: Due to what's included, the market rate for a furnished apartment will likely be higher than that for unfurnished units.
Pet prohibitions: If you were planning to move with your fur fam, regulations in furnished apartments might make that impossible.
How can you find a furnished apartment?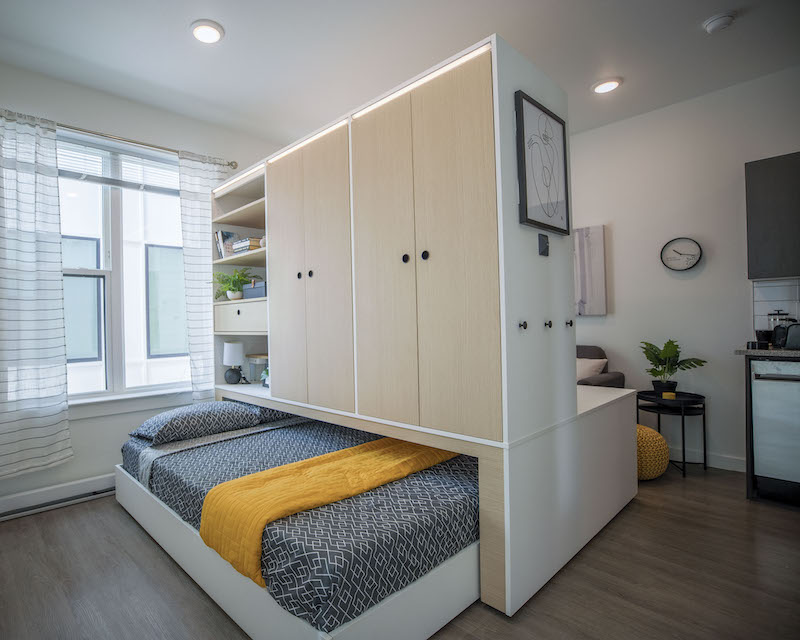 Some rental complexes, including those geared toward short-term stays, are specifically designed for those looking for a furnished apartment. Niche companies and search sites, like furnishedhousing.com or oriliving.com, can help you find these units across the U.S.
Ori is part of a new guard of companies that are upscaling the furnished apartment experience.
"Standard furnished apartments are known for being stale, corporate, and extremely expensive—a short-term fix for a temporary project, but not an affordable place to call home," says Ben Funk, their VP of Growth. Ori's units are "expandable" (think chic workspace and bookcase furnishings that move as you need them, and a bed that floats up into the ceiling space when not in use).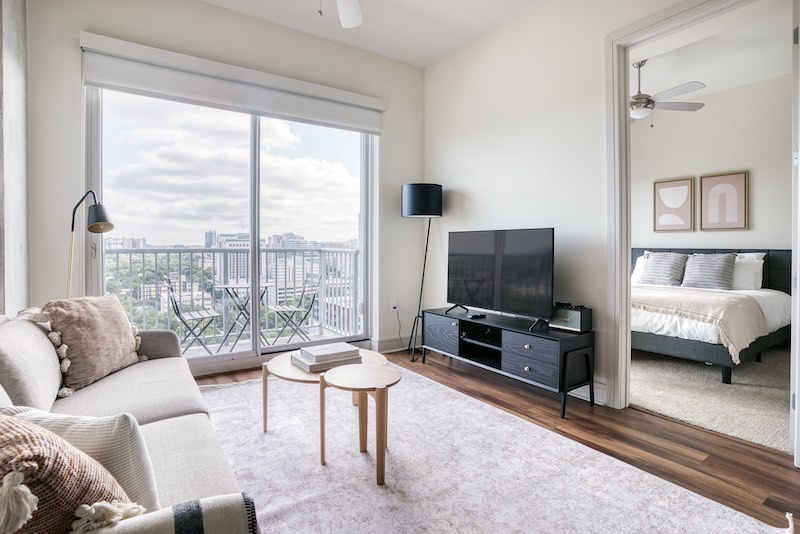 Blueground is another brand that is upending the cliches of furnished apartments, offering leases from a month to several years in cities like Austin, New York, and Seattle, as well as abroad. Their unique distinction? All the furnishings are bespoke designs, inspired by the company's footprint in both Athens and Istanbul.
If you're apartment-hunting using a more traditional listings site, like Apartments.com, you can generally filter to include only "furnished" units (sometimes this option is tucked away under "amenities").
Whose insurance would cover the furniture in a furnished rental?
Renters insurance is a type of coverage that protects your personal stuff against certain "perils." So if a burst pipe in the ceiling destroyed your couch, you'd be able to file a claim for the damage.
But in a furnished apartment, a lot of the things you're using every day (like your bed, or kitchen appliances, or television) won't actually belong to you—they'll be the property of the landlord. This means the landlord's insurance would cover them in the event of certain water damage, fire, theft, and so on.
Even if you're moving into a furnished apartment with nothing more than some clothing, a laptop, and a bicycle, you'll want to make sure those belongings are covered by your own renters insurance policy.
In that case, you can consider setting your personal property coverage limits lower when you sign up, which would likely reduce the cost of your monthly premium.
FYI, renters insurance is fairly economical; the average Lemonade renters insurance cost across the U.S. as of March 31, 2023, was around $14.
Do furnished apartments have higher rents?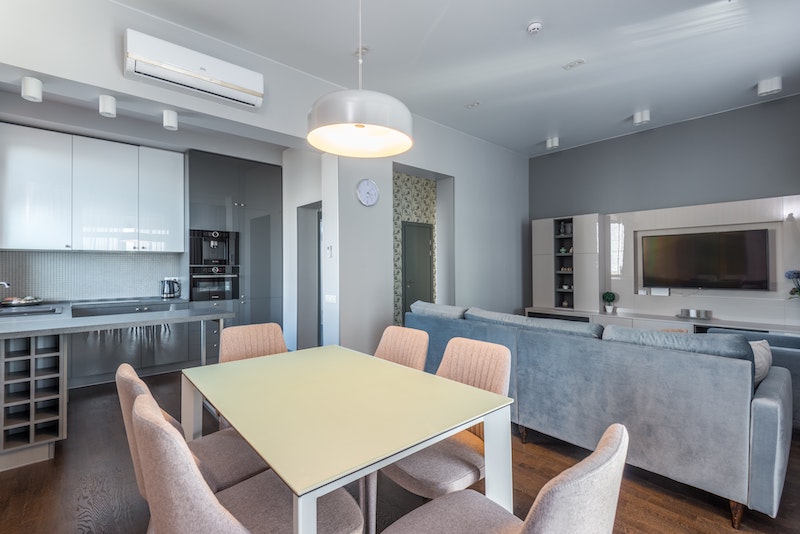 Yes, furnished apartments tend to be more expensive than their unfurnished counterparts. The added cost is for the convenience and use of the furniture and appliances provided by the landlord. This higher price can be reflected in the monthly rental amount, a higher security deposit, or both.
However, when considering a furnished vs. unfurnished apartment, it's also important to factor in the potential savings and convenience that a furnished place can provide. There's no need to shell out for furniture or appliances upfront, or worry about moving and setting up furniture. This can be particularly cost-effective for short-term leases or for those who move a lot.
Some co-living complexes also lump utilities and other necessaries into the monthly rent, along with the ease and convenience of a furnished unit.
In Crown Heights, Brooklyn, this co-living complex offers private, furnished bedrooms within a larger, shared, fully-furnished suite. "WiFi, utilities, [and] household essentials (from pots and pans to toilet paper)" are also included in the rent. Rooms cost around $1,300 to $1,400 a month.
Questions to ask if before moving into a furnished apartment
Before signing the lease to a furnished apartment, make sure to clear up a few important points.
Who's responsible for furniture damage? Minor wear-and-tear is inevitable as you use couches, beds, cabinets, and other furniture. But check to see what happens if more significant damage occurs, and who would be financially responsible.
Any cleaning requirements? The landlord has invested in the unit's furnishings, so they probably want to keep them in good shape. Your lease might specify a certain cleaning regimen or other expectations.
Apartment inspections? Landlords may carry out regular inspections to ensure the furniture is being well maintained. This might mean a slightly more intrusive living experience compared to an unfurnished apartment.
Pets? Many furnished apartments won't allow your fur fam to move in.
Regardless of the type of apartment you choose, it's always a good idea to take pictures when you first move in, noting the condition of any included furniture. This can be helpful if there's any dispute when you move out about damage or wear and tear.
Whether the furnishings are yours or not, get renters insurance
While your landlord's assurance would cover a lot of things in a furnished apartment, you'd be on the hook for certain damages to your own stuff. That's where renters insurance comes in.
Learn a bit about what renters insurance actually covers, and get your quote online—it only takes a few minutes!