Rhode Island Renters Insurance Guide
Get your stuff covered in the Ocean State.
Looking for renters insurance in Rhode Island? Well, you've come to the right place!
Wherever you go in Rhode Island, natural beauty surrounds you. Rhode Island boasts breathtaking bluffs, scenic coasts, impressive cliff walks, beautiful marshes, freshwater wetlands, and forests teeming with wildlife.
In their intimate space, "Little Rhody," residents get to enjoy all four seasons and everything from city life to beaches to rich history without having to drive too far. In the smallest state, there is still fantastic food, excellent schools, beaches less than an hour away no matter where you are, and bountiful green energy as Rhode Island is home to the country's first offshore wind farm.
Whether you're in Rhode Island to study, work, play, or anything in between, you might want to cover your stuff with renters insurance. We'll take you through the basics of renters insurance coverage and also go through some of the coolest spots and hidden gems to explore in the the Ocean State.
What does your renters insurance cover in Rhode Island?
Okay, so you get that a renters insurance policy is a great idea in theory… but obviously you're curious about what it can actually do for you. Let's break down the components of what your policy covers and your coverage options.
Personal Property
Personal property coverage makes sure your stuff, your personal belongings, is protected, whether you're relaxing at your apartment or traipsing across Europe. So if your living room furniture is ruined due to water damage from that burst pipe, or your phone is stolen while you're taking a trip to Berlin, your renters insurance policy has your back.
Loss of Use
What about if disaster strikes? If you can't stay at your home because of covered losses (like a fire or windstorm), your loss of use coverage provides reimbursements for temporary housing and additional living expenses such as food, laundry, hotel parking, and more.
Liability coverage
If someone is injured in your apartment, or anyone on your policy causes damage to someone else's property or stuff, your insurance company should have things like legal fees and property damage covered.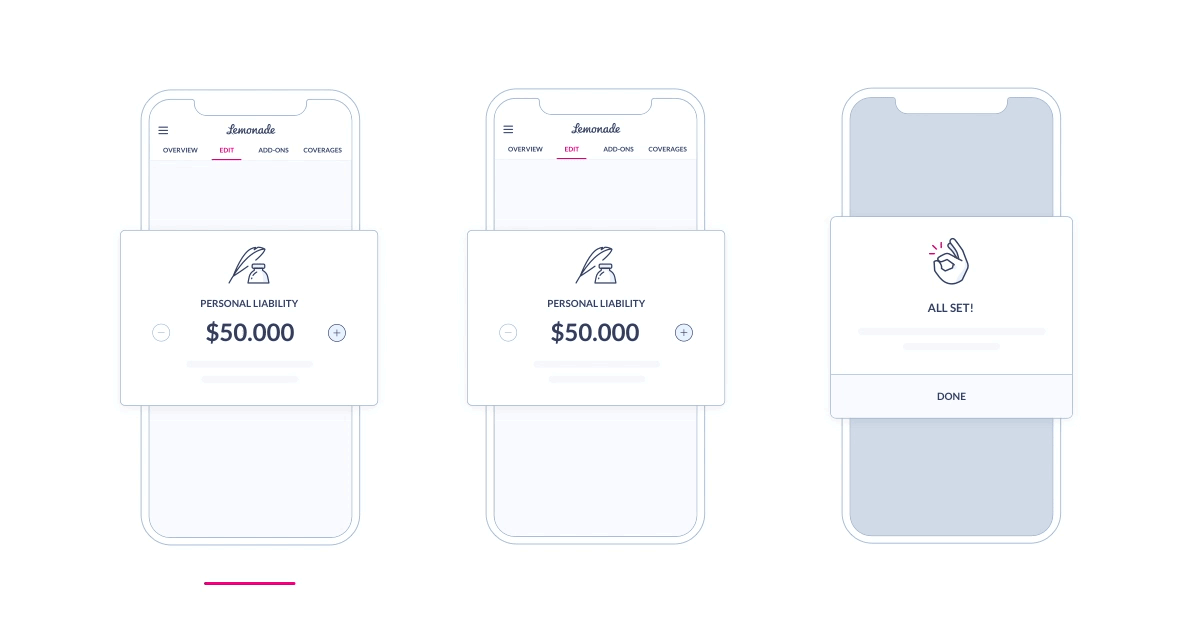 Medical Protection
Your insurer covers medical expenses if your guests get injured at your place or if you accidentally hurt people outside of your home as well. Note that your renters insurance policy does not cover medical payments if you or someone residing with you is injured—only non-residents and guests.
Is renters insurance required in Rhode Island?
While there's no law requiring that you purchase renters insurance in Rhode Island, your individual landlord might specifically require it. And if your lease specifies that you need renters insurance, well… that's that.
The good news is that it's easy to sign up for a renters insurance policy with Lemonade, and you'll thank yourself later if your stuff gets stolen or damaged! When signing up, your landlord might request they be added as an 'interested party' on your policy. This just means they'll be kept in the loop when you make any policy changes—or if you cancel your policy. It's super easy to add them using the Lemonade app.
What's the right amount of coverage to get?
There's no easy answer to that question, and it depends on how much stuff you have to cover and what it's worth. As we discussed above, your policy has a few main categories: Contents (your stuff); Loss of Use (temporary living expenses); and then personal liability and medical bills.
You're able to set the coverage limits for these categories when you sign up for a Lemonade policy. Lower coverage limits might save you a few bucks on your monthly premiums—but they might also leave you with insufficient coverage when you have to make a claim. You'll also need to figure out your deductible. It's a balancing act and one that requires you to think about your property and lifestyle. Take a few minutes to apply to see your renters insurance quote to get a sense of your insurance options.
Also, if you've got valuables that are especially pricey or important—things like engagement rings, fancy cameras, musical instruments, or artworks—you can add 'scheduled personal property coverage' for those items. At Lemonade, we simply call it 'Extra Coverage'—here's a bunch more info about that.
Top Rhode Island rental destinations
Amazing beaches, illuminating lighthouses, clam cakes and chowder, historically rich, impressive state parks, nationally acclaimed restaurants, and year-round events and festivals make it easy to see why The Ocean State would make for an ideal place to settle down.
Whether you are a native-born Rhode Islander or part of the growing influx of new residents, you might want to explore some of Rhode Island's best residential spots, so you can find a rental that meets your needs.
Barrington
A suburb of Providence, Barrington was rated as the number one best place to live in Rhode Island, according to Niche.com. Barrington is a close-knit community where neighbors know each other. This waterfront town is a great place to raise a family, and has top-rated public schools, some of the best in the state.
Lying on Narragansett Bay, the town feels like a summer resort from times gone by. If you are looking for small-town New England life, this is the place to be. The average cost of a rental in Barrington is $1,850.
Fun fact: You might not have heard of this Calvinist tradition, but Congregational separatists founded Barrington. This radical branch of Protestant churches advocated for independent and autonomous church governance.
Places to visit:
East Bay Bike Path. Are you looking for a long bike ride through beautiful scenery? East Bay Bike Path is a fourteen-mile paved rail trail with abundant coastal wildlife and spectacular maritime views. The rail trail extends between Providence and Bristol, with eight parks along the way. From Independence Park to India Point Park you can have a beautiful time.
Haines Memorial State Park. Nestled on the northeastern side of Narragansett Bay, you'll find Haines Memorial State Park. It is easy to stop by if you have started on the East Bay Bike path. The park, overlooking the water, boasts boating facilities and fishing. Have a relaxing day in their playing fields or picnicking in one of their 33 picnic sites by the fire.
Osamequin Nature Trails and Bird Sanctuary. Would you like to observe the diversity of Rhode Island's animal communities and coastal plants? Revel in the 42 acres of wetlands and coastal beauty on the western shore of Barrington River's Hundred Acre Cove.
East Greenwich
East Greenwich is another suburb of Providence in Kent County. It has been named the second-best place to live in Rhode Island due to its highly rated education and as an ideal place for families, according to Niche.com. East Greenwich is bountiful in historic and antique homes.
The waterfront homes are luxurious, and the downtown offers specialty shops and restaurants. The average cost of a rental in East Greenwich is around $1,300 a month.
Fun fact: Frederick Douglass –the American abolitionist, social reformer, orator, and writer – spoke at the East Greenwich Academy in 1888.
Places to visit:
New England Wireless and Steam Museum. A steampunk or history lover's dream, the New English Wireless and Steam Museum is an electrical and mechanical engineering museum that features the beginnings of radio and steam power. Check out their "Steam Out" events and video series!
Greenwich Odeum. If vintage is your vibe, you'll love the Greenwich Odeum! This vintage venue showcases films, comedy shows, and concerts in a restored circa-1926 theater. Make sure to come early for a drink at the bar or a bite to eat. Check out their upcoming shows. The venue can also be rented out for special occasions.
Varnum Memorial Armory. Just the exterior of this medieval-style, red-brick armory commands an impressive presence! The museum displays uniforms, weaponry, and artifacts dating from colonial America, and the building itself is listed on the National Register of Historic Places. On your way, check out the Varnum House Museum.
Kingston & South Kingston
This village located in South Kingston is the number one place to live in Washington County, and it is the third best place to live in Rhode Island, according to Niche.com. Kingston enjoys low crime rates and outstanding public education. The University of Rhode Island fills the suburb, making it a hip place for young people and college students to live. The surrounding North Kingston and South Kingston are also near the top of the best places to live in Rhode Island.
With local concerts and farmer's markets, Kingston has a sense of community that draws people in. The average cost for a rental in Kingston is approximately $1,200 per month.
Fun fact: A large part of the village center, named initially Little Rest, is listed on the National Register of Historic Places as Kingston Village Historic District.
Places to visit:
Kinney Azalea Garden. A beautiful place for a picnic or a stroll, the Kinney Azalea Garden Botanical Garden and Nursery is like walking through a dream. You'll find bountiful azaleas looming larger than you could imagine as well as impressive landscaping plants. Don't miss this garden adventure!
Theatre By the Sea. What could be better than the sea or the theater? Why the sea and the theater, of course! Theatre By the Sea is a historic theater and playhouse located in the Wakefield village of South Kingston near Cards Pond that offers professional live performances in the summers. There's nothing like watching a musical in a converted 1880s barn right off the water.
The Farmer's Daughter. The Farmer's Daughter is a delightful place to wander around with an extensive resource for quality plants. They practice sustainable-minded gardening and agricultural methods and feature landscape displays, a produce market, and a gift shop. It will take you a few trips just to see all they have to offer. Make sure you visit The Garden of Wings Butterfly Pavilion!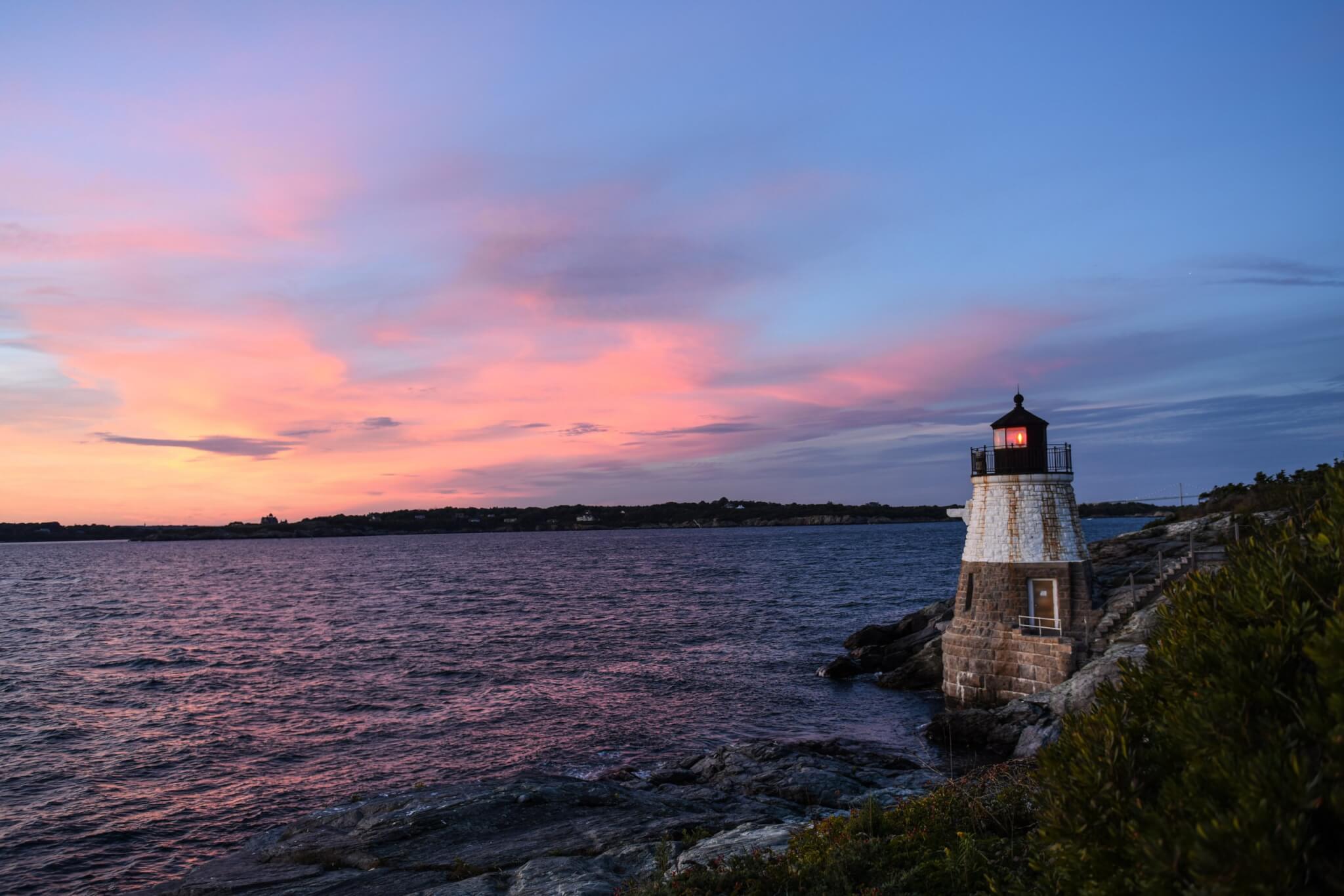 Jamestown
The second-largest island nestled in the heart of Narragansett Bay, Jamestown, of Newport County, is as picturesque as they come. This coastal gem is one of the best places to live in Rhode Island, a good place to raise a family, and the number one best place to retire, according to Niche.com. Jamestown residents enjoy island life while remaining connected to the mainland.
Panoramic vistas, locally owned businesses, and spacious gardens and homes are the norm in this island town. The cost for a rental in Jamestown is $2,500 on average.
Fun fact: The island formed as the result of melting glaciers at the end of the last ice age, which covered low land areas, left Conanicut Island (among others), and filled in the Narragansett Bay.
Places to visit:
Beavertail Lighthouse Museum and Park. Built-in 1865, the historic Beavertail Lighthouse lights the way and marks the entrance to Narragansett Bay. You get to appreciate this piece of living history that stands 64 feet tall. Beavertail State Park is renowned as 153 acres of some of the most beautiful vistas of New England!
Fort Wetherill State Park. Situated upon 100-foot high granite cliffs are the remnants of Forts Wetherill and Adams in Fort Wetherill State Park, which spans across 61.5 acres. It is ideal for hiking, fishing, boating, and scuba diving—year-round! If you're looking for spectacular views overlooking the bay, this is the place for you!
Claiborne Pell Newport Bridge. Also known as the Newport Bridge, Claiborne Pell is a beautiful suspension bridge that reaches across Narragansett Bay's East Passage. At 1,601 feet, it is in the world's top 100 longest suspension bridges. Enjoy the excellent view of the lighthouse and the water on your way over!
Other areas to consider:
Narragansett: Residents of this historic and charming rustic town get to enjoy a gorgeous coastline and stunning historic architecture. It is the seventh-best place to live in Rhode Island and the second-best place to retire, according to Niche.com. Average rent: $1,274.
Blackstone: Located in central Providence and nestled along the Seekonk River, Blackstone residents enjoy high-quality schools and convenient commutes providing job opportunities. It is the number one neighborhood to live in Providence, according to Niche.com. Average rent: $1,300.
Wayland: Wayland is ethnically and economically diverse with a village feel inside Providence. It is the second-best neighborhood to live in Providence, according to Niche.com, and has a thriving nightlife. Average rent: $2,060.