A Quick Guide to Insuring Your Engagement Ring
Diamonds are forever, but sometimes, s**t happens.
Last year, one of our Lemonaders flew to London with an engagement ring in his backpack and a plan to propose to his girlfriend. But the weekend quickly turned disastrous when the bag was stolen—before he even got the chance to pop the question.
Luckily, this romantic Lemonader had a renters insurance policy… but the theft occurred thousands of miles from home. The ring was covered under his name, but it was for her.
Would he be able to file a claim for the stolen ring, and could it be approved? Is this even how engagement ring insurance works!?
Spoiler alert: His claim was approved, but it's totally understandable if you didn't see that coming. Insuring an engagement ring can be confusing, and there are tons of questions you should be asking when shopping for coverage.
TL;DR
Jewelry, like engagement rings, are covered up to $1,500 on your renters or homeowners insurance policy.
Purchasing Extra Coverage (also known as scheduling) for your engagement ring means that if it gets lost, stolen, or damaged, you can get it replaced, without paying a deductible.
Extra Coverage will cover just about any damage to your engagement ring, except normal wear and tear.
In order to get Extra Coverage for your engagement ring, you'll need to submit a receipt or an appraisal.
Expect to pay somewhere between $6-$12 a month for additional coverage for your engagement ring.
Last year, more than 6,000 Lemonaders added an engagement ring to their Lemonade policy. We've run through our data to figure out your most burning questions about engagement ring insurance… and we've got answers.
Here's a quick preview of the questions we'll answer: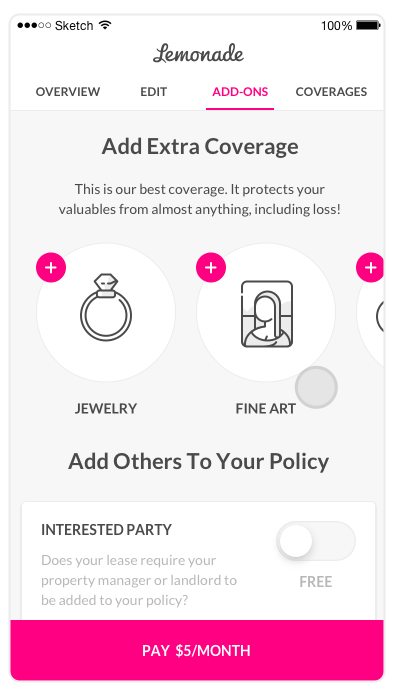 How do I insure my wedding ring?
Once you've decided to get coverage for that sparkler, you'll want to consider a few different options. After all, getting insurance for an engagement ring deserves at least some of the consideration you had when you picked it out.
The first option is to add your diamond ring to your renters or home insurance policy. Most insurers have max amounts (referred to as limits of liability) that cap off how much coverage is automatically included for valuable items like engagement rings.
At Lemonade, $1,500 worth of jewelry is insured in the base plan for theft. In other words, the total cost of all your jewelry is covered only up to $1,500 if someone comes in to take your stuff.If you only have a simple wedding ring, $1,500 in coverage is probably enough to replace the band. (Unless you opted for something blingy, of course.)
In general, diamond rings might require additional coverage. In 2018, the average price of an engagement ring added to Lemonaders' policies was $10,902, so you should go ahead and assume you'll need to add Extra Coverage (sometimes called scheduling) for your glittery diamond engagement ring.
Best part? At Lemonade, you won't have to pay a deductible for anything scheduled as a personal property endorsement (aka, Extra Coverage). So if your ring worth $12,000 mysteriously disappears, Lemonade can pay you up to the full replacement cost, deductible-free!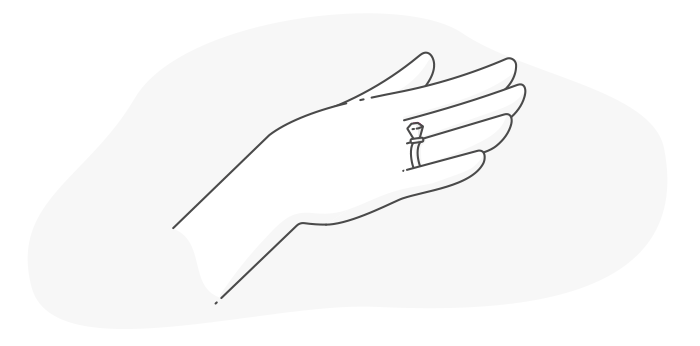 What types of loss/damages are covered?
TL;DR, Extra Coverage on your homeowners or renters insurance policy covers your ring for theft, damage, and accidental loss, as well as other 'perils' such as fire, windstorm, etc. Different companies might use different language to describe exactly what they're covering, so make sure to read through your policy.
What happens if the ring gets swiped out of your gym locker? Or what if you didn't lose the ring, but three little stones fell out of the pave band? What if you dropped your ring down the garbage disposal? Ugh.
At Lemonade, Extra Coverage insures you for just about anything, except general wear and tear. So if your white gold band is starting to look dull, you can't file a claim to get it redipped.
What else isn't covered? Damage caused by vermin or war/nuclear fallout… fingers crossed this never becomes relevant!

How (and how much) will I get paid if something actually happens?
Not to be dramatic, but if you only ask one question, it should be this one!
There are two ways your insurance provider can pay you after they approve your claim: actual cash value or replacement cost.
Think about replacement cost as the "Amazon price" of a given item. It's how much something new would cost today, regardless of how long ago it was made.
Actual cash value, on the other hand, is like the "eBay price" of used items. It's how much something would go for today (same make and model), but takes depreciation into account.
At Lemonade, we offer replacement cost up to $40,000 for engagement rings and up to $25,000 for other jewelry.
This is especially important when it comes to diamond jewelry since replacement value tends to be significantly higher than what your jewelry is actually worth in cash value.
So if you need to replace or repair your ring, you'll be in a much better place if your insurance company offers replacement cost.
Another thing to look out for: If something happens to your ring, some insurance companies will require you to repair or replace it at specific locations (yes… even if your ring is custom and personalized).
Does that not work for you? It doesn't work for us, either. That's why we let you decide where and how you spend the money from an approved claim.

What kind of documents do I need to get my ring insured?
To insure your ring, you'll need something to prove its value. If you bought it recently, you can provide the receipt. If it's inherited or a gift, you'll need to get an appraisal.
Back up. What's an appraisal? It's official documentation that confirms the value of your ring.
Btw, different insurance companies have different standards for what they accept when it comes to appraisals.
At Lemonade, we accept appraisals from a jeweler. When a jeweler gives their appraised value of the items, make sure they inspect and verify it in person. Your appraisal must be dated within five years of the day you submit the item for Extra Coverage. So if you submit your grandmother's heirloom engagement ring for Extra Coverage in June of 2021 but only have an appraisal from 2014, you'll need to get an updated appraisal.
What jeweler should you go to? As far as we're concerned, that's up to you! But for your own peace of mind, we recommend an appraisal from a certified Gemologist.

How much does engagement ring insurance cost?
The price of insurance can vary significantly, depending on your home's location and the replacement cost of your engagement ring.
If your ring would cost $7,000 to replace, you would expect to pay between $70-$140 dollars every year, or between $6-$12 a month in coverage, on top of your usual premiums. You'll be able to see the costs broken down in simple terms on your declarations page. (BTW, here's a behind-the-scenes guide to how much renters insurance costs.)

How do I add an engagement ring to my policy?
Adding Extra Coverage for an engagement ring to your Lemonade policy is simple – just follow these steps:
1. When you're getting your Lemonade policy, tap 'Activate Extra Coverage.' If you already have a policy, head to the Lemonade app and tap the Extra Coverage button under 'Add-Ons.'
2. Open up the email you get from Maya, and click 'Add Extra Coverage'
3. Go through the flow, and send over a picture of:
– Your ring
– The receipt or appraisal
– Your item on top of the receipt or appraisal
"Snapping a few pics is easy and quick! This info is incredibly important to make sure we're properly insuring your stuff. It also makes your claims process much smoother if something were to happen. We'll already have all the docs we need on file – so it's less work for you down the road!" – Ashley Delgado, Lemonade Customer Experience Specialist
4. Our CX team will get back to you, and let you know via email once your ring is covered! Btw, you can always add on more items later.
A couple of notes here:
Lemonade offers temporary Extra Coverage for 14 days while you get all your pictures in order or wait for an appraisal.
To get temporary coverage, make sure to answer 'Yes' when AI Maya asks if you have any valuable items. Then, select which items you'd like to insure under Extra Coverage in the Lemonade app.
Provide a guesstimate of the value of the ring you'd like to cover (refer to step 1), and Lemonade will automatically grant you temporary Extra Coverage! (In the unlikely event of a claim, you will still need to prove it existed, what it was worth, and that you had it when you bought the policy.)
This will give you time to send over the necessary info and for our CX team to review it. Don't forget, this temporary Extra Coverage will last for 14 days, so try to submit your info by then. If you can't get to it, you can still add on the Extra Coverage yourself after it expires.
Here's a guide to everything you need to know about Extra Coverage. Have more questions about Extra Coverage? Open up your Lemonade app, and ask AI Maya. Or shoot an email over to [email protected], and our CX team will get back to you as soon as possible.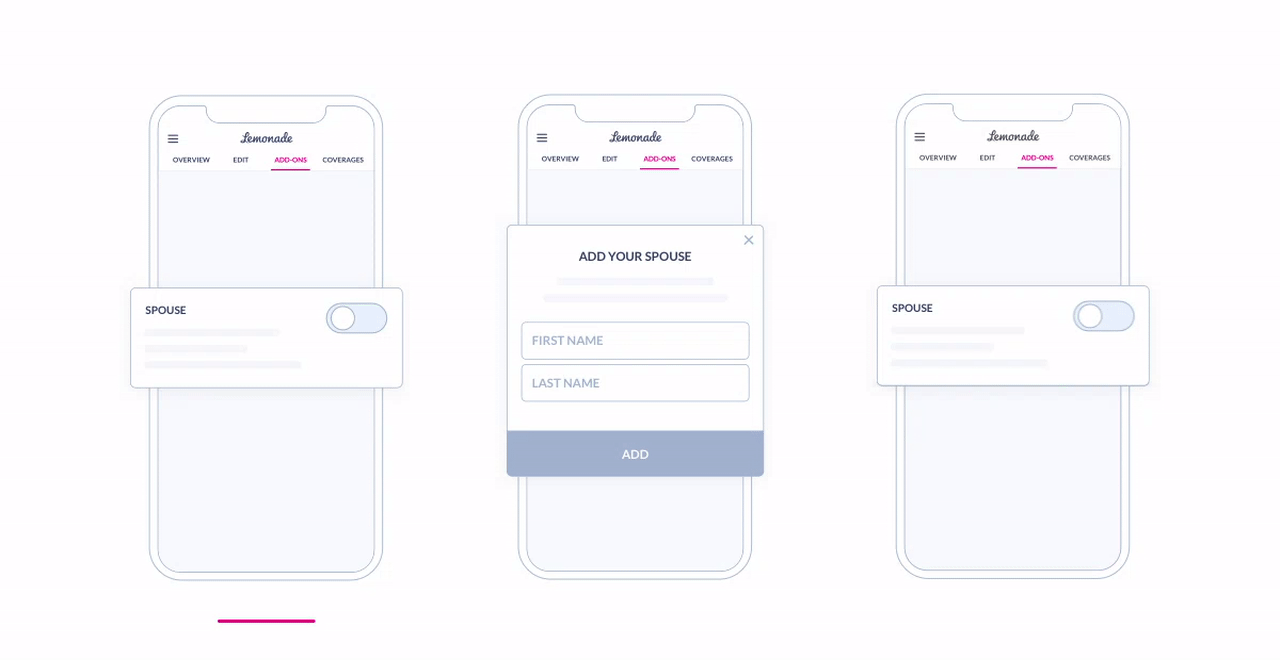 Who should be insured?
One of you paid for the ring, and the other probably gets to wear it. One of you inherited the center stone, and the other paid for the band. You split the cost, and it's been sitting in a jewelry box for 6 months. Who should be insuring this ring anyway? Does one policy cover both of you?
Once you're married, you're considered related, so you're both automatically covered under your renters insurance policy.
Adding your spouse to your plan is easy, and it won't cost you a dime! They'll be considered a "Named Insured," which is insurance speak for someone who is implicitly included in the policyholder's plan.
Haven't made it down the aisle yet? We're sure your love transcends labels, but when it comes to insurance, your marital status does matter.
If you're living with a significant other, add your partner to your insurance policy as an 'additional insured.' Because if he or she loses the engagement ring while in their possession, it'll only be covered if their name is on your policy.
So, who should be covered? The person who has the ring needs to have his or her name on the policy.
Who has the ring? If it's sitting in a drawer waiting for the anniversary of your first kiss when it gets stolen during a break-in, whoever bought the ring will need to have insurance coverage. If it falls off and rolls away during a girls' night out, you'll want to make sure the wearer is covered, too.
Keep sparkling
The truth is, you don't need a diamond to shine, but when your jewelry is as valuable and meaningful as an engagement ring, you're going to want to protect it. It's easier and more affordable than ever! Using AI and machine learning, Lemonade's insurance policies are much lower than the industry average. See for yourself!
Also, if you're making lifelong commitments, it might make sense to explore Lemonade's term life insurance offering. Want to get the inside scoop? We've got you covered with Everything You Need to Know About Life Insurance. Say "I do!" to peace of mind.
Which states currently offer renters insurance?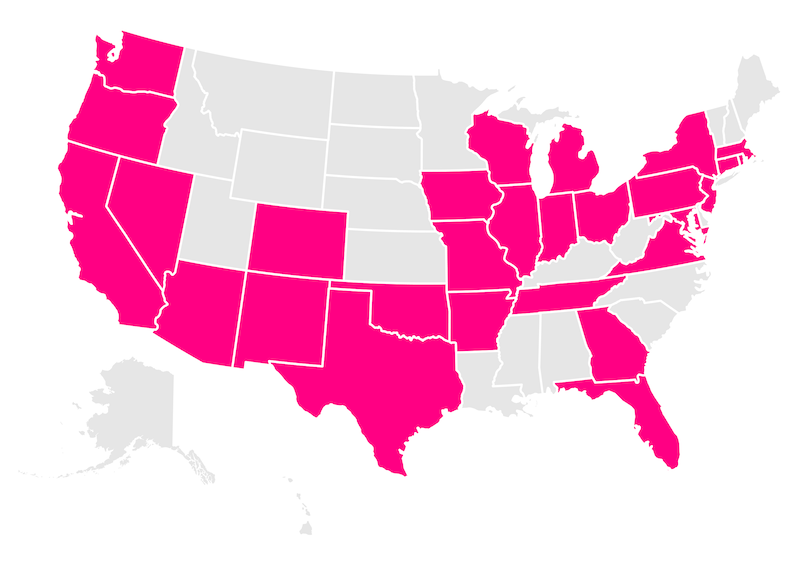 Arizona, Arkansas, California, Colorado, Connecticut, Florida, Georgia, Illinois, Indiana, Iowa, Maryland, Massachusetts, Michigan, Missouri, Nevada, New Jersey, New Mexico, New York, Ohio, Oklahoma, Oregon, Pennsylvania, Rhode Island, Tennessee, Texas, Virginia, Washington, Washington, D.C. (not a state… yet), and Wisconsin.