So your cat or dog is covered with Lemonade Pet—great choice, by the way—and now you're ready to make your first claim for a vet visit or other treatment.
Any issue with your pet's health can be stressful, so we made sure that our claims process is as easy as possible. Don't take our word for it, check out this Twitter thread from a very happy Lemonade pet parent:
I don't do these testimonial-type things too often, but I can't speak highly enough about @Lemonade_Inc pet insurance. Finding yourself in emergency situations with a pet is stressful. Their claims process is fast and easy and they keep you informed every step of the way.

— Stephanie Sigafoos (@ssigafoos) November 2, 2021
Now, without any further ado, let's walk you through everything nice and slow. Let's do it!
Before your start, keep in mind:
Waiting periods
Your pet isn't eligible for reimbursement the moment you buy your policy. Your new policy has three waiting periods before you can file a claim:
2 days for accidents
14 days for illnesses
6 months for cruciate ligament events
Medical records
At Lemonade, we require a medical record that includes info from a visit that took place within 12 months of your policy's start date (also called SOAP medical records). Once we have these records, you're all set to file your first claim.
Here's what you need to get started
Get a copy of the vet invoice and/or a paid receipt, and take a pic of it
Get a copy of your medical records or notes from that specific vet visit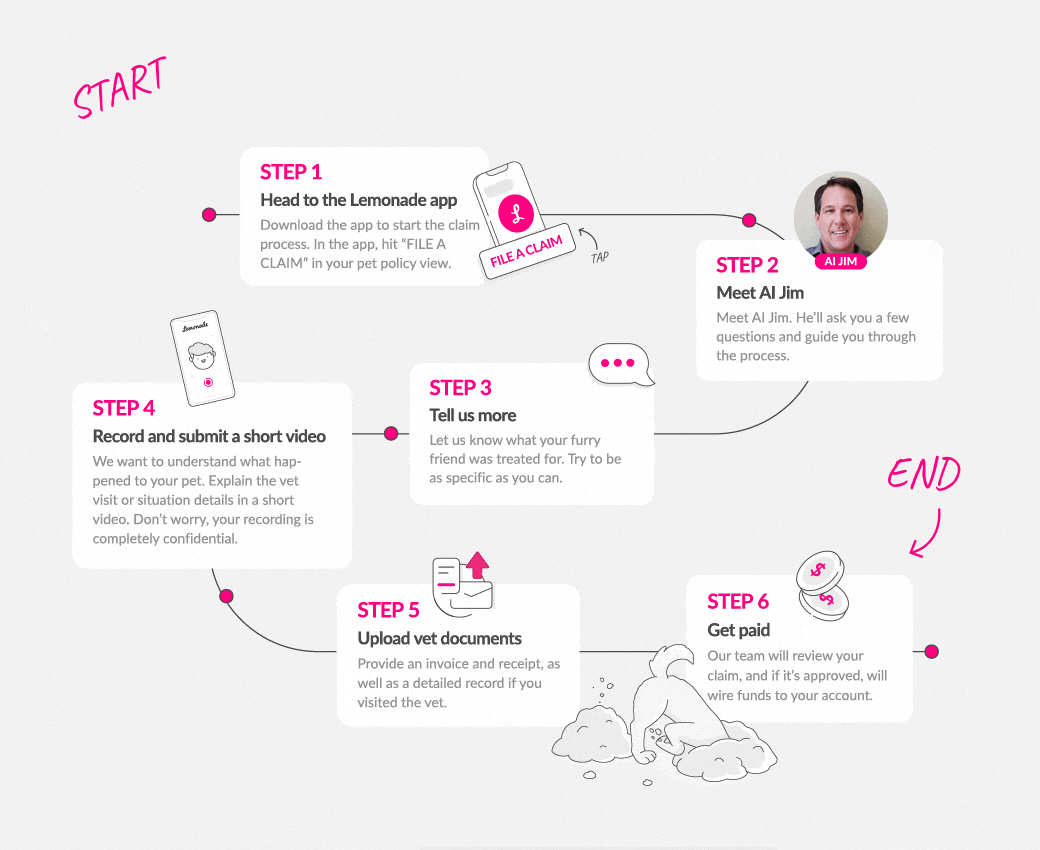 Step 1: Head to the Lemonade app
Open the app on your phone. If you don't have the app yet, download it and sign in with the email you used when getting your Lemonade policy.
Once in the Lemonade app, hit the pink 'claim' button in the top right-hand corner.
Step 2: Meet AI Jim
Meet our claims expert, AI Jim. He doesn't bite! He'll start off by asking you to sign a pledge to verify everything you tell us about your claim is truthful and honest.
Step 3: Tell us what happened to your furry friend
Select the reason for this claim to let us know what happened. Has Fluffy been in an accident? Is she sick? Is this just a routine vet visit? Be as specific as you can. Share basic info as well as your vet visit details.
Step 4: Record and submit a short video
Explain exactly what happened in a short video recording. It should only take about a minute (and it's a lot easier than typing out all that info). Pretend you're talking to a friend, and let us know the details of the incident or treatment you're submitting a claim for, such as what, when, and how it happened.
Don't worry, your video is completely confidential; we'll only use it in order to review your claim.
Step 5: Upload documents and submit!
Tell us what you're claiming for, exactly. Provide an invoice and receipt, and let us know what you'd like to be reimbursed for. For example, has Luna been in an accident and now needs medication that you'd like us to help cover? The more details we have, the easier it will be to process your claim.
Step 6: Get paid
We'll review and handle it. Our team will review your claim and wire funds to your account, if it's approved.
And that's it! We hope you find the process painless, stress-free, and very, very simple. If so, spread the word and tell a friend about Lemonade Pet so they can get in on some of the fun (and you can earn some cash to spend on Amazon too, as a thank you).