A living room is arguably the most important room in your home. It's not just a reflection of your taste, it can be a reflection of who you are… but what if who you are is larger-than-life, and your digs are, well, small?
If you have a space that's more constrained than your creativity, how do you design a small living room?
Designing a stunning living room can feel intimidating without an interior decorator. But if you want to maximize your den, and don't have an Architectural Digest budget, all hope isn't lost.
There are a million ways to make the most out of a small living room. And since you're going to spend hours and hours and hours of your life there, it's definitely worth investing some time into making it perfect. Whether you want an impressive media display or a gorgeous gallery wall, we sourced the expert tips you need to get the most out of your soon-to-be favorite room.
Before you get started, ground yourself in this mindset: your living room doesn't need to be one-size-fits-all – it just needs to fit you. So we devised an easy plan to help you make the best use out of your living room:
Step 1 – Measure the room
Step 2 – Contemplate costs
Step 3 – Optimize the space
Step 4 – Set the vibe
1. Measure the room
Before you do anything else, measuring the space is a must. More and more homes are designed with an open layout, which could mean your living room opens into your kitchen. Will you want to include a table for meals? Do you plan to eat on the couch? Is there an optimal path to play fetch with your dog you want to avoid blocking?
The dimensions of your living room can quickly squash your fantasies, so you'll want to identify the limits of the space early on in the design game.
Some graph paper, a measuring tape, a pencil, and elbow grease go a long way in determining what you're really working with.
But in the interest of eliminating paperwork, we tried out one of the many apps designed to measure your space. Case study in point: we mapped out one of the common areas in our Lemonade offices.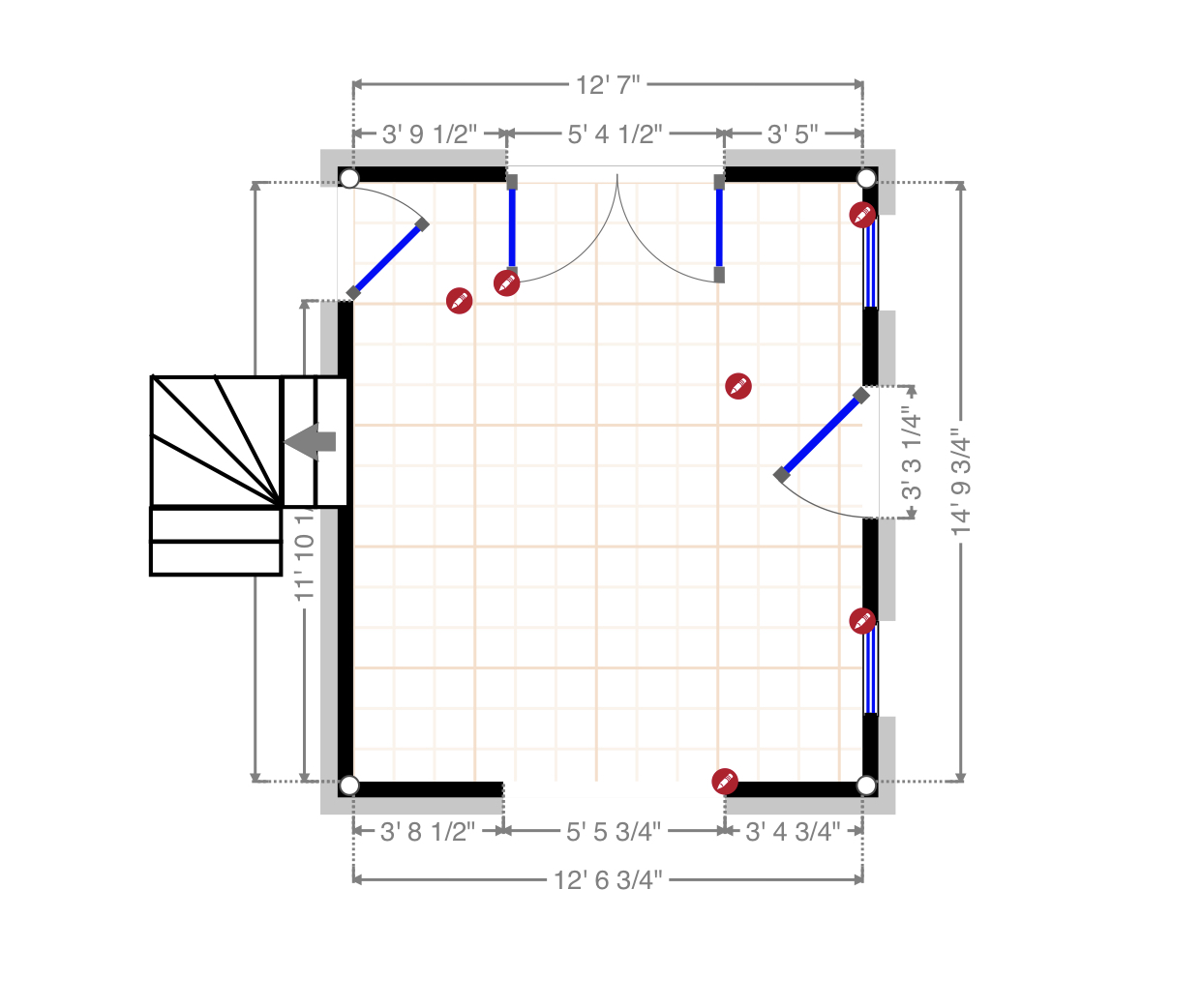 It was pretty easy to use and the results looked gorgeous – but when we went back with a measuring tape, we were about 5 inches off (in one area it was an extra 5, in another, a missing 5). We'd used the highest rated app, so when we wanted to know if our measurements were close enough, we turned to Lemonade policyholder and architectural designer Ketty Bencosme. Her answer was a resounding no:
"When planning a layout, every inch matters. It determines what furniture you can use and how the space will work. Five inches can be the difference between feeling comfortable and feeling cramped."
Ketty says a measuring tape is the way to go, but also recommends a laser measurer, especially for larger spaces. While apps are fun to use, the technology still isn't reliable enough to let you know what you're really working with.
If you want to optimize your space to its full potential, go ahead and measure the old school way. That's what the interior designer of the room we mapped out above did. Check out how she utilized every inch of the room!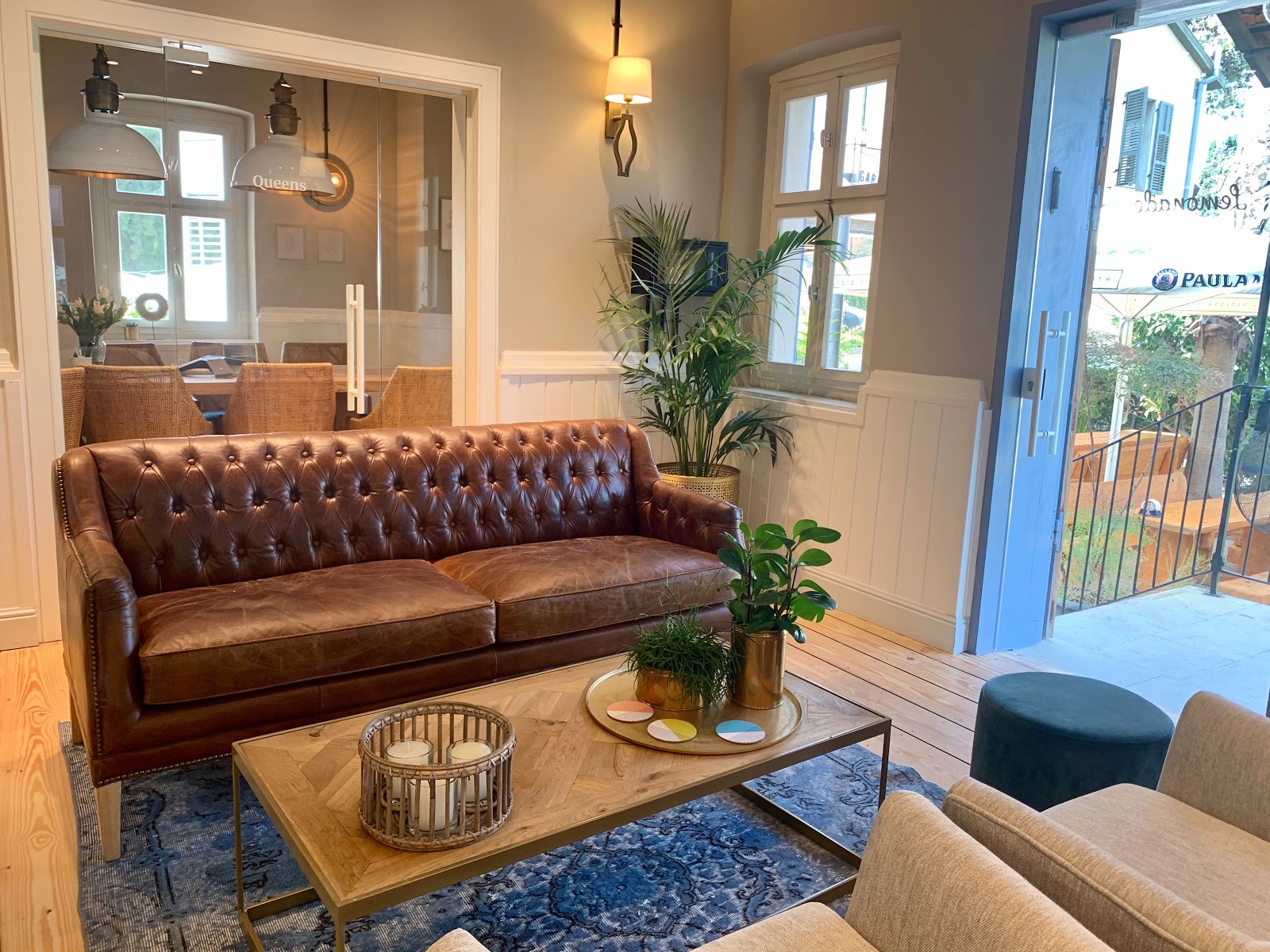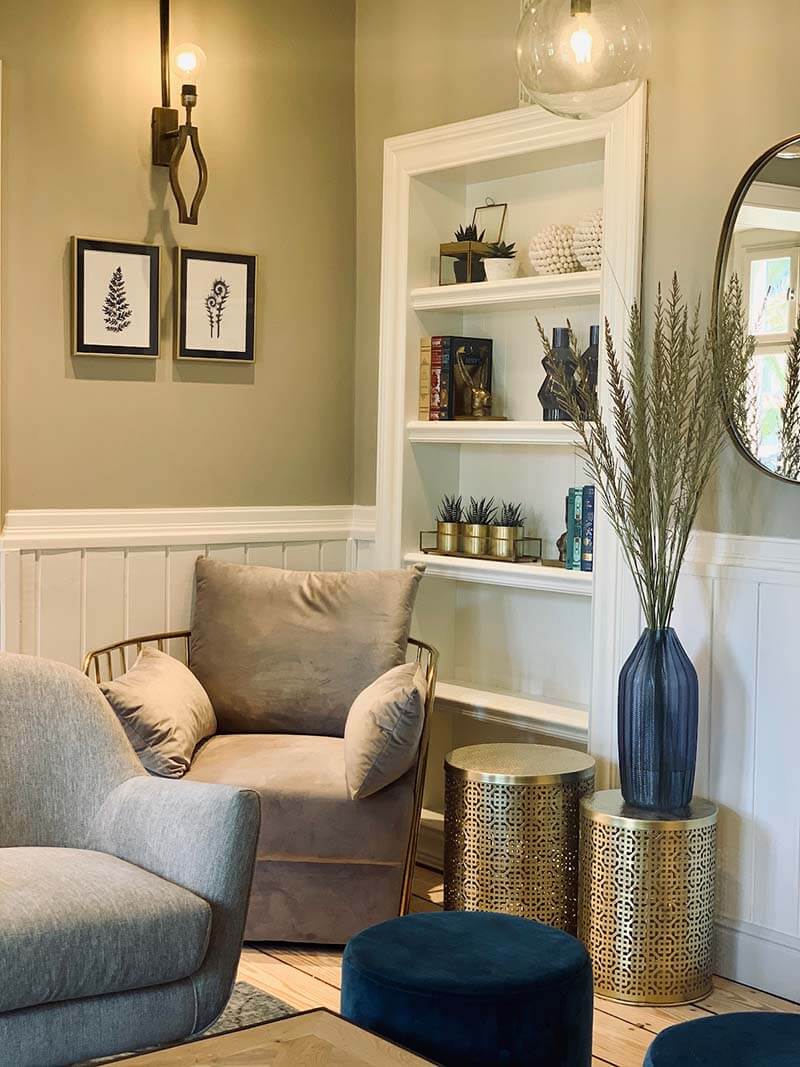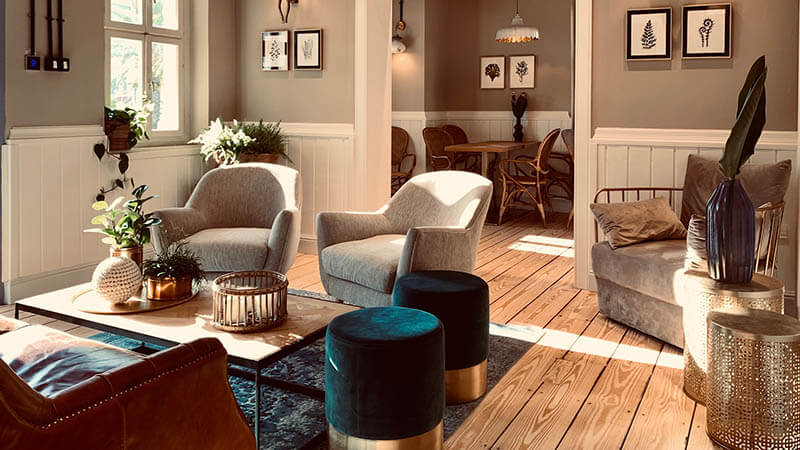 The walking path between the main seating area and the armchair in the corner is a great example of how a 5-inch discrepancy can leave you with a cramped room, or worse, with furniture that doesn't fit in the space.
Knowing the footprint of your living room will help you develop a strategic layout for your furniture, but before you start shopping, determine how you'll use the room so you can optimize your budget.

2. Contemplate costs
Since living rooms tend to be multi-purpose rooms, it's a good idea to determine your main uses for the space.
Whether you're looking forward to playing endless rounds of Mortal Kombat or curling up with your cat and a book, one thing tends to be pretty central to your living room experience: where you'll sit. Michael Partenio and Stacy Kunstel, of design firm Dunes and Duchess, think so too:
"Invest in one good piece. In the living room, it's your sofa. A good sofa can be with you for life, and can be recovered as you get older and move to other places. Why is a good one expensive? Think about it as a cost per hour you spend sitting on it while binge watching Netflix. Pillows and rugs are cheap and disposable, and can change as your taste and level of sophistication changes."
While a quality sofa may be an obvious choice, try to think about what's most important to you in your living room. Figure out what other big-ticket items will make the room feel like home for you so you can plan accordingly.
Imagine yourself having a perfect Saturday afternoon in your living room. What are you doing? Watching college football with your closest friends? That'll require a more expensive sound system than yoga does.
But be mindful of what you absolutely need, and what you're tempted to just own. At the end of the day, it's your choice whether to splurge on wireless controllers over a coffee table with storage, but keep in mind how easy it is to convince yourself you need a cozy blanket and a footrest that doubles as extra seating, and an area rug, and more throw pillows. And if you own your home, how can you resist recessed lighting, surround sound, and built-in bookcases?
Lemonader Marissa Guccione, of Bungalow 27 Design, told us that buying a lot of stuff to fill a space isn't always the right solution:
"You don't need a lot of money or things to make your living room feel pulled together. Carefully select items that make your heart happy and build your space over time.  Layer the room by starting with larger items first and then bring in the little meaningful items last. It will feel perfectly planned and super homey.
There are so many tempting things to spend on when designing your dream living room, so figure out how much you have to allocate, and then figure out where you want your money to go. Regardless of your budget, there will come a point where the splurges fade into excess for the sake of excess, so find a way to prioritize the things that are really worth spending on."

3. Optimize the space
Now that you know how much space you have and have determined what you're comfortable spending, it's time to work on your living room layout. Pick the focal point of your living room, and work out from there. It can be your TV or a fireplace… remember, it only needs to work for you.
Once you have your focal point, take note of all the potential pain points of your living room. Review your measurements, and consider things like the space you lose when a door opens into the room. Knowing how much space to leave between furniture, and how far you should sit away from a TV screen, are paramount to getting the most out of your living room.
The design website, Hunker has some great tips for creating a layout that optimizes a small space:
Prioritize a clear walking path. If you have to wind in and out of furniture to get from one end of the room to the other, expect the room to feel cramped.
Leave at least 2.6 feet between pieces of furniture you'll need to walk through
Your coffee table should be about 18 inches away from your sofa and 12 inches away from armchairs
Chairs pushed into tables need about 20 inches of clearance for someone to sit comfortably
Rugs are ideally placed 10-20 inches away from a wall
Nothing tops sketching the layout of your room, and cutting out the footprint (drawn to scale) of each item you want to add to the room. If you have a small living room, try some hacks that open up the space without compromising on the furniture you've already got.
Light is another great way to make a small living room feel much bigger. Lemonader Ilona Birnberg, a professional interior designer, gave us some great tips for playing with light:
"Layering different sources of light at varying levels (ie ceiling light, table lamps, floor lamps, string lights) helps create depth and ambiance in small or large spaces. The color temperature of the light [measured in Kelvin (K)] makes a big difference too. Opt for 2700K in soft/warm cozy spaces (like living rooms and bedrooms), while functional spaces like kitchens and bathrooms work best with cooler white (4200K) or daylight (5000K-6000K) bulbs. A dimmer switch can help to control intensity and brightness of individual or groups of fixtures, and the overall mood."
Keep an eye out for where outlets are placed too, since it will dictate where you watch Love Island, and where you charge your phone. If you're lacking natural light, you'll want those outlets to help with some lamps as well.
It's up to you if you want the room to feel streamlined and airy, or cozy and warm, and that will definitely influence the way you develop your living room layout. Here comes the fun part…

4. Set the vibe
Remember the photos of the Lemonade 'Living Room' above? People around the office call it 'The Beach House' because of its color palette and paneling on the wall. It doesn't have an oceanfront view, but that's one of the great things about design: You can elevate your space with some creativity and an interior decorator careful planning.
A color palette is a great place to start. Maybe you want to give the room a calm, relaxing feel, so you're planning to stick to solids and cool colors. Or maybe you want to use some of the Moroccan inspiration you've been 'pinning' all year.
Chicago designer Summer Thornton is known for her bold and colorful designs. She told us:
"Design fearlessly and go for it. Timid design is the worst. You have to have a vision and fully commit."
You don't need intense textures or patterns to make sure your living room doesn't have 'timid design.' Gallery walls are a great way to mix photos of people and places you love, with prints or artwork. With a little strategizing, several pieces on the wall can actually make the space look taller, and roomier.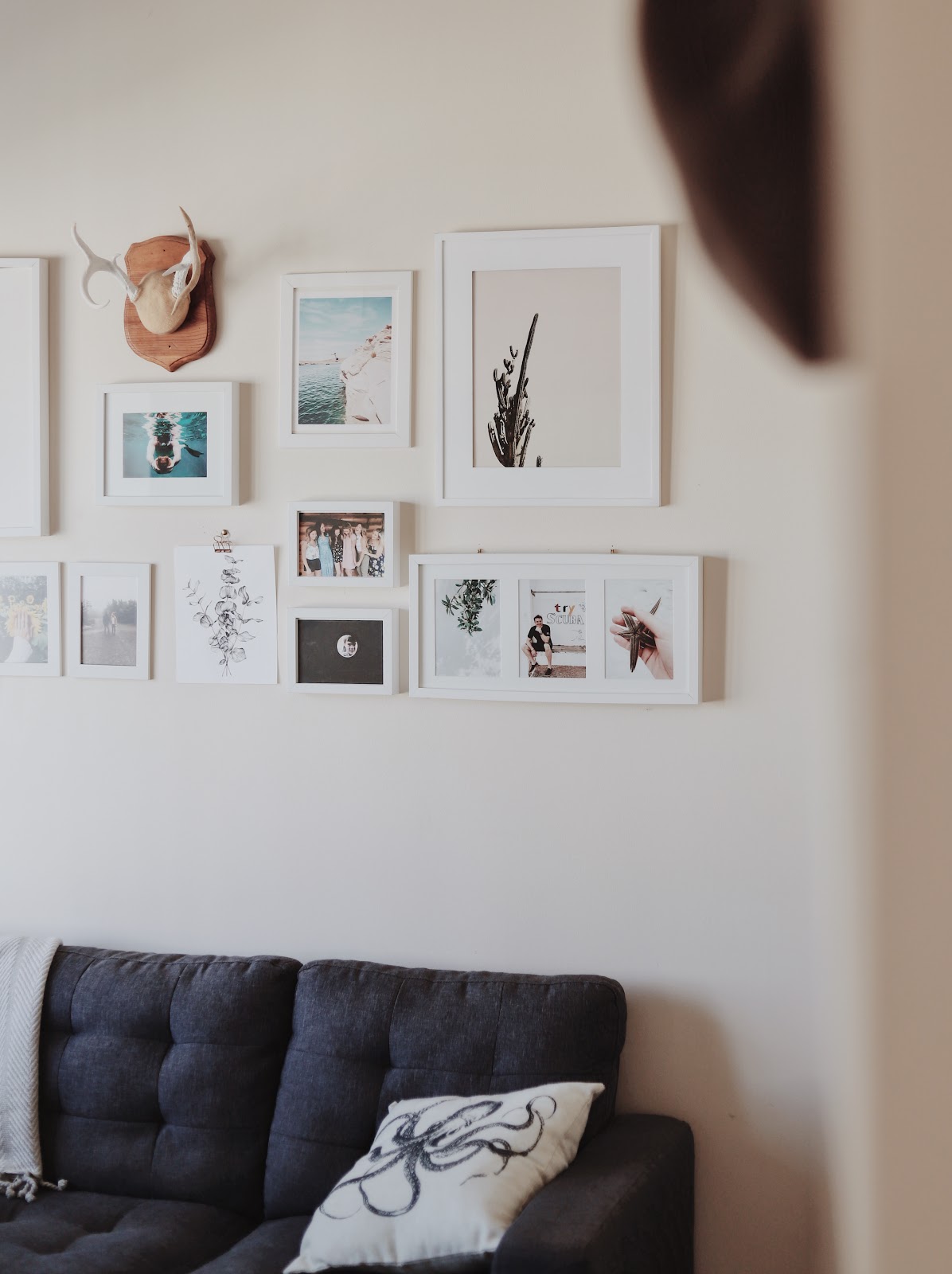 Throw pillows are a great way to add a pop of color, but if you want a more streamlined look, you might want some metallic trays to organize your remotes. If you find something that feels like the vibe you want, but you're not sure what to do next, try searching a related hashtag on Instagram and see where it takes you.
Whether you want your living room to express minimalism or abundance is up to you, but if you stay consistent with the vibe of the room, you'll create a beautiful space to enjoy your downtime.
Embrace the space
Feeling cozy at home yet? After move-in-day, or when your design update ends, you should feel free to keep decorating the room. After all, as you evolve, your style might too, and there's no deadline for adding special touches that make the space unique to the life you're living in it.
A good layout can enhance a small living room, so you can enjoy your downtime in a space you love. All it takes is a little bit of effort to make your living room a big hit.