Renters Insurance for College Students
Class is in session, get the coverage you need.
On a mid-September day, Stanford University student Avery D. was grabbing an In-N-Out burger when he heard something unexpected over the loudspeaker: "If you have a grey Acura parked out front, your car was just broken into."
He rushed outside, only to find the trunk window smashed, and his backpack, laptop, and textbooks gone.
While his auto insurance covered the broken window, could he get reimbursed for his things?
Spoiler: He sure could, thanks to his renters insurance policy (phew!).
If that comes as a surprise to you, you're not alone. Truth is, "renters insurance" doesn't exactly sound like insurance for your phone, bike, jewelry, and clothes, both in and out of your home.
It's no wonder a sizable chunk of renters are uninsured. According to the most recent Insurance Information Institute consumer survey, 57% of US renters have renters insurance. While that means that four in 10 tenants aren't protected by renters coverage, as recently as 2018, only 42% were insured.
Perhaps more people are turning on to renters insurance because it turns out that it comes with tons of hidden benefits when it comes to renters insurance, especially for college students venturing out on their own for the first time.
So we did your homework for you, and answered your most common questions around getting renters insurance in college. Here's what's covered:
What is renters insurance, anyway?
We'll break it down for you.
Renters insurance covers your stuff for things like theft, fire, vandalism, and windstorm. So if your phone gets swiped at a homecoming party, or an expensive geology textbook catches fire after your vanilla and lavender candle tips, your policy can help pay the cost to get you a new one. Score.
Here's a complete list of the perils that renters insurance can help cover: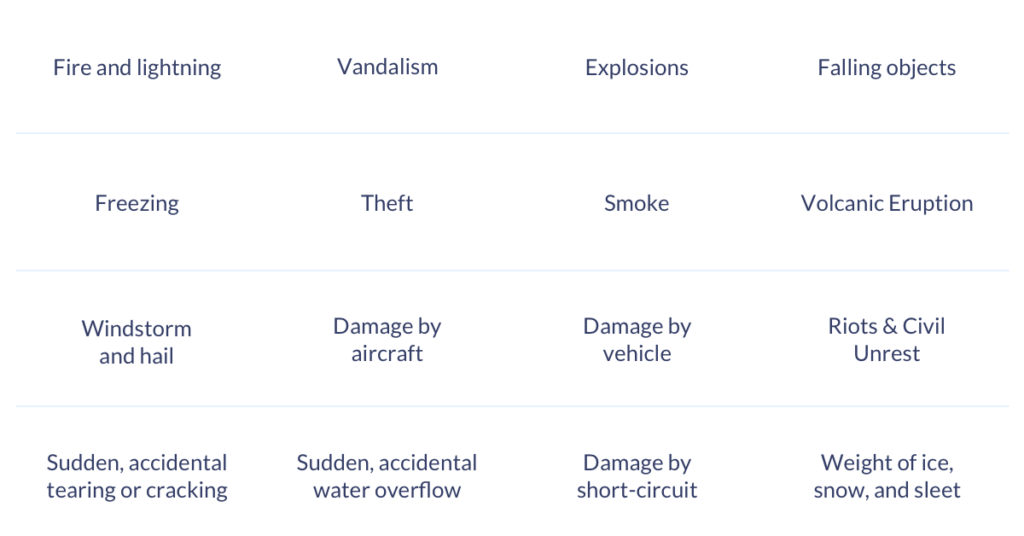 Renters insurance also includes personal liability coverage, which can cover your legal and medical fees if someone gets hurt in your place. So if a classmate slips on spilled coffee and breaks his leg during your apartment study session, renters insurance has your back.
Lastly, if any of those 'perils' listed above forces you out of your place, you're covered. Renters insurance will take care of the extra cost for a hotel, and any additional living expenses. Room service, anyone?
Do students need renters insurance?
TL;DR: Your Mom was right – you probably need renters insurance.
Why shell out $$ you'd rather be spending on a pre-class cold brew? Well, renters insurance can save you money in the long run.
How? Turns out, campuses are one of the top 5 most common destinations for laptop and phone theft, according to studies conducted by the FBI. That's because young people with expensive, portable items usually gather in small, public spaces or shared living areas on campus, making them easy targets for thieves (who are often fellow students).
It's no wonder that burglaries and theft make up 44% of all criminal activities on college campuses, according to the most recent data from the National Center for Education Statistics.
When Lemonader Avery had his backpack stolen, not only did he lose his computer – but also his textbooks. Turns out, textbook theft is a huge issue, since students at four-year colleges and universities spend an average of more than $1,200 each year on textbooks alone, according to 2022 figures from the Education Data Initiative.
So even if your have nothing but a laptop, phone, and a few textbooks, spending a few extra bucks a month to avoid paying-out-of-pocket to replace 'em is pretty much a no-brainer.
How much renters insurance do college students need?
Well, it depends on how much stuff you own, and whether you live in a dorm room or off-campus housing. Let's break it down:
How much your stuff is worth
You probably have tons of valuable stuff in your college digs. To make sure your policy covers everything, you'll need to figure out how much your stuff is worth.
Go through these three simple steps to save time (and money!) later:
1. Walk around your place, and take a video of everything you care about
2. Make a list of your big ticket items/electronics, and estimate how much they cost
3. Create an estimate for bulk items such as clothes
4. Add all of this up to determine how much coverage you'll need
Best practice is rounding up to the nearest $10K. So if your laptop ($1,250), phone ($1,000), bike ($1,000), furniture ($5,000), and clothing ($7,000) add up to $15,250, you'll want to get at least $20k in personal property coverage.
When valuing her stuff, Lemonader and Slippery Rock University student Kayla J. chose $30k in personal property coverage:
"When getting my Lemonade policy, my Dad and I talked about the value I placed on my things and their estimated market value. Since I live in a studio apartment, I don't have an excessive amount of things that would warrant more than $30,000 in personal property coverage."
Btw, note that you might want to get Extra Coverage for your high-ticket items, like your jewelry, bike, camera, and musical instruments. This will usually tack on a few extra dollars on your premium each month, but will keep your stuff safe from extra things like accidental damage and loss.
If you live in a dorm (or other on-campus housing)
As long as you're below a certain age, your stuff might be covered under your parents' homeowners insurance policy while you're living in a dorm. Who said you need to adult right when you get to college?
How can you know for sure if you're covered? Have your parents check in with their insurer. If they have Lemonade homeowners insurance, you'd be covered in your dorm (or in off-campus housing) if you're a full-time student under the age of 24, provided that you lived with your folks before heading off to school.
While they're at it, your parents should also look into their personal property coverage limits—aka, how much coverage they have for their stuff. That's because lots of policies limit how much stuff is covered outside of your parents' home. Whomp whomp.
Let's say your parents have $50,000 worth of personal property coverage (reminder: 'stuff' coverage). If their insurer only covers 10% of that outside the home (which is pretty common), they will only have $5,000 worth of coverage for your and their items.
Since you have $20,000 worth of stuff, this $5k just won't cut it.
See if your parents can increase their personal property coverage. If they can get $200,000 worth of property coverage, it would be just enough to cover all of your things (assuming nothing happens to all of your stuff and theirs at the same time).
A few more quick notes about staying on your parents' insurance policy:
If you have expensive items such as jewelry, bikes, or instruments, your parents will need to

schedule

them onto their policy if you want 'em covered for accidental damage or loss.

Ask your parents about their deductible, since homeowners policies usually have higher deductibles than renters. For example, if your $1,000 laptop gets stolen, your renters policy can pay you back $750 if you have a $250 deductible; but if your parents have a $1,000 deductible, you unfortunately won't get reimbursed at all for your loss.
If you live off-campus
If you live in an off-campus apartment you might consider getting your own renters insurance. While getting your own policy may seem intimidating, it's a lot easier than you'd think. It takes less than 2 minutes, and you can get a policy without ever having to pick up the phone (more on that later).
When choosing your personal property coverage, you'll need to calculate the value of your stuff using the instructions above, and round up to the nearest $10k. Note that your roommates' stuff isn't covered under your renters policy – tell 'em to get their own!
For the other coverages, choose what makes sense for you, in terms of your lifestyle and ability to pay upfront versus on a monthly basis. Here's what we offer at Lemonade: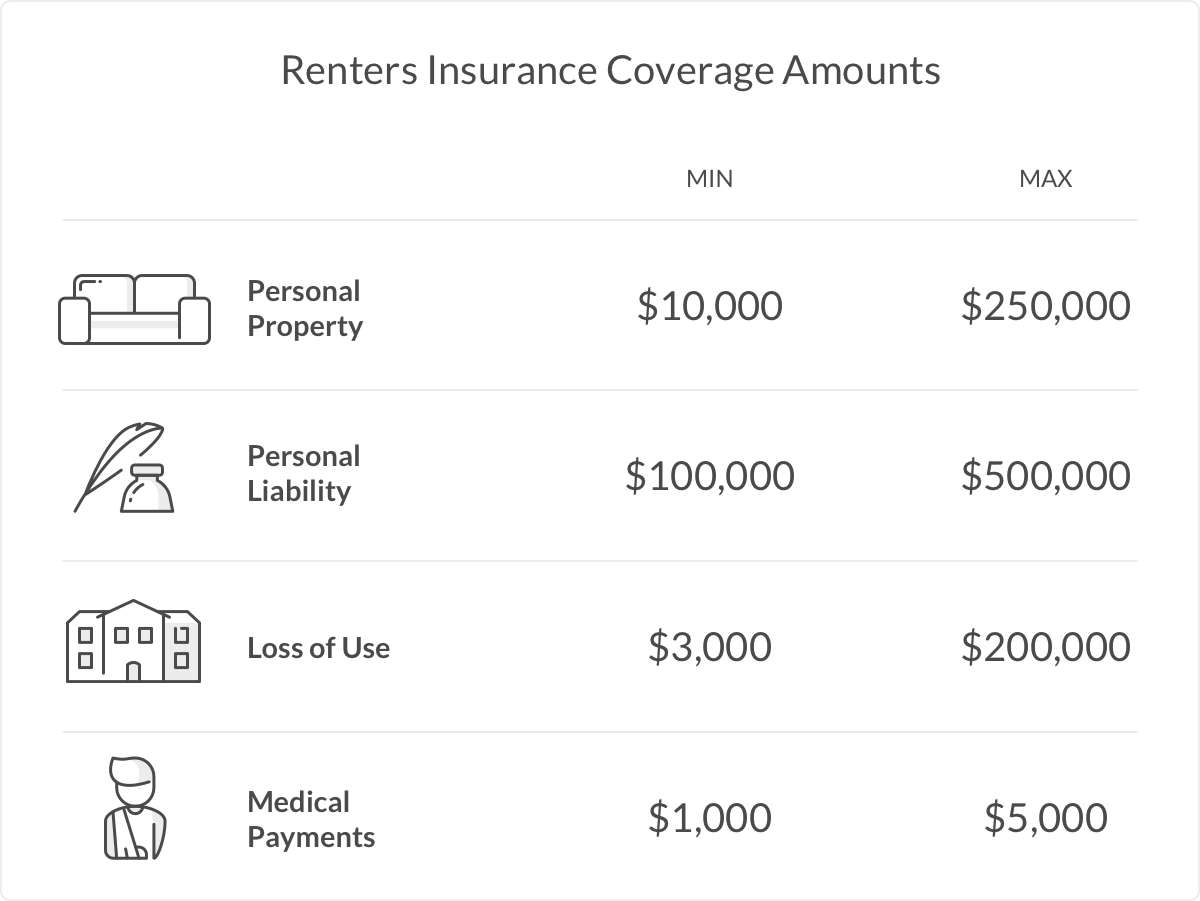 How much is renters insurance for students?
While the average cost as of early 2023 is around $14/month, the price of your Lemonade renters insurance can vary depending on a bunch of factors, including your apartment's condition, location, deductible, the amount of coverage you need, and which insurance company you go with.
For example, if you live close to a fire station and far from the coast, you could get a lower price. And the higher your deductible is, the lower your premium could be (but keep in mind that a high deductible also means you'll pay a lot more out of pocket in the event of a claim).
How do I get renters insurance?
Honestly, getting renters insurance can be a hassle. And let's face it: You'll want to spend less time with your insurance company, and more time living it up with your friends (er, we mean… studying).
One thing to know: Even if your parents are paying for your renters insurance (thanks mom!), you still need to be the one to sign up for the policy. We've got a bunch more info about all of this in our parents' guide to renters insurance, so be sure to share it with your folks.
The process itself is a breeze. Instead of calling up a traditional insurance agency and waiting on hold, you can get renters insurance online with Lemonade in less than 2 mins.
With Maya, our charming artificial intelligence bot, getting a quote is fast, straightforward, and can be done right from your desk (as you may or may not be procrastinating your work). Just answer a few questions, and you'll get a quote in less than two minutes.
Plus, Lemonade's claims process is easy, too. As Lemonader Avery told us:
"After my backpack was stolen, I immediately filed a claim with Lemonade. After ten minutes, I was approved and had a money transfer on the way. I filed the claim entirely from the app and it was very straightforward. If it wasn't for Lemonade, I would have no idea where to start with filing a claim through my parent's traditional insurance company."
To take Lemonade for a spin in under 2 minutes. Then, go party!
Which states currently offer renters insurance?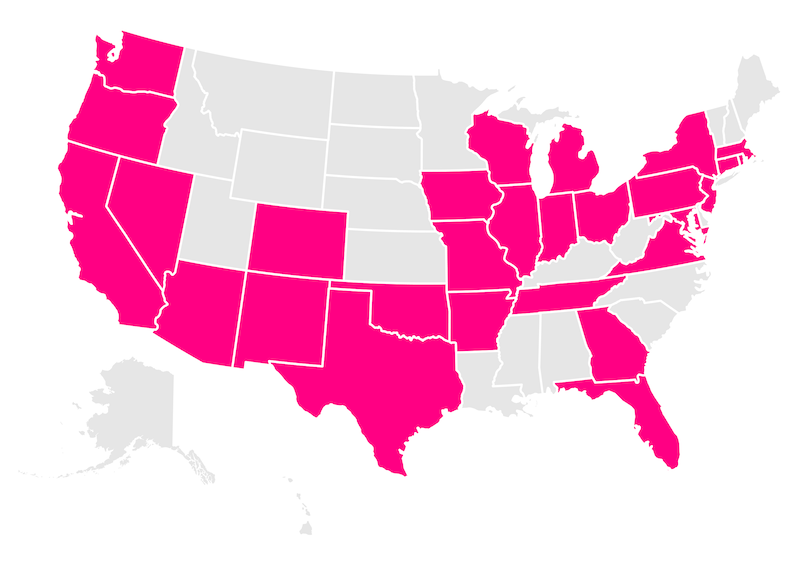 Arizona, Arkansas, California, Colorado, Connecticut, Florida, Georgia, Illinois, Indiana, Iowa, Maryland, Massachusetts, Michigan, Missouri, Nevada, New Jersey, New Mexico, New York, Ohio, Oklahoma, Oregon, Pennsylvania, Rhode Island, Tennessee, Texas, Virginia, Washington, Washington, D.C. (not a state… yet), and Wisconsin.