Honda Civic Insurance: A Complete Guide
So, where can I get the best coverage for my Honda Civic?
The Honda Civic is one of the all-time best-selling cars in the world. As of 2021, over 27 million Civics have been sold since 1972.
As a Civic driver, you have the opportunity to choose Honda Civic insurance that works best for your needs. Whether you're driving to a state park for a nature hike, or carpooling the neighborhood kids to soccer practice, you should feel confident that your car insurance has your safety, your wallet, and the planet in mind. That's where Lemonade car insurance comes in.
We offer Civic drivers super customizable coverage options, great bundles, discounts for things like safe and low-mileage driving, and so much more. Wondering if Lemonade Car has the best Honda Civic auto insurance rates ?
Here's what we'll discuss:
And just a quick FYI—Lemonade, Inc. is not affiliated with or endorsed by Honda Motor Corporation or its subsidiaries.
Where does Lemonade Car offer Honda Civic insurance?
Lemonade Car is constantly growing and expanding. If you want to see if Lemonade Car is currently available in your state, check here and start a quote (if we haven't made it to your state yet, you'll be able to sign up for updates via our waitlist).
Can I customize insurance coverage for my Honda Civic?
Yes! Lemonade Car coverage for your Honda Civic is extremely customizable. Besides needing some bodily injury and property damage liability coverage—which are both required by law to get behind the wheel in almost all cases—you'll be able to tailor your coverage, limits, deductibles, start date, and more to your needs.
We offer multiple avenues for our policyholders to customize their car insurance policy with additional coverage—like comprehensive coverage and collision coverage (if you're confused about those distinctions, we clear it up here).
Once you have both comprehensive and collision insurance on your policy, you can also include things like temporary transportation coverage and extended glass coverage to help keep you and your Honda Civic protected.
Want to keep your Civic's precious cargo protected too? That's where medical payments coverage (MedPay) can come in handy. MedPay could help pay the medical bills if you, your passenger, or family member got injured in a car accident.
You might be looking for "full coverage" car insurance—which is a term people use to describe a combination of insurance coverages designed to "fully" cover you in the event of an accident. With Lemonade Car, that's an option. It's important to understand though that full coverage doesn't mean you're covered for everything, nor does it guarantee your claims will be approved. Deductibles will apply for most of these coverages, and you'll only be covered for the coverages you selected.
Keep in mind: The coverages and minimums that you're required to drive your Honda Civic will vary by state, but you'll probably want more coverage than the bare bones version you're legally mandated to get. The question of whether or not you need additional coverage depends on you and the amount of financial protection you believe you need.
How can I save money on my Honda Civic car insurance costs?
There are so many ways you can save on your premium when you drive your Honda Civic with Lemonade Car. Car insurance rates depend on a lot of factors, with a major point of interest for insurance providers being your car's make, model, and model year.
Lemonade's auto insurance puts an emphasis on your actual driving behavior, driving record, and the number of miles you drive when determining the fairest Honda Civic insurance rates. You could lower your car insurance premium by driving with the Lemonade app—which gives you the chance to show us how awesome (and safe) of a driver you are, and to potentially get a discount when your policy renews.
We reward low-mileage drivers with savings, and if you need to cover more than one car on your policy, you become eligible for a multi-car discount on your premium. Also, when you bundle your Lemonade Car policy with any of our other insurance products—like renters, homeowners, or pet insurance—we'll automatically apply a discount.
Safety features that keep you even more protected on the road—like anti-lock braking systems, alarms, and airbags (or the latest Honda Sensing Suite™ feature)—could also help lower your HondaCivic insurance costs.
How does Honda Civic's safety profile compare to other cars?
A lot of factors determine how safe you are on the road—like traffic conditions, or the weather. But how safe your own vehicle is also makes a major difference. So you might be wondering: How does the Honda Civic stack up to the competition?
The Insurance Institute for Highway Safety (IIHS) releases vehicle safety ratings each year. They conduct tests like track tests and crash tests, as well as evaluations of headlight systems and child seat attachment hardware on lots of major car makes and models. Then they use the results to determine each car's crashworthiness (how well a vehicle protects its occupants in a crash) and its crash avoidance and mitigation (technology that can prevent a crash, or lessen its severity).
Great news…The 2022 4 door sedan and hatchback Honda Civic were one of the IIHS's Top Safety Picks. In addition, the NHTSA (the National Highway Traffic Safety Administration) has given all versions of the 2022 Honda Civic 5 stars out of 5 stars for safety.
Other top performers in the IIHS tests include the Acura Integra, Mazda 3, and Hyundai Tucson. Want to see how Honda Civic ranked in previous years? Check it out here.
Keep in mind: Driving a car with a high safety rating—like a Honda Civic—could be a great start to protecting you and your precious cargo, depending on the model year and condition. Of course, the choices you make behind the wheel also determine how safely you'll get from point A to point B.
At Lemonade Car, the way you drive matters. That's why we use the Lemonade Safety Score—which pulls together several factors about your driving behavior during every 6-month term. Behaviors like texting and harsh braking will lower your score, while easing in and out of turns or daytime driving (when there isn't traffic) will improve it. Driving safely with the Lemonade app can lower your Honda Civic car insurance rates.
What additional safety features can a Honda Civic offer?
Honda Civics can come equipped with lots of features for your safety and convenience. Depending on which features you select, your 2023 model could include:
Multi Angle Rearview Camera
Blind Spot Information System
The Honda Sensing Suite
Collision Mitigation Braking System
Road Departure Mitigation System
Depending on the age and mileage of your Honda Civic, you may be covered by Honda for certain upkeep and emergency services on your car.
For example, when you buy a new Honda Civic you'll automatically be signed up for the New Vehicle Limited Warranty. With this program, your new car is covered, battery included, for 3 years or 36,000 miles, whichever comes first. The Honda suite of warranties also includes a powertrain train warranty, Federal emissions warranty, a warranty on your car's tires, seatbelt, or more.
In addition, Honda provides emergency roadside assistance for all vehicles still under warranty starting from 2015 vehicles.
Keep in mind: Warranties typically apply to defects or malfunctions that are the manufacturer's fault, not things like from a crash or damage from extreme weather—that's where car insurance comes in—or ordinary wear and tear (which car insurance wouldn't cover, either).
Are Honda Civics eco-friendly?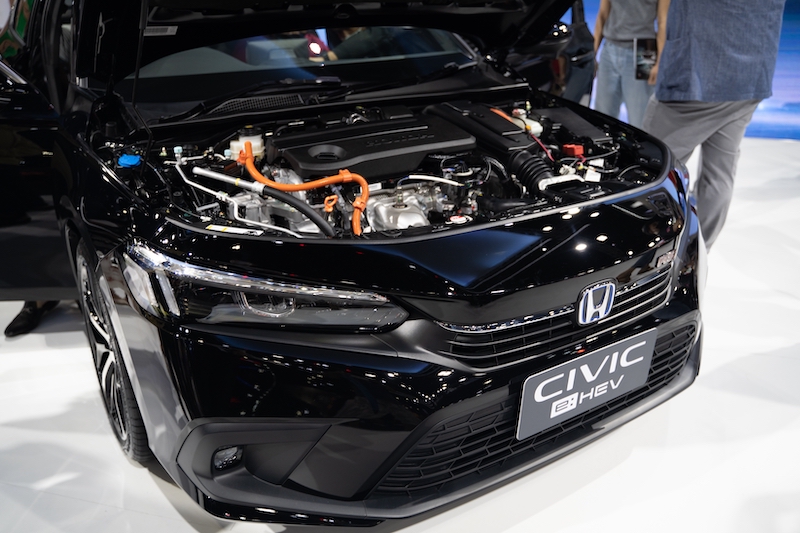 Get excited: The Hybrid Honda Civic e: HEV is expected to be available in the US in late 2023 or early 2024.
Meanwhile, according to the EPA, the 2023 Honda Civic gets 33 MPGs in the city, and 33 on the highway. It consumes about 8.3 barrels of fuel a year, and you'll pay about $1,450 in gas costs during that year. This is a very fuel efficient car.
Keep in mind: Until there comes a day when Honda goes fully carbon-neutral, your Civic will still be powered by fossil fuels—which results in the release of carbon emissions.
That's why at Lemonade Car we plant trees based on your mileage to help shrink your carbon footprint from driving. We're also proud to be the first US insurance company to publicly forswear investment in fossil fuels. It's our small way of making the world a little bit greener, and helping us all breathe a little bit easier.
Ready to be Civic-minded?
So, what's the best car insurance for your Honda Civic? Glad you asked. We're a bit biased, but… when you cover your Honda Civic with Lemonade Car, you can enjoy great coverage, score savings and discounts, and help make the planet a little greener for generations to come.
Ready to take Lemonade Car for a spin in your Civic? Click the button below to get your free quote.
---
A few quick words, because we <3 our lawyers: This post is general in nature, and any statement in it doesn't alter the terms, conditions, exclusions, or limitations of policies issued by Lemonade, which differ according to your state of residence. You're encouraged to discuss your specific circumstances with your own professional advisors. The purpose of this post is merely to provide you with info and insights you can use to make such discussions more productive! Naturally, all comments by, or references to, third parties represent their own views, and Lemonade assumes no responsibility for them. Coverage may not be available in all states.