What are the Most Walkable Cities in the U.S.?
And where can I escape downtown for some fresh air?
Lemonade Car insurance cares about the environment, offering our policyholders extra discounts for hybrid and electric cars and planting trees to help offset your carbon footprint based on your mileage.
What's more, Lemonade Car rewards low-mileage drivers with lower premiums. Because of that, we encourage you—when possible—to go out and about without your car.
So you might be wondering, what are the best cities in the U.S. to hit the town car-free? Walk Score ranks the walkability of cities based on a patented system that analyzes things like walking routes, distance to amenities, and population density.
Let's take a stroll through the some of the most walkable American cities, and map out what makes each one great for pedestrians.
10. Philadelphia, Pennsylvania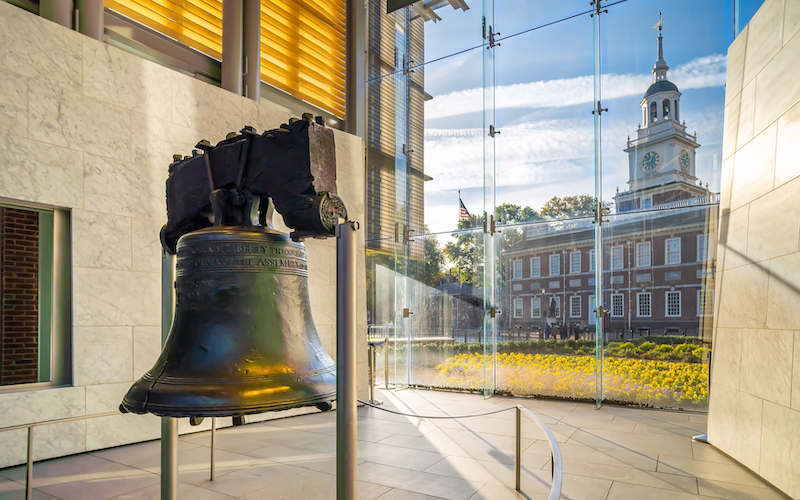 With a walkability score of 74.8, the United State's first World Heritage City is packed with history—much of it ready to be discovered on foot. Philadelphia was founded by William Penn and designed as America's first planned city. The roads were constructed on a grid system—which still has its perks today as locals and tourists alike navigate Philly's streets and public green spaces with ease.
If you're an American Revolution enthusiast, this city is like a life-sized history book, with iconic sites just a few blocks from each other. It's a mere two-minute walk from the Liberty Bell to Independence Hall. If you're looking to take a serious step back in time to the days of the Founding Fathers, check out this 23-stop guide to Philadelphia's Historic District.
Want to unwind in nature? Take a stroll through Fairmount Park along the Schuylkill River and you might forget that you're in the second most populous East Coast city in the U.S. (after NYC). The river, which spans 128 miles in total, touches the edge of Center City West—Philly's most walkable neighborhood.
9. Oakland, California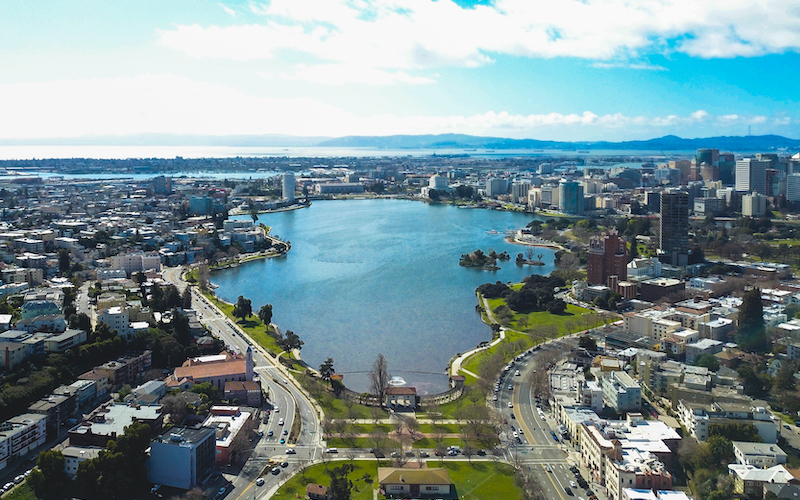 With a walkability score of 75.3, what's often referred to as "San Francisco's Brooklyn" attracts young people and creatives in droves. Oakland is just across the Bay from San Francisco and got its namesake from the vast oak tree forests that once covered the city.
Oakland neighborhoods like Chinatown, Civic Center, and Koreatown-Northgate are a walker's paradise. You can run most errands without a car or public transit—and take in the public art scene around nearly every corner. The streets of Oakland are filled with more than 1000 murals, making the city itself a walkable museum.
This Bay Area treasure is the only city in the world to have a natural saltwater lake within its city limits. Lake Merritt—actually a tidal lagoon—is the jewel of Oakland, and home to countless migratory birds during the winter months. It's the oldest wildlife refuge in North America. Birdwatchers flock to this special place to take in herons, egrets, geese, and ducks.
8. Newark, New Jersey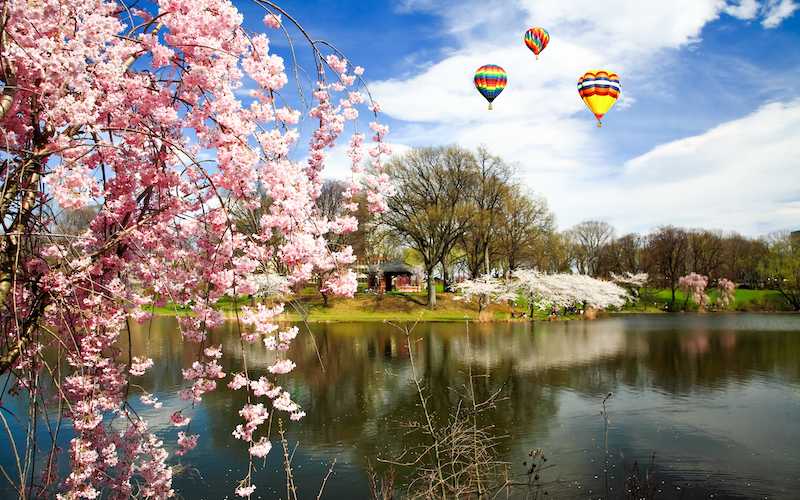 With a walkability score of 75.9, Newark is nicknamed the Brick City for the tall, brick buildings that were built in the 1970s as affordable housing for its residents.
Some of Newark's most walkable neighborhoods include the Central Business District, North Ironbound, University Heights, and Forest Hill. These neighborhoods range from 'smack dab in the middle of the city' to 'suburban oasis.' At the end of 2021 Newark earned Transit Village status from the Department of Transportation, giving the city eligibility for state funds to make its downtown area even more convenient for walking, biking, and public transportation.
Newark is the Garden State's largest metropolis and is home to the largest collection of cherry blossom trees in the US—even more than Washington D.C.! Each spring the Essex County Cherry Blossom Festival takes root at Branch Brook Park where locals and tourists come to celebrate over 5,300 cherry trees.
7. Miami, Florida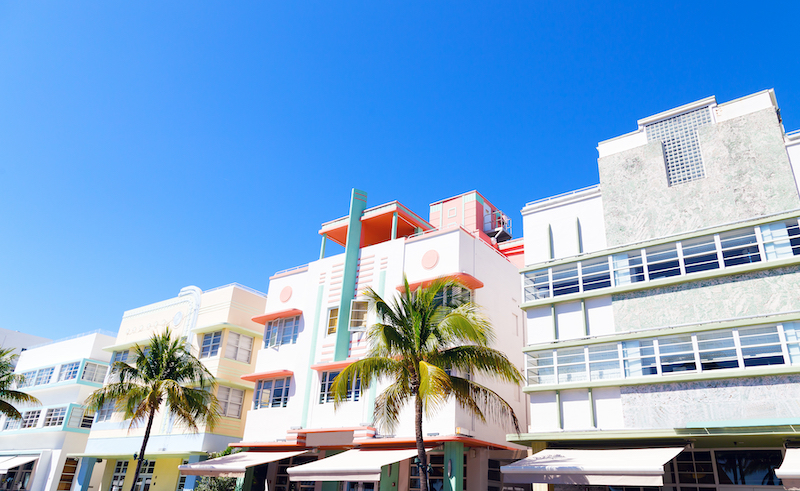 With a walkability score of 76.6, the Magic City is blessed with both pristine beaches and luxurious city life, all perfect for exploring on foot.
A few of Miami's most walkable areas are Downtown, Central Brickell, Little Havana, and Wynwood-Edgewater. You can easily access fine dining, a dose of high-end retail therapy, and vibrant nightlife—all within walking distance. Miami also has the largest collection of Art Deco architecture in the U.S., ideal eye candy as you walk the city's sidewalks
If you're looking to take a break from the high life of the big city, bring your towel and extra sunscreen to the world-class beaches nearby. Whether you're seeking the perfect beach selfie, celebrity spotting, a romantic stroll along the water, or some peace and quiet under a palm tree, there's a Miami beach for that. Once you hit the municipality of Miami Beach you can take your pick between Lummus Park, Bal Harbour Beach, South Beach, or Crandon Park, to name a few.
6. Washington D.C.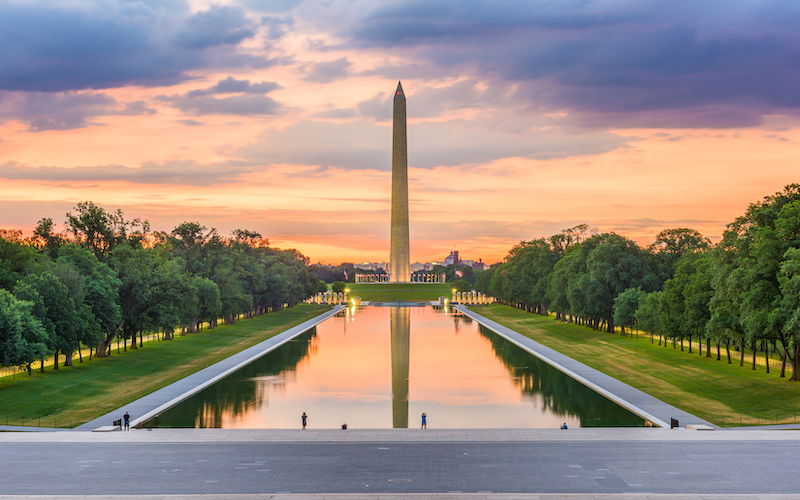 With a walkability score of 76.7, this cultural center of America is a hotspot for museums, historic landmarks, and an opportunity to spot your favorite (or least favorite) senator.
No matter your politics, walkability is a bipartisan issue in D.C. From Georgetown to the U Street Corridor, from Penn Quarter-Chinatown to Dupont Circle—this land was made for you and me to easily run errands without a car.
The U.S. Capital is also home to the National Mall, a large park within the city. This grassy stretch of pure Americana is home to many iconic monuments. It's a brisk two-mile walk from the Capitol Building on one end of the National Mall to the Lincoln Memorial on the other.
If you're eager for a more vigorous walk without actually leaving D.C., look no further than Rock Creek Park. As the third national park to be designated by the U.S. government, this 1,754 acre slice of heaven offers visitors a taste of nature paths, recreation, and even more history.
5. Chicago, Illinois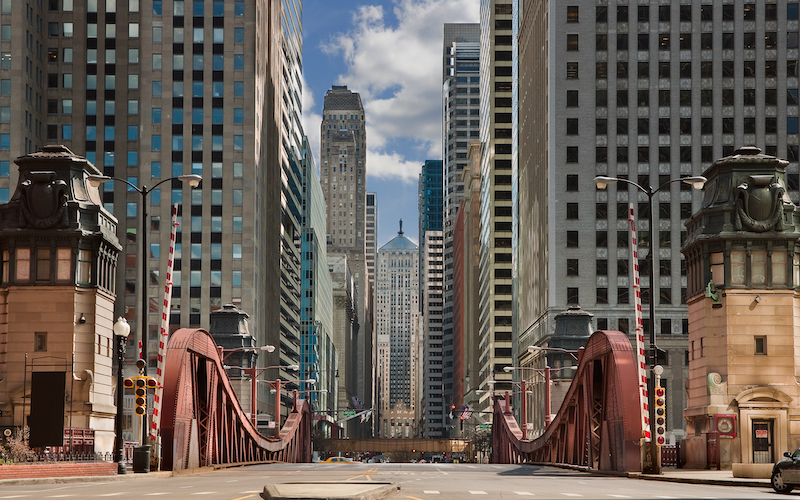 With a walkability score of 77.2, the Windy City will blow you away with all it has to offer on foot—but eating enough deep dish pizza might help keep you grounded.
Chicago is the birthplace of modern architecture, so just about everywhere you walk you're bound to find iconic skyscrapers. Though it no longer boasts the tallest building in the world, there is still plenty of proof that Chicago architecture is something special to discover.
Check out some of the most walkable neighborhoods like West Loop, River North, Lincoln Park, and East Ukrainian Village. In these areas you can indulge in the best of bar- and restaurant-hopping, local boutique and big-name designer shopping, the Magnificent Mile (guess how long the walk is), and well-manicured green spaces.
When you're ready for a breather from big city life, North Park Village Nature Center offers its visitors an opportunity to interact with and learn about wildlife and natural resources in an urban setting.
4. Boston, Massachusetts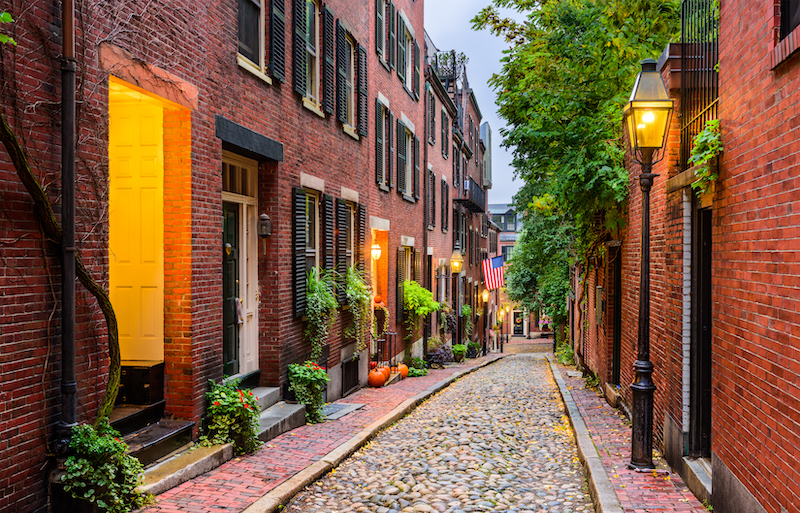 With a walkability score of 82.8, the City on a Hill is a pedestrian's paradise (provided your calves can handle its three major hills). Whether you're in town for the marathon or you're just trying to find the best baked beans and cream pie around—Boston has something for everyone.
You can 'park the car in Harvard Yard,' then head over to Boston's most walkable neighborhoods like Beacon Hill, North End, Bay Village, and the Chinatown-Leather District. Compact and quaint, many areas of Boston were designed more for people than cars.
After a long day of exploring the best of Boston's food, art, history—and 70+ colleges—make sure to catch a breathtaking sunset view along the Charles River Esplanade. This 17-mile stretch is a top-rated outdoor space in the Boston area for walkers, runners, bikers, and rollerbladers alike.
3. Jersey City, New Jersey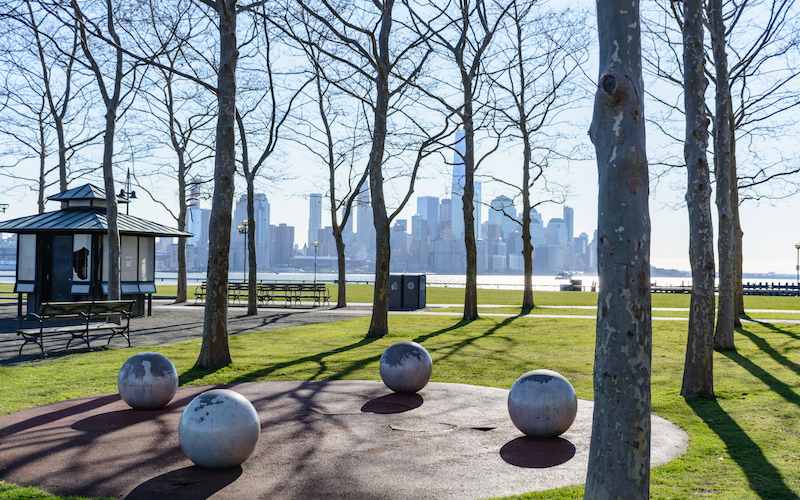 With a walkability score of 86.6, Jersey City—sometimes semi-seriously referred to as a sixth borough of New York—has a waterfront walkway, massive green spaces, and long streets that are ideal for pedestrians.
Between Historic Downtown, the Heights, Bergen-Lafayette, and Greenville, you'll find no shortage of signature red-brick buildings, leafy parks, and foodie hotspots (Jersey City offers incredible eats for all tastes). An expanding, car-free pedestrian mall adds to the charm.
Jersey City is also home to a major piece of American history. You can visit Liberty Island National Park, including the Ellis Island Immigration Center, which served as a gateway for many immigrants arriving to the U.S. From Liberty State Park you can enjoy panoramic views of the Manhattan skyline, the Statue of Liberty, and Ellis Island.
2. New York City, New York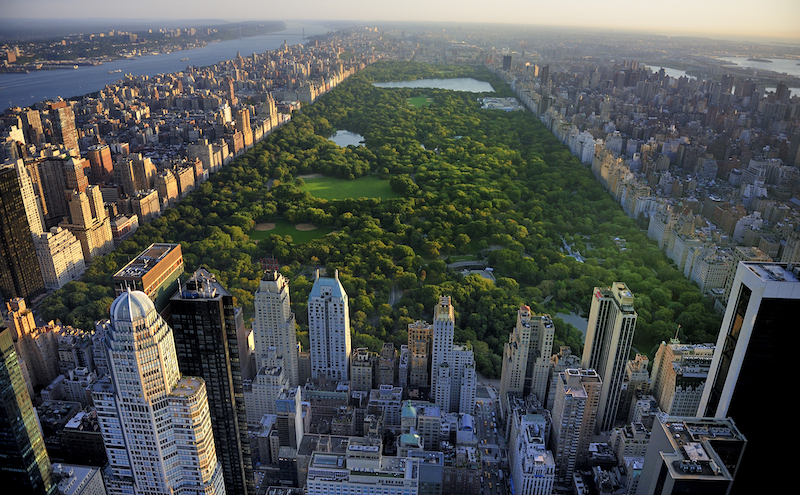 With a walkability score of 88.0, you could happily wander around the City that Never Sleeps from dusk till dawn.
NYC is a pretty big place—like really, really big. While Manhattan is relatively compact—you can walk from Lincoln Center to Lemonade's SoHo offices in a little over an hour—the other 4 boroughs are comparatively sprawling. Each borough sports its own most walkable neighborhood. There's Fordham Heights in the Bronx, Elmhurst in Queens, St. George on Staten Island, Boerum Hill in Brooklyn, and too many to count in Manhattan (depending on your tolerance for noise and crowds).
Between Times Square, Wall Street, and the chaotic bustle of Chinatown, you might think the city is all crowds and density. But there's an oasis for walkers right in the center of the action. With 843 acres of green space and recreation, Central Park is New York's largest urban park and one of the biggest in the world.
1. San Francisco, California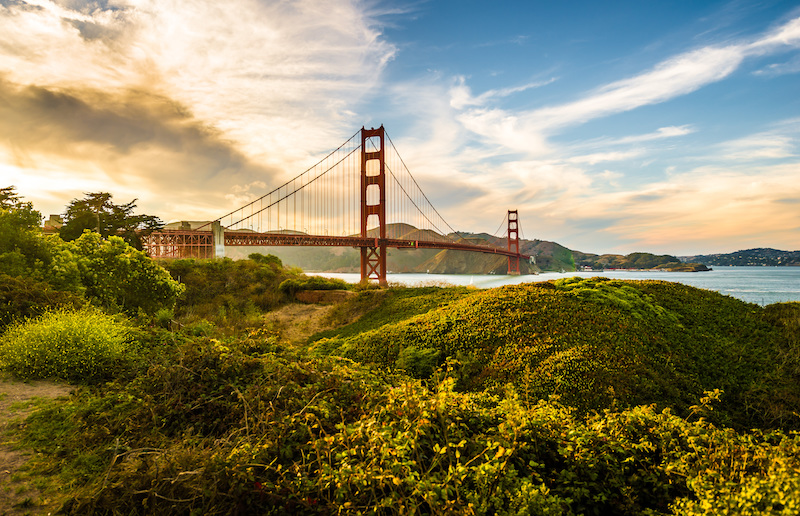 With a walkability score of 88.7, the Golden City ranks as the most walkable city in the U.S. If you feel so inclined, the hills of SF can be a walker's dream.
San Francisco is packed with pedestrian-friendly neighborhoods like Chinatown, the Tenderloin, Downtown/Union Square, North Beach, and Polk Gulch. In these areas you can easily run errands on foot and hit up eateries, art, and culture as you go. Just know that when it the more convenient a neighborhood is, the more you should prepare to pay to live there. SF is the most expensive city to live in the U.S., thanks in large part to the tech boom.
If you're looking to escape the bustle, hop over to Golden Gate Park. At 1,017 acres, San Francisco's largest park is a lush green space with lakes, wooded groves, grassy fields, and world-class gardens. This landmark is a testament to the city's history, culture, and creative ingenuity—especially considering the area was originally covered with sand dunes.
And one bonus city…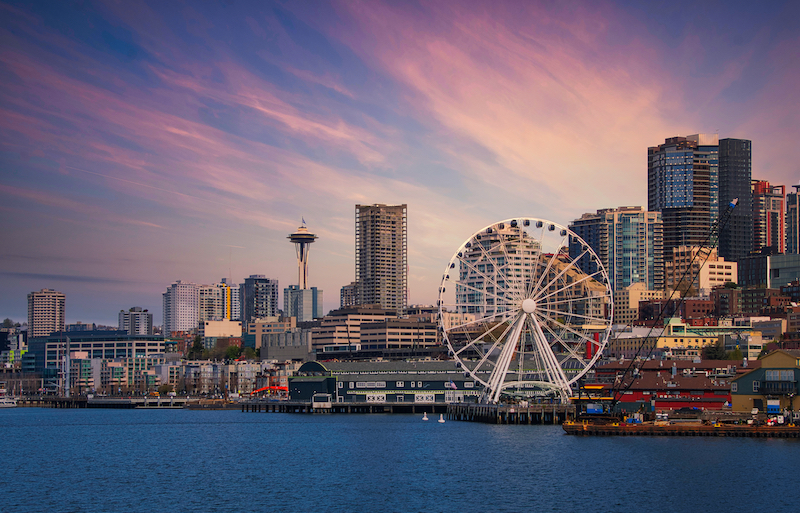 We think it's equally important to highlight the most wheelchair-accessible city in America (according to wheelchairtravel.org), which also ranks number 11 for overall walkability. Drum roll please…it's Seattle, Washington!
Despite the city's hilly topography, the Emerald City offers exceptional accessibility. Whether you're taking a spin on the Seattle Great Wheel or enjoying the view from the Space Needle Observation Deck, many of Seattle's top tourist attractions are wheelchair-accessible. In terms of access to transportation— the light rail, city buses, water ferries, and taxis in Seattle offer wheelchair ramps.
The Pacific Northwest has never been shy about flaunting its green spaces, and they're very inclusive. Seattle and surrounding areas are home to incredible parks and trails, many of which are wheelchair-friendly.
Before you walk away…
Opting for a stroll through the city is a great way to take in the sights, while keeping your car in park. But when you do need to take your car out of the garage to get from Point A to B, Lemonade car insurance offers great coverage and fair prices based on how much and how well you drive.
If you're interested in taking Lemonade Car for a spin, click the button below to get your quote.