Salem Car Insurance Guide
A new kind of car insurance in the historic heart of Oregon.
Spinning your wheels trying to get the best car insurance rates in Salem, Oregon?

In Oregon, drivers' premiums are calculated based on how many miles they actually drive, along with other factors. So if you're mainly hopping behind the wheel to pop over to the Sassy Onion for brunch, or for the occasional weekend excursion to Mount Hood, Lemonade Car might be a great fit.
The last thing you want to do is randomly pick a car insurance company and hope for the best. Or worse, drive without enough coverage and pray you won't get into a car accident.
You can drive with confidence in Salem knowing you're covered with Lemonade Car.
Insurance requirements and limitations in Salem are determined by the state of Oregon. But don't sweat the details. When you apply for Lemonade Car, we'll automatically get you hooked up with the car insurance coverages you need, and offer extra coverages to help you customize your policy so you feel protected behind the wheel.
Read on to learn about how you can get the best rates on car insurance in Salem. Here's what we'll discuss:
What car insurance coverage is required in Salem?
The state of Oregon requires all Salem drivers to have car insurance.
Let's run through some basics first. Remember: A "limit" on your car insurance policy refers to the maximum amount your insurance company will pay out on a certain type of claim.
For example, Oregon drivers are required to have a minimum of $25,000/$50,000 of bodily injury liability coverage. That means that for a certain type of claim your car insurance company could pay out a maximum of $25,000 of bodily injury coverage per person, and $50,000 of bodily injury coverage in total (for all of the people injured in an accident.)
To comply with Oregon's car insurance coverage requirements, Salem drivers need the following coverages and minimum coverage amounts:
Keep in mind: Your levels of bodily injury and property damage liability coverage don't have to stop at the bare minimum. You can easily select higher amounts for each required coverage and include optional add-on coverages when you build your policy on the Lemonade app.
Additional coverages available to Salem drivers
Salem drivers who drive with Lemonade Car can (and arguably should) add the following coverages to their auto insurance policy to boost their protection behind the wheel.
| What add-on coverages does Lemonade Car offer? | What can it help pay for? |
| --- | --- |
| Collision coverage | To repair or replace your own car if it's damaged in an accident with another vehicle, or a stationary object (like a fence, highway divider, and so on). |
| Comprehensive coverage | To fix damage to your car, or possibly replace it entirely, if there are damages or losses from an incident that didn't involve a collision with another vehicle (like if you hit a deer, damage from a hailstorm, and so on). |
| Uninsured/underinsured driver property damage coverage | To repair or replace your own car if you get into a car accident with an uninsured or underinsured driver. |
| Temporary transportation coverage | Transportation expenses like rideshares, public transportation, bike sharing, or a rental car for up to 30 days while your car is being repaired or appraised. |
| Roadside Assistance | Towing and other emergency roadside services—like lockout services, flat tire replacement, jumpstarts for dead batteries, fuel delivery, winching, and battery service if your car breaks down. |
Want to dive into the nitty-gritty of what Oregon car insurance has to offer? Get the full scoop here.
How much does Lemonade Car insurance cost in Salem?
Well, that depends.
Your car insurance premium price is based on a number of factors—including the car you drive, the coverages you include, and their limits and deductibles.
But at Lemonade Car, the way you drive matters, and actually helps determine your price. So when you're building a quote for your first term, things like your driving record, your driving history, your insurance score, and how many miles you typically drive help us determine the fairest price and average cost for your car insurance policy.
When you buy a Lemonade Car policy in Oregon, you determine how much you save each month based on how many miles you actually drive, making Lemonade especially ideal for the low-mileage driver.
Each month you'll pay a different price; it's a calculation of the number of miles you drive multiplied by your per-mile price, plus your monthly base price that doesn't change.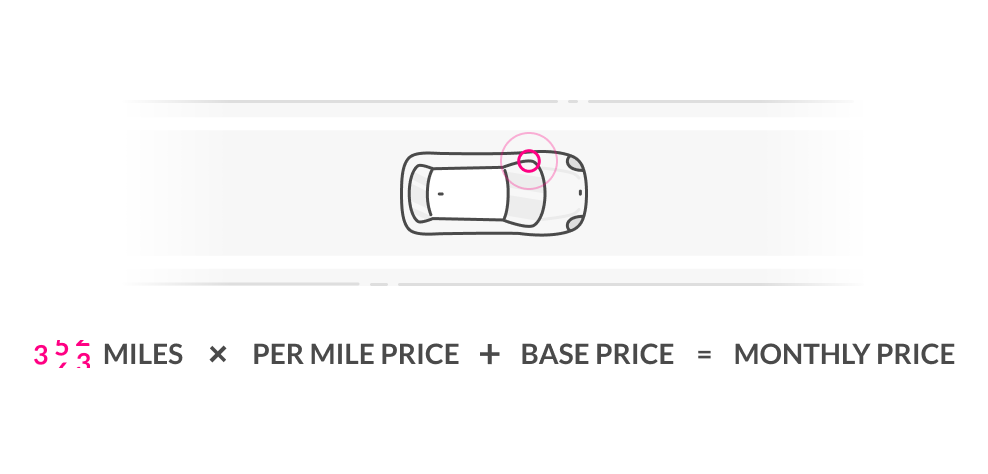 The right car insurance combines the coverage you need with car insurance rates and deductibles you can afford. That's why Lemonade Car offers insurance you can easily customize. You deserve a policy that feels just right—and fits your budget. Learn more about the cost of insurance at Lemonade Car and more ways you can lower the cost of your rates.
The most straightforward way to get a sense of how we price Lemonade car insurance is by applying for coverage via our mobile app or website.
Click below to get your car insurance quote in Salem.
Before we drive off into the sunset…
Salem drivers, we can't wait for you to take Lemonade Car for a spin.
Lemonade offers top-of-the-line coverage and trunk loads of discounts—plus opportunities to make the road (and the world around us) a better place.
Our great coverage and super fast claims resolution don't stop at Lemonade Car, though. Did you know that we also offer Homeowners, Renters, Pet, and Life Insurance? Not only will you become eligible for our bundling discounts, you can also manage each of your Lemonade policies through the same app you use for Lemonade Car..
Let's drive.
---
A few quick words, because we <3 our lawyers: This post is general in nature, and any statement in it doesn't alter the terms, conditions, exclusions, or limitations of policies issued by Lemonade, which differ according to your state of residence. You're encouraged to discuss your specific circumstances with your own professional advisors. The purpose of this post is merely to provide you with info and insights you can use to make such discussions more productive! Naturally, all comments by, or references to, third parties represent their own views, and Lemonade assumes no responsibility for them.represent their own views, and Lemonade assumes no responsibility for them. Coverage may not be available in all states.