How We Got Here: Angela & Jon
First-time homeowners renovate a fixer upper in leafy Norwalk, CT.
We all know the cliches: Millennials love Netflix, avocado toast, and trying to make a fortune with meme stocks. And, increasingly, they also love buying houses— according to a recent survey by Bank of America the vast majority of millennials, consider homeownership to be their top priority, more than starting a family or getting married.
So welcome to How We Got Here, a series that takes you along on the millennial home buying journey. We spotlight intriguing people who graduated from being Lemonade renters to Lemonade homeowners. Last time we featured Panar and Pablo from Houston; this time we check in with Angela, Jon, and their new mini schnauzer Frankie in Connecticut.
Ever wonder how people save up to afford their own places? Want to learn from the mistakes they made along the way? Or are you just interested in peeking inside an interesting stranger's home? We've got you covered.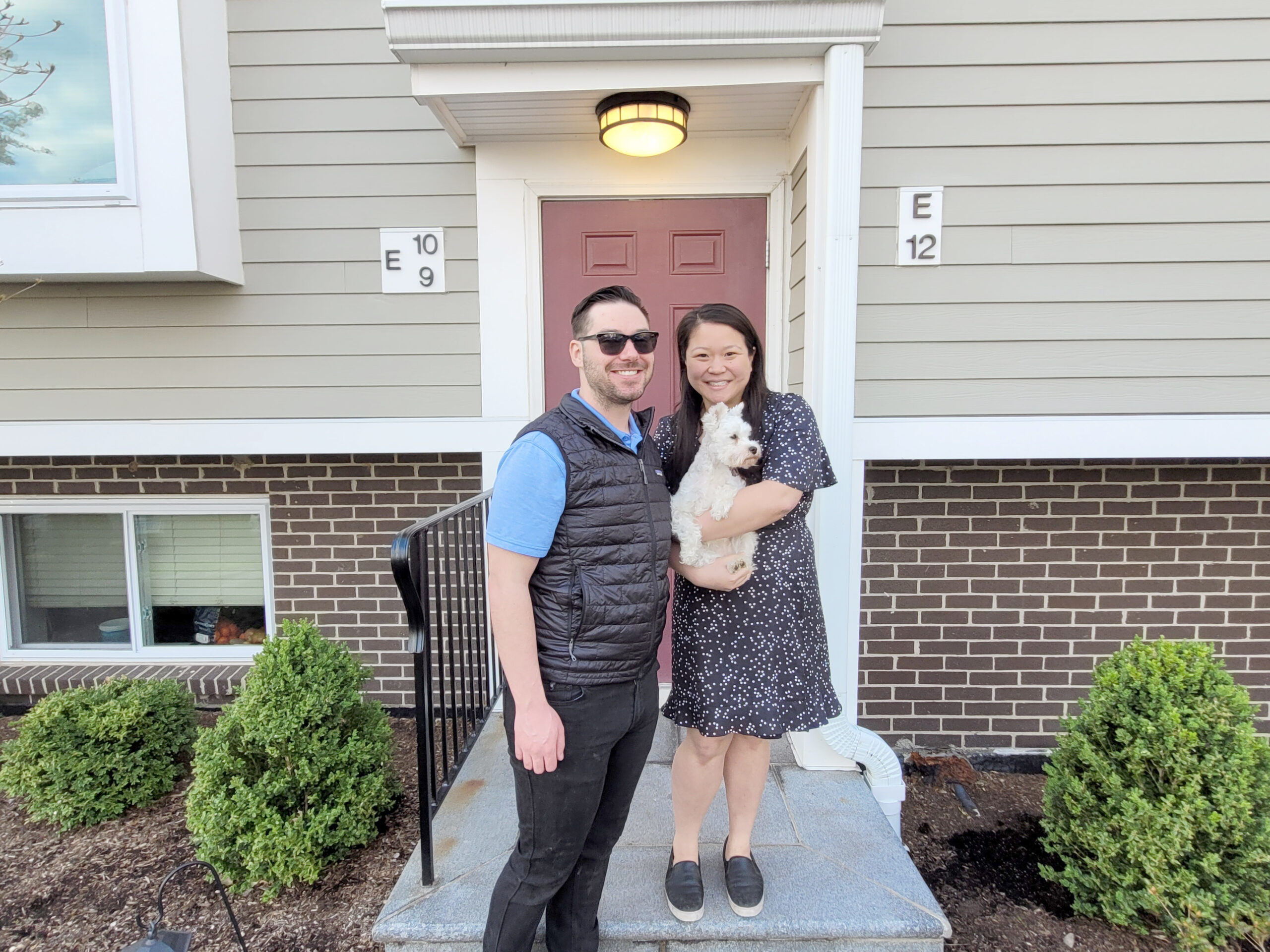 Names: Angela (31) and Jon (33)
Occupations: Angela is an Academic Relations Manager at a tech company; Jon's an accountant
New Home: 1,152 square foot, ranch-style condo in Norwalk, Connecticut
Purchase price: $245,000
Amount spent on renovation: $11,000
A 24-hour whirlwind
Before moving to Connecticut, Angela was living with friends in Harlem. She'd been casually browsing Zillow for months—but when both of her roommates lost their jobs in the wake of the pandemic, it suddenly felt necessary to make a move.
Her checklist for a potential home included proximity to grocery stores and major roads; two bedrooms and one-and-a-half to two bathrooms; a dog-friendly set-up; and the potential to rent out the property in the future.
Working with real estate agent Sheila Higgins instilled confidence in Angela; she felt like she was in good hands as she was guided through the first-time homebuying experience. "We saw some challenging places, but we never seriously considered any of them," she says. "I always had ROI, rentability, and break-even numbers at the top of my mind when looking."
Angela and Jon found what seemed like the perfect listing the night before she was set to move out of her Harlem apartment.
"My realtor told me we'd have to see it immediately because the price had just dropped that day," she explains. "We drove to Connecticut at the crack of dawn, saw the place, and I made an offer on the spot. We then drove back to Harlem and spent the entire day moving. What a whirlwind!"
The entire closing process—from October 15 to December 15—was an incredibly swift 60 days. After moving out of Harlem, Angela and Jon stored their stuff in her parent's basement in Bergen County, New Jersey (but lived in the guest room), before officially making the move up to Connecticut.
Breaking even…
Despite finding the perfect place, Angela knew that renovations were in her future. That was obvious as soon as she saw the retro carpeting.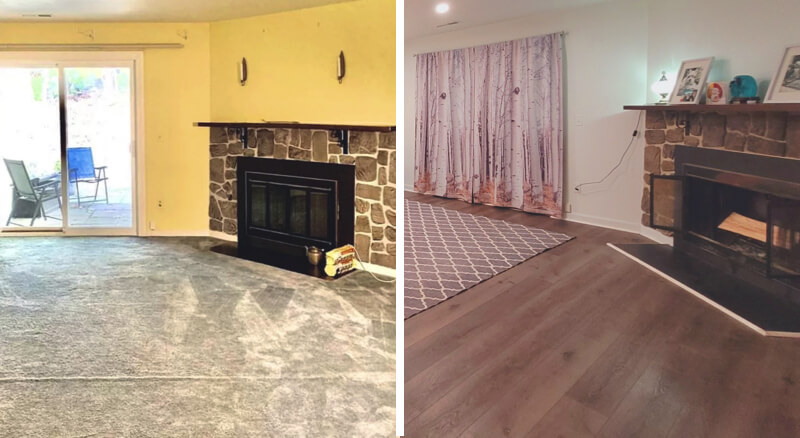 But factoring in renovation costs while buying a home—especially when there's pressure to act fast—is no mean feat. Angela calculated that she could afford $11,000 for renovations; she had already negotiated the $3,000 carpet replacement cost that was built into the negotiated sale price of the condo. Angela made sure that the numbers made sense and would not surpass the current estimated property value.

Angela and Jon furnished their home with almost entirely used furniture, items their parents were getting rid of, or from Facebook Marketplace. "I think 90% of our furniture was either free or very low-price. Keeps money in our wallets and trash out of landfills".
401(k) into a down payment
As someone who takes financial wellness seriously, Angela had been growing her 401(k) for the past six to eight years. Quick refresher: A 401(k) is an employer-sponsored fund that allows you to invest money for retirement with tax advantages; sometimes employers match your deposits, up to a certain percentage of your annual salary. Generally, if you withdraw the funds before a certain age—around 59.5 years old—you're hit with additional penalties of around 10%.
But the CARES Act, signed in March 2020 as a result of the pandemic, offered to waive that penalty for early withdrawal. She took advantage of the opportunity, withdrawing most of her existing 401(k)—around $55,000—to use as a down payment for a new home. Angela had qualified for a mortgage rate of 2.75%, and her down payment on the Norwalk condo was $49,000. The remaining funds could go toward renovations.
Why Connecticut? There were simply more opportunities. Jon was a great source of advice—he had previously gone through the homebuying process himself. "He helped me realize how much I could be saving and investing by buying a home outside of New York City," Angela says.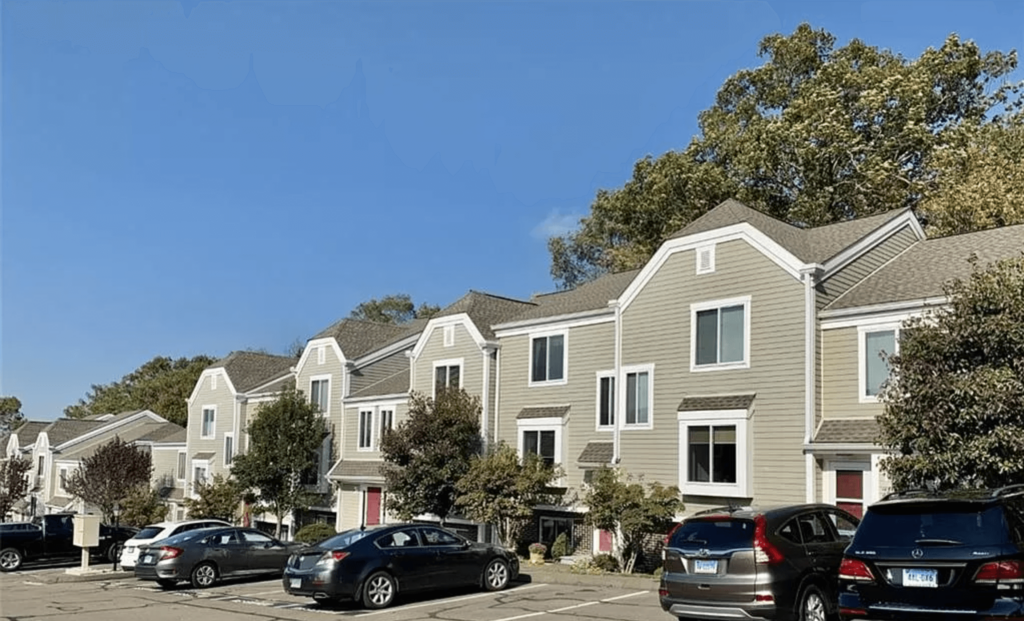 Planning the next steps
Angela and Jon plan to spend the next few years living in their renovated condo, and then will consider using it as a full-time rental property until Angela's mother reaches a point in her life where she might need to move in with the couple for some extra support.
Thinking that a condo might be a sensible option for yourself? Keep in mind that there are some quirks, like monthly condo fees; Angela pays $374/month which includes pool maintenance, landscaping, snow ploughing and shovelling. That fee also gives her the protections of the complex's condo association insurance policy, which covers common areas and the physical structure of the condo (just not its interior).
But for her, paying a fee for the no-hassle convenience of knowing the condo association takes care of maintenance was a great trade-off. And while condos do come with their own rules to abide by, their new place isn't burdened by any "crazy or unreasonable" regulations, she says.
But one of the best things about living in a condo for Angela and Jon, is the sense of community. "It feels cozy and neighborly. Everyone has dogs, which we love" says Angela.

Not to mention Frankie has a core set of both human and dog friends at the local park—talk about squad goals!