10 Benefits to Making Your Home a Smart Home
Because protecting your home and saving money is a no-brainer.
Smart home technology can add safety and convenience to our daily lives—and who doesn't love that?
Better yet, installing smart home devices can help lower your risks as a homeowner and help you get the best deal possible on your home insurance premiums. If you're looking to make cost-effective improvements to your home, don't sleep on the advantages you'll enjoy from making your home a smart one.
What, exactly, is a smart home?
In a smart home, your electronic devices and home appliances can be automated or set up so they're able to communicate remotely with you, and with outside services on your behalf.
That might sound like an episode of Black Mirror—or an even scarier premise—but smart homes are more common, and more accessible, than ever before. You might have heard of the "Internet of Things," and smart homes are part of it—a way to enhance physical objects (like your appliances) with intelligent sensor-enabled capabilities. These sensor-enabled connected devices communicate over the internet, enabling managed services and allowing you to interact with them from your smartphone, laptop, or tablet.
This means your smart home can react to external factors (like changing weather conditions) while also raising alarms if something goes wrong inside (a potential leak in your kitchen or bathroom). Smart devices might allow you to save on your utility bills and can possibly help prevent potentially costly damage from named perils.
Read on to learn 10 ways that smart homes are useful in the 21st century.
1. Save the environment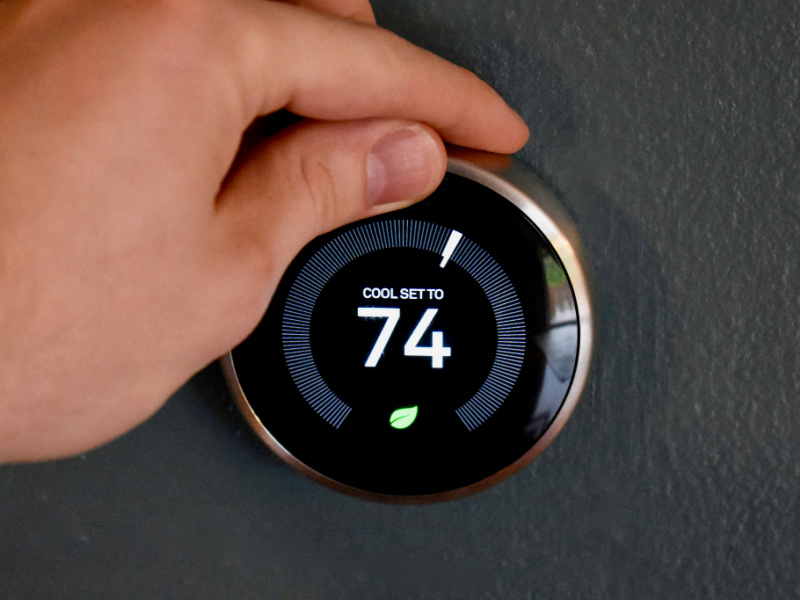 Heating and cooling your home accounts for nearly half of the typical household's energy bill, and smart thermostats let you save energy.
A smart thermostat learns your temperature preferences and makes adjustments based on them. You can also program your smart thermostat to turn the heat down when you leave to go to work or to start cooling your house before you get home from your daily run.
Setting the thermostat to do what you need, when you need it, is an easy way to improve your energy efficiency and save money.
2. Secure your home when you're out
Upgrade your home security with smart devices, and you might be able to protect your empty house from a break-in by giving the impression that someone is home. Burglars choose homes that look like easy targets. If a thief hears signs of life in your home, the odds are that they'll move on.
Use connected devices to run your TV and lights with realistic behaviors when you're out of the house. Or set up a recorded dog bark, which has been shown to keep burglars away from your home. (That thief may crave your flatscreen, but he'll cower before your virtual German Shepherd.)
Smart home security systems are easy to set up yourself and affordable to maintain. Door sensors and motion detectors can notify you if someone is on your property. You retain full control over the smart alarm system right from the palm of your hand, even when you're not at home.
What's more, you'll qualify for a discount on your Lemonade homeowners insurance policy if you equip your home with protective devices, including security systems, sprinkler systems, and fire extinguishers.
By showing your insurer that you've installed these devices, you'll demonstrate that your home is well-protected against a range of worst-case scenarios, making you a far less risky customer than one whose home lacks protective devices. That's smart in more ways than one.
3. Get safety notifications
Home automation systems are more than just fun gadgets for people who worship Wired magazine; they can be literal lifesavers. Smart home devices can send you timely warnings and reminders, like if you've accidentally left something burning on the stove. (Hey, it happens to the best of us.)
Smart smoke and carbon monoxide detectors send phone notifications and alerts to make sure you and your loved ones stay safe. An app-controlled Wi-Fi gas detector can alert you to the presence of natural gas, propane, or other flammable gases in your home.
Did we mention that if you sign up for a Lemonade homeowners insurance policy, you can also get a Notion smart monitoring system, valued at more than $100, for free? With Notion, you'll be able to get alerts about water leaks, opening doors and windows, sounding smoke alarms, temperature changes, and more.
4. Answer the door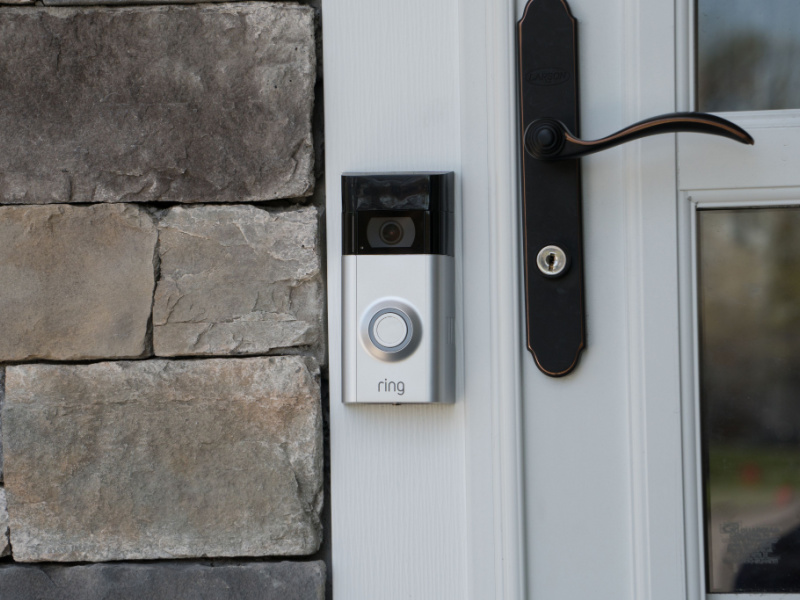 Install a smart doorbell on your front door and it'll let you respond to a ringing doorbell from miles away. You can also see who's at the door using a high-definition infrared camera and talk to them over a built-in microphone.
Smart home automation also lets you check your door locks or close your garage door from anywhere. If you've ever left the house and been unsure of whether you locked up properly, you know how helpful this can be.
5. Detect leaks
Thousands of American homeowners experience a water damage emergency on any given day, with 98% of US basements sustaining water damage at some point. Sure, water may be the elixir of life, but left unchecked in your house, it becomes a major destructive force.
And while homeowners insurance covers water damage in some cases (including leaks, but generally not flooding), dealing with these problems can be a massive headache. Having to file a claim could mean a slightly higher premium the next time your policy renews. That's what makes leak detection devices so valuable for homeowners.
Home tech devices like leak detectors and flood sensors send you real-time notifications to prevent a minor water problem from turning into a major hassle. Moisture and humidity sensors can let you know where trouble is lurking so you can nip any water problems in the bud.
6. Launder smarter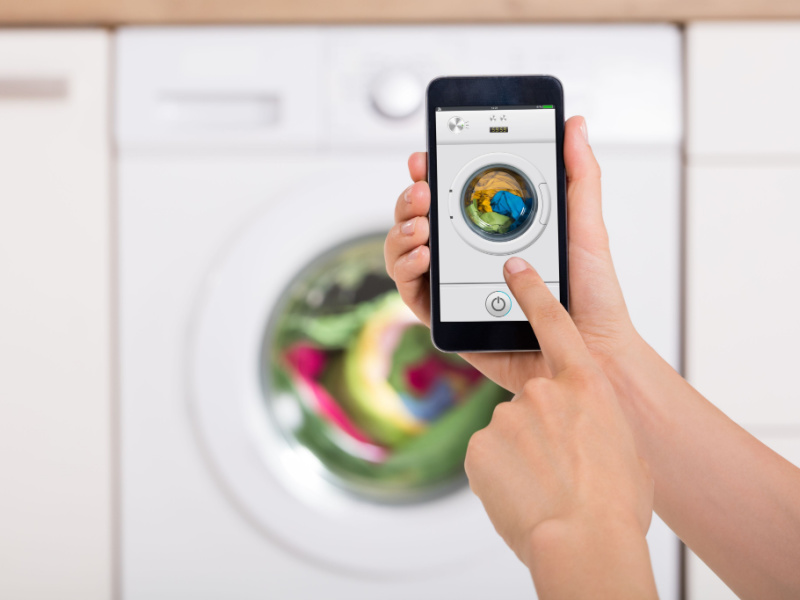 Smart washing machines take the guesswork out of all those symbols and settings… Hot/Cold, or Hot/Hot? Ultra Delicate, or Cottons? They can detect the type of fabric you put in, sense how dirty your clothes are, and run a wash program accordingly.
You can also set your washing machine so the load is done when you want it to be. Smart washers and dryers can be set to use only the amount of water and energy necessary to get the job done.
As a bonus, you may be eligible for up to $14,000 in rebates under the Inflation Reduction Act if you install energy-efficient home appliances.
7. Light up your life
Keep your energy costs in check with smart lighting. Smart LED bulbs connect to an app or smart device to control your lights remotely, on an automatic schedule—or in response to your presence, preferences and context, such as welcoming you home, or dimming when the TV is on. Rather than manually flicking switches all day long, you'll be able to curate your own lighting ambience.
Using light only when and where you need it is a great way to save on energy consumption. Easily customize the dimness or brightness of your room to set the mood. Change the color of your room's lighting—#FF0083, anyone?—or brighten a light so you can tackle that DIY project.
Some smart lighting includes an automatic motion detector that turns a light on automatically, keeping your property safe and well-lit.
8. Conserve water
It's a brave new world when it comes to using smart devices to keep an eye on your water usage. Here's a few of the high-tech perks.
Smart irrigation can keep your garden green and your lawn lush without wasting water.
Smart sprinkler systems are activated based on sunlight amounts and plant types. They let you design an ideal watering schedule no matter the weather.
A water flow monitor can help you understand your water consumption, identify running toilets, and sound an alert if a pipe bursts.
A smart water heater can conserve energy and save money by reacting to electric utility prices and modulating the available supply of hot water based on when you'll need it.
9. Manage your appliances
We may not be living in the Jetsons era just yet, but many appliances of the future are already here. Smart appliances keep your daily routines running smoothly using one centralized interface.
Wi-Fi-enabled devices let you pre-program or manage your kitchen appliances with the touch of a button. Adjust the temperature in your refrigerator, preheat the oven on your way home from the supermarket, and program your coffee maker to brew a morning cup of joe while you're still getting out of bed.
Burnt food can also be a thing of the past. Smart kitchen ranges and ovens ensure that your food is evenly cooked, and will even send a notification to your mobile device when dinner is ready.
10. Live your best life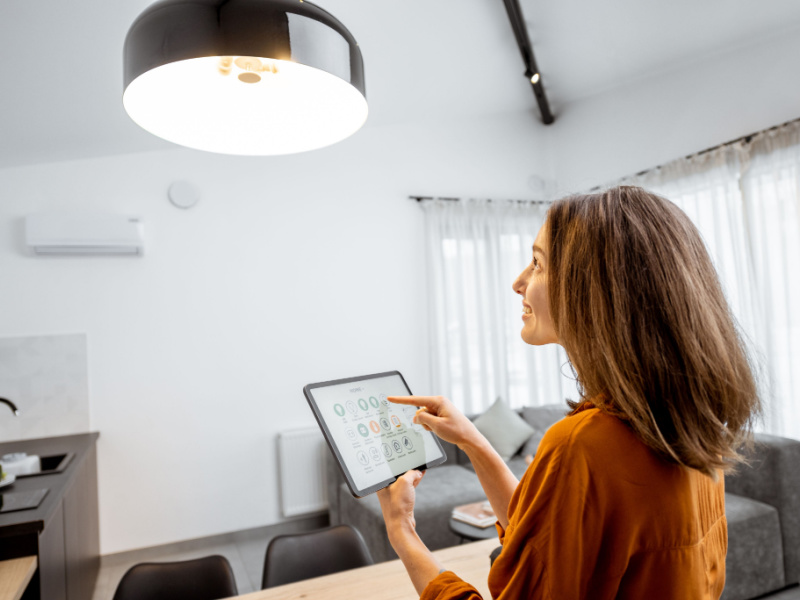 Finally, smart home devices can enhance your quality of life by offering you simplicity, convenience, and wellness. Here are a few additional ways that a smart home can streamline your day, giving you more time to tackle the important stuff.
Simplify food prep with smart refrigerators that scan and keep track of their contents. They'll alert you of upcoming expiration dates so you can minimize waste. Some are even compatible with popular cooking apps and suggest recipes based on the food you have at home.
Smart bathrooms feature advancements like an interactive LED mirror that displays the time, reminders, and news updates. Adjustable smart privacy glass lets you take advantage of natural lighting while ensuring that nosy or annoying neighbors won't be peeking inside your place. Smart showers use less water, conserve energy, and maintain ideal water flow rates and temperature.
Automated smart home devices can be set to your preferences around the house, making life more enjoyable. Want to hear the weather report in the morning so you can decide what to wear? Do you enjoy listening to quiet music when you're winding down after work? Connected devices will have you covered.
Take a smart step forward
The good news is that you don't have to lay out lots of money at once to make the gradual transition to a smart home. While it may be tempting to set up a fully integrated smart home hub, it's the more expensive and complicated route. A few smart devices can let you learn your needs and preferences.
Prioritize which changes would have the most immediate impact on your life. And be sure that your home has a good wireless router that can reach all parts of your home.
Finally, if you do decide to take the plunge, do your research. Read objective information about the pros and cons of the different types of smart devices. (Many people trust the review wizards over at Wirecutter, and they have a ton of smart device-related coverage.) If you're unsure about setting up a smart home, consider getting the advice of a reliable expert so you can avoid making costly mistakes.
The benefits of smart home technology include safety, convenience, ultimate cost savings, wellness, and fun. And what better way to protect your high-tech home than with a Lemonade policy?