How Much Renters Insurance Do I Need?
Five Lemonade renters share their coverage tips and tricks.
Renters insurance is probably more affordable than you think—in 2023, the average policy with $30,000 of personal property coverage only costs around $18/month*.
So the question isn't whether or not you need renters insurance, it's how much of it you need. The answer depends on how much valuable stuff you own, as well as how protected you'd like to be in other scenarios (like if someone gets injured at your apartment).
You'll also want to consider if you have specific valuable property—like a fancy bicycle, or an engagement ring—that you'd like to add extra coverage for.
How do you determine how much coverage to get?
Your policy has a few main categories. To figure out how much renters insurance to get, you'll need to choose coverage amounts for each category.

Figuring out the right coverage amounts can be tricky, so we asked people with Lemonade renters insurance how they selected theirs.
Here's an overview of what we'll cover:
1. How much personal property coverage do I need?
2. How much loss of use coverage do I need?
3. How much personal liability coverage do I need?
4. How much medical payments to others coverage do I need?
How much personal property coverage do I need?
Personal property coverage is protection for your stuff, like your phone, watch, couch, and bike – it protects you from things like theft, fire, and vandalism, both inside and outside your home.
How much can I get?
Between $10,000 and $250,000.
How much do I need?
We all accumulate so much 'stuff' over the years – how are you supposed to remember how much your entire living room cost you?
We asked Lissette, a renter in NYC, how she decided how much personal property coverage to get:
"I chose $20,000 worth of personal property coverage by estimating how much support I'd need if I had an emergency situation. What are the things I'd really need to replace? I also made sure this aligned with what I was comfortable paying monthly for a premium.''
In other words, Lissette figured that if the absolute worst-case scenario happened – say, an apartment fire destroyed her things – she'd need $20,000 to replace her stuff.
Lemonader Lisa, a chef in NYC, decided to get $50,000 worth of personal property coverage:
"My sister was hit hard by Hurricane Sandy in NYC, so it was really important to her that I get a renters insurance policy. Initially, I shot really low with my coverage. And then my sister made me assess what I truly had and the value these things carry."
Bottom line: Choose your coverage amount based on how much stuff you have and how much it would cost to replace them.
Btw, if you need coverage for your big-ticket items, such as your jewelry or fine art, you'll want to look into our Extra Coverage (also known as scheduled personal property coverage).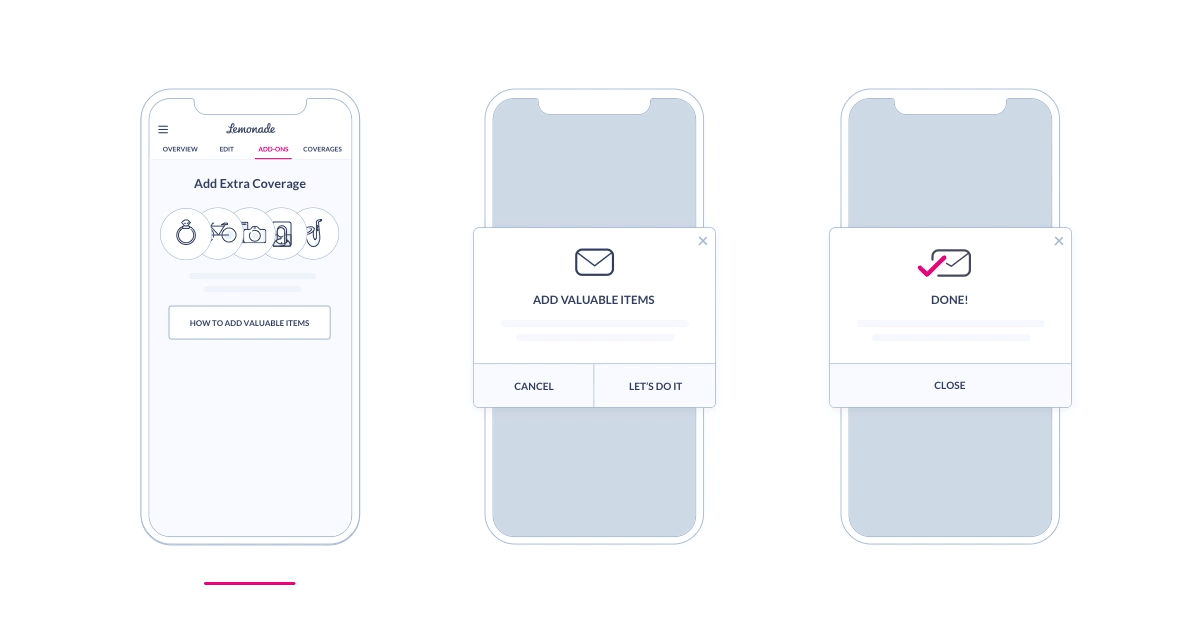 How much loss of use coverage do I need?
Loss of use covers your temporary living expenses if you're ever forced out of your home. So if a fire wreaks havoc on your apartment, it can help cover the costs of a hotel room and any additional expenses (such as food, laundry, etc).
A couple of notes about loss of use coverage with Lemonade:
1. It'll change depending on what you choose for your personal property coverage. Usually, your loss of use coverage will be about 30% of your 'stuff' coverage. However, if you decide you need more loss of use coverage, you can always increase it (just not decrease)!
2. Loss of use only covers extra living expenses in the event of a loss. So if you typically pay $1,000/month on rent, and you have to relocate to a hotel that costs $1,500/month, your insurance will cover that extra $500 for you.
How much can I get?
Between $3,000 and $200,000.
How much do I need?
This category is a tough one. How on earth should you decide how much coverage you'll need if your home becomes unlivable?

Mischa, a sales director from NYC, decided to go with $8,000 worth of loss of use coverage:
"I went with what would feel substantial enough in the event of a loss. I thought about how much I'd need in the worst case scenario"
Bottom line: When choosing your loss of use coverage, consider all of the expenses you could rack up beyond your normal daily budget (such as a place to stay, food, laundry, your commute, etc) if your home becomes unlivable for an extended period of time.
How much personal liability coverage do I need?
If someone gets hurt on your property and decides to take legal action, your personal liability will cover damages you're legally required to pay.
How much can I get?
Between $100,000 and $1,000,000.
How much do I need?
Unless you have a crystal ball into the future, it's not easy to determine how much personal liability coverage to get. Your landlord might have a specific coverage request—or you might be on your own to decide.
Bottom Line: For personal liability, coverage will start at $100,000, which means your insurance company will pay up to $100,000 in legal fees, medical bills, or damages per claim. For many people, this might provide sufficient coverage. You might need to check with your landlord or your building association to see if there are any specific requirements for your personal liability coverage.
How much medical payments to others coverage do I need?
If a neighbor or guest gets injured on your property, you'll have this amount of money to cover their medical expenses.
How much can I get?
Between $1,000 and $5,000.
How much do I need?
You may have noticed that your personal liability coverage will protect you if anyone gets hurt on your property. However, medical payments coverage is a quick way to pay small medical bills for people hurt on your property — without getting lawyers involved.
Eric, a freelance illustrator from Arizona, chose $5,000 worth of medical payments coverage:
"Since my premium didn't increase too much to get this coverage, I thought it was important to pay a small amount up front to have the comfort of knowing if someone got hurt on my property, I'd be able to voluntarily help out with some of their medical expenses."
Bottom Line: Think about it this way: if someone injured themselves in your home, would you be able to cover medical or legal bills if they decided to sue you? These kind of events can be pretty pricey, so don't underestimate your coverage needs — especially since renters insurance is so affordable. Curious about the price? Learn how much is renters insurance.
Change your coverage amounts any time
With life busier than ever, we need businesses to adapt to our fast-paced lives. With Lemonade's first ever live insurance policy, Lemonade customers can make changes to coverages and more, whenever and wherever they are.
Which states currently offer renters insurance?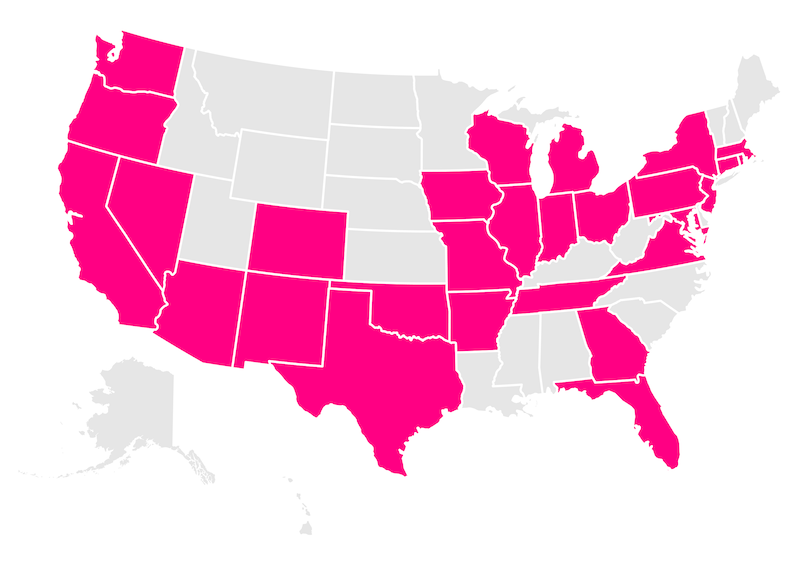 Arizona, Arkansas, California, Colorado, Connecticut, Florida, Georgia, Illinois, Indiana, Iowa, Maryland, Massachusetts, Michigan, Missouri, Nevada, New Jersey, New Mexico, New York, Ohio, Oklahoma, Oregon, Pennsylvania, Rhode Island, Tennessee, Texas, Virginia, Washington, Washington, D.C. (not a state… yet), and Wisconsin.
*Average price data according to ValuePenguin.com
A few quick words, because we <3 our lawyers: This post is general in nature, and any statement in it doesn't alter the terms, conditions, exclusions, or limitations of policies issued by Lemonade, which differ according to your state of residence. You're encouraged to discuss your specific circumstances with your own professional advisors. The purpose of this post is merely to provide you with info and insights you can use to make such discussions more productive! Naturally, all comments by, or references to, third parties represent their own views, and Lemonade assumes no responsibility for them. Coverage and discounts may not be available in all states.