Celebrating the OG Members of Lemonade's Fur Fam
These cats and dogs were early adopters.
Lemonade Pet just turned one year old—or, you know…7-ish in dog years, and 15 in cat years…that animal math gets a little confusing. Anyway, it has been a whirlwind!
To ring in the occasion, we checked in with some cats and dogs—and their humans—who have been with us since the very first day. Let's meet this adorable (and well-insured) crew.
And hey, if you somehow let a whole year go by without getting your furry friends covered with Lemonade…it only takes a few minutes, and they'll love you even more.
Meredith Mende and her dog Boomer (New York)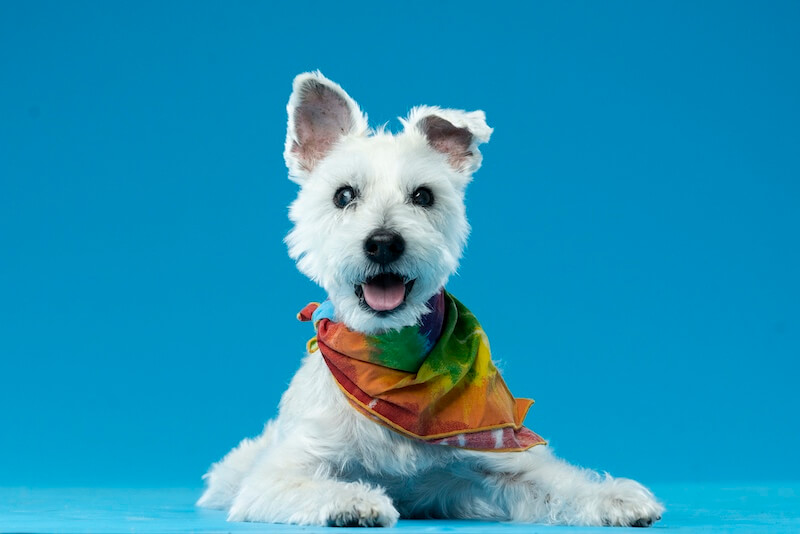 "Working from home has given me the opportunity to spend a lot more time with Boomer," Meredith says. "If I had to choose, I think the greatest moment was when we first introduced him to his new backyard. Having lived in the city since we adopted him, he was so thrilled to have space to chase squirrels and sniff around to his heart's content."
Having Boomer covered with Lemonade has also come in handy during some recent trying times. "Lemonade Pet insurance has been a godsend for us," Meredith explains. "Boomer was diagnosed with diabetes in combination with a couple other conditions at the end of 2020, and we have made more visits to the vet than I can count since then. It's been extremely helpful to have some of the expensive visits covered in part by our insurance so that we can make sure that he is getting the best care without causing financial strain."
Kate Carlson and her cat Mitty (Ohio)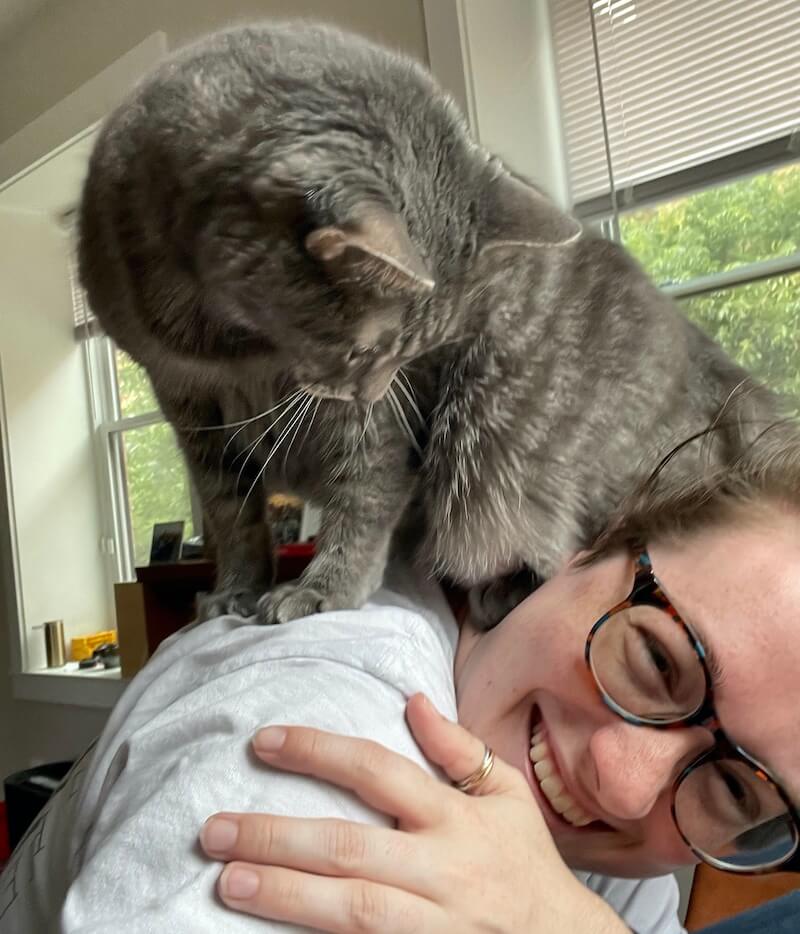 "On top of the pandemic, this past year has been filled with job changes, moving, relationship changes, and more," Kate says. "Having Mitty with me through every curveball (like living alone) buoyed me in a manner I can't quite put into words. Having someone who is always excited to see and spend time with you is life-giving."
Laura Roman and her dog Onyx (California)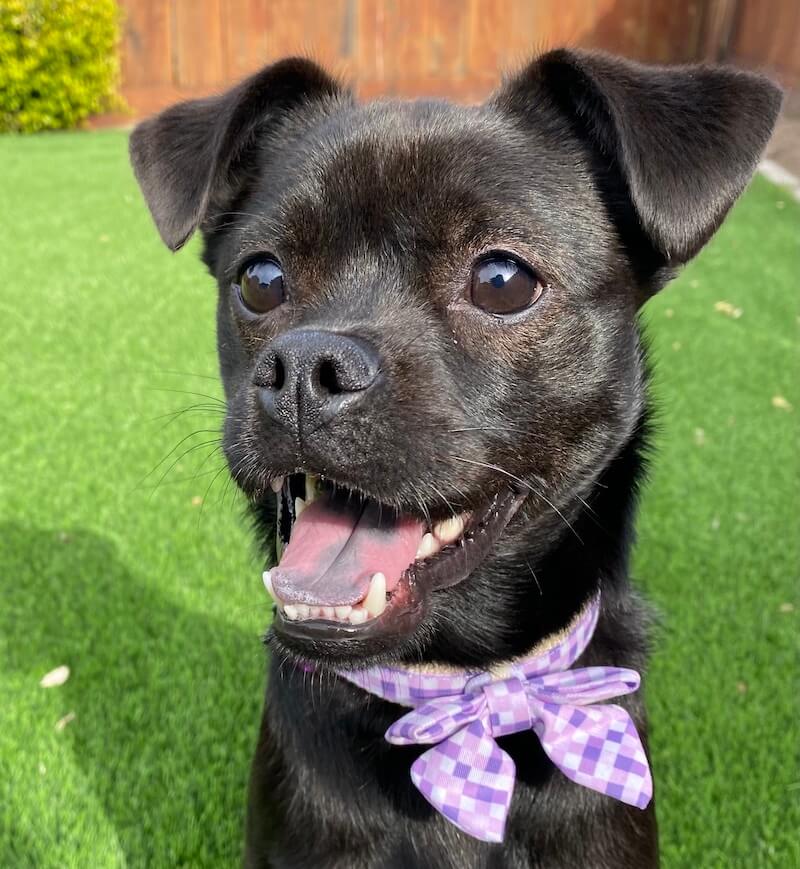 "This past year, Onyx and I have spent getting to know one another and doing lots of puppy training," says Laura, who adopted her pup in May of 2020. "Onyx and I love going for drives down the coast with the windows down. He loves sticking his head out the window with the wind in his fur. He also loves chasing flies whenever he gets the chance…"
Austin Fehrenbach and Pumasaurus Rex & Óscar de Lorenzo (Ohio)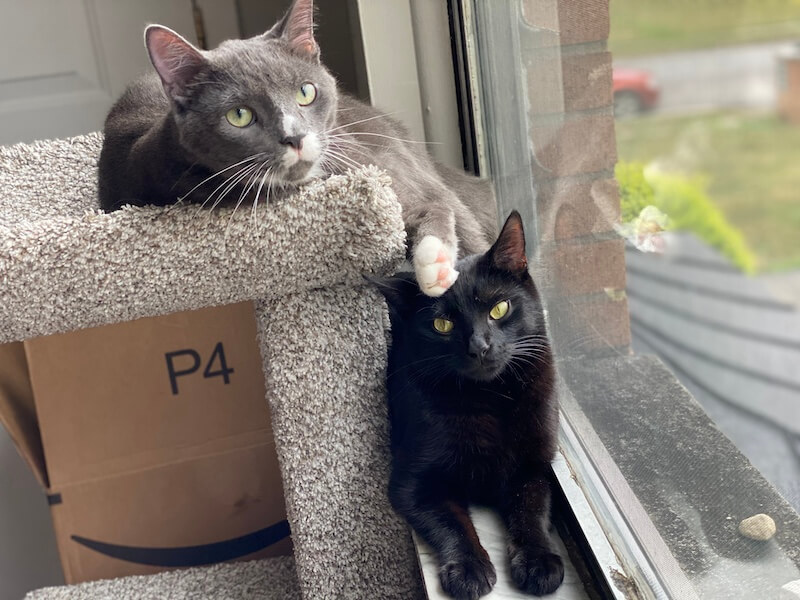 "One great moment we had with Óscar (Osky) [this year] is watching him transition from a bit of a loner into the biggest cuddlebug of all of our (now three) cats!" says Austin, who is clearly a fan of wildly creative pet names. "And there is never a dull moment with our acro-cat, Pumasaurus (Puma)…we swear he is taking kitty capoeira lessons behind our back! When we're not cuddling, we love to just watch them go at it with each other. They are definitely all members of the WWF: World Wrestling for Felines."
Evan Hoffbuhr and his dog Addie (Arizona)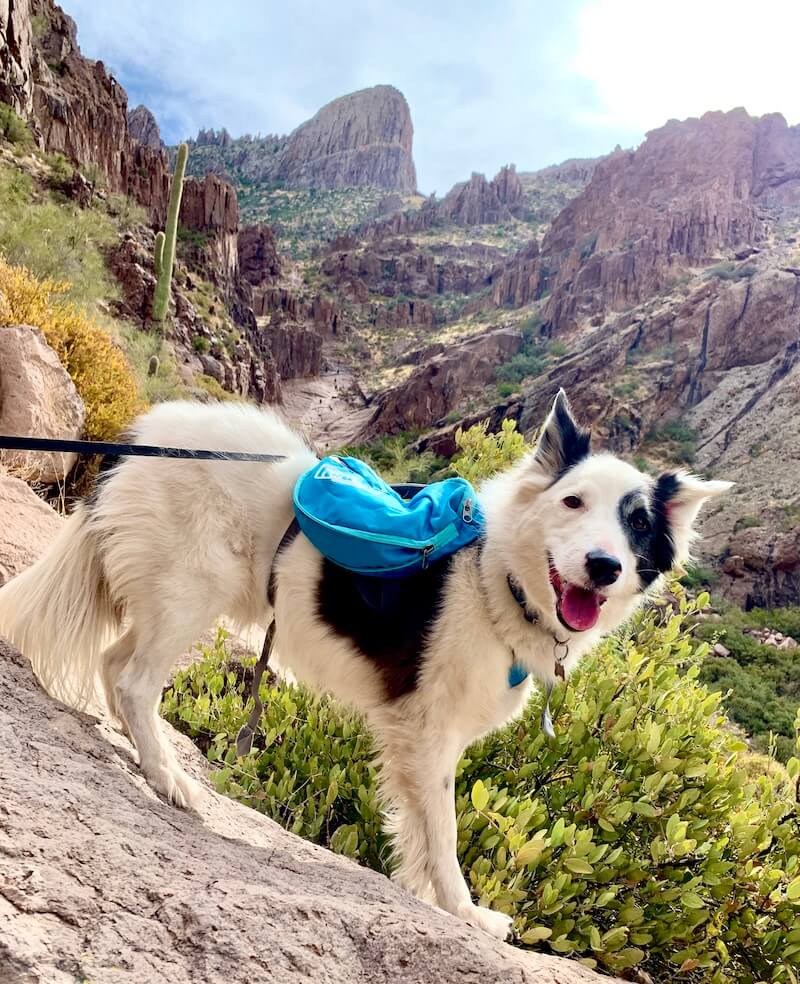 "Addie was lucky to have both of her parents working from home this year—so she, her dog sister, and cat brothers got a lot of time with us," Evan says. "We were able to take her and her sister Finley on several camping trips to explore the desert and get covered in dirt for a weekend, which they loved. [And] Addie loves to swim, so she's always the lifeguard on duty during our pool days. If we're escaping the Phoenix heat in the pool, she's always paddling around with us."
Evan and Addie are passionate about their chosen Giveback charity: Rescue, Rehabilitate, and Rehome Animals in Need. "All of our pets are rescues, and we have seen the huge number of animals needing homes and other help in local shelter," he says. "Any money that can go toward rescuing and rehoming animals is a great thing."
Christine Garcia and her cats Keanu and Sandy (California)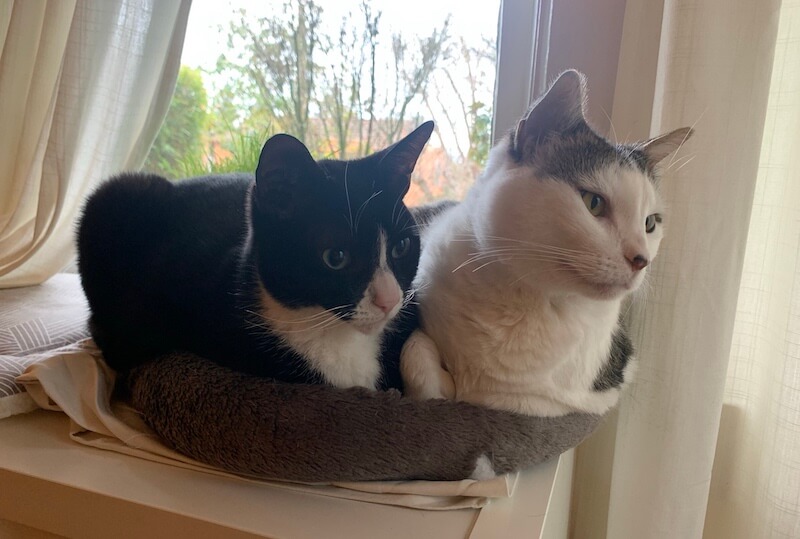 Christine's fur fam relocated from Brooklyn to California this past year, where they soon encountered wildlife beyond their wildest imaginations. "A family of deer strolled through the backyard while Sandy and Keanu watched safely from inside," Christine recalled. "They kept looking at the deer and then back at us, almost to ask what the heck they were seeing. They seemed to truly be in disbelief that such large animals exist… and now they rotate window patrol to watch for more."
Keanu and Sandy's unused premiums support our Giveback program, and Christine's chosen charity, the animal-rescue organization SPCA International. (Fun fact: SPCAI received an impressive $295,785 as part of the 2021 Giveback, our biggest single donation yet!)
"Keanu and Sandy were born on the streets of Brooklyn," Christine says. "They went from sleeping on the street to sleeping in a cozy, warm bed in a loving home. We want every animal to have the same chance at the comfortable life they know. Animals share the planet with us humans and they are every bit as deserving of love, safety, and respect."
Max Krol and his dog Charlie (New York)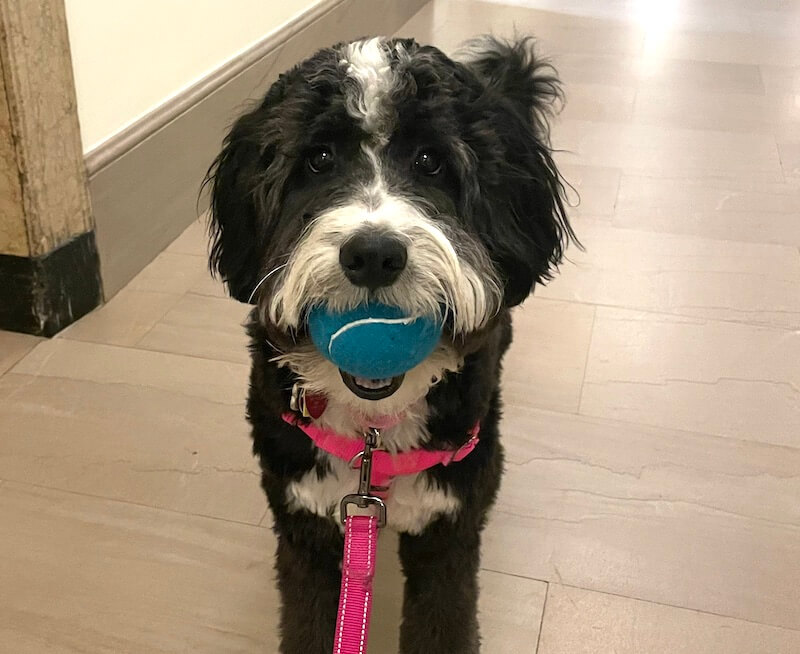 This adorably shaggy, tennis ball-loving pup is another pandemic-adoptee who has been bringing joy to her new family during these though times. "We love snuggling on the couch, going for walks, and riding in the car," says Max, who got Lemonade Pet insurance for Charlie after already having renters insurance through the company. Max and Charlie are also excited about the Giveback charity they chose, Pencils of Promise: "We believe everyone should have an education!"
Miranda Cross and her cat Ellie (Washington, D.C.)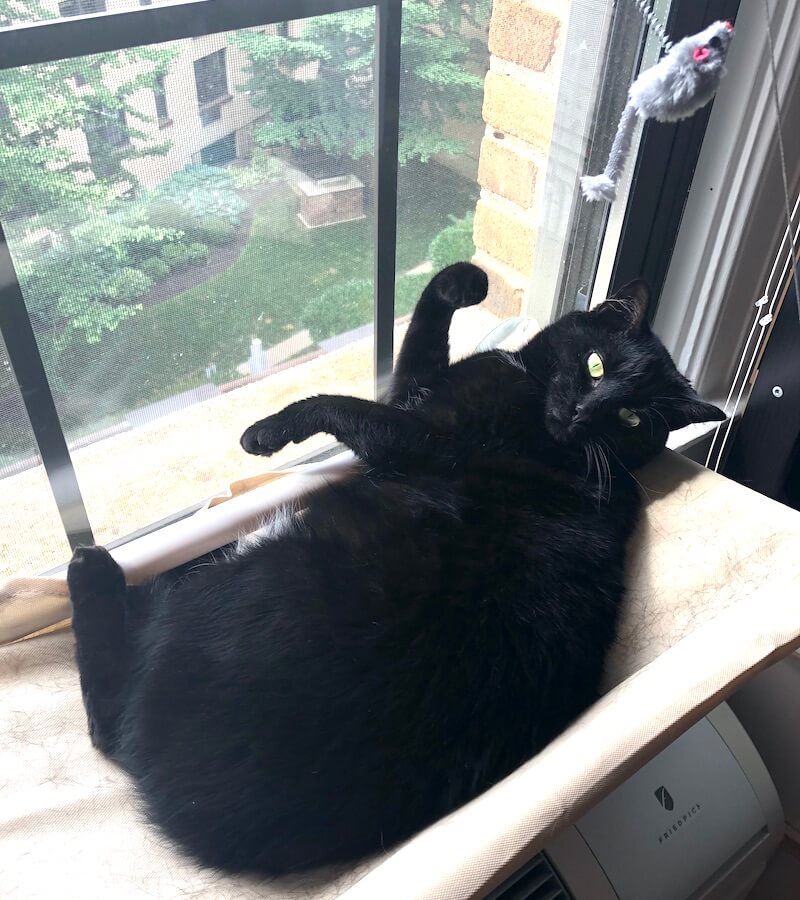 "It certainly has been an unusual year," Miranda says. "I graduated college in 2020, and Ellie and I had to move cross-country at the height of the pandemic. Ellie is a resilient cat and she adjusted to our new home like it had been hers all along. One of my favorite moments with her was waking up the first morning in my apartment— which at this point was just an empty room with boxes and an air mattress— and finding her cuddled up next to me. I knew we were going to be fine making this new place our home."
Sachin Surs and his dog Porsche (New York)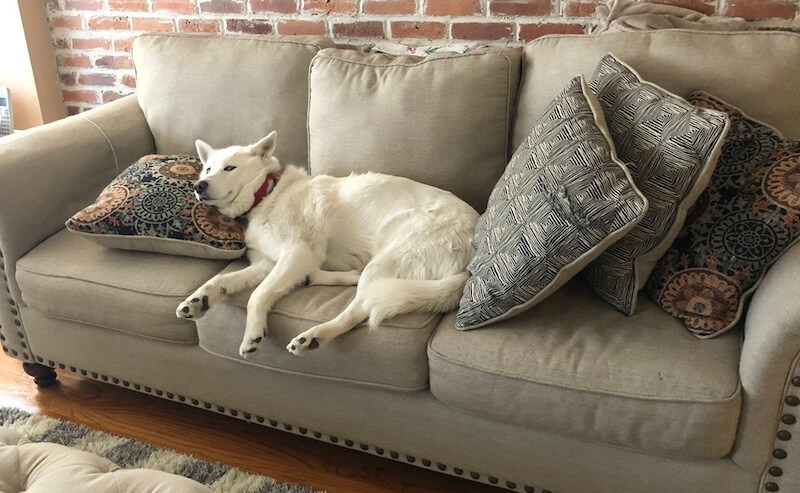 "Porsche really is the sweetest pup ever," says Sachin. "We go on hikes every Saturday morning and have a blast with my cousin and his pup, Rocky." The pair have also been grateful for the past year of pet insurance. "Customer service at Lemonade is great, and [the policy] has helped Porsche and myself out very much. The vet can be very expensive, and anything that I can get back helps me take care of her."
Martin Reed and his dog Smokie (New York)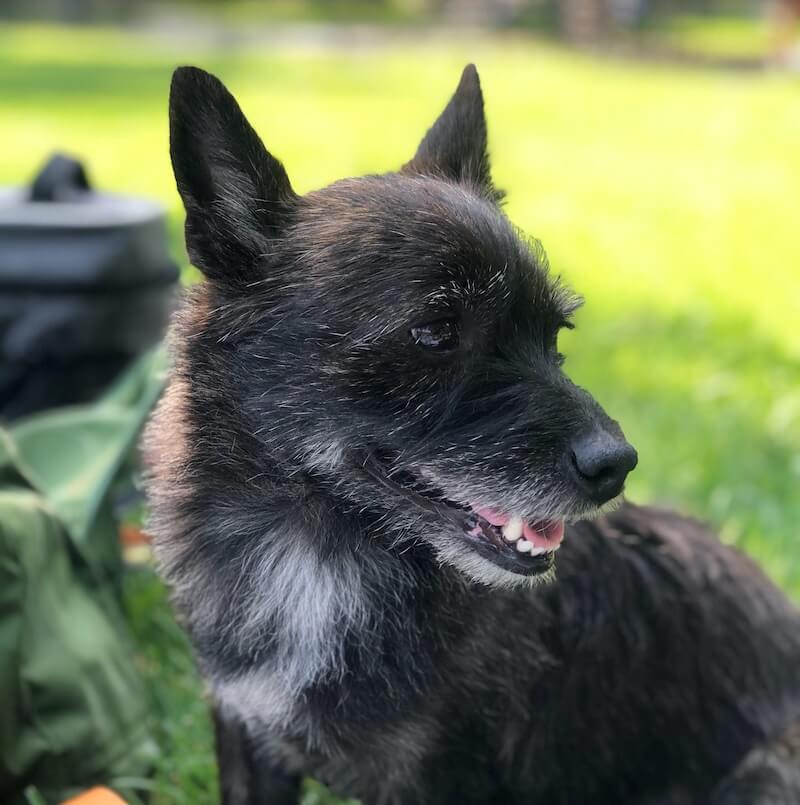 "Smokie and I have spent so many days at the beach over the past few months and it is his favorite place place," says Martin. "He loves to go for walks, get lots of belly rubs, and play with all his toys—he carries them around when he gets excited."
They're both excited about how Lemonade Pet has helped them out over the past 12 months (and about how their unused premiums have helped their Giveback charity, the Trevor Project). "Lemonade's representatives are so responsive and always go above and beyond to support customers," he adds. "I'm a huge fan—everyone should have this insurance for their little fur children."