Colorado Pet Insurance Guide
Colorado rocks for pet owners.
Colorado cat and dog parents: It might be time to consider pet insurance.
From the snow-covered peaks of the Rocky Mountains to the canyons of the Colorado River, Colorado really has it all. Colorado is the perfect home for pups with a taste for adventure and cats who are all too pleased to curl up in front of a ski lodge fire. Whether your idea of fresh powder is a snowy day of snowboarding or a newly cleaned litter box, you might want to consider pet insurance for your four-legged friend to take the bite out of pricy vet bills.
We're going to take you through the ins-and-outs of pet ownership in the Rocky Mountain State, and explain how pet insurance could help keep your best friend happy and healthy for years to come.
What is a pet insurance plan for dogs and cats?
Pet insurance helps cover the costs of your veterinary bills. You pay a monthly premium and in exchange, you can provide care for your canine or feline fur fam without stressing as much about the costs. Pet insurance helps give you peace of mind.
With Lemonade pet insurance, there are a few different ways to customize your policy:
For starters, a base Lemonade pet health insurance policy will help cover the costs of tests, treatments, and medication if your dog or cat has an unexpected accident or illness.
A base policy is great for the unexpected things in your fur fam's future, but Lemonade also offers preventative care packages designed to keep your pet healthy, and helps cover expenses you're probably already paying for. By adding this package to a Lemonade policy you'll also get access to live medical chat and be covered for all kinds of things—like your annual wellness exam, blood tests, vaccinations, and more. Some exclusions may apply.
Lemonade offers a Preventative, Preventative+, and a Puppy/Kitten Preventative package. Depending on your pet's age, this package covers things like spaying/neutering, vaccinations, microchipping, and flea and tick treatments.
You can also customize your Lemonade policy with a mix and match of optional add-ons like: physical therapy, vet visit fees, dental illness, behavioral conditions, and end-of-life and remembrance—to help take the bite out of pricey treatments, services, and trips to the vet.

Here's an example of how a Lemonade pet insurance policy works:
Buy a policy. You answer a few quick questions about your German Shepherd, Rocky, and build your pet's policy with the help of our friendly AI chatbot. The monthly premium you pay is determined by a few factors, mostly things that you can customize, like your coverage package, your annual deductible, your co-insurance, and the annual limit on your plan. (If you want, you can take a deeper dive into how pet insurance works to help you build your perfect policy.) Pet insurance coverage with Lemonade can cost as little as $10/month. — here's a handy breakdown of the whole (simple) process.
Go to the vet. You rush Rocky to the animal hospital after he broke his leg from going too hard at the dog park. The exam fee, x-ray, and cast come to a whopping $1,000. Woof. But because you have pet insurance, you don't have to worry about the full amount. Get the scoop on what Lemonade covers here.
Get your money back. Rocky is safely on the mend and you get up to a $900 reimbursement back in your pocket from Lemonade!
It's worth noting that as your dog ages, they will require more veterinary care and treatments, which is why it pays to take out a pet insurance policy for your dog as early as possible.
If you try to sign your 13-year-old dog up for insurance for the first time, they might be declined by the pet insurance company due to their age; either way, they're more likely to have pre-existing conditions that won't be covered by their insurer. But if you get your new puppy a Lemonade policy right away, you'll be able to continue renewing their policy as they age.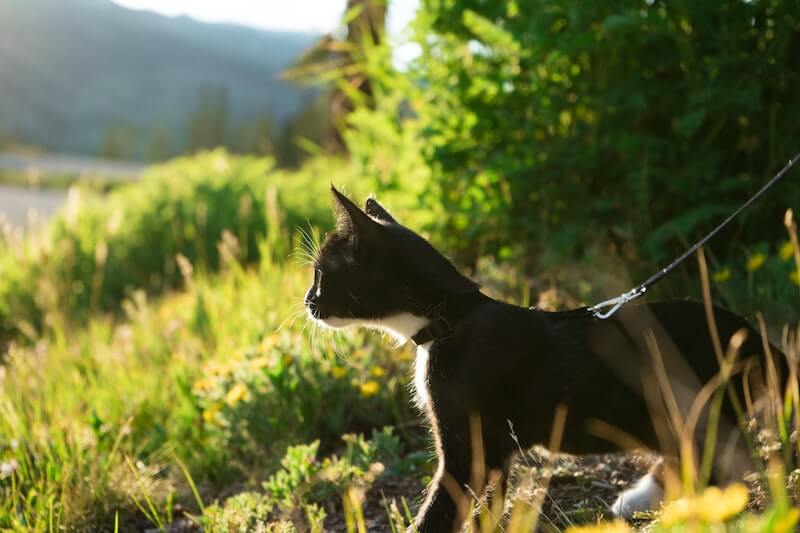 Protect your pet from Colorado threats
Dangerous wildlife
Colorado is home to several animals that are dangerous to both animals and their human counterparts.
Colorado bighorn and mountain goats. Colorado bighorns and mountain goats will charge at you with their impressive horns if they feel threatened. If you encounter them on a hike—with or without your dog—create as much distance between you and them as possible.
Ticks. Colorado is home to the Rocky Mountain tick which can cause Colorado tick fever—leading to a host of symptoms in both humans and dogs. In severe cases the disease can lead to nerve and organ damage. If you suspect that you or your dog have contracted Colorado tick fever, seek out emergency medical assistance ASAP.
Coyotes and mountain lions. These animals tend to fear humans, but if you let your dog or cat wander around in your backyard, be sure to supervise them to keep curious and hungry predators at bay. Be sure not to leave dog or cat food outside, and secure garbage bins to keep visitors from wandering onto your property.
Colorado winters
Depending on where you live in Colorado, temperatures can dip below freezing, even in the summer. Add that to an average snowfall of about 60 inches a year, and you've got yourself a regular winter wonderland. Brrrr. With temperatures well-below freezing for much of the winter, there are certain measures you can take to keep your pet cozy and safe in Colorado's harsh winter climate.
Keep pets inside. This might seem like a no-brainer, but it bears repeating. Definitely take your dog for frequent walks and outdoor playtime, but your pup should enjoy most the day cuddled up and getting warm inside. If your cat likes to roam outside, it's safest to keep them homebound from November until the end of March. Stray cats in your area? Pay it forward by purchasing a heated cat shelter to keep outdoor kitties warm.
Bundle up, clean up. Keep dogs in a coat or sweater and boots even for short winter walks. Once you're home, wipe down their paws with a towel to remove any salt or harsh chemicals they might have picked up on the street. (If they lick it up, it could end up irritating their mouths.) If you know your dog has eaten rock salt, contact your emergency care vet immediately.
Speak up. If you see a pet left out in the cold, call it in. Dogs can begin to experience symptoms of hypothermia if they are left in below freezing temperatures without a coat. Animal neglect is a misdemeanor offense in all 50 states. If you can reach the owner, articulate your concerns, and if they respond aggressively, there are steps you can take to report them to the appropriate authorities.
Poisonous plants
Colorado is filled with some of the most breathtaking nature the U.S. has to offer, but if you decide to explore the great outdoors with your furry friend, be sure to keep your eyes out for these toxic plants. They might be beautiful, but they could land your dog or cat in the emergency vet:
| Name of plant | Toxic to dogs | Toxic to cats |
| --- | --- | --- |
| Larkspur | √ | √ |
| Water Hemlock | √ | √ |
| Death Camas | √ | √ |
| Locoweed | √ | √ |
| Buttercup | √ | √ |
Thinking about adopting a pet? Check out these popular shelters!
Colorado pet destinations
Visit top dog parks
Support Colorado-based small businesses for pets
Before we go…
Being a pet owner is an adventure, so it's no wonder that over 47% of Colorado residents are proud pet parents. Who doesn't want an adventure buddy to explore every inch of this majestic, mountainous state with? Take Loki for instance, the Siberian Husky who managed to summit all 58 of Colorado's 14ers (with his human, of course). Colorado pet owners aren't afraid to go to the limits and have a ball.
If you're ready to school yourself on vaccinations, toxic foods, or finally refine your pet photography skills, we've got you covered. Also, while you're at it, learn more about dog insurance and cat insurance, and get your vet bills and vet visits covered. Now, let's hit the slopes!