Dog Hats
Tip your hats for the best in pet fashion.
Dog hats are so much more than a fun way to help your pooch make a statement during their daily strut. From dog baseball caps to beanies, this dog clothing is specially designed to shield those sensitive canine eyes and ears from the elements—be it rain or shine (or even the chill of winter).
This article is filled to the brim with advice on what to consider when shopping for dog hats.
We'll answer these FAQs about dog hats:
What's a dog hat and how do they work?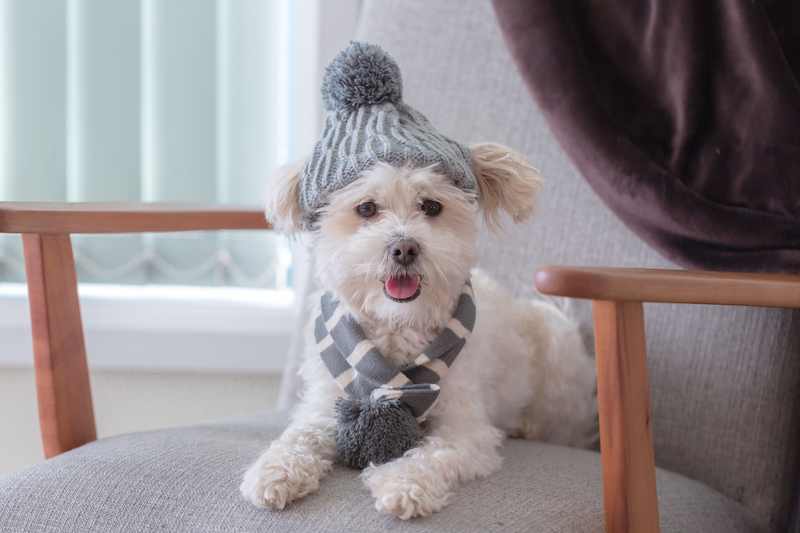 A dog hat is a special kind of headwear designed to protect your pup's sensitive eyes and head—and sometimes their ears—from the elements. And let's be honest, they're also a bold fashion statement.
You can find just about any type of hat that's tail-ored for your dogs needs (and personal style), including:
Dog baseball hat
Dog cowboy hat (not just for Texan pups)
Dog party hat (multi-colored pom pom not necessarily included)
Dog bucket hat (for Gen Z dogs)
Dog visors
Dog hoodie
Dog beanie
Dog graduation hat
Picture this: You're heading for a beach outing with your Border Collie 'Biscuit' on a sunny day. To protect their sensitive eyes and head from the bright sun and harsh UV rays during a round of frisbee, you put on their dog baseball cap (and maybe a cooling dog bandana and a pair of dog sunglasses too, for good measure).
Biscuit can comfortably enjoy their beach day, avoiding sunburn and heat-related discomfort, thanks to their hat and other summer dog accessories.
It's important to keep in mind that while these summer pet products can help protect them from the sun and heat, they should be used as a supplement to—not a replacement for—other essential summer safety precautions such as providing plenty of fresh water and shade, limiting exercise and outdoor activities (especially during peak heat hours), and applying dog sunscreen.
What features should I look for when shopping for a hat for my dog?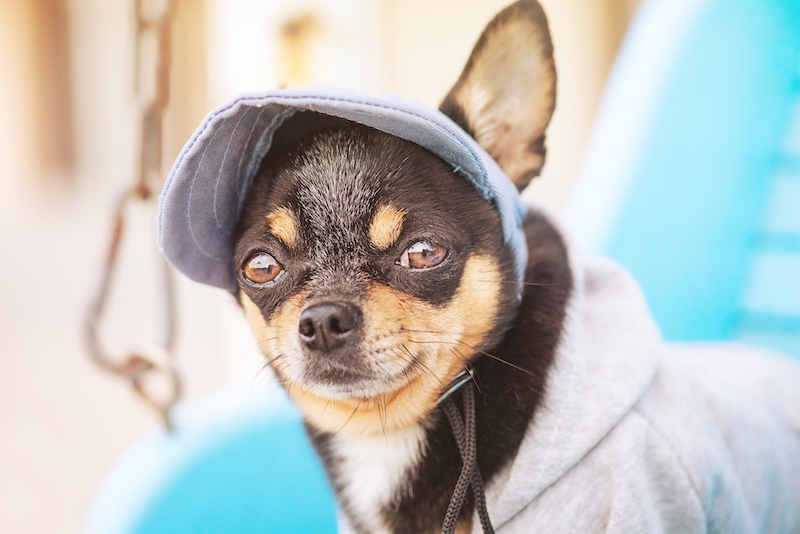 When looking for the best hat to protect your dog's noggin from the elements, consider features like:
Size: This is the most critical factor. Measure your dog's head circumference and the distance between the ears to ensure a snug but comfortable fit. A hat that's too tight can cause discomfort, restrict movement, and lead to hair loss, while one that's too loose may not stay in place, could obstruct your dog's vision, or fall off entirely.
Accessibility: Should be easy to put on and take off.
Adjustability: Look for adjustable features, such as a chin strap or a drawstring, which can help secure the hat on your dog's head.
Material: Select a hat made from comfortable and breathable materials. Natural fabrics—like cotton, polyester, and spandex—can help prevent overheating and keep your dog comfortable, especially in hot weather.
Durability: Dogs can be quite playful and may even try to chew on their hats, so you'll need a hat made from sturdy, durable materials.
Ear Holes: A good doggie hat will have ear holes to ensure your dog's ears are comfortable. The placement and size of these holes should accommodate your dog's unique head and ears.
Sun Protection: For outdoor use, consider a hat with a brim or visor to shield your dog's eyes from the sun. Some hats even have UV protection.
What are some of the best hats for my dog?
For summer adventures, one solid choice is the Frisco Blue Ocean Waves 30 + UPF Dog & Cat Beach Cap, which can range from about $16 to $18, depending on size and color.
Some other brands that carry high quality dog hats include Rubie's Costume Company, Littlearth, Canada Pooch, PupLid, and Chill Seeker.
Before you check out, remember that no matter the hat you choose, always prioritize your dog's comfort and safety.
What's the best way to keep a dog hat from falling off?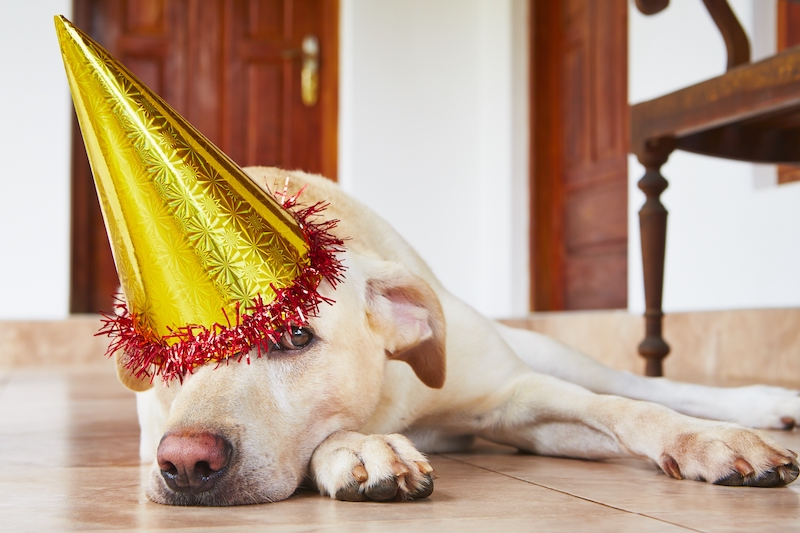 Besides finding the right fit for your pup's head, an adjustable chin strap is key here. The strap helps keep the hat in place, without causing discomfort.
Also, make sure that the hat is not too heavy for your dog. If your dog frequently shakes their head, struggles to keep their head up, tries to remove the hat, or avoids it altogether, it could be a sign that the hat is too heavy or uncomfortable.
What's the difference between a dog hat and a cat hat?
Dog hats and cat hats might seem similar at a glance—and some hats are suitable for both—but some pet hats have a few differences that cater to the specific needs and behaviors of each pet.
| Spec | Dog hats | Cat hats |
| --- | --- | --- |
| Size | Bigger for dogs' larger heads and ears | Smaller to fit cats' smaller, triangular-shaped heads |
| Design | Have chin straps for active dogs | Easy to take off, as cats often try to remove hats |
| Material | Stronger to withstand dog play | Softer, as cats are less rough during playtime |
| Style | Include ear holes for dogs' ears | Don't usually have ear holes, as cat ears are smaller |
Before we put on our hat and go…
Helping protect your pooch from the elements doesn't have to stop with their accessories—like a dog sun hat. Did you know that you can cover your dog from nose to tail with a Lemonade pet insurance policy?
A base policy can help take a bite out of medical expenses for diagnostics and treatments related to accidents and illnesses (provided those occur after your policy's waiting period has ended). And you can easily customize your pup's policy with our preventative care packages and optional add-ons to meet the unique needs of your pup, all with your budget in mind.
Click below to get your quote started.
---
A few quick words, because we <3 our lawyers: This post is general in nature, and any statement in it doesn't alter the terms, conditions, exclusions, or limitations of policies issued by Lemonade, which differ according to your state of residence. You're encouraged to discuss your specific circumstances with your own professional advisors. The purpose of this post is merely to provide you with info and insights you can use to make such discussions more productive! Naturally, all comments by, or references to, third parties represent their own views, and Lemonade assumes no responsibility for them. Coverage may not be available in all states.