10 Ideas for Including Your Dog in Your Wedding
Here comes the pooch.
As you start sending out save the dates and picking your first dance song, you're probably already finalizing what special people in your life you want to stand by your side as you take your vows—but what about your canine family members?
We spoke to four couples who included their doggos in their wedding for their best dog wedding ideas, plus their insider tips, tricks, and cautionary tales (tails?), so you can make your special day run as smooth as a freshly-brushed Collie, and as joyful as a 8-week-old Labrador puppy.
Here's what we'll cover:
Lemonade pet parent testimonials
Location, location, location
Nikita Poland and Adam Murabito had two conditions for their wedding: It would be outside and Flip, their adopted pup, would take part in the ceremony.
"We adopted Flip, a Sheltie/Dachshund mix, when we started dating," Poland, a CVT and pet parent at Lemonade, said. "So, he's really been an important part of our family unit since day one. As we explored venues, it was hit and miss as to who would allow a dog to be included."
They decided to skip the formal venue and have the wedding in their backyard. Flip was their ring-bearer and Murabito's 10-year-old son was his handler for the ceremony.
"We got Flip a little dog tux that had a ring clip on the chest so he could carry and then present the rings when it was time," Poland said.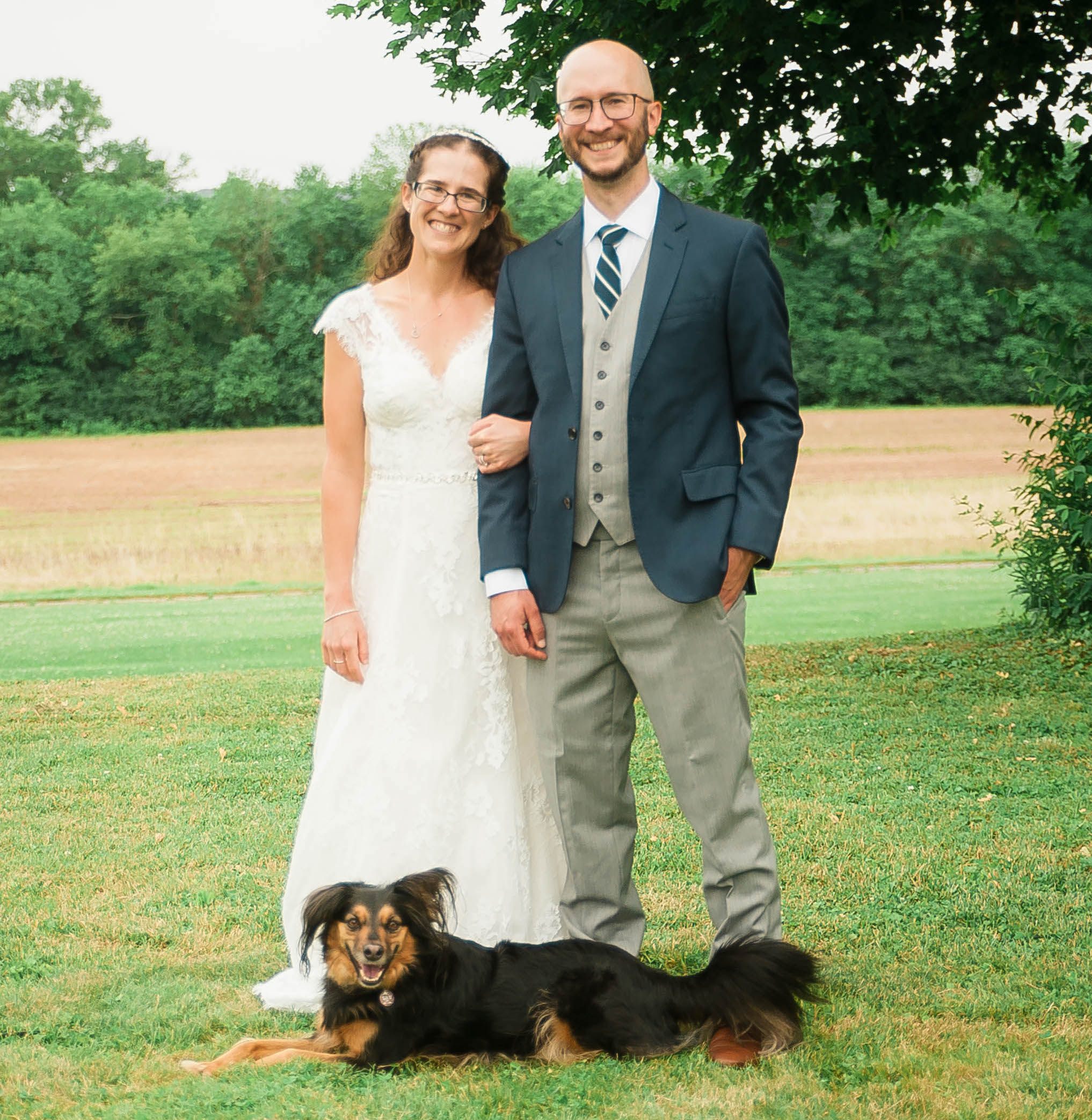 From a big wedding to a family affair
COVID changed everything. Originally, Garrett and Allison Robertson were going to have a large wedding with 200 guests. That was in April 2020. They postponed the wedding and decided to have a more intimate affair with their immediate family the following September on a beach in Florida.
Remi, their Goldendoodle puppy, "loves to swim and dig in the sand," Garrett Robertson, a pet parent at Lemonade, said. "She's in heaven every time we take her to the beach."
Remi wore a floral collar. "It felt natural to have our little girl there because of how special she is to us," Robertson said.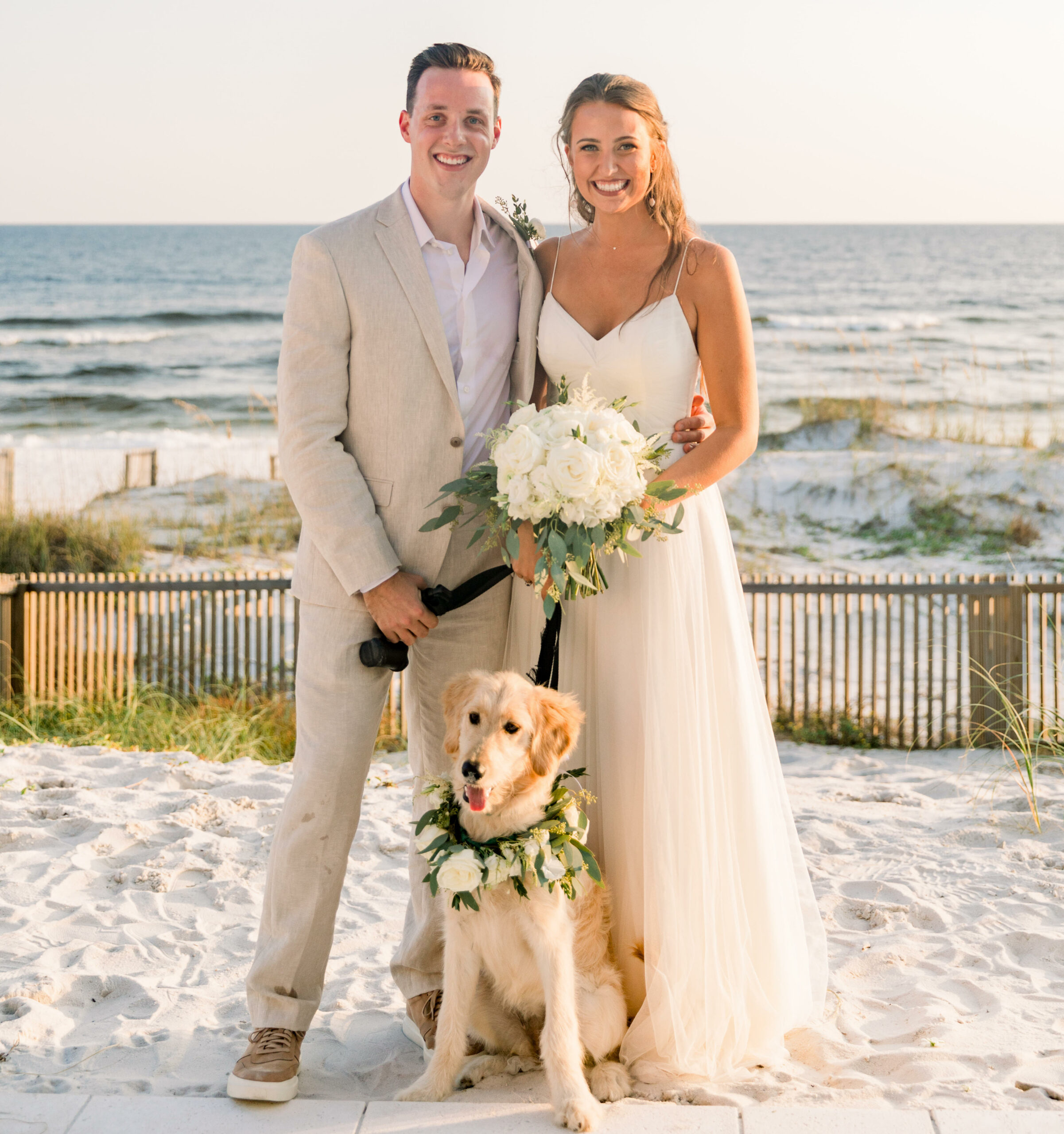 Working around venues that don't allow dogs
Some venues don't welcome dogs. Sara and Chris Scallon got married at the St. Louis Art Museum. Julius Caesar, their Corgi mix, wasn't part of the wedding ceremony. However, he was included in all aspects of the wedding.
Sara Scallon , a Lemonade pet parent, explained, "He got ready in my hotel room with all the girls. Chris and I took Julius around with us to take photographs."
At the ceremony and reception at the art museum, they had a cardboard cutout of Julius, his outline on the napkins, and his image on various photographs. "There was never a decision of whether or not to have Julius included in the wedding," Scallon said. "We both knew he needed to be included in our wedding as he is our family. We both included references to Julius in our vows. After the wedding, multiple people told us they loved how Julius was included in our vows."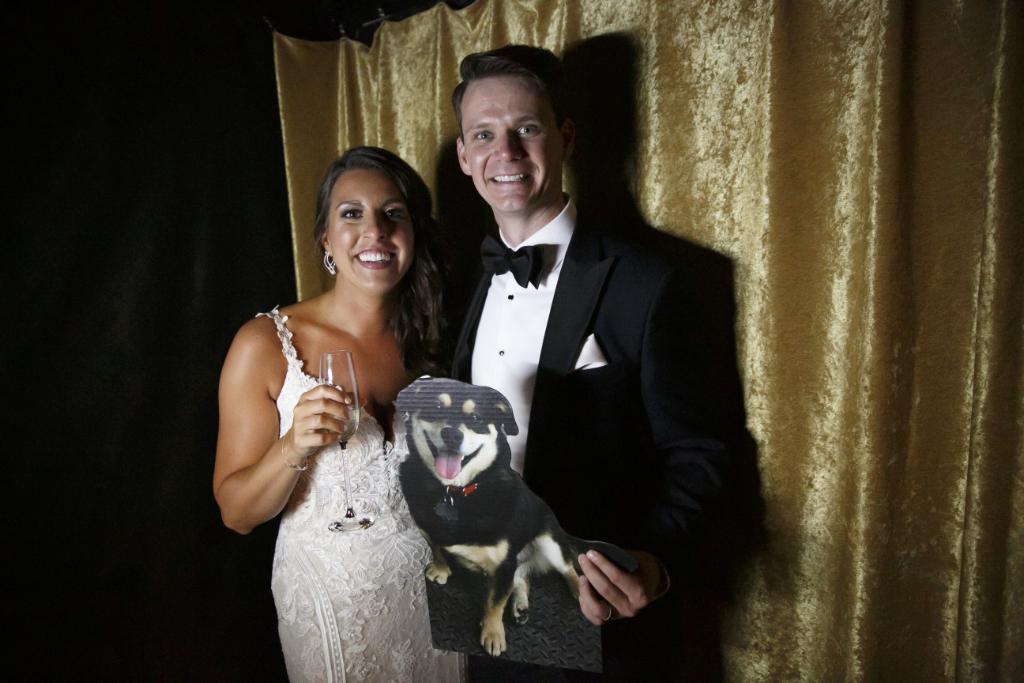 Two dogs and a cat
Roxi, an Australian Cattle dog, and Jet, a Redbone Coonhound mix, walked down the aisle with the bridesmaids at Sara Sapochak and Corey Sanford's wedding. Their cat, Amarula, a domestic shorthair, was there in spirit. They had photographs of her and a signature drink called an Amarula. It contained Grey Goose Vodka, Godiva Milk Chocolate Liqueur, and Godiva White Chocolate Liqueur.
"For us, there was no discussion as to whether Roxi and Jet would attend," Sapochak, a Lemonade pet parent, said. "We hired a professional pet sitter and could not have pulled it off without her."
Having your dog at your wedding is a great way to de-stress and include everyone –including your fur family—on your special day.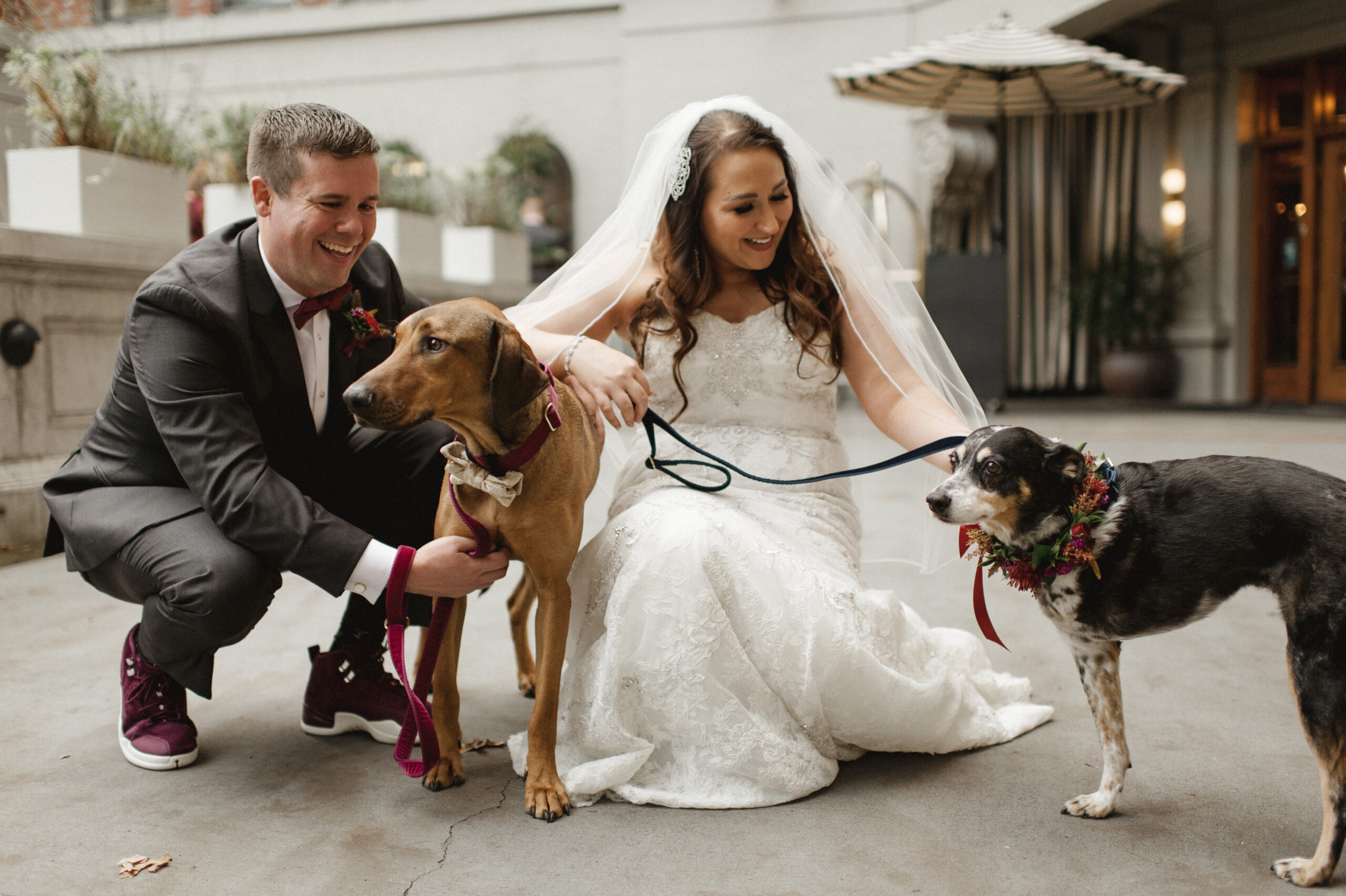 10 tips for including your pet in your wedding
If you want to include your dog in your wedding, follow these tips:
Know your dog's personality. Are they friendly and comfortable greeting friends and family? Do they follow simple commands such as "sit" and "stay?" If you answered, "yes," then it might be a good idea. If your dog is not social, it's best to leave them at home with a pet sitter.
Decide on your dog's role. Ring bearer is a popular choice. You can have someone in the wedding party walk them down the aisle. Flower dog is also a good option. You can have your dog carry a light basket of flowers in their mouth. Another option is "guest of honor." Your dog can stay by your side during the ceremony.
Hire a dog sitter. As bride and groom, you'll be pretty busy throughout the special day. Having a professional dog sitter takes the worry away and ensures your dog can be part of the festivities without you having to keep an eye on them.
Let your guests know your dog will be there. Some people are allergic to dogs and might want to pack a Claritin, especially if the event is being held indoors.
Choose your dog's wedding attire. You can purchase a tuxedo, fancy outfit, or a floral leash for your pooch. Some dog shirts come with loops to attach wedding rings.
Familiarize your dog with the venue. If the venue allows dogs, bring your dog to the site a few days before the wedding so they can get used to the space.
Rehearse. It's common for the bride and groom to rehearse. If your dog is part of the ceremony, bring them along to the rehearsal to avoid as many surprises as possible on the day of.
Bring a go-bag. Fill it with water, a bowl, treats, and dog food.
If the venue doesn't allow dogs. You can include your dog at the photo session of the wedding if you're near a park or beach. If you go this route, hire a pet sitter to watch your dog. You can also include photos of your dog at each table's centerpiece. Include a photo of your dog in your invitations, thank you notes, and on your wedding's website. You can even place a wedding cake topper of a bride, groom, and dog on top of the cake.
For safety reasons, don't invite other pets. It's your day. Having too many dogs in attendance may get out of hand if some of the dogs are not on their best behavior.
So, should I bring my dog on my honeymoon?
If you're taking a short car ride to an inn or hotel that's pet friendly, and there are lots of activities for you and your dog, then by all means, include your pup! Honeymoons that include days on the beach, hiking trails, or taking long walks are perfect for your pooch.
However, if you're going far or will stay in a place that is not welcoming to dogs, leave them home and hire a pet sitter to care for him while you're away. We promise they'll understand.
Before you walk down the aisle…
Taking this next step with your partner can be a whole lot sweeter with your canine best friend by your side.
For better, for worse, for richer, for poorer, in sickness, and in health, for the entirety of your pup's long, healthy life, we know these wedding memories will last a lifetime—no matter how your pup participates!
Speaking of, pet insurance, like coverage by Lemonade, could help you care for your pup both "in sickness and in health" while taking the bite out of vet bills.