Nebraska Pet Insurance Guide
Get your cat or dog's vet bills paid for in the Cornhusker State.
Being a Nebraska pet parent is the best. Whether you've got a Black Lab in Omaha, or a Shar Pei in Lincoln, we're here to make sure your furry friend is well taken care of. We'll take you through some of the hidden gems of being a Nebraska pet parent and tell you everything you need to know about the importance of pet insurance so you can keep your pet safe and happy.
What is pet insurance?
Pet insurance assists policy holders in covering the costs of vet bills. You pay a premium each month to the insurance company, and in return, you can care for your canine or feline fur fam without having to worry about how much it will cost.
With Lemonade pet insurance, there are numerous ways to customize your policy with our coverage options:
To begin with, a base Lemonade pet health insurance policy will assist in covering the costs of veterinary bills including medication, tests, and treatments if your cat or dog has an unexpected accident or illness.
A base pet health insurance policy is excellent for the unexpected things in your fur fam's future. Still, Lemonade also offers preventative care packages, which are designed to keep your pet healthy and help cover expenses you're probably paying for anyway. By adding this package to a Lemonade policy, you'll also get access to a live medical chat option and will get covered for all kinds of routine care—like your annual blood tests, vaccinations, wellness exam, and more. There may be some applicable exclusions.
Lemonade offers a Preventative, Preventative+, and a Puppy/Kitten Preventative package. Depending on your pet's age, this package covers things like spaying/neutering, vaccinations, microchipping, and flea and tick treatments.
You can also customize your Lemonade policy with a mix and match of optional add-ons like: physical therapy, vet visit fees, dental illness, behavioral conditions, and end-of-life and remembrance—to help take the bite out of pricey treatments, services, and trips to the vet.

Here's an example of how a Lemonade pet insurance policy works:
Buy a policy. You answer a few quick questions about your Poodle, Maverick, and build your pet's policy with the help of our friendly AI chatbot. The monthly premium you pay is determined by various factors, primarily things that you can customize, like your annual deductible, co-insurance, coverage package, and the annual limit on your plan. (If you would like, you can take a deeper dive into how pet insurance works to help you create your perfect pet insurance policy.) Pet insurance coverage with Lemonade can cost as low as $10/month. Here's a handy breakdown of the whole (simple) process.
Go to the vet. You rush Maverick to the vet after he broke his leg from playing too rough at the dog park. The exam, x-ray, and cast cost you $1,000. Woof. But since you have pet insurance, you don't have to worry about the total amount. Find out what our pet insurance policies cover here.
Get your money back. Maverick is safely on the mend, and you get up to a $900 reimbursement back in your pocket from Lemonade!
It's worth noting that as your dog ages, they will require more veterinary care, treatments, and possibly hospitalizations, which is why it pays to take out a pet insurance policy for your dog as early as possible to make sure you have peace of mind. If you try to sign your 13-year-old dog up for pet insurance for the first time, they might be declined due to their age; either way, they're more likely to have pre-existing conditions that won't be covered by insurance. But if you get your new puppy a Lemonade pet insurance policy right away, you'll be able to continue renewing their pet insurance plan as they age.
Apply now to get your free pet insurance quote.
Protect your pet from Nebraska threats
Nebraska may not have many natural disasters, but if you're a Nebraska pet parent, there are a few local dangers you need to be aware of to keep your pet safe.
Snakes
Nebraska is home to four types of poisonous snakes: the timber rattlesnake, the prairie rattlesnake, the copperhead, and the massasauga.
Snakes are known for enjoying the warm sunshine, so you may find one slithering along a rock or a dirt path while taking your pup for a walk in the woods. To protect your pet from dangerous snakes, it's important to be aware of the dangers they pose and understand ways to keep them out of harms way. Always keep your dog in a leash when out for a walk and prevent large piles of dirt or rubble from piling up around your home, as these are also places snakes like to hide
On the occasion that your pet is bitten by a snake, take them to the vet right away. Don't worry about figuring out what kind of snake it was, either — the vet will be able to determine if the critter was poisonous or not.
To treat snake bites on dogs and cats, your vet might use pain medication, intravenous fluids, antibiotics, and possibly antivenom.
Toxic plants
Does your pet like to nibble on whatever they find on the ground? It's important to always monitor what goes in their mouths to prevent them from eating any toxic foods. In addition, Nebraska has several poisonous plants, including Poison Hemlock, which is poisonous to humans, livestock, and our pets— and you don't want them to accidentally ingest one of their unassuming buds.
When your furry friend goes for walks or runs around the park, keep an eye out for these toxic plants commonly found in Nebraska. If you suspect your pet has been eaten something they shouldn't have, you can always call ASPCA animal poison control at (888)-426-4435.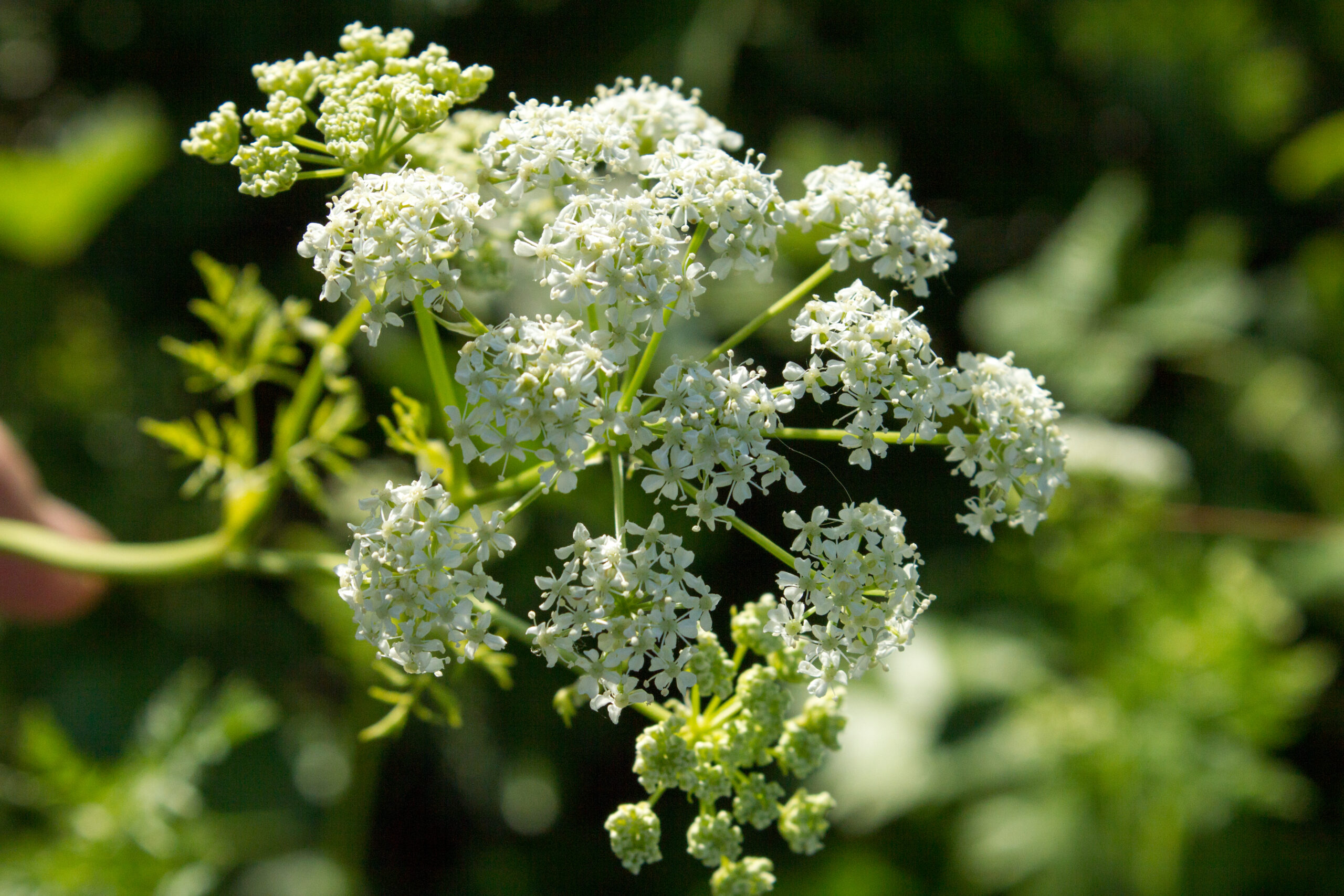 Bison
Once upon a time, Bison ruled the prairie. They roamed throughout the middle United States in huge numbers. Unfortunately, in the 19th century bison were hunted to near extinction. Luckily, there has been a concerted effort to save these big, beautiful creatures, and bison can once again be seen roaming through protected areas throughout the United States.
You may think that the most dangerous animals to hikers are predators such as bears, and mountain lions, the truth is that bison can be just as, if not even more dangerous. More people get injured by bison a year in Yellowstone National Park than they do by grizzly bears. The good news is that it's really easy to avoid being charged by a bison. Just leave them alone. Keep your dog on leash at all times. Never try to cross a meadow where bison are grazing. Take care if you see bison with their young, as they can be extra-protective. Never let your dog approach a bison. Do not see if they can "make friends", or try to take a selfie.
The best way to keep you and your pets safe from wildlife is to let wildlife remain wild.
Top Nebraska dog parks
If your dog loves to run and play with their dog friends, take them to one of Nebraska's exceptional dog parks. Just make sure your pup is up-to-date on their vaccinations and spayed or neutered before you let them off leash.
Support Nebraska-based pet businesses
Before we go…
We understand how much you love your pet – they truly are a family member. There's nothing like being a Nebraska pet parent! In fact, 47.% of Nebraskans own a pet – Nebraskans love their pets! We understand the importance of maintaining the wellness of your furry friends while saving you money where possible. That's where insurance for dogs and insurance for cats can help! Learn more about how much pet insurance costs to maintain the health care of your pet, and whether or not pet insurance is worth it for you!