New York Pet Insurance Guide
Your East Coast pet deserves the best.
New York City! The hustle and bustle. The energy. The hot dogs. The real dogs. This city has it all. According to a recent study, the Big Apple is home to around 1.1 million pets—a total of 600,000 dogs and 500,000 cats. Not surprisingly, the city offers a wide range of activities, services, and specialty stores to keep your four-legged bestie content.
But, as we all know, city life isn't always a breeze. We're going to tell you how to protect your urban pooch or city feline from the mean streets, and explain how pet insurance could help take the bite out of vet bills.
What is pet insurance?
Pet insurance helps cover the costs of your vet bills. You pay a monthly premium and in exchange, you can provide care for your canine or feline fur fam without stressing as much about the costs.
With Lemonade pet insurance, there are a few different ways to customize your policy:
For starters, a base Lemonade pet health insurance policy will help cover the costs of tests, treatments, and medication if your dog or cat has an unexpected accident or illness.
A base policy is great for the unexpected things in your fur fam's future, but Lemonade also offers preventative care packages designed to keep your pet healthy, and helps cover expenses you're probably already paying for. By adding this package to a Lemonade policy you'll also get access to live medical chat and be covered for all kinds of things—like your annual wellness exam, blood tests, vaccinations, and more. Some exclusions may apply.
Lemonade offers a Preventative, Preventative+, and a Puppy/Kitten Preventative package. Depending on your pet's age, this package covers things like spaying/neutering, vaccinations, microchipping, and flea and tick treatments.
You can also customize your Lemonade policy with a mix and match of optional add-ons like: physical therapy, vet visit fees, dental illness, behavioral conditions, and end-of-life and remembrance—to help take the bite out of pricey treatments, services, and trips to the vet.

Here's an example of how a Lemonade pet insurance policy works:
Buy a policy. You answer a few quick questions about your Bulldog, Ranger, and build your pet's policy with the help of our friendly AI chatbot. The monthly premium you pay is determined by a few factors, mostly things that you can customize, like your coverage package, your annual deductible, your co-insurance, and the annual limit on your plan. (If you want, you can take a deeper dive into how pet insurance works to help you build your perfect policy.) Pet insurance coverage with Lemonade can cost as little as $10/month. — here's a handy breakdown of the whole (simple) process.
Go to the vet. You rush Ranger to the animal hospital after he broke his leg from going too hard at the dog park. The exam fee, x-ray, and cast come to a whopping $1,000. Woof. But because you have pet insurance, you don't have to worry about the full amount. Get the scoop on what Lemonade covers here.
Get your money back. Ranger is safely on the mend and you get up to a $900 reimbursement back in your pocket from Lemonade!
It's worth noting that as your dog ages, they will require more veterinary care and treatments, which is why it pays to take out a pet insurance policy for your dog as early as possible.
If you try to sign your 13-year-old dog up for insurance for the first time, they might be declined by the pet insurance company due to their age; either way, they're more likely to have pre-existing conditions that won't be covered by their insurer. But if you get your new puppy a Lemonade policy right away, you'll be able to continue renewing their policy as they age.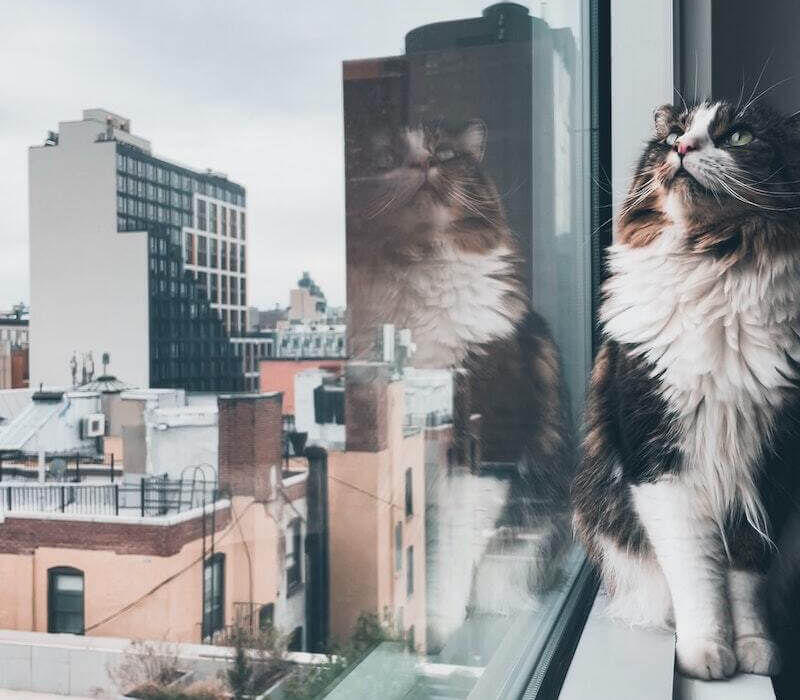 Pet-friendly living in New York
New York real estate is a beast of its own. If you and your pet are looking for some new digs to call your very own, get the facts and know your rights on owning a pet in NYC.
Around 75% of New York apartment buildings do not allow pets
We know, this figure is pretty daunting, but there are plenty of exceptions. For example, the NYC Pet Law protects pet owners living in buildings that restrict pets if the pet has been living in the apartment for at least three months without the landlord giving a warning or seeking eviction. If your pet has been coexisting peacefully after the three-month mark, they're free to stay as long as they like.
The key here is to be as open as possible about your pet from the beginning (please, don't try to smuggle your Cocker Spaniel in your jacket). If you deliberately keep your pet a secret from your landlord, you won't be protected under the law.
Be prepared to pay a premium on your pet
Your landlord might ask for you to pay a higher security deposit or have you pay extra on your monthly rent because of your pet. Because some pets (not yours, of course) can cause damage to the walls, floors ,and appliances, this extra cash can cover the repairs down the line.
And while you're at it, maybe invest in a scratching post or pee-pee pads to curb pet-related damages before they happen.
You might find renters insurance policy could put you and your landlord at ease for some pup-related liabilities. Learn how renters insurance can help cover your pup.
Choose your breed wisely
Each building will probably have their own policy surrounding pets. In general, landlords are more likely to allow cats and smaller breeds of dogs as opposed to larger breeds. Some buildings might restrict certain breeds altogether like Pitbulls or Rottweilers. But even small breeds might like Chihuahuas and Pomeranians might be blacklisted because of their reputation for barking and biting (don't worry, we still love them all!).
Looking to adopt a pet? Here's where New Yorkers go!
Prime pet real estate
These luxury apartment buildings offer services tailored to your pet's every need: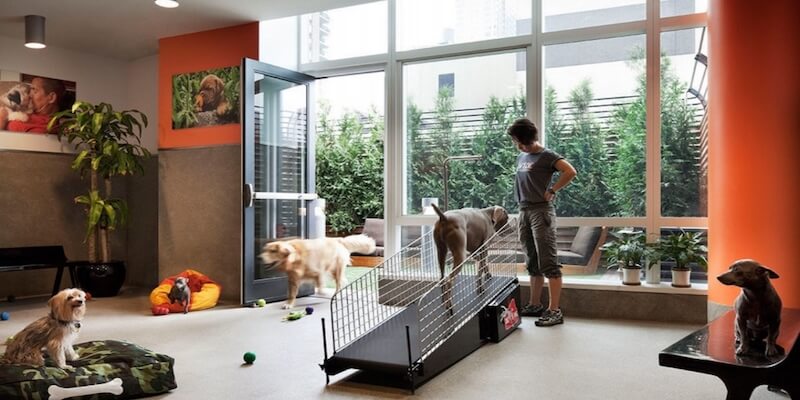 NYC pet services and destinations
New York has so much to offer your four-legged friends. No matter your borough or your budget, you can find something to get your kitty purring or get your doggo's tail wagging!
Visit these local New York pet boutiques (or order online!):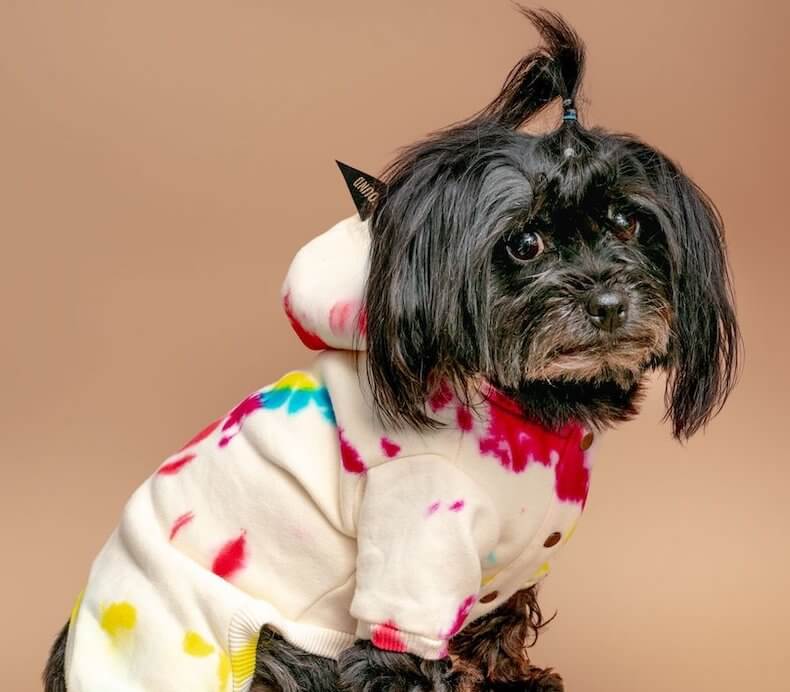 Let your dog stretch their legs at these dog-friendly parks:
Keep your dog in shape and social with these door-to-door services:
Before we go…
Only in New York do you see people finding creative ways to get their dog on the subway, or a creature as stoic and mighty as the illustrious bodega cat. In short, New York pets are in a class of their own.
Looking to read up more on the wild world of pet ownership? Read about Brooklyn's premiere cat wrangler, learn about your dog's vaccinations, and if you're feeling frisky, go ahead and apply for Lemonade dog insurance or cat insurance to cover your vet visits.