Here's What Renters and Landlords Say They Want from Each Other
We asked, thousands of renters and landlords answered.
Can't renters and landlords just get along?
In fact, most of them already do, according to a new survey conducted by Lemonade and OnePoll.
Nearly two in three renters (63%) described their relationships with their landlords as either "excellent" or "good," suggesting that while the 2020 Lifetime TV movie My Nightmare Landlord might make gripping viewing if you're into that kind of thing (no judgment!), it doesn't exactly capture reality.
Indeed, only 6% of renters indicated that their relationships with their landlords were "terrible."
So what makes landlord-tenant relationships work—and what pitfalls should both sides avoid in order to keep the peace? Whether you're a renter or a landlord, our survey can help you better understand what it takes to keep the other side happy.
How renters feel about landlords
While a strong majority of renters express warm feelings toward their landlords, 41% believe that they would be better landlords than their actual landlords On the flip side, half of renters (49%) believe that their landlords are better than most.
But what makes a good landlord?
Nearly three in four renters (72%) said that a good landlord is someone who responds promptly to property issues and cares about maintaining their home. A similar share—71%—look for landlords who keep the rent affordable, an issue that's taken on even greater resonance amid a surging rental market.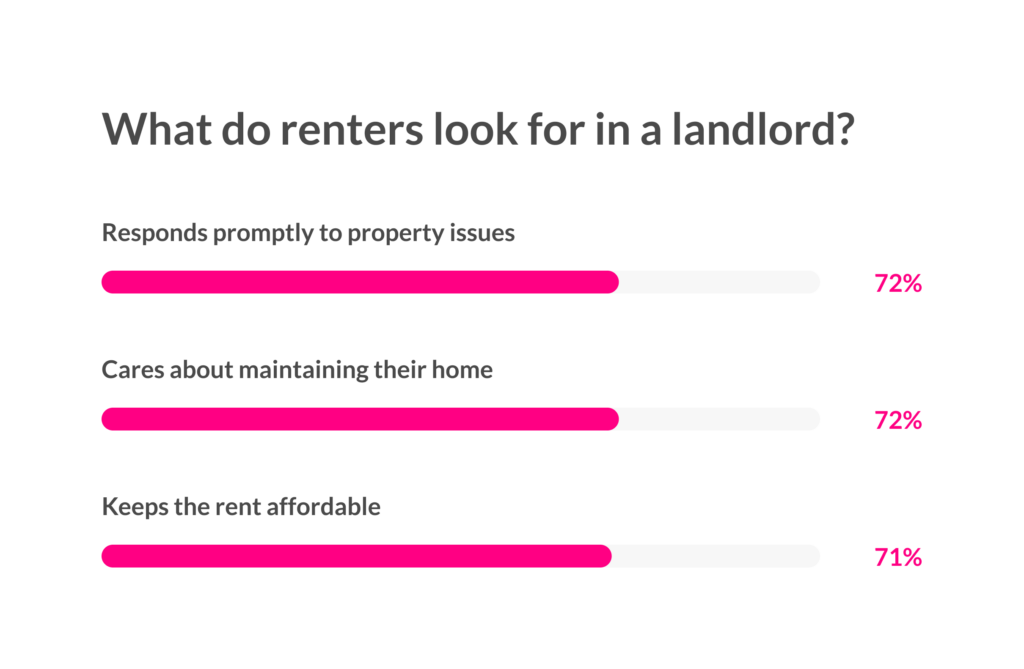 And while only a tiny share of renters reported having toxic relationships with their landlords, we made sure to ask about what would lead them to sour on one.
Perhaps surprisingly, renters are likelier to develop a bad relationship with their landlords over maintenance issues than over hikes in their rent. Seventy nine percent of renters said that a bad landlord is one who's rude about making repairs, whereas 65% said the same about a landlord who spikes the rent.
So landlords, if you're keen to keep your tenants satisfied and your units occupied, it could be as easy as fixing that leaky faucet on time.
What landlords look for in potential renters
The landlords we surveyed overwhelmingly agreed on what makes a great tenant.
79% said that it's someone who pays their rent on time
74% said it's someone who keeps their place clean
72% said it's a renter who follows the building rules
60% consider being employed crucial to being a good tenant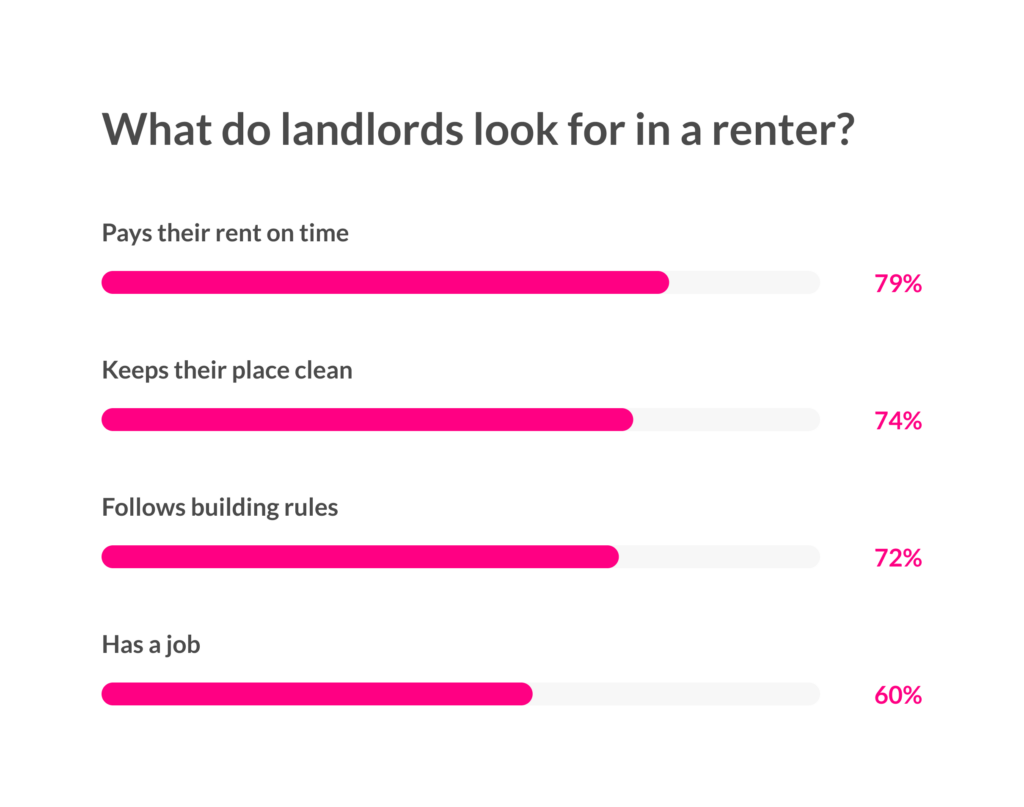 What issues keep landlords up at night?
Slightly more landlords reported stressing out over property damage caused by their renters (48%) than over late rental payments (46%).
That might help explain why 81% of landlords say that a tenant's willingness to get renters insurance could make or break a lease deal.
As it happens, many landlords require their renters to carry renters insurance coverage, in part because it covers renters' personal property and liability, which can keep property management costs lower by reducing the risk of claims against a building's master insurance policy.
A renters insurance requirement also helps landlords and property managers screen for responsible tenants.
Tips for a successful tenant-landlord relationship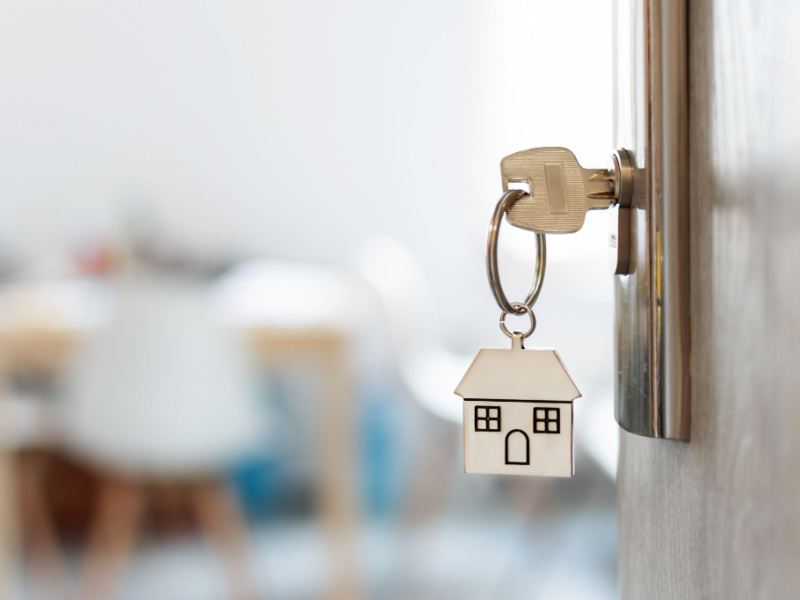 Lemonade's survey of renters and landlords helps illuminate what each side can do to build trust and establish a strong relationship. Tenants and building owners might not become BFFs, but at least they can avoid friction and disagreement.
Don't be afraid to talk $
It's clear that the rising cost of living in general—and in rent in particular—weighs heavily on renters' minds. While most landlords raise the rent either every other year (54%) or every year (25%), there are steps renters can take to negotiate their rental payments, from paying some of your rent in advance if you're about to move into a new place, to starting lease renewal discussions a few months in advance if you're trying to avoid a big hike after your current lease expires.
Communication is key
For their part, landlords should maintain open lines of communication with renters, particularly when it comes to top priorities like repairs and maintenance issues. Transparency and honesty are key issues when resolving any tenant-landlord dispute.
And if you're a landlord who plans on raising the rent, be transparent. Giving your tenants at least three months of advance notice (and being up-front about how much you plan to raise the rent each year) can mean the difference between an amiable lease renewal and dealing with another tenant headache. 
Communication becomes extra important in sensitive situations—like if the landlord is putting their building on the market. In this case, it also helps if the tenant has an idea of their rights when the landlord sells their rental property.
Add the protection of renters insurance
It's understandable that landlords, like renters, are highly cost-sensitive in the current economic climate, but landlords stand to benefit in terms of both peace of mind and their bottom lines if they require their tenants to carry renters insurance.
Fortunately, Lemonade makes it a breeze to get covered, protecting your property in as little as two minutes, starting as low as $5 per month.

Methodology
Curious how we got these findings?
Lemonade commissioned a random double opt-in survey of 1,500 American renters and 500 landlords between November 3 and November 14, 2022. It was conducted by market research company OnePoll, whose team members are members of the Market Research Society and have corporate membership to the American Association for Public Opinion Research (AAPOR) and the European Society for Opinion and Marketing Research (ESOMAR).