New Mexico Renters Insurance Guide
Get coverage in the Land of Enchantment.
Looking for renters insurance in New Mexico? Well, you've come to the right place!
There is a good reason that New Mexico is called The Land of Enchantment. New Mexico is bursting with natural beauty: curious land formations, mysterious volcanoes, majestic structures in the desert, meandering meadows and wilderness, glorious gorges, refreshing waterholes, rugged mountains, limestone caves, and white sand dunes.
New Mexico residents enjoy unique culture and traditions, a warm climate, and affordable housing. This state with the most UNESCO World Heritage Sites in the United States boasts quality Spanish-influenced wines, plenty of entertainment and recreation options, and diversity among its residents, all which make New Mexico a special place to live..
Whether you're in New Mexico to work, study, play, or anything in between, you might want to cover your stuff with renters insurance. We'll take you through the basics of renters insurance coverage and also go through some of the coolest cities and hidden gems to explore in the Land of Enchantment and beyond.
What does your renters insurance cover in New Mexico ?
Okay, so you get that a renters insurance policy is a great idea in theory… but obviously you're curious about what it can actually do for you. Let's break down the components of what your policy covers and your coverage options.
Personal Property
'Personal property coverage makes sure your stuff, your personal belongings, is protected, whether you're relaxing at your apartment or traipsing across Europe. So if your living room furniture is ruined due to water damage from that burst pipe, or your phone is stolen while you're taking a trip to Berlin, your renters insurance policy has your back.
Loss of Use
What about if disaster strikes? If you can't stay at your home because of covered losses (like a fire or windstorm), your 'loss of use coverage provides reimbursements for temporary housing and additional living expenses such as food, laundry, hotel parking, and more.
Liability coverage
If someone is injured in your apartment, or anyone on your policy causes damage to someone else's property or stuff, your insurance company should have things like legal fees and property damage covered.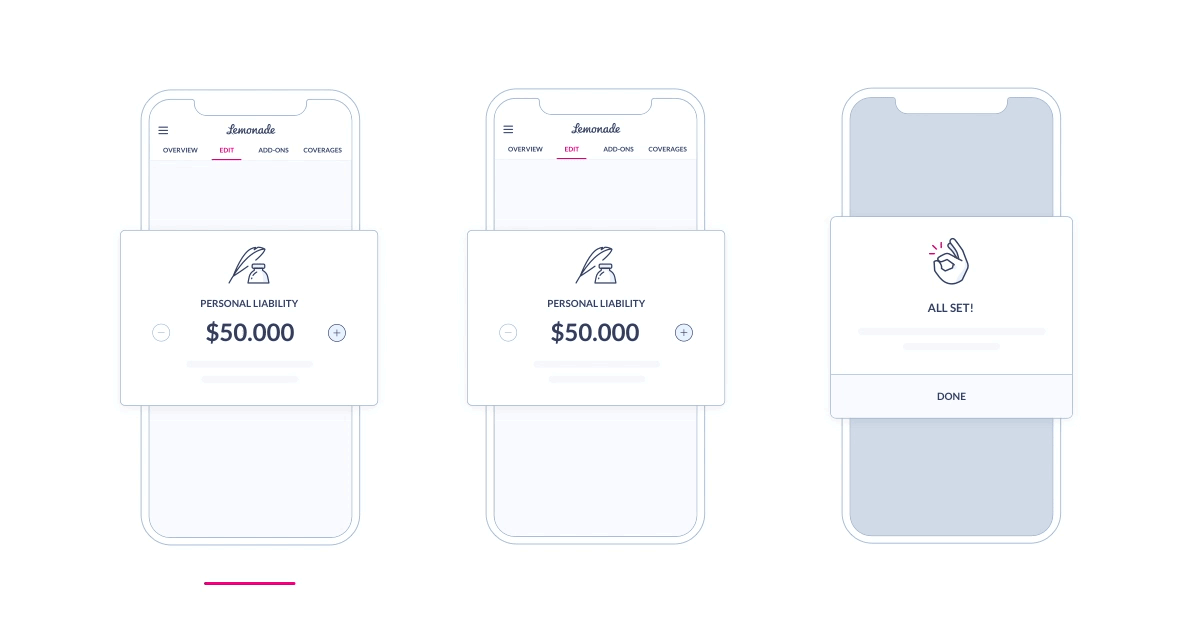 Medical Protection
Your insurer covers medical expenses if your guests get injured at your place or if you accidentally hurt people outside of your home as well. Note that your renters insurance policy does not cover medical payments if you or someone residing with you is injured—only non-residents and guests.
Is renters insurance required in New Mexico?
While there's no law requiring that you purchase renters insurance in New Mexico, your individual landlord might specifically require it. And if your lease specifies that you need renters insurance, well… that's that.
The good news is that it's easy to sign up for a renters insurance policy with Lemonade, and you'll thank yourself later if your stuff gets stolen or damaged! When signing up, your landlord might request they be added as an 'interested party' on your policy. This just means they'll be kept in the loop when you make any policy changes—or if you cancel your policy. It's super easy to add them using the Lemonade app.
What's the right amount of coverage to get?
There's no easy answer to that question, and it depends on how much stuff you have to cover and what it's worth. As we discussed above, your policy has a few main categories: Contents (your stuff); Loss of Use (temporary living expenses); and then personal liability and medical bills.
You're able to set the coverage limits for these categories when you sign up for a Lemonade policy. Lower coverage limits might save you a few bucks on your monthly premiums—but they might also leave you with insufficient coverage when you have to make a claim. You'll also need to figure out your deductible. It's a balancing act and one that requires you to think about your property and lifestyle. Take a few minutes to apply to see your renter insurance quote to get a sense of your insurance options.
Also, if you've got valuables that are especially pricey or important—things like engagement rings, fancy cameras, musical instruments, or artworks—you can add 'scheduled personal property coverage' for those items. At Lemonade, we simply call it 'Extra Coverage'—here's a bunch more info about that.
Top New Mexico rental destinations
A unique blend of Mexican, Native American, Spanish, and Anglo culture, distinctive cuisine, the best chili peppers in the country, tons of festivals, the oldest vines in the country, plentiful sunshine, and starry night skies (due to low light pollution) are enough to bring you to this southwestern state. New Mexico also boasts a rich history and impressive architecture, unlike anywhere else in the country. These reasons and more make it easy to see why New Mexico would make for an ideal place to settle down. Whether you are a native-born New Mexican or part of the growing influx of new residents, it's worth finding out why New Mexico is such an enchanting place to live.
Los Alamos
Couched beneath the foothills of the Pajarito Mountain is the best place to live in New Mexico. Breathtaking Los Alamos is the number one place to live in New Mexico, according to Niche.com, for its highly rated public schools and quality housing opportunities. It is an excellent place to raise a family. The city is full of museums, history, science, and natural wonders.
Los Alamos boasts the lowest crime rates in the state and a median income well above the national average. The average cost of a rental in Los Alamos is $1,232.
Fun fact: During WWII, Los Alamos was the location of the Manhattan Project, which was headed by J. Robert Oppenheimer to produce the first atomic bomb. You can learn more about it at the Manhattan Project National Historical Park Visitor Center.
Places to visit:
Bandelier National Monument. Walk right into "an open book of human history." The Bandelier National Monument is over 33,000 acres of gorgeous mesa and canyon territory, with evidence of human activity dating back over 11,000 years. Explore ancestral Pueblo dwellings scattered across the landscape and experience the majestic diversity of animal and plant life.
Bradbury Science Museum. If you're curious about where national security, science, and technology meet, the Bradbury Science Museum is the place for you. It is home to the Los Alamos Scientific Laboratory (technical areas are closed to the public) and displays historical weapons and research artifacts. There are nearly sixty interactive exhibits related to the history of the WWII Manhattan Project—and much more!
Santuario de Chimayo. Explore American Latino heritage at Santuario de Chimayo, a small shrine nestled in the Sangre de Cristo Mountains. Thousands of American Indians, Hispanics, and other people of faith make a pilgrimage to this church annually to ask for healing or offer thanksgiving. This National Historic Landmark, open from dawn to dusk, is worth visiting.
White Rock
This humble small-town suburb is a safe and happy place to be. White Rock is the number one place to raise a family in New Mexico and the second-best place to live in the state, according to Niche.com. The town has the best public schools in New Mexico and it is the best place to buy a house. The cost of living is also cheaper than the national average.
White Rock is full of people who work in the sciences, and are working on technologies to improve the future. The average cost of a rental in White Rock is around $1,195 a month.
Fun fact: White Rock is named after a large white boulder on its beach near the promenade. This large white boulder is a glacial erratic that migrated south during the last glaciation.
Places to visit:
White Rock Overlook. Located in the White Rock Canyon, White Rock Overlook is a breathtaking panoramic 270-degree open space view. It overlooks the majestic Rio Grande River as it meanders through the Jemez Mountains. Prepare to be stunned by the gorgeous rugged terrains and spectacular vistas!
Diablo Canyon Recreation Area. Are you looking for an awesome hiking destination? Look no further than the Diablo Canyon Recreation Area. These dramatic vertical cliffs are so iconic they have been featured in films such as The Missing and Cowboys and Aliens! Trek over 100 routes based on how much of a challenge you're looking for, or visit the Winter Wall and the Solar Cave. It's a gorgeous place to dip your toes into the Rio Grande.
Otowi Suspension Bridge. Built-in 1924, this wooden suspension bridge spans the Rio Grande River near San Ildefonso and not far from White Rock to the east. While you are there, visit the House at Otowi Bridge, an old ruin that once served as a train station, a restaurant, a post office, and a bridge into the Atomic Age as a destination for nuclear physicists.
Sandia Heights
This peaceful and quiet Albuquerque suburb is a popular place to commute from. Sandia Heights is the number one best place to retire and the fourth best place to live in New Mexico, according to Niche.com. Lying at the foothills of the Sandia Mountains, Sandia Heights has impeccable scenery. This town, teeming with wildlife and mountain views, is the nature lover's dream.
A homeowners' association protects the community apparel from overbuilding. The average cost for a rental in Sandia Heights is approximately $1,290 per month.
Fun fact: Part of what makes Sandia Heights so gorgeous are the Sandia Mountains which turn pink. The potassium-feldspar crystals embedded within the Sandia granite are what give the mountains their distinct pink color.
Places to visit:
Sandia Peak Tramway. Are you looking to reach greater heights? You can ascend in Sandia Peak Tramway, one of America's most stunning urban peaks! It stretches 10,378 feet to the crest of the Sandia Mountains, and is the world's third-largest single span tram. Prepare to be awed by the 11,000-square-mile panoramic view.
Sandia Park. North of the Cibola National Forest and the Sandia Mountains, you'll find an outdoor paradise! Here, you can enjoy hiking, bicycling, climbing, skiing, and horseback riding. Sandia Park is home to diverse wildlife and plant life, and it is a top destination for birdwatchers to observe the eagle and hawk migrations. Make sure to drive along the Sandia Crest Byway and stop by Tinkertown Museum.
Sandia National Forest Armijo Trail. Located near Cedar Crest, you'll find the Armijo Trail and Faulty Trail Loop. It is 4.6 miles of a pleasant trail running up Armijo Arroyo and looping around the Sandia Mountains, where you can hike, go horseback riding, and mountain bike (outside the wilderness boundary). It's a true, beautiful wilderness where you can connect with nature, especially since cell phone coverage isn't guaranteed!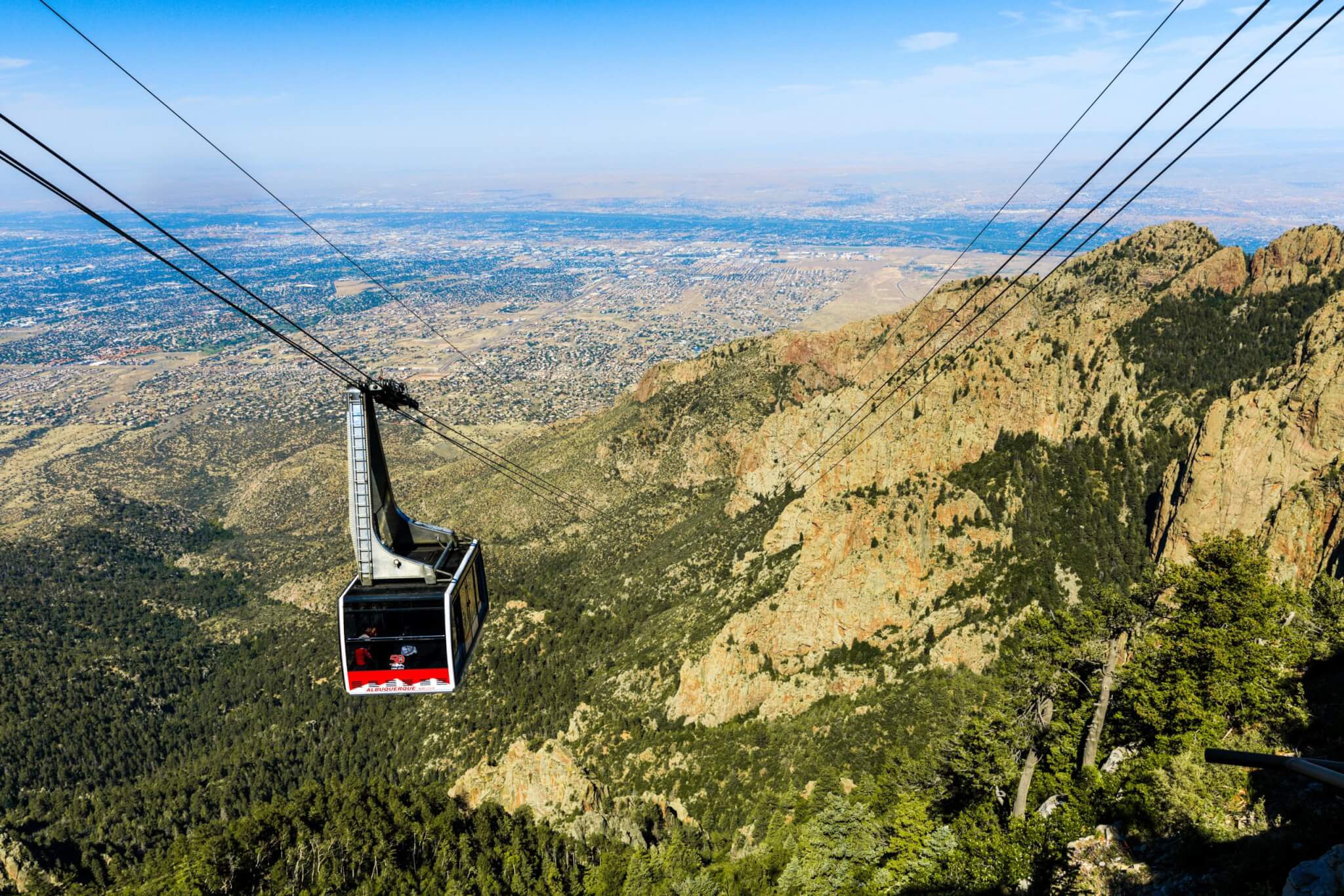 Albuquerque
The job opportunities are plentiful, and the cost of living is reasonable in the largest city in New Mexico. Nob Hill is rated the best neighborhood in Albuquerque and the third best place to live in the entire state by Niche.com. Eastside is the second-best neighborhood in Albuquerque and the fifth best place to live in New Mexico. Compared to other similar-sized cities, the state boasts the most favorable student-to-teacher ratios.
Albuquerque is a cultural epicenter of the state, teeming with activities for all ages. The cost for a rental in Albuquerque is $1,161 on average.
Fun fact: If you love heights, you would feel right at home in Albuquerque. Towering at an impressive 5,314 feet above sea level, it is the highest metropolitan city in the nation.
Places to visit:
Old Town Albuquerque. Quaint narrow streets and century-old adobe houses characterize Albuquerque's Old Town. The Old Town has been Albuquerque's heart since 1706. Get your fill of enchiladas and sopaipilla pastries and delight in the tiny artisan shops selling pottery, rugs, and jewelry. Enjoy the cultural center of the city!
Petroglyph National Monument. Stretching 17 miles along Albuquerque, the 7,236-acre monument Petroglyph National Monument protects one of the largest petroglyph sites in North America. It is a landscape of sacred symbols featuring designs carved into volcanic rocks 400-700 years ago by Native Americans and Spanish settlers. They are a valuable cultural record of spiritual significance.
Indian Pueblo Cultural Center. Locally owned and operated by the 19 Indian Pueblos of New Mexico, the Indian Pueblo Cultural Center is dedicated to perpetuating and preserving Pueblo Indian culture, art, and history. Dine at restaurants that specialize in Indigenous cuisine, and shop for authentic Native American traditional and contemporary art. The Pueblo Cultural Center is a cultural treasure trove of ancient and present times!
Other cities or towns to consider:
San Ysidro: San Ysidro has blissful weather. It is the fourth busiest land border crossing in the world. Yet, San Ysidro is the number one best place to live in the El Paso area and the sixth-best place to live in New Mexico, according to Niche.com. Average rent: $1,730.
Corrales: This rural village on the west bank of the Rio Grande is a thriving agricultural community. Many people reside on one-acre lots and have horses and farm animals. Corrales is the best place to live in Sandoval County and the seventh-best place to live in New Mexico, according to Niche.com. Average rent: $2,500.
Rio Rancho: This city is home to nearly 5% of the state's population, and yet there are still some of the best schools in New Mexico. Rio Rancho is the third-best suburb to live in the Albuquerque area, according to Niche.com. Average rent: $1,233.