4 Ways To Protect Your Valuables While Traveling
The jetsetter's guide to a stress-free trip
Let's face it: traveling today isn't like it was 20 years ago. Now, we can hail rides and spend the night in cool places for a fraction of the cost, thanks to the sharing economy. Budget airlines also connect us to destinations for unbeatable prices.
No wonder we're traveling more now than ever before.
The next time you set out exploring, you'll probably bring some valuable items with you, like your jewelry, camera, phone, and laptop. Unless, of course, you're going for a rustic excursion to detox from your electronics (kudos if you are!).
Truth is, a lot of these things tend to go missing during international travel. Here's a shocking stat: One of the few major studies of the problem, conducted by the Ponemon Institute, found that 12,000 laptops are lost every week at airports in the US. That's more than one laptop every minute!
The good news is protecting your valuables isn't that hard. There are tons of simple hacks that'll help you keep your valuables safe and sound while you travel.
Whether you're planning a Eurotrip with your BFFs or an exotic family vacation, here are the steps you should take to protect your stuff abroad.
1. Get insured
Here's a secret: One of the most unknown perks of renters and homeowners insurance is that they cover your stuff not just at home, but also anywhere in the world. So if your laptop's swiped from your hotel room, or you're at an international music festival and your phone is stolen, you're insured.
Here's how to make sure your stuff is covered on your trip:
Pre-trip check
Before you leave, make sure everything you plan to bring is covered under your policy. Check your limits of liability – it's the max amount of money your insurer will pay you if something bad happens.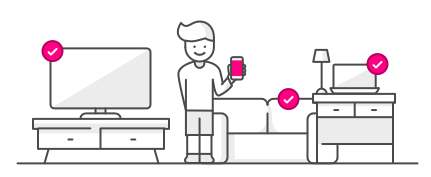 For example, your basic Lemonade renters insurance policy covers your personal property, aka your stuff, up to $10,000. But it's worth noting that some valuable items (jewelry, watch, etc.) are only covered up to $1,500.
So if you're bringing jewelry, camera gear, or other pricey items, you'll want to add a little extra coverage for them. It's easy – all you have to do is schedule them.
You can do this in just a few minutes with Lemonade's Extra Coverage. Bonus: You'll have no deductible on your policy for these items, along with extra protection for accidental loss. So if you misplace your camera or engagement ring while traveling, it's covered! (Btw, accidental loss isn't covered in your base policy.)
This will only tack on a few bucks to your premium each month, and help you destress knowing your valuables are totally protected.
To be extra cautious, keep a list of the things you're bringing (make and model), how much they cost, and any receipts or email confirmations you have. In case you need to file a claim, they'll come in handy.
Prepare for those 'oh s*$#' moments
We all know how Murphy's law goes (if you don't, get out from under your rock). While we hope nothing bad happens to us while traveling, it's important to note what steps you should take if you have to file a claim from abroad.
If something's lost, stolen, or damaged, document what happened as quickly and accurately as possible. Gavin Blair, Lemonade's Head of Claims Experience, points out that getting a police report is one of the most important things to do in case of theft:
"We had a case where a policyholder was traveling in Europe and had his iPhone stolen. He was able to get a police report and submit it with his claim. The claim was so well-prepared that we got him the money that same day, and he actually went out and bought himself a new iPhone while traveling abroad!"
We get it – heading downtown to talk to the cops isn't always possible. In that case, try to alert a nearby authority of what happened, and grab the contact info of the person you spoke to.
Let's say something's stolen from your hotel room, but you need to catch a flight. You should notify hotel security or the front desk, asap. This will help Lemonade's claims team process and verify your claim faster.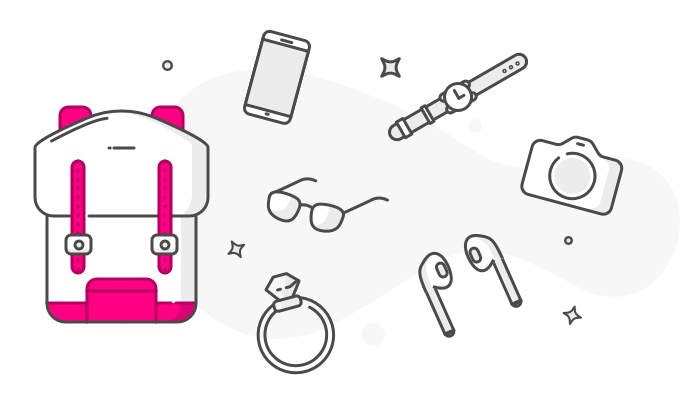 2. Implement digital safeguards
Physical objects aside, losing the data you have stored on your devices is a real bummer, especially while traveling. If you've ever lost important pics, contacts, or documents, you know what we're talking about.
Here are some ways to protect your privacy and data on your devices while you're abroad:
Put passwords and lock codes on every device you plan to travel with. And, no, 0000 is not a strong iPhone password.
Implement two-factor authentication or multi-factor authentication on all your accounts, like your email, bank account, social profiles, etc. That way, if someone steals your password, they can't access your data.
Back up everything before you leave, while you're traveling, and when you come home. Btw, Google Photos will automatically back up the photos you take on your smartphone, and you can easily include those taken on your camera by uploading them online.
Keep digital and physical copies of important docs like your passport, driver's license, and credit cards. If any of these get lost or stolen, you'll have the info you need to replace them.
3. Invest in the right gear
There's nothing worse than the consequences of packing wrong. Here are a few pieces to invest in that'll help your valuables stay safe:
Backpacks that lock. And if you're traveling with cameras, look for a backpack with holding compartments for digital cameras and lenses. This'll help prevent damage to your pricey gear from bumps, scrapes, or drops.
Money belts. They're not just for your grandpa – they're a comfortable and discreet way to protect your valuables. Because let's face it: pickpockets flock to tourist destinations. Newer belts even offer RFID protection so your credit card and passport info can't be stolen wirelessly.
TSA locks. These are crucial if you're traveling with checked baggage. TSA can open these locks with a universal key. If you travel with a non-TSA lock, you run the risk of having the lock cut off the bag if it's chosen for closer scrutiny.

4. Carry, don't store
One last piece of advice: Carry your valuables on you, always! This includes electronics, jewelry, credit cards, and passports.
Leaving items in your AirBnb or checking it in your suitcase may be tempting, but hold back. it's never a good idea to leave anything valuable in your room, because you're probably not the only one with a key (unless the location has a private safe).
If you need another reason to carry your valuables with you, take note that renters and homeowners don't cover your stuff if they're in the possession of any third party (including an airline).
Pro tip: take a pic of the inside and outside of your packed suitcase before you check it. That way, in case it does get lost, you can show the airline what to look for.
Get up and go!
Our last piece of advice: go somewhere new! Explore outside your comfort zone. Nothing beats the excitement of a trip to an unfamiliar place, no matter how long or short it may be.
Whenever you may decide to go, don't forget these quick hacks – they'll help you keep your valuables in tow, no matter where you set foot.
Which states currently offer renters insurance?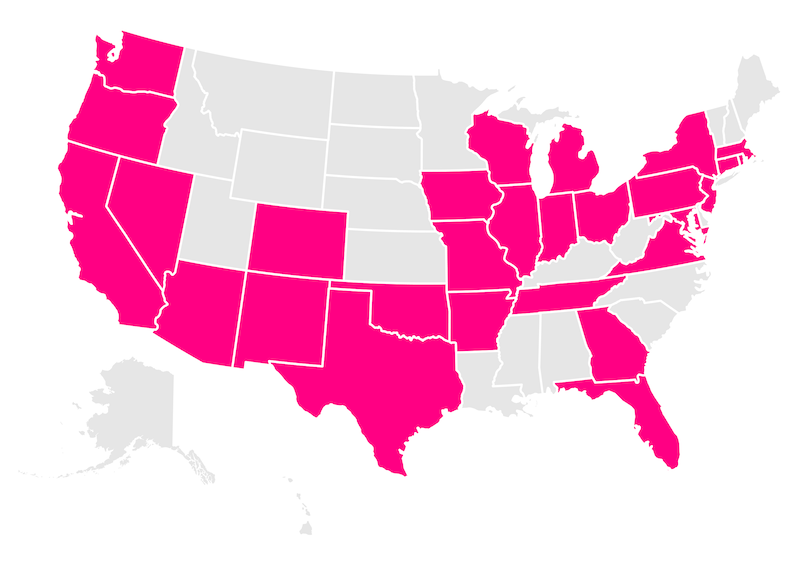 Arizona, Arkansas, California, Colorado, Connecticut, Florida, Georgia, Illinois, Indiana, Iowa, Maryland, Massachusetts, Michigan, Missouri, Nevada, New Jersey, New Mexico, New York, Ohio, Oklahoma, Oregon, Pennsylvania, Rhode Island, Tennessee, Texas, Virginia, Washington, Washington, D.C. (not a state… yet), and Wisconsin.