Why Pet Parents Should Get Renters Insurance
Your fur fam will thank you.
Most people would not say that renters insurance is the first thing that comes to mind when they think of pet ownership.
But the truth is that there is a strong connection between the two, especially for dog owners.
That's because all animals (including humans!) can be unpredictable, and sometimes they can cause damage or harm to other people or animals. Luckily though, a renters insurance policy can help cover pet damage, making coverage a no-brainer for anyone with a fur fam.
To break down what's covered, what isn't, and what pet parents should know about renters insurance, follow along as we explore:
Does renters insurance cover pets?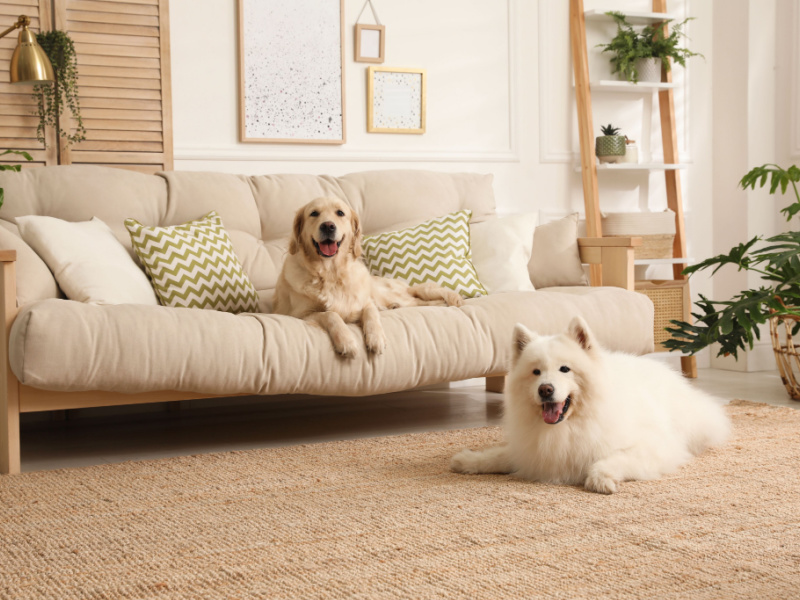 Not for everything. Renters insurance does not cover your pet's health. For that you need to purchase pet insurance. (And you can get a 10% Lemonade discount if you bundle renters insurance and pet insurance together.)
Likewise, renters insurance rarely covers damage done to your property or property rented to you by your landlord (although Lemonade does offer pet property damage as an endorsement to our landlord insurance policies in some states). If your dog destroys the door of your rental apartment, rental insurance will not cover the cost of the damage.
There are very limited circumstances in which you could be covered for damage to your property caused by your pet, and we'll get into those specifics below.
Meanwhile, if your dog bites another dog or human, your personal liability coverage could help cover the medical expenses of the dog bite as well as additional damages.
Pet liability insurance and your renters insurance coverage
So how does pet liability insurance work?
Liability coverage can help you pay for certain types of property damage, accidental damage to others, damage caused to others by your pets, medical payments and pain and suffering, and legal fees.
A standard renters insurance policy generally includes:
Personal property coverage, which protects the stuff you own from named perils
Liability coverage, which can help foot the bill if you're held responsible for damages
Loss of use coverage for additional living expenses if your place becomes uninhabitable
When it comes to pets, damage done to other animals or humans by your pet is covered.
However, it should be noted that if your dog has a history of biting, or, in certain states, if they are breed that has been deemed "high risk" (such as a pit bull), your renters insurance policy would not cover that damage.
In addition, as mentioned above, if your dog chews through the drywall in your apartment, you are not covered under personal liability policy nor under your personal property policy. This type of damage is an exclusion. (If you're experiencing these problems, it may be time to take your pet to the vet or hire a trainer to see what is going on with them.)
What are the coverage limits for pet liability insurance?
In general, liability coverage begins at about $100,000. That said, you can increase your liability limit if you think your pet is liable to be a problem. In most states, you can increase your liability coverage up to $1 million, although there's a limit of $500,000 in California. Just remember that increasing your coverage limits will mean a slightly higher premium.
Does renters insurance always cover dog bites?
No. As mentioned above, there are certain situations in which renters insurance won't cover dog bites:
If your dog has a history of biting you may not be covered under your personal liability policy.
Likewise, if you live in certain states, and own certain types of breeds of dog you also may not be covered.
Dogs that are considered high risk breeds are:
Pit Bulls
Staffordshire Terriers
Doberman Pinschers
Rottweilers
Chows
Great Danes
Presa Canarios
Akitas
Alaskan Malamutes
Siberian Huskies
Wolf-hybrids
The above breeds cannot be included in personal liability coverage in the following states: CA, TX, RI, NV, OH, DC, MD, IA, WI, AZ, NM, OR, AR, CO, TN, IN, OK, MA, MO, WA, KY, MT, and ND. However, if you live in NY, GA, IL, NJ, PA, MI, VA, or CT and own one of the above dog breeds, you do not need to worry. Your dogs are covered.
You can read more about dog bites and insurance here.
Will renters insurance cover property damage caused by pets?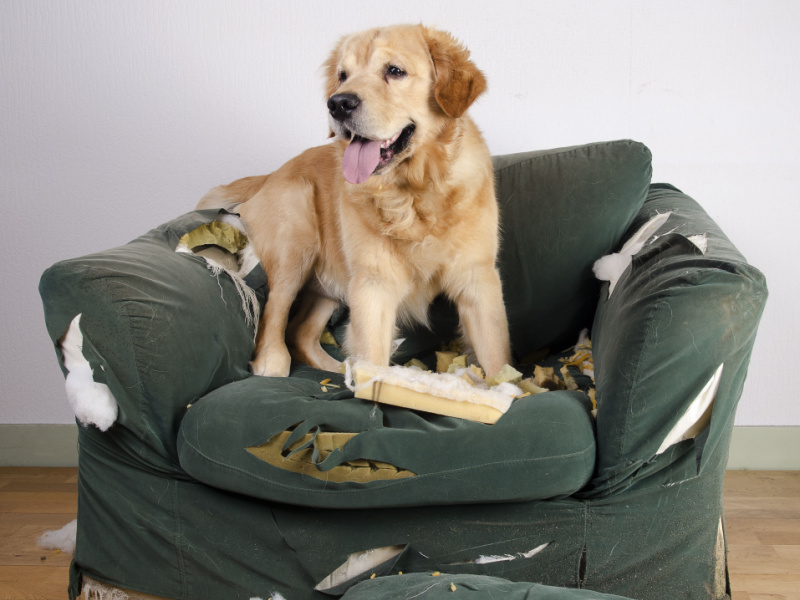 As a rule of thumb, renters insurance does not cover property damage caused by your pets.
In general, renters insurance only covers damage caused by named perils—things like kitchen fires, hail, smoke, vandalism, some types of water damage, theft, and others. Unfortunately, property damage caused by pets is not one of those named perils. If your dog destroys your door, or your cat falls through a ceiling panel, your insurance company will not pay for that damage. You will have to pay for it on your own.
However, if your pet triggers a named peril—let's say your cat knocks over a candle, causing a small fire in your living room, or your dog somehow manages to gnaw away at your plumbing, resulting in water damage to your property—you'd likely be eligible for coverage.
Have more questions? Read here about what is and isn't covered by renters insurance.
Protect your pad and your pooch
Your home should be a safe haven–for yourself, your family, and your furry friends. Renters insurance can help ensure that you do not need to worry about your personal belongings or the damage your pet can do to other animals or people. A dog biting incident can be very scary, for both the person who's bitten, and pet owners who are faced with unusual behavior from their pet, as well as the fear, guilt, and financial concerns that come with these incidents.
Thankfully, that is what renters insurance is for. Even if you don't own your place, you can still have the peace of mind that comes with knowing that you and your family are covered.
A few quick words, because we <3 our lawyers: This post is general in nature, and any statement in it doesn't alter the terms, conditions, exclusions, or limitations of policies issued by Lemonade, which differ according to your state of residence. You're encouraged to discuss your specific circumstances with your own professional advisors. The purpose of this post is merely to provide you with info and insights you can use to make such discussions more productive! Naturally, all comments by, or references to, third parties represent their own views, and Lemonade assumes no responsibility for them.represent their own views, and Lemonade assumes no responsibility for them. Coverage may not be available in all states.