Is a Townhouse Rental Right For You?
Let's take a look at the benefits and downsides.
Deciding what type of home to rent can be one of the more important decisions of your life. Single family? Condo? Or perhaps a townhouse is more your speed?
TL;DR
A townhouse resembles a single-family home in its layout, but often shares a wall with one or more other properties.
Townhouses can often be found in planned communities, which means they'll be governed by a Homeowners Association (HOA).
Townhouses can offer more privacy and space than an apartment, and renting one might be a great option for anyone that wants those perks but isn't quite ready to buy a house.
There are a bunch of factors to consider, including where you want to live, what your budget is, and whether you're a single 28-year-old or a married mother of 3.
Informed renters are happy renters. Let's get to know the townhouse.
Here's what we'll discuss:
What is a townhouse?
At first glance, townhomes may resemble single-family homes. They often have similar floor plans: more than one level; a yard or back porch space; and a garage.
However, townhomes tend to be less private than free-standing homes. They share at least one wall with a neighboring home (if the townhouse is at the end of the row of houses) and often two walls (if they're sandwiched between properties).
The physical layout of an average townhouse consists of two or more stories, with each floor serving a specific purpose.
The ground floor typically features a living area, dining room, and kitchen, while the upper floors are reserved for bedrooms and bathrooms. Many townhouses also include a basement or attic for additional storage or living space.
Most townhouses have a small private yard or outdoor space, offering residents a chance to enjoy the outdoors without the extensive upkeep required for larger, detached homes.
Where do you tend to find townhouses?
Townhouses are common in both cities and suburbs. In cities, they offer a more spacious alternative to apartments and can be found in both affluent neighborhoods and more modest areas.
In the suburbs, townhouses are often located in planned communities or near commercial centers. Their appeal lies in their ability to offer a blend of the best features of single-family homes and apartments, making them an attractive option for a wide range of renters.
If they're located within a planned community, townhomes often have a governing body, such as a Homeowners Association (HOA), which can be a good or bad thing, depending on your perspective. Those communities do tend to come with amenities such as fitness centers, pools, hot tubs, and more.
The pros and cons of renting a townhouse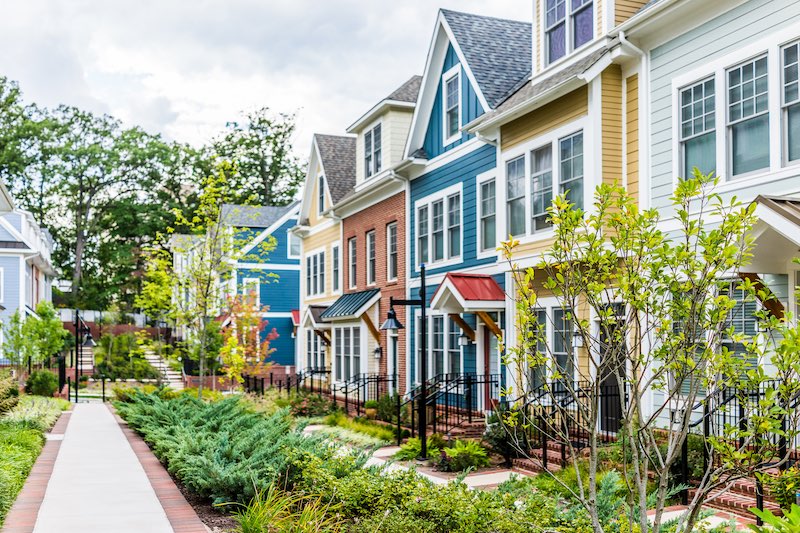 Let's go through the perks and downsides so you can make the decision that's right for you.
Here are the pros of a townhouse rental:
More space!
Townhomes generally have more space than rental apartments. They often come with outdoor areas and multiple levels.
More privacy!
Some people prefer to avoid having to hear their neighbor's children running overhead at 6 am, or the neighbor's drunken dinner party that goes into the wee hours. Though not as private as a single-family home, a townhome provides you with more privacy than an apartment or condo would.
Cheaper than other, more permanent options!
Renting a townhouse is cheaper than buying a house. It can be a good compromise for people who want to leave the hustle and bustle of the center of the city behind, but aren't yet ready to shell out a down payment on a house in the suburbs.
Less work!
Owning a home comes with work: landscaping, maintenance, repairs, all filling up your weekend schedule. When you are renting a townhouse, your homeowners association will generally take care of those things for you.
Pet flexibility!
Renters with pets can have trouble finding apartments. Apartments are small spaces, and landlords often have concerns about the damage pets might do in such a small area, especially dogs. Because townhouses have more space, townhouse landlords may often be more willing to entertain pet-friendly policies.
Here are some of the downsides of a townhouse to keep in mind:
Higher rent than an apartment
Monthly rent for townhouses tend to be more expensive than rental prices for apartments. In addition, apartment prices sometimes include things such as utilities, which is not the case for townhomes. Likewise, you will be expected to pay HOA fees when renting a townhome. Taken together, this can make renting a townhouse a good deal more expensive than renting an apartment.
More privacy than an apartment, but not as much as a house
In a townhouse you still share at least one wall with your neighbor, if not two. This means that you will sometimes know more about your neighbor than you likely want to know, and that they, in turn, may hear things coming from your apartment as well.
Restrictions
Having a homeowners association has its advantages, but it can also come with HOA rules and regulations. You may be limited in what you can do to your garden or front yard, or how you can decorate the front-facing parts of your home.
Townhouses vs. apartments
Though they are both rentals, there are differences between renting an apartment and renting a townhouse.
Landlords
Many apartment buildings are run by property management companies. This means you will likely have very little to do with your landlord over the course of the time you are living in your apartment.
Townhomes, on the other hand, are often owned by private individuals. This means you will likely be working directly with your landlord, which could be a good thing or a bad thing depending on your relationship, but certainly something to take into consideration.
Layouts
Apartment living takes place on one floor, whereas townhome living takes place over two to three floors. Apartments can be better for single people or couples who don't need a huge amount of space, or people with mobility issues, while townhouses can be better for larger family units or people who spend a lot of time at home and want to spread out.
Homeowners Association (HOA)
Unless you are renting a condo, apartment buildings tend not to have HOAs. Townhouse communities, on the other hand, do. As mentioned above, this can be both a pro and a con.
The average cost of renting a townhouse
Real estate prices can vary widely, even within the same city.
Take, for instance, townhome prices in Chicago. According to apartments.com, a 2 bedroom townhome on the Near North Side, close to downtown and the swanky Magnificent Mile, will cost you $3,900/month in rent, whereas a 2 bedroom townhouse in Bronzeville, near the prestigious University of Chicago, but farther out from downtown, will cost you $1,500/month in rent.
How to find a townhouse
Some of the best home rental sites in terms of databases, filter capabilities, trustworthiness, and ease of use are:
Before you start searching, have an idea of your budget, the amount of space you need, commute times, and other factors.
What to ask for before renting a townhouse
Before signing any rental contract (or any contract in general) it is important to ask questions and make sure you understand the full details of what you are committing to.
Here are some townhouse-specific questions to look into when you're hunting for a rental:
What are the terms of the lease? Make sure you know the length of the contract, how much rent is, if there are other deposits or fees involved, what notice periods are extant, and more.
What amenities and appliances are included? Townhouse complexes often come with amenities that you don't necessarily find in apartment buildings, such pools or landscaping services.
Which utilities are included in the rent? Rental conventions often differ from place to place in terms of which utilities—heat, water, electricity, etc.—are included in rent, and which are the responsibility of the tenant.
What is the maintenance policy? Townhouse HOAs may have different maintenance policies in place than apartment complexes do. You may be responsible for more of the maintenance, and there may not be someone on call at all hours if your sink explodes at 2 am.
What is the pet policy? One of the main attractions of renting a townhouse is the fact that they have room for your pets to run around and enjoy. However, it's still important that you check with the landlord before bringing a cat or dog (or iguana, or chinchilla) into your new home.
What's the neighborhood like? Get a good sense of the neighborhood and your neighbors before signing a contract. Take a walk around. Talk to people. Make sure that your new home is going to be a place you like to spend time in and around.
And most important…
Whether you're a young couple looking to expand your family, a pet owner with a St. Bernard that needs room to ramble, or new empty-nesters who no longer want to deal with a single-family home, a townhouse rental might be right for you.
Once you've settled on the perfect place, don't forget about renters insurance for your townhouse. It'll keep your valuable stuff protected against theft, vandalism, fires, and many of the curveballs that life can throw at you.