How Can I Get Ready for a Visit to the Auto Repair Shop?
Get your damaged car back in tip-top shape.
Dealing with repairs when your car is damaged might make you feel powerless or frustrated.
At Lemonade Car, we want you to have the smoothest experience possible when you have to bring your car to the repair shop. A little preparation will help you feel confident when you hand over your keys to the mechanic.
So get ready to ride again as we navigate our top tips for getting your damaged car the TLC it needs.
Here's what we'll cover
Where can I take my damaged car for repairs?
Search "car repair shop near me" and you'll quickly be overwhelmed by the number of options that pop up. With so many possibilities out there, how are you supposed to know which one is the right fit for you and your car?
Look into the certifications and customer reviews that a car repair shop team has before taking your car in. For example, you can check the shop's website or contact them directly to ask if their technicians are ASE certified by the National Institute for Automotive Service Excellence.
Can my insurer suggest a repair shop to use?
When you drive with Lemonade Car and your car gets damaged, we go the extra mile to help you get your car back into shape with top notch service.
Included collision coverage on your Lemonade Car policy? If so, you can use the Lemonade app to help find a repair shop nearby that Lemonade has had positive experiences with in the past. We'll also be able to send a tow to get your damaged car to the repair shop if it's undriveable. Just make sure that all the drivers covered on your policy have the app downloaded with location services and permissions enabled.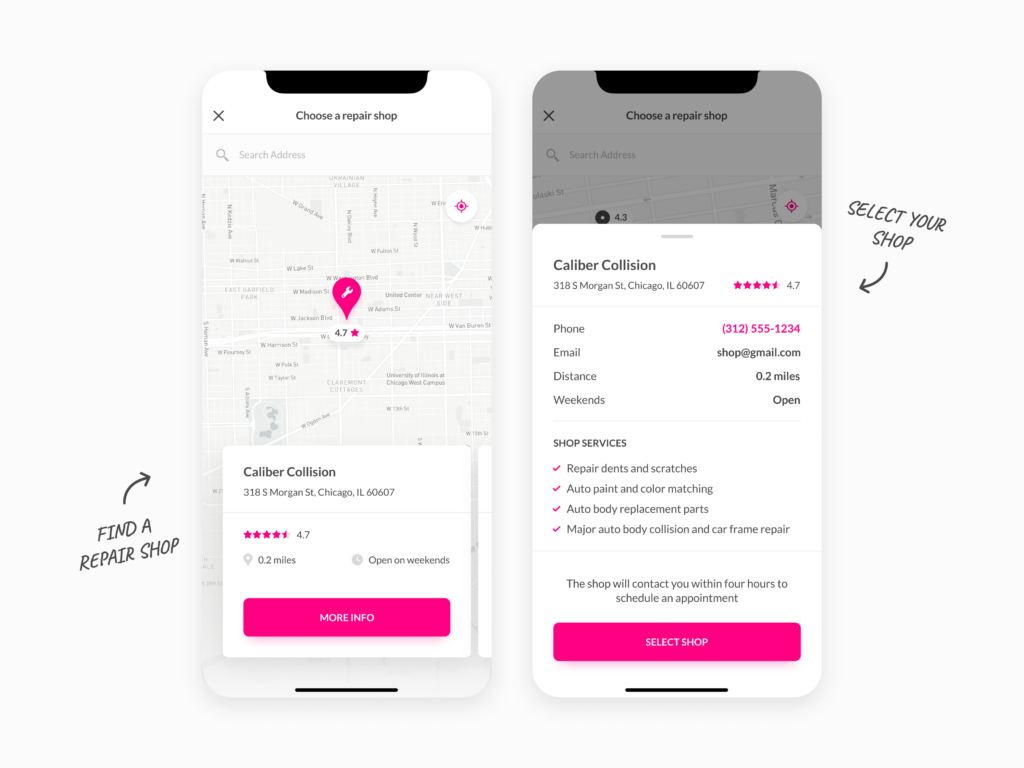 How can I bring up concerns about my car at the repair shop?
Maybe you noticed that your check engine light has been turning on and off intermittently. Or maybe you've been hearing a rattling noise when you start your car. Unless you're an "automobile whisperer" (aka an auto technician), you likely have no clue what these signs and symptoms mean.
But you are more than capable of tracking and itemizing the things you want to mention at the repair shop. Some issues might not be all that obvious by simply looking under the hood or undercarriage of the car. So, if the auto technician working on your car isn't aware of the issues you've been having, they might not get checked or fixed.
Make a list of all the concerns you have about your car and any questions that you have for the repair shop. Bring all of it up with the repair shop when you drop off your damaged car. Don't be hesitant, and don't worry that you'll ask a so-called "stupid question." The repair shop team is there to help get you back on the road quickly and safely, and they don't expect you to be a car expert.
What should I ask the repair shop about the repair process for my car?
Get a better understanding from the repair shop of what the repair process for your damaged car will look like. Compile your own automotive repair questions checklist, and include things like:
What exactly needs to be repaired?
How will each repair be prioritized? (if there is a long list)
Why is each repair necessary?
Are there different repair options?
Will the repairs and parts used be guaranteed? If so, for how long?
Can you give me a timeline for each step of the repair process?
When do you estimate that the car will be finished?
Who will be my point of contact at the repair shop to update me on the repair process?
While you're welcome to choose where you take your car for repairs, when you drive with Lemonade Car and take your damaged car for repairs at a shop that we've had positive experiences with in the past, we'll help work out the repair logistics with the shop.
We'll confirm things that the technicians know what repairs are needed, and we'll also get an estimate on the damage and the timeline for repairs. We'll keep you updated on all of those details, and then the shop should keep you updated throughout the repair process itself.
Will my car's warranty pay for the repairs to my damaged car?
Probably not. A car's warranty will only be effective for a certain amount of years and mileage. This is usually around 3 years or 36,000 miles, whichever comes first. The warranty typically only applies to defects or malfunctions that are the manufacturer's fault.
So car damage from things like a crash, weather damage (like from a hailstorm), or everyday wear and tear would not be covered by your car's warranty. But you might get the costs covered by your warranty to replace the brake pads on your 2022 model vehicle if they wear out after just 10,000 miles.
Will my car insurance pay for the repairs to my damaged car?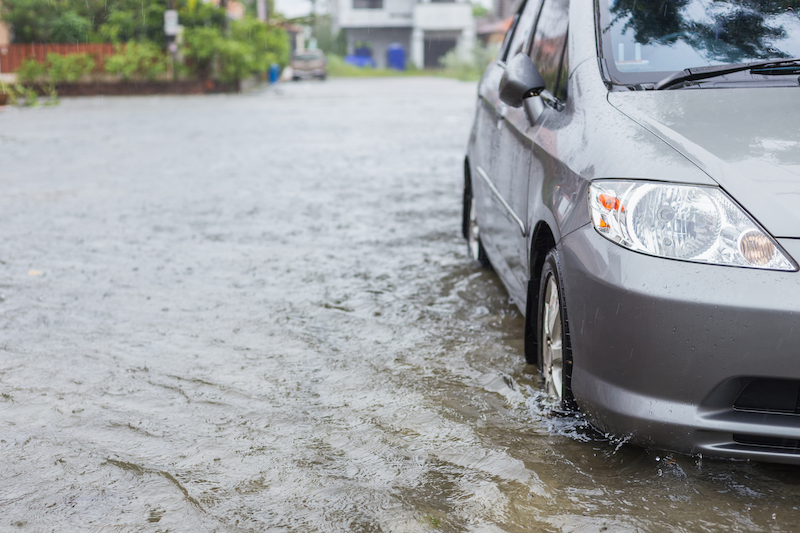 At Lemonade Car, we've combined the power of technology with human empathy in attempts to make the best claims process imaginable for our drivers when they need it. That includes super fast claims resolution—which could help you get back on the road quickly (if the damages are from a covered incident).
You might be wondering what kinds of damage a car insurance policy will cover. When you include both comprehensive and collision coverages on your Lemonade Car policy, it could help cover you for damage to your car caused by things that are considered sudden, direct, and accidental—like an "Act of God," or a crash.
Lemonade's totally customizable coverage lets you pick and choose how you build your policy— from your state's bare minimum to all the bells and whistles. So, your specific protection, and what you'll be able to file a claim for, will depend on how you tailor your policy when you get a quote.
Once you get your car to the body shop, one of our Lemonade appraisers will evaluate your car's damage to make an estimate on the cost of repairs. Then we take that figure and calculate it with other things—like the coverage limits set in your policy—to determine the payout you could get from your car insurance coverage.
Keep in mind: Even though we will help pay for the cost of repairs on your damaged car directly to the repair shop for a covered incident, you'll still need to pay the deductible that's listed in your policy.
What won't my car insurance policy cover?
Things like the preventative car maintenance that your vehicle needs regularly—including oil changes and tire rotations—or repairs for general wear and tear would not be covered by your car insurance policy, even if you have "full coverage".
Chin up, and come prepared
When possible, coming to a repair shop with a plan of what you want to discuss about your damaged car can make for a more enjoyable and efficient experience.
This won't be the technician's first rodeo, but don't be afraid to take the reins and get your questions answered and concerns addressed. At the end of the day, they want to help get you back on the road safely (and quickly) just as much as you do.
---
Please note: Lemonade articles and other editorial content are meant for educational purposes only, and should not be relied upon instead of professional legal, insurance or financial advice. The content of these educational articles does not alter the terms, conditions, exclusions, or limitations of policies issued by Lemonade, which differ according to your state of residence. While we regularly review previously published content to ensure it is accurate and up-to-date, there may be instances in which legal conditions or policy details have changed since publication. Any hypothetical examples used in Lemonade editorial content are purely expositional. Hypothetical examples do not alter or bind Lemonade to any application of your insurance policy to the particular facts and circumstances of any actual claim.