Columbus Car Insurance Guide
THE lowdown on c-bus driving
Spinning your wheels trying to get the best car insurance in Columbus? The last thing you want to do is randomly pick a car insurance company and hope for the best. Or worse, drive without enough coverage and pray you won't get into a car accident.
You can drive with confidence in Columbus knowing you're covered with Lemonade Car.
Insurance requirements and limitations in Columbus are determined by the state of Ohio. But when you apply for Lemonade Car, we'll automatically get you hooked up with the coverages you need, and offer extra coverages to help you customize your policy so you feel protected behind the wheel.
Read on to learn about how you can get the best rates on car insurance in Columbus, Ohio. Here's what we'll discuss:
What car insurance coverage is required in Columbus?
The state of Ohio requires all Columbus drivers to have car insurance.
Let's run through some basics first. Remember: A "limit" on your car insurance policy refers to the maximum amount your insurance company will pay out on a certain type of claim.
For example, for bodily injury liability coverage, Ohio drivers limits are written like so: $25,000/$50,000. That means that you carry $25,000 of bodily injury coverage per person, and $50,000 of bodily injury coverage in total (for all of the people injured in an accident.)
To comply with Ohio's car insurance coverage requirements, Columbus drivers need the following coverages and minimum coverage amounts:
Keep in mind: Your levels of bodily injury and property damage liability coverage don't have to stop at the bare minimum. You can easily select higher amounts for each required coverage and include optional add-on coverages when you build your policy on the Lemonade app.
Additional coverages available to Columbus drivers
Columbus drivers who drive with Lemonade Car can (and arguably should) add the following coverages to their auto insurance policy to boost their protection behind the wheel.
| What add-on coverages does Lemonade Car offer? | What can it help pay for? |
| --- | --- |
| Collision coverage | To repair or replace your own car if it's damaged in an accident with another vehicle, or a stationary object (like a fence, highway divider, and so on). |
| Comprehensive coverage | To fix damage to your car, or possibly replace it entirely, if there are damages or losses from an incident that didn't involve a collision with another vehicle (like if you hit a deer, damage from a hailstorm, and so on). |
| Medical payments coverage (aka MedPay) | Medical expenses for you or a passenger in your car after a crash— like ambulance fees, hospital visits, and health insurance co-pays, or for funeral services (in a worst case scenario). Usually doesn't have a deductible. |
| Uninsured motorist coverage/underinsured motorist bodily injury coverage | Medical bills and lost wages related to injuries caused by an uninsured or underinsured driver. |
| Uninsured motorist property damage coverage | To repair or replace your own car if you get into a car accident with an uninsured or underinsured driver. |
| Temporary transportation coverage | Transportation expenses like rideshares, public transportation, bike sharing, or a rental car for up to 30 days while your car is being repaired or appraised. |
| Extended glass coverage | To replace your windshield, your sunroof, or your back glass if it's damaged. |
In addition, if you get into an accident, all Lemonade drivers who drive with the Lemonade app get roadside assistance on us. Just make sure you have location services and permissions enabled on your phone.
Want to dive into the nitty-gritty of what Ohio car insurance has to offer? Get the full scoop here.
How much does Lemonade Car insurance cost in Columbus?
Well, that depends.
Your car insurance premium price is based on a number of factors—including the car you drive, the coverages you include, and their limits and deductibles.
But at Lemonade Car, the way you drive matters, and actually helps determine your price. So when you're building a quote for your first term, things like your driving record, your driving history, your insurance score, and how many miles you typically drive help us determine the fairest price for your car insurance policy.
When you buy a Lemonade Car policy, you'll have the chance, over every six-month term, to prove your safe driving habits and potentially lower your price. Those habits can boost your Lemonade Safety Score and possibly lower your cost of car insurance (especially if you maintain a clean driving record).
Here's a shout-out to our low-mileage drivers—the less you drive, the more you save. Along with lots of other factors, we consider how much you drive (or how little in your case) to come up with your price, making Lemonade especially ideal for the low-mileage driver.
The right car insurance combines the coverage you need with a rate and deductibles you can afford. That's why Lemonade Car offers insurance you can easily customize. You deserve a policy that feels just right—and fits your budget. Learn more about the cost of insurance at Lemonade Car and how you can lower the cost of your rates.
The most straightforward way to get a sense of how we price Lemonade car insurance is by applying for coverage via our mobile app or website.
Click below to get your car insurance quote in Columbus.
Best day trips around Columbus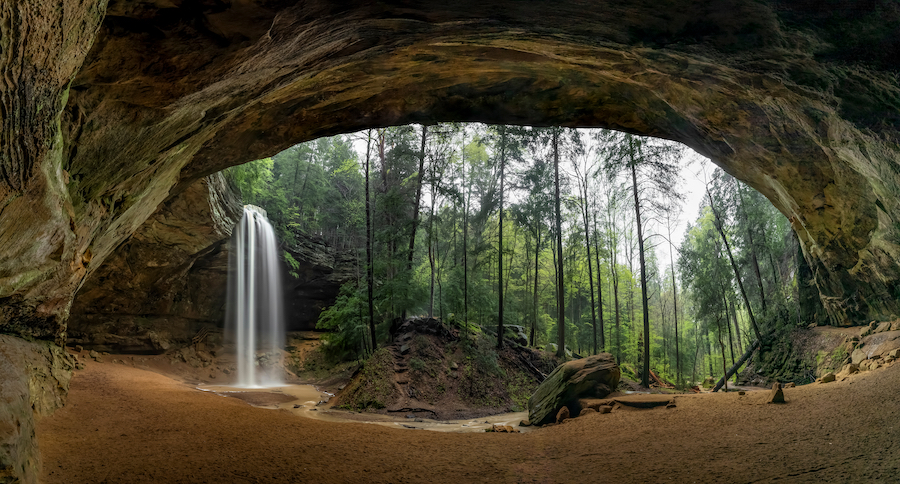 Looking to get away for the day? Buckle up: These quick road trips can satisfy your wanderlust without taking you too far from Columbus.
The Works
This interactive museum for the entire family is a mere 45 minutes east of Columbus in Newark, Ohio. The Works, or the Ohio Center for History, Art, & Technology, lets you explore art, science, local history, and even glassblowing! If outer space is your thing, don't miss the SciDome Planetarium. The 30-foot, 4K projection planetarium is a stunning spot to explore the night sky with live shows and engaging films.
Easton Town Center
Easton is just 15 minutes north of the center of Columbus. It's a shopper's paradise, featuring over 200 retailers in an open-air setting. Easton also hosts a range of events throughout the year, including holiday-themed festivals, live music shows, and art installations (like this impressive chalk art event). The shopping center is also home to Ohio's largest movie theater, a comedy club, fountains, parks, and numerous dining options.
The Motorcycle Hall of Fame Museum
The AMA Motorcycle Hall of Fame is just 20 minutes outside of Columbus in Pickerington. The Hall of Fame features an extensive display of historic motorcycles and honors the men and women who have played a role in shaping the sport and lifestyle of motorcycling in America. Each year, new honorees are inducted into the hall of fame in an exciting ceremony.
Hocking Hills State Park
Take an hour's drive southeast of Columbus to scenic Hocking Hills State Park, near Logan, Ohio. This popular state park is beautiful in every season. Explore caves, cliffs, and unusual rock formations, or take a relaxing hike through the park. Go zip lining, rock climbing, or kayaking, and don't forget to snap some pictures of the gorgeous Cedar Falls waterfall.
Bexley Arboretum
Bexley, Ohio, a first-ring suburb of Columbus, is home to the Bexley Arboretum, with over 130 species of historic and unique trees that provide a green oasis in the neighborhood. Take a walk through the trees, or go for a dynamic drive under a picturesque tree canopy.
Other ways of getting around Columbus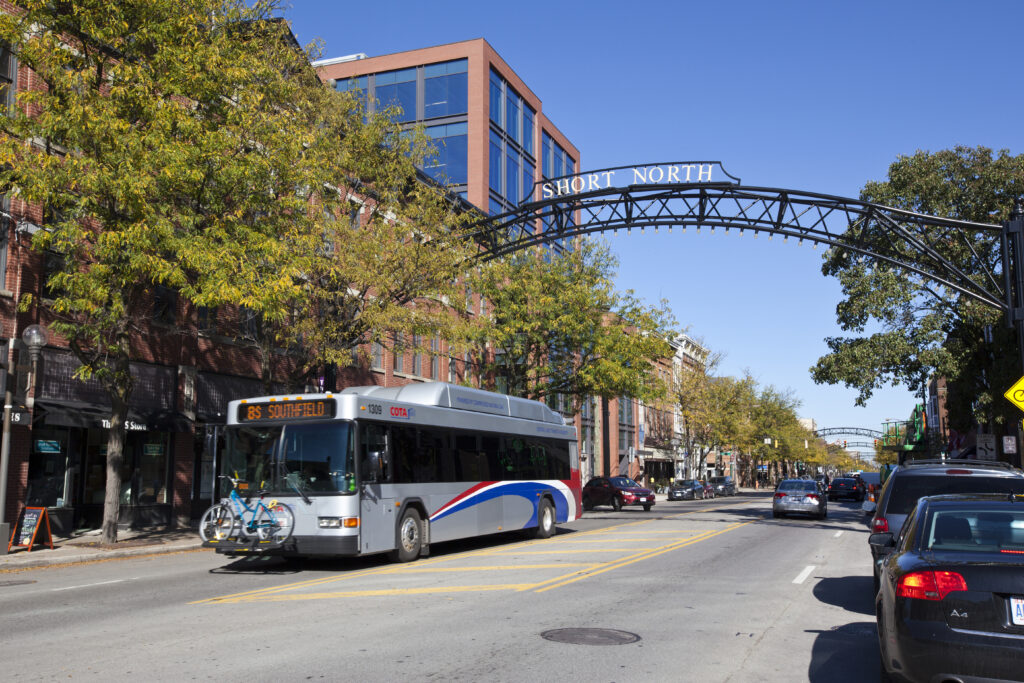 While cars can be a major convenience, sometimes it's just quicker and cheaper (not to mention better for the planet) to find an alternative.
COTA, the Central Ohio Transit Authority, operates buses throughout the Columbus area. Proposals are also in the works for an intercity rail and high-capacity rapid transit. Like many US cities, Columbus residents who choose not to drive can get around using rideshares, bikeshares, and electric scooters.
At Lemonade Car, we reward low-mileage drivers with lower premiums. Columbus drivers who are behind the wheel fewer than 9,000 miles a year (around 22 miles daily) could be eligible for low-mileage car insurance discounts.
Because of that, we encourage you—whenever possible—to go out and about without your car.
How accessible are hybrid and electric vehicles in Columbus?
As accessibility, efficiency, and upfront costs of hybrid and electric vehicles (EV) improve, the trends of drivers heading towards the future do, too. The market is expected to continue growing exponentially as new makes and models, legislation, and incentives become available.
Columbus is committed to reducing the environmental impact of vehicles, led by Smart Columbus, the Smart City initiative for the Columbus region that is helping transform the city's approach to responsible, sustainable mobility.
The Decentralized Mobility Ecosystem is bringing mobility hubs consisting of publicly available EVs and charging stations to three areas in Columbus. This project is part of Clean Fuels, Ohio, a US Department of Energy awarded project. Registered attendees at the city's upcoming Drive Electric Week report 1,247,874 electric miles driven—and counting!
You can check out where your nearest EV charging stations are here.
At Lemonade Car, we support Columbus drivers who make environment-friendly choices. We offer awesome protection and perks for hybrids and EVs—like coverage for your home charging station or a portable charger or getting you a tow to a charging station as part of our roadside assistance program. Side note: Lemonade Renters and Homeowners policies can also be customized to include extra coverage for certain types of e-bikes, if that's how you like to cruise.
Fast car facts about Columbus
Columbus isn't just the capital of Ohio—it's also a haven for those who love cars, car culture, and transportation history. Here are a few Columbus-oriented car-centric tidbits:
South Drive-in Theater
The last remaining drive-in movie theater in Columbus, the beloved and historic South Drive-in, has been showing movies since 1950. The South is a twin drive-in theater with 2 screens that each show two (sometimes three) movies every night. Be sure to visit the well-priced concession stand for some snacks to munch on while you watch.
Columbus Cars & Coffee
Columbus Cars & Coffee is a weekly meetup where car enthusiasts get together, grab a cup of joe, and hang out. Check out their schedule to find out where the next Saturday morning gathering will be taking place, and get ready to talk about all things automotive. Watch this clip to see what goes down at a meetup (it's not quite Jerry Seinfeld's Comedians in Cars Getting Coffee, but fun in its own right).
Columbus Streetcars
You probably know that the CBus, Columbus's free downtown circulator bus that ran for nearly six years, isn't coming back. Womp womp. But did you know that there were plans in the works to reinstate Columbus's historic streetcar system? Horse-drawn streetcars first arrived in the city in 1863. By 1890, the city's streetcars went electric and ran until 1948. While revival plans were ultimately scrapped over funding concerns, diehards still believe that a modern streetcar system for Columbus is a good idea.
The Transportation Research Center
Northwest of Columbus, in East Liberty, you'll find the Transportation Research Center , a 24/7 facility that is North America's most advanced independent mobility testing service center. The center features a 7.5-mile high speed oval, several 1.5-mile race courses, a 9,000-foot runway, and more. Car manufacturers and corporations use the facility for testing. While it isn't open to the public, those of us who love cars and driving can still dream of racing on these courses someday.
Before we drive off into the sunset…
Columbus drivers, we can't wait for you to take Lemonade Car for a spin. Here's hoping you never get stuck in rush hour traffic on the I-70 or 71!
Lemonade offers top-of-the-line coverage and trunk loads of discounts—plus opportunities to make the road (and the world around us) a better place. Applying for your free quote is easy, and coverage starts at just $30/month.
Our great coverage and super fast claims resolution don't stop at Lemonade Car, though. Did you know that we also offer Homeowners, Renters, Pet, and Life Insurance? Not only will you become eligible for our bundling discounts, you can also manage each of your Lemonade policies through the same app you use for Lemonade Car.
Let's drive.
---
Please note: Lemonade articles and other editorial content are meant for educational purposes only, and should not be relied upon instead of professional legal, insurance or financial advice. The content of these educational articles does not alter the terms, conditions, exclusions, or limitations of policies issued by Lemonade, which differ according to your state of residence. While we regularly review previously published content to ensure it is accurate and up-to-date, there may be instances in which legal conditions or policy details have changed since publication. Any hypothetical examples used in Lemonade editorial content are purely expositional. Hypothetical examples do not alter or bind Lemonade to any application of your insurance policy to the particular facts and circumstances of any actual claim.
This post is general in nature. Any statement in this post does not alter the terms, conditions, exclusions, or limitations of policies issued by Lemonade, which differ according to your state of residence. The terms, conditions, exclusions, or limitations applicable to your policy depend upon your unique circumstances, and you are encouraged to discuss your specific circumstances with your own professional advisors. The purpose of this post is merely to provide you with information and insights you can use to make such discussions more productive. Naturally, all comments by, or references to, third parties represent their own views, and Lemonade assumes no responsibility for them.
Coverages and other features described may not be available in all states.