Car Insurance Renewals at Lemonade
You could lower your rates each term for driving safely, and so much more.
All good things must come to an end. But at Lemonade Car, arriving at the end of your policy term usually means the beginning of a new one. That's an opportunity to look back on your driving stats from the last policy term, and potentially lower your rates for safe driving behavior.
Below, we'll get into the nitty gritty of Lemonade Car's renewal process—including a breakdown of the Lemonade Safety Score and how it can impact your policy price.
Just a quick FYI: Most Lemonade Car policies automatically renew every six months, and if for some reason a policy isn't renewed you'll want to make sure you set up new coverage as soon as possible to avoid a lapse in coverage (AKA a time where you didn't have insurance). It can impact your rates and eligibility for coverage down the road… more on that later.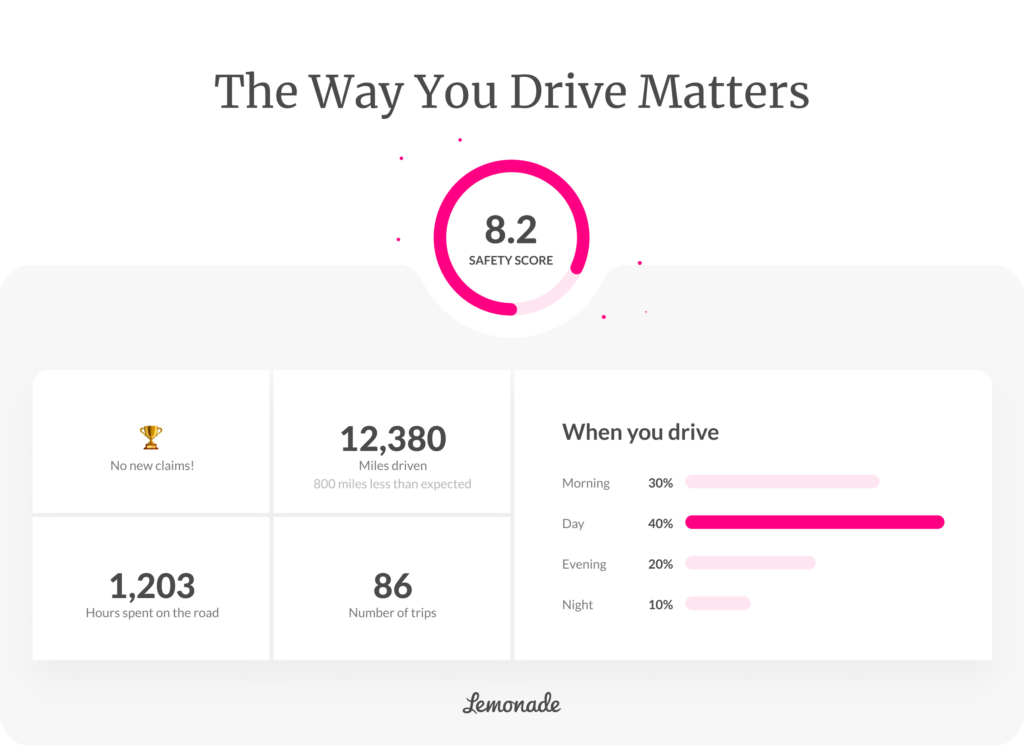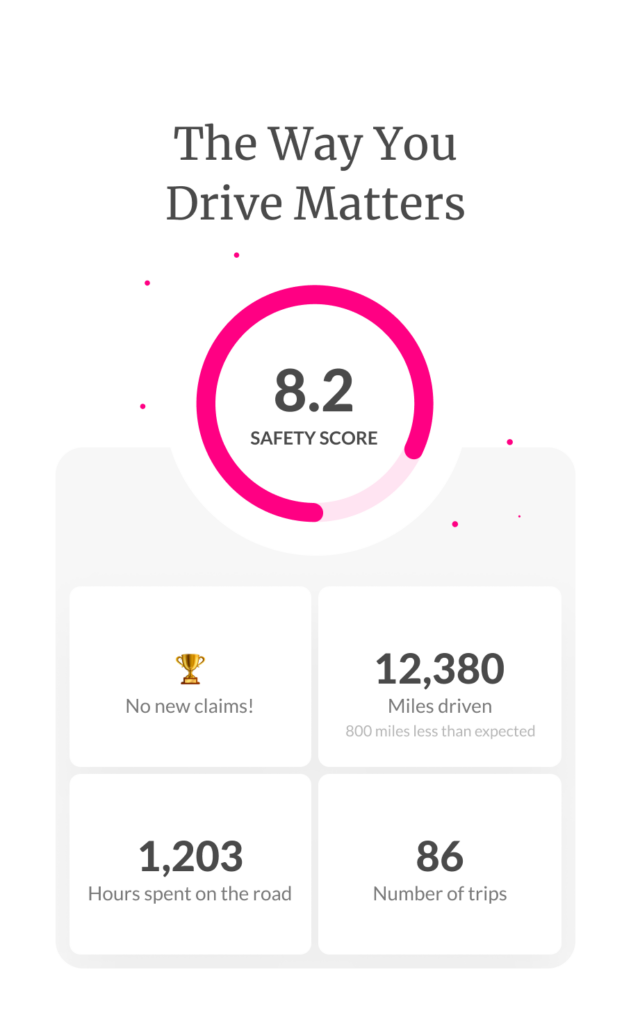 TL;DR
At Lemonade Car, most policies are eligible for automatic renewal every six months.

We'll send you a renewal notice via email well in advance of your policy's end date, usually about 30 days before.

If you choose not to renew your policy, let us know (and make sure you have another car insurance policy set up before the end of your term). 

A lot of factors help us fairly price your policy each term—including your driving behavior, how many miles you drive, your claims history, and inflation.

When you renew your Lemonade Car policy, there are even more opportunities to enjoy things like fair pricing, seamless policy management, bundle discounts, and big heart.
Why is it important to renew my car insurance policy?
In almost every state in the US you'll need car insurance coverage at all times to get behind the wheel. Let's say your policy term ends and you don't have a new policy lined up to cover your car. In insurance lingo, we call that a lapse in coverage.
Being in a lapse could have major legal and financial repercussions. Signing up for a new car insurance policy after a lapse can land you with a higher premium, for instance, or an insurance company could outright deny you coverage. You also risk fines—not to mention the costs you might have to pay out of pocket for your or someone else's medical expenses or car damage if you're involved in a crash.
How long does an auto insurance policy last?
The duration of an auto insurance policy can vary by state and insurance provider, but usually lasts for a six month or a year term. At Lemonade Car, we renew policies every six months.
Wondering when your current Lemonade Car policy ends? You can easily find the expiry date on the policy document that you received via email when you purchased your policy. The date is also listed on your digital insurance ID card, accessible on the Lemonade app.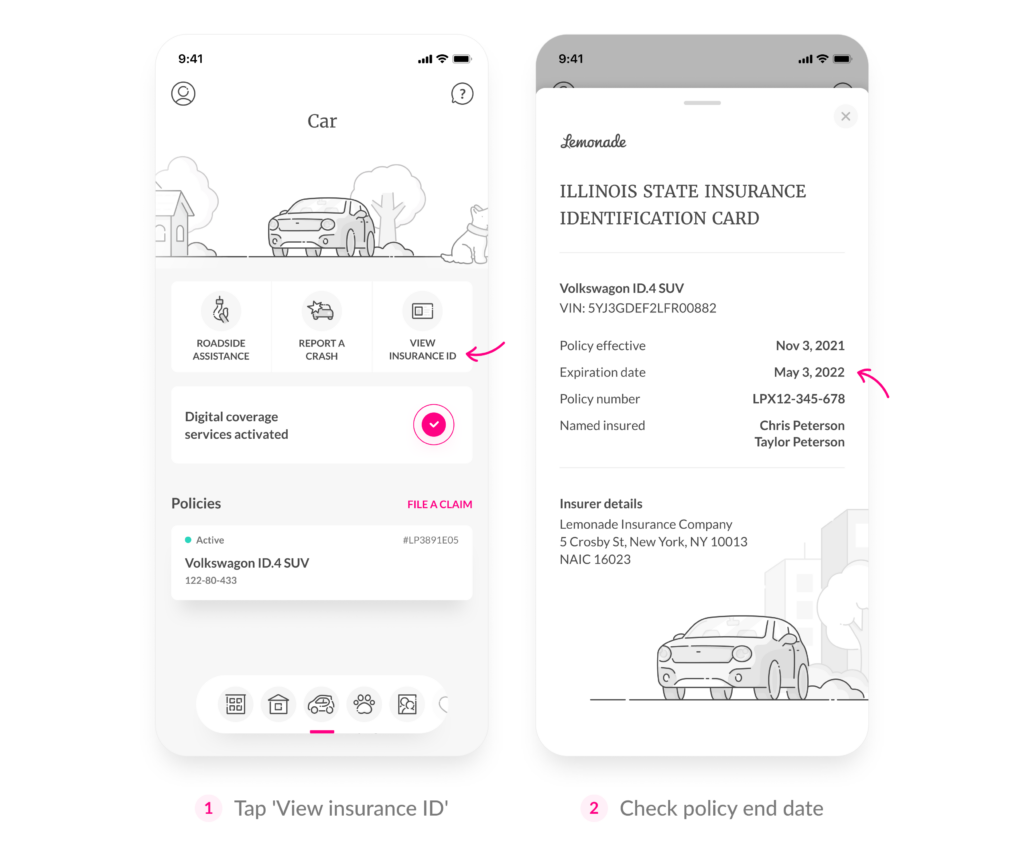 But don't sweat the details too much. We'll also give you a heads up—including a renewal notice—via email well in advance of your policy's end date, usually about 30 days before.
Can my Lemonade Car policy automatically renew?
In short, yes. Once you receive that renewal notice email, there might not be anything you need to do for your Lemonade Car policy to renew.
Your renewal notice email will update you on certain details about your policy, including your policy's renewal date and new price. If all the details look good to go, and your payment method is up to date, you won't have to do anything. Your policy will automatically renew on the specified date, hassle-free.
What else can I do with my renewal notice?
Glad you asked! Even though you may not have to do anything with your renewal notice email, we include a little something extra in there to celebrate you—and everyone on your policy—as your policy term comes to an end.
Don't you love it when your favorite apps put together a personalized recap of your habits at the end of the year—like Spotify Wrapped or Facebook Year in Review? Ahhh… the nostalgia. Well, if you drive with the Lemonade app, we'll share a customized page at your renewal that showcases your driving behavior from the six-month term.
Just click on the 'Review My Driving' button in the email to take a look back at your Lemonade Safety Score, driving stats, and achievements from the policy term. You can even share who the safest driver on your policy actually is with the world—with a scoreboard to prove it.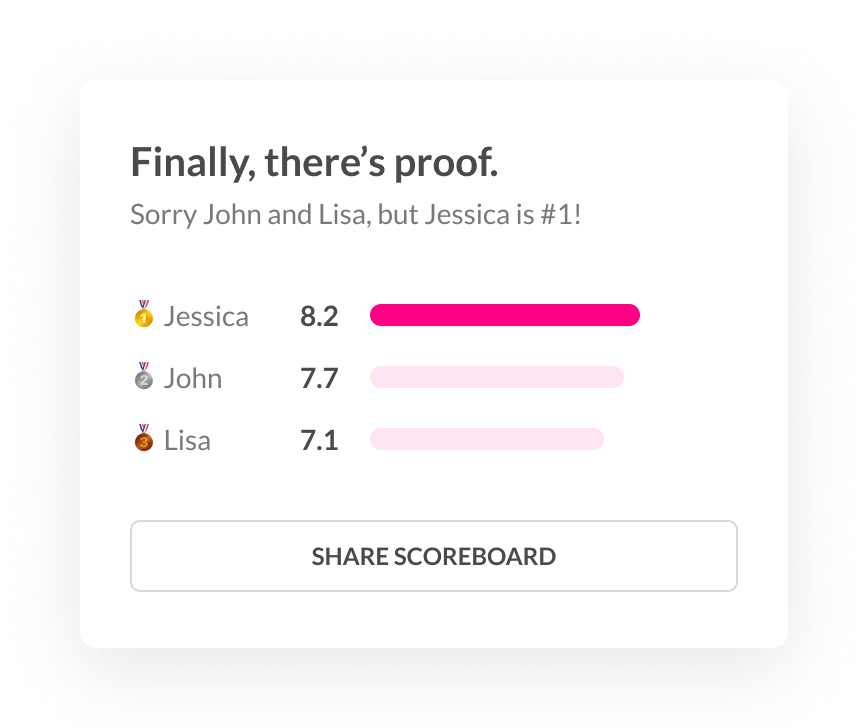 Can I change my coverages?
Yes. You can easily make changes to your policy on the Lemonade app—like editing your coverage limits, or adding a new driver—at any time during the policy period. That's because we designed our car insurance experience to keep you in the driver's seat of your policy. Just don't forget: Making certain changes to your policy can impact your car insurance rates.
What if I don't want to keep my Lemonade Car policy?
That's cool too, we can still be friends. You can easily cancel your policy at any time on the Lemonade app. And if you choose not to renew your Lemonade Car policy, let us know the day before the end of your term. Just make sure you have coverage set up with a car insurance carrier before your current policy's expiration date or canceling your old policy, so you don't wind up with a lapse in coverage.
What happens during a car insurance policy renewal?
Once your Lemonade Car policy renewal date arrives, we'll send you a new PDF policy document via email, and we'll update your digital insurance ID card in the Lemonade app. Your premium payments will automatically be updated to your policy's new price, which you'll see in the renewal email.
Will my policy price change at renewals?
It's true: Your car insurance costs can change between policy terms. That's because we calculate a lot of factors—including your driving history, claims history, and driving habits—so we can fairly price your policy each term.
Wondering how your driving habits fit into the mix of pricing your policy? Well, at Lemonade Car, the way you drive matters. Take the Lemonade Safety Score for example. It's a rating from 0 to 10 that we get from crunching a lot of info via the Lemonade app. This includes things like your mileage, as well as driving behaviors such as phone usage, braking, and the time of day that you drive.
So your driving behavior, over the course of a six-month term, can impact your policy price at each renewal. If all the drivers on your policy drive safely, it could help lower how much you pay for car insurance (granted no new driving violations or claims come up between renewals). Don't forget that Lemonade Car policies reward low-mileage drivers, so if you're on the road less, you're likely to see it reflected in your premium too.
There are other factors—unrelated to you, specifically—that can also impact your policy price. For example, you might see a rate increase for your policy because of things like inflation, or changes the state regulator makes to minimum coverages.
So, what are the benefits of renewing my Lemonade Car policy?

If you already love what Lemonade Car has to offer—fair pricing, fast claims resolution, bundle discounts for renters insurance (and other products), and big heart—we have some good news. 
Renewing your Lemonade Car policy can open the door to even more opportunities.
Seamlessly manage and customize your policy
You can manage your Lemonade policies, view your insurance ID card, add new drivers and cars, access crash detection and emergency services, and so much more, all on your phone.
Check out how the Lemonade app makes car insurance better here.
Lower your premium
Each renewal is a chance to unlock additional savings, discounts, and achievements too.
For instance, you could be eligible for extra discounts on your Lemonade Car policy simply for driving safely with the Lemonade app, bundling Lemonade policies (like if you get pet or renters insurance), or adding a hybrid or electric vehicle to your policy.
Like we said before (and we really mean it!), the way you drive matters at Lemonade Car, so you can impact your premium with your driving habits. We reward low-mileage drivers with savings, and you could be eligible for even more savings based on your Lemonade Safety Score.
Help clean up carbon emissions for the miles you drive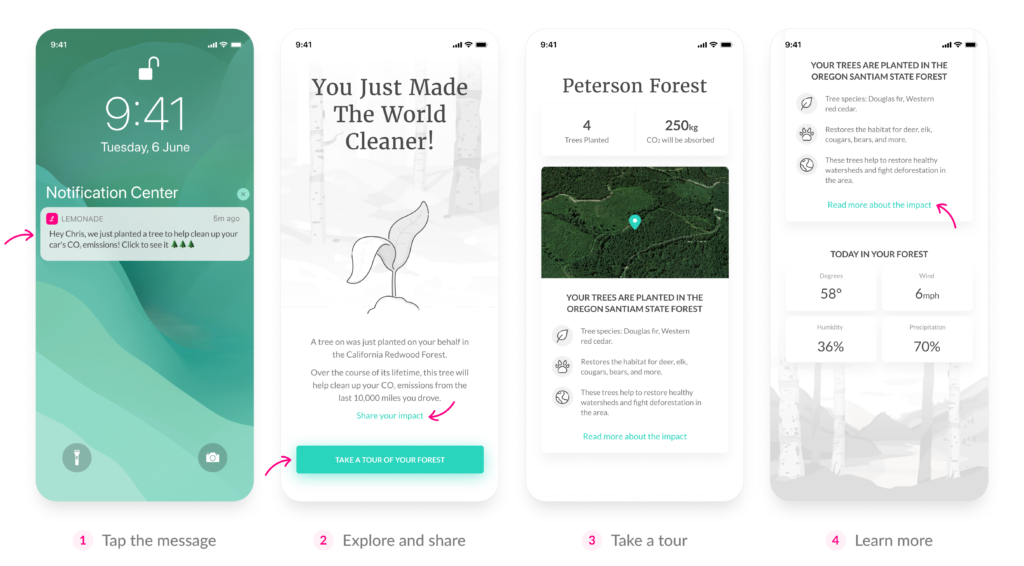 Another benefit of driving with Lemonade Car—and our app—is the amount of trees we'll plant in your name to help clean up greenhouse gas emissions from the miles you spend behind the wheel.
We'll send you a push notification every time we plant a tree in your name as part of our tree planting program. You can also visit your "forest" whenever you'd like on the Lemonade app (and in-person) to learn more about where your trees are being planted and how much carbon pollution they'll absorb over their lifetime.
Keep in mind: Lemonade's tree planting program is available for our gas-powered and hybrid car drivers, so we won't plant trees if you own an EV. Here's why.
Refresh and renew yourself, your body, your mind, your spirit, and your car insurance policy…
Loving your relationship with Lemonade Car? Then hey, let's never break up. Renewing your policy can help make the best car insurance experience even better.
And why not let that love grow? You'll save on each of your premiums when you bundle with other Lemonade policies like renters, homeowners, or pet insurance.
---
A few quick words, because we <3 our lawyers: This post is general in nature, and any statement in it doesn't alter the terms, conditions, exclusions, or limitations of policies issued by Lemonade, which differ according to your state of residence. You're encouraged to discuss your specific circumstances with your own professional advisors. The purpose of this post is merely to provide you with info and insights you can use to make such discussions more productive! Naturally, all comments by, or references to, third parties represent their own views, and Lemonade assumes no responsibility for them. Coverage may not be available in all states.