How to Switch Car Insurance in Five Easy Steps
Unhappy with your current insurer? Good news: You're not stuck.
Thinking about switching your policy? Switching car insurance is easy to do—whether you're shopping around for lower rates, or looking for more protection behind the wheel.
Read on to learn more about the ins and outs of switching car insurance, or skip ahead to our simple checklist here.
Because sometimes the grass actually is greener on the other side.
TL;DR
Always shop around and compare car insurance quotes before making a switch.

You can switch your car insurance at any time—either at renewals or mid-policy term—by contacting your current insurer.

Make sure you have your new policy set up before canceling your current one, so you don't wind up with a lapse in coverage.
Why switch car insurance companies?
As your life changes, what you're looking for in a car insurance company might, too. There are so many reasons—besides simply looking for better rates—to consider switching from your current policy, including:
You got married (congrats!)
You're adding your teen driver to your policy (take a deep breath)
You're moving states
You drive less now than you used to, and want to earn savings and discounts for your new low-mileage lifestyle
You want to score bundle discounts by holding multiple policies with the same insurer; for example, you just bought a new home, and want to save on both your car and homeowners insurance by having one company handle both
You want more protection in case of an emergency—like coverage for roadside assistance, or crash detection services
When can I switch my car insurance?
You can switch any time! There's no need to wait until policy renewals come around. And if you're switching from another insurer to Lemonade, you can usually set your Lemonade Car policy's effective date to start as early as the following day.
No matter what date you schedule your new policy's coverage to start: Set a reminder, and make sure your current coverage is effective until then to avoid a lapse in coverage, which can have major legal and financial repercussions.
How can I make the switch?
Here's five easy steps to switch car insurance providers.
1. Compare quotes
A Forbes Advisor survey found that for 58% of drivers, the main reason for switching car insurance companies was to save money. But smart shoppers know to focus on more than just getting the cheapest car insurance premium.
Good car insurance combines the coverage options you need with a rate, deductibles, and limits you can afford. But to go from good to great, look for an insurer who offers a seamless experience. (Did we mention that Lemonade offers super fast claims resolution, and a mobile app—where you can easily customize and manage your Lemonade policies?)
Take the time to research and compare car insurance options with the help of our complete guide here.
2. Buy your new car insurance policy
Once you've done your homework, it's time to make the switch.
Buy your new policy before canceling your old one to avoid a lapse in coverage. And more importantly, make sure the date that your new policy goes effective is the same day that your current policy's coverage ends.
3. Cancel your old policy
We get it, breakups can be hard. (Tell your ex-insurer you can still be friends.) But really, don't forget to cancel with your current insurance company.
Car insurance providers often require you to cancel your policy over the phone. But in some cases you can mail in a cancellation letter, or speak with your insurance agent in person. Request a cancellation letter from your current insurer, so you don't wind up having your old policy—and payment requirements—renew.
Keep in mind that depending on your insurer and payment plan, you might not get fully reimbursed for the remainder of your policy if you cancel mid-term, and might even have to pay a cancellation fee.
FYI: At Lemonade Car, you can easily cancel your policy at any time on the Lemonade app, and you'll get reimbursed for your unused premium, without fees.
4. Update your insurance ID card
In nearly every state in the US you're required to carry up-to-date proof of insurance coverage to get behind the wheel. So once you make the switch, make sure to also switch out your proof of insurance by the time your new policy starts.
Your new car insurance company will most likely send you proof of insurance for your new policy in the form of an ID card, either by mail, email, or on a mobile app.
When you buy a Lemonade Car policy, you can access your insurance ID card digitally on the Lemonade app. The law doesn't require a hard copy, but if you want to print a copy of your insurance ID card, you can do that via our app.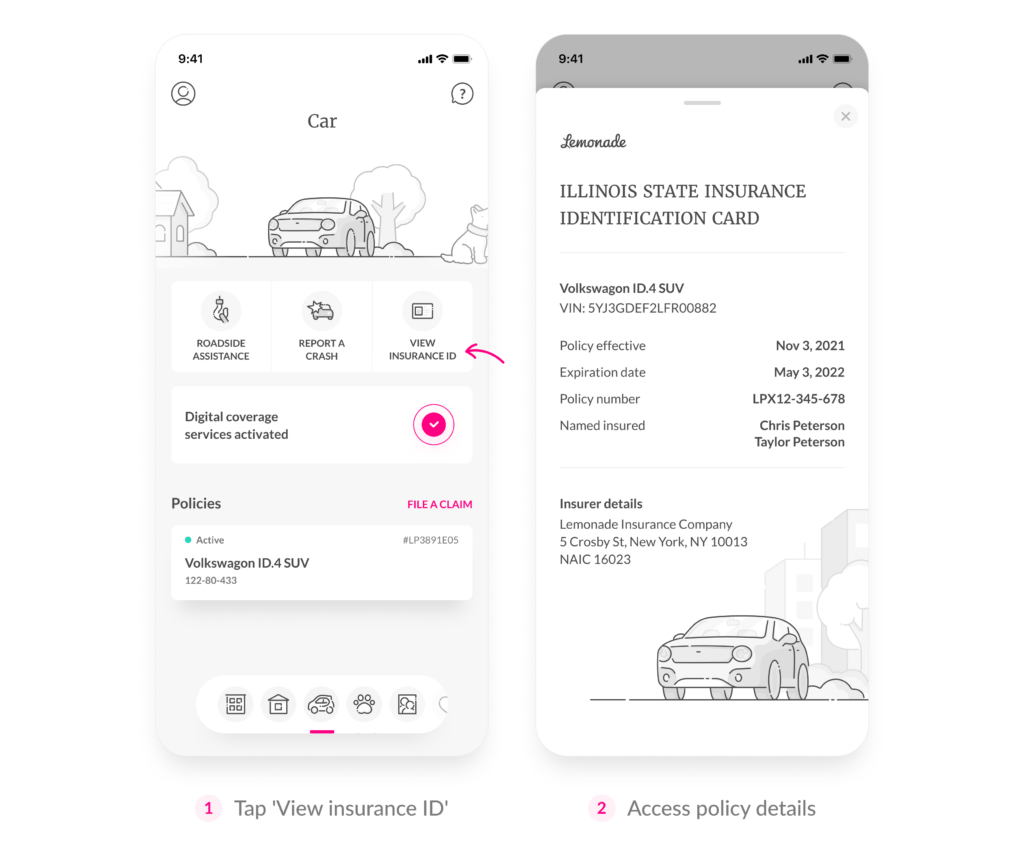 5. Make sure your lender knows you've switched
Do you have a loan on your car, or a lease? If so, you'll need to share proof of your new car insurance coverage—or ask your new car insurance provider to—with your car's lienholder or leasing company.
When you buy a Lemonade Car policy, we'll automatically notify your lienholder or leasing company, without any hassle.
Keep in mind that you'll likely need to include both comprehensive and collision coverage on your policy—usually with a required minimum deductible—if you have a loan or lease on your car.
So, how can I sign up for a Lemonade Car policy?
Glad you asked! Applying for your free quote is easy, and coverage starts at just $30/month.
We built Lemonade Car to help keep you, your car (and your wallet) protected, and our unique business model turns insurance into a social and environmental good. That includes our Giveback program—where we give back up to 40% of your unused premium every year to a cause you care about—and our tree planting program—where we help clean up carbon emissions from the miles you drive.
Did you know that we also offer Homeowners, Renters, Pet, and Life Insurance? You'll become eligible for our bundling discounts, and have the power to customize and manage each of your Lemonade policies through the same app you use for Lemonade Car.
Let's drive.