Why Does My Car Smell Like Rotten Eggs?
That stench could mean pressing problems with your catalytic converter
When it comes to your car, trust your senses. If you smell, hear, feel—and especially see—that something is off, that may be reason enough to get your car checked out by a professional. (Please never taste your car.)
One common complaint from drivers is an odd "rotten egg" smell coming from their vehicle, which can be related to your catalytic converter in various ways. Here's what this irksome odor might mean.  
TL;DR
If your car smells like rotten eggs, it likely has a broken or malfunctioning catalytic converter, a failing fuel pressure sensor, a worn-out fuel filter, or old transmission fluid.
Take your car to a professional auto technician immediately for diagnosis and repair if it smells like rotten eggs.
What could be causing the rotten egg smell in my car?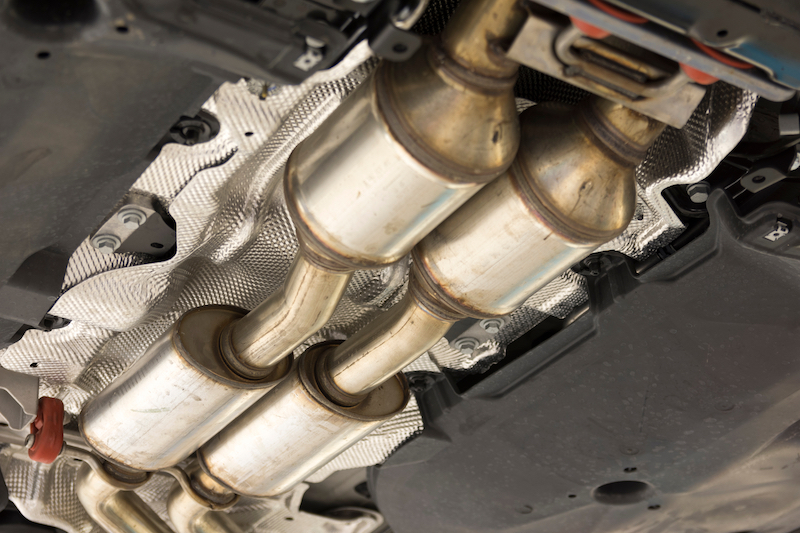 There are so many car issues that could lead to a lingering rotten egg smell. Let's lay out some of the top suspects:
Broken catalytic converter
A catalytic converter is part of your car's emission system. It's designed to reduce vehicle emissions by limiting the amount of toxic gasses and pollutants that an internal combustion engine vehicle emits into the atmosphere.
One of the many harmful gasses that a gas-fueled car produces is hydrogen sulfide. This gas smells like—you guessed it—rotten eggs. Basically, if your catalytic converter is broken, or just not working properly, it's not doing its job to convert the aromatic hydrogen sulfide into odorless sulfur dioxide.
If this is the case, you may need a new catalytic converter.
Failing fuel pressure sensor
This sensor keeps track of the fuel pressure in your car's fuel rail and helps maintain its fuel economy.
When there's an issue with your fuel pressure sensor, there could be too much fuel heading into the system. This puts extra pressure on your catalytic converter to process an influx of harmful gasses. Sometimes it's more than the catalytic converter can handle at once, leading to the smell of rotten eggs.
It's better—for your safety and your wallet—if you can catch this issue early. It would be a bummer if you have to replace both the fuel pressure sensor and the catalytic converter. Besides the smell, there are other signs to look out for that could mean you have a faulty fuel pressure sensor:
'Check Engine' light turning on
Struggling to start your car
Difficulties accelerating
Worsening fuel economy (a tank of gas isn't getting you as far as it usually does)
Worn-out fuel filter
A fuel filter helps fuel run smoothly to the engine by filtering out dust and debris.
Best practice is to replace a car's fuel filter every two years or 30,000 miles, whichever comes first. Similar to a failing fuel pressure sensor, a dirty fuel filter can overload the catalytic converter and lead to a rotten egg smell in the car.
While it's relatively cheap to replace your car's fuel filter, having to replace your damaged catalytic converter could run up a bill to hundreds or even thousands of dollars. That's why it's especially important to stick to a preventative car maintenance schedule. Getting your car the TLC it needs helps stop bigger issues—and foul smells—in their tracks.
Old transmission fluid
Transmission fluid lubricates the moving parts of your car and helps keep the transmission cool.
You won't necessarily need to get a transmission fluid change or flush every time you go to the body shop for a full-service oil change. But it's crucial to have this performed by a certified auto technician about every 30,000 to 60,000 miles.
Sometimes procrastination stinks, literally. Putting off this servicing could land you with old or dirty transmission fluid—or maybe worse, fluid that's wearing out seals and leaking onto a hot engine. If things reach this point, you might need to replace some gaskets and seals, on top of changing the transmission fluid, to get rid of the rotten egg smell.
Actual rotten eggs
Are you an avid hard-boiled egg enthusiast? Has your teenager been preparing for Mischief Night? Check that you didn't accidentally leave leftovers under the seat that may have gone bad.
All yolks aside, a rotten egg odor coming from your car could mean a serious problem with the car that should be checked by a professional immediately.
What should I do if other bad smells are coming from my car?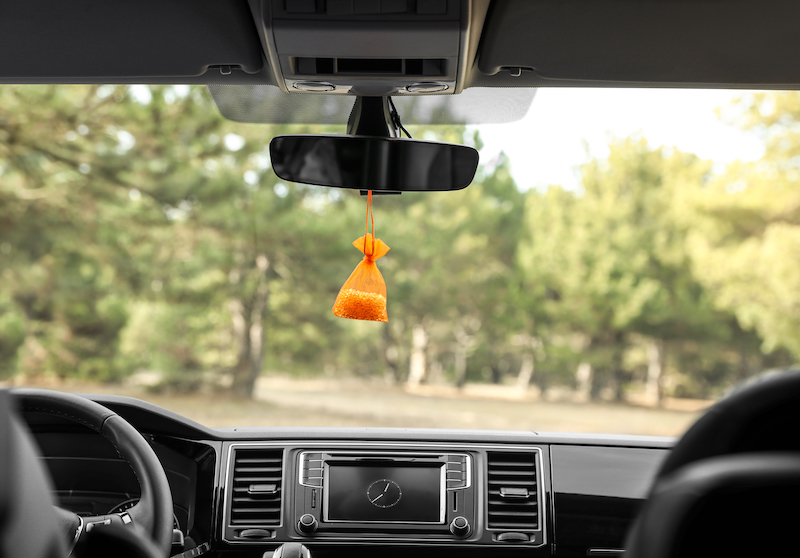 If your car reeks and the smell doesn't go away, don't play detective. Unless you know what you're doing and have the right tools, you could wind up seriously harming your car and yourself.
It's better to get your odorous car to a professional immediately. Taking your car to a trustworthy auto repair shop can help get the problem diagnosed and fixed quickly, before it develops into something more serious, dangerous—and costly.
At Lemonade Car, we want all drivers on the road to feel prepared and confident when they head to the auto repair shop. Check out our top tips on getting your damaged car the TLC it needs.
Stop and smell the roses car…
Notice a bad smell coming from your car right after it was damaged, or directly after it was repaired? Get your car back to the body shop right away for a diagnosis.
If the issue that's causing the smell is related to a recently covered incident, your insurer may pay out for the associated diagnostics and repair expenses. For instance, when you buy a Lemonade Car policy and include both comprehensive and collision coverage, we could help cover the costs to get your car back into pre-accident condition.
In any case, don't just hang an air freshener and hope for the best. It's a smart idea to keep your car in egg-cellent condition to prevent bigger—and stinking expensive—issues later down the road.
---
Please note: Lemonade articles and other editorial content are meant for educational purposes only, and should not be relied upon instead of professional legal, insurance or financial advice. The content of these educational articles does not alter the terms, conditions, exclusions, or limitations of policies issued by Lemonade, which differ according to your state of residence. While we regularly review previously published content to ensure it is accurate and up-to-date, there may be instances in which legal conditions or policy details have changed since publication. Any hypothetical examples used in Lemonade editorial content are purely expositional. Hypothetical examples do not alter or bind Lemonade to any application of your insurance policy to the particular facts and circumstances of any actual claim.
This post is general in nature. Any statement in this post does not alter the terms, conditions, exclusions, or limitations of policies issued by Lemonade, which differ according to your state of residence. The terms, conditions, exclusions, or limitations applicable to your policy depend upon your unique circumstances, and you are encouraged to discuss your specific circumstances with your own professional advisors. The purpose of this post is merely to provide you with information and insights you can use to make such discussions more productive. Naturally, all comments by, or references to, third parties represent their own views, and Lemonade assumes no responsibility for them.
Coverages and other features described may not be available in all states.