Your Homeowners Declarations Page: What You Need to Know
It's your insurance policy, simplified.
Let's be honest, you could always use a hand understanding the fine print in your insurance policy. When you receive your policy, pay special attention to your homeowners declarations page, or dec page, which will tell you a lot of what you need to know about your new policy.
We're going to take an up close and personal look at a homeowners insurance declarations page. We'll break it down from top to bottom, so you can fully understand your policy, your premium, and your coverage:
The basics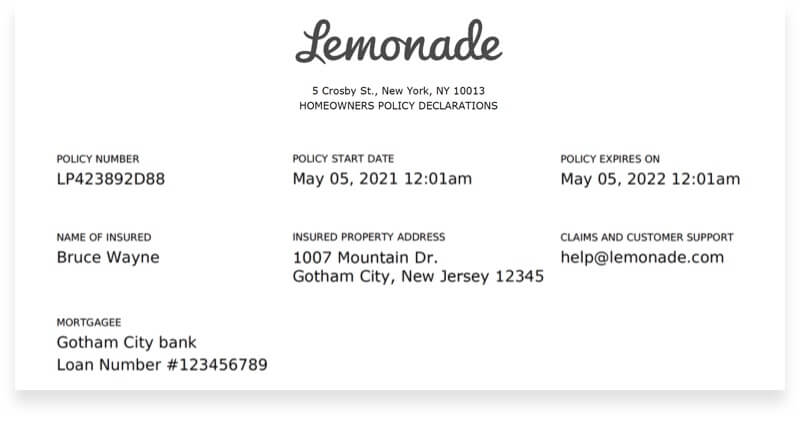 The top part of the first page of your homeowners insurance declarations page will have some basic information about you and your policy. This includes your name (or the "named insured"), policy number, physical address, email address, when the policy starts (the "effective date"), and the policy's expiration date.
This info might seem like a no-brainer, but be sure to thoroughly check that everything is accurate. If you spot a mistake, or if your contact information changes, be sure to get in touch with your insurance company to nip any potential issues in the bud.

If you're a Lemonade homeowners insurance policyholder, you can often update your policy information online or via your Lemonade mobile app.
Coverage summary
Now for the real meat of your policy.
On your homeowners declarations page's coverage summary section, you'll see several different amounts connected to your coverage broken down for you. (For an even deeper dive into the basics of homeowners insurance, check out this guide!)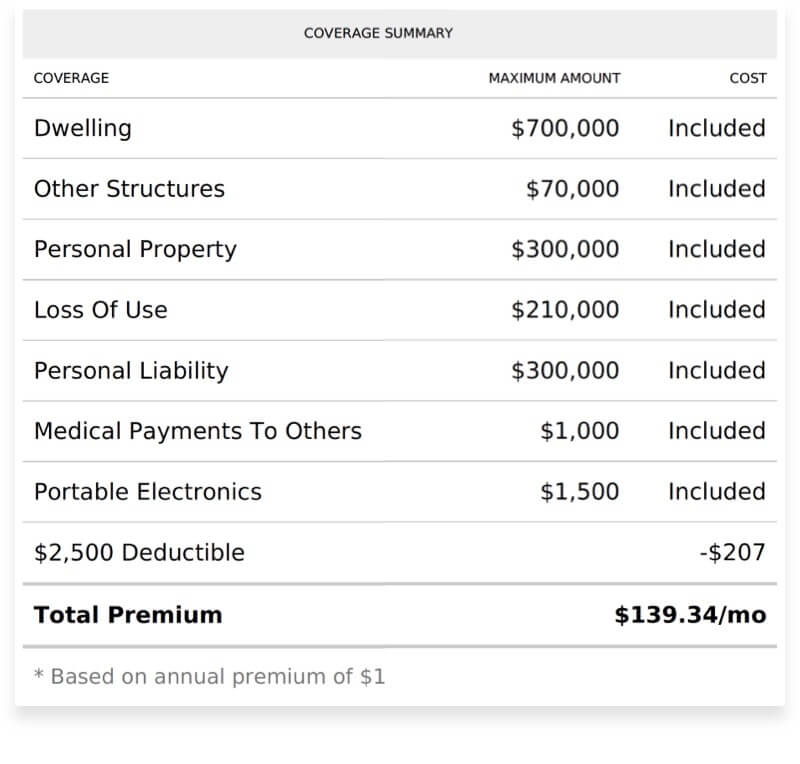 First let's clear up some declarations page terminology:
Maximum amount: The numbers listed in this column represent the limit to your coverage. If you have $70,000 but damage to your "Other Structures" will cost you $100,000 to repair. If your insurance company approves your claim, you'll only get the $70,000 (minus your deductible, of course).
Included: When a cost is "included" in a policy it means that this coverage comes standard with the typical underwriting of a policy.
Here's what you'll see listed on your coverage summary, so you know what to expect when you decide on your coverage or file a claim:
Dwelling coverage: This covers the costs of repair if your home is damaged or destroyed. The amount you choose for dwelling coverage should reflect how much it would cost to rebuild your house from the ground up, not the market value of your home.
Other structures: This covers damage to things like your driveway, fence, shed, or even your treehouse.
Personal property: If you've ever had a renters insurance policy, you're probably familiar with personal property coverage. This covers your stuff. If your bike gets stolen when it's chained in front of a coffee shop, it's covered with homeowners insurance. If your house is broken into and your collection of mint-condition Chicago Bulls jerseys are stolen, that's covered too.
Loss of use: If your home is damaged and becomes unlivable, loss of use coverage will pay for things like hotel stays, takeout, and laundry while you wait for the damage to your home to be fixed.
Personal liability: This coverage comes in handy if you're in a legal bind. If someone is injured on your property and it's your fault, or if you or anyone else on your policy damages someone else's property of stuff, this coverage can help cover the costs. Personal liability coverage can also come in handy to cover your legal fees if you're responsible for an accident.
Medical payments to others: If someone is injured on your property, or if you or someone else listed on your policy injures someone else, this will cover the medical expenses if they're $5,000 or lower.

Deductible: Every time you file a claim, the deductible determines how much you pay out of pocket before your insurance coverage kicks in. The higher your deductible, the more you save on your monthly premium. This is why you'll see a "-X" in the cost column of policies with higher deductibles–that's how much you save by choosing a higher deductible.
Total Premium: Your monthly premium will be calculated based on all the coverage listed above. This is the amount you pay every month for homeowners insurance coverage.
Page #2 – Extra Coverages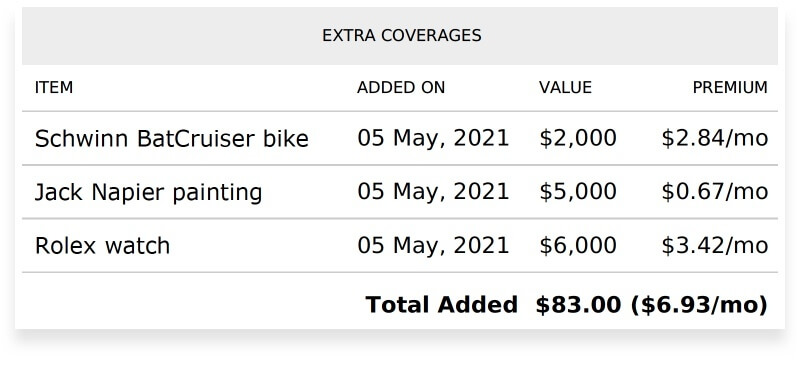 Your personal property coverage is usually around 50-75% of your total dwelling coverage amount. If that's not enough to cover all of your valuable personal belongings—things like jewelry, artwork, musical instruments, and cameras— that's where Lemonade's Extra Coverage comes in.
You can add certain big-ticket items to your Extra Coverage; pay a little extra on your monthly premium, and if an item listed under your Extra Coverage is lost, stolen, or damaged, you can file a claim and get money back without paying a deductible.
Interested? Learn a whole lot more about Extra Coverage here.
Discounts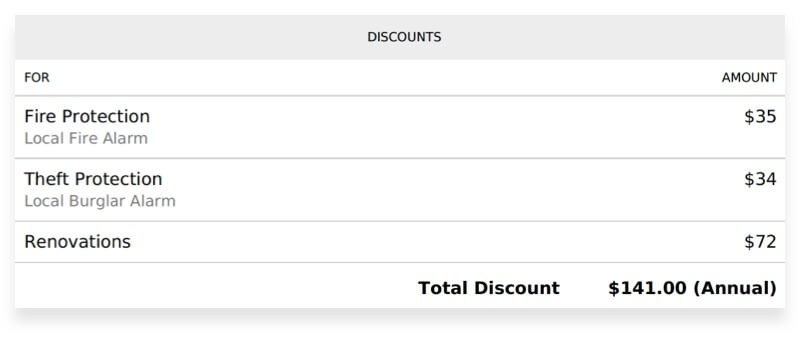 Who doesn't love a discount? If you have certain safety measures in your home, you can save money on your policy. Having features like a smoke detector, fire alarm, or burglar alarm could help you reduce your monthly premium.
In addition, certain renovations like repairing or replacing your roof could also help you save.
Before we go…
When your insurer sends over your insurance policy, you might be overwhelmed by the pages of complicated text outlining the legal and technical elements of your policy. Of course, here at Lemonade, we try to keep things as straightforward as possible. Think of your homeowners insurance declarations page as a TL;DR of your policy: an outline of the practical, digestible details of your coverage. Once you get a handle on all the information on your declarations page, you can be confident that you fully understand your coverage.
And we'd be pretty remiss if we didn't say that Lemonade offers home insurance, and we think it's a pretty great deal. You can cover your home, your stuff, and more for as little as $25/month. We hate to toot our own horn but… toot toot!