The Stress-Free Guide to Moving
Here's what you need to know before you move.
Moving day is finally here! You've been anxiously waiting, planning… and saving. Moving from a rental to a home you proudly own is a big deal, and a total mindset shift.
But along with the excitement comes stress and hassle. There are endless tasks to manage before you even move in.
Don't worry—we've got you covered. Here's what you need to do before moving, and how to turn your house into a home once you've unpacked.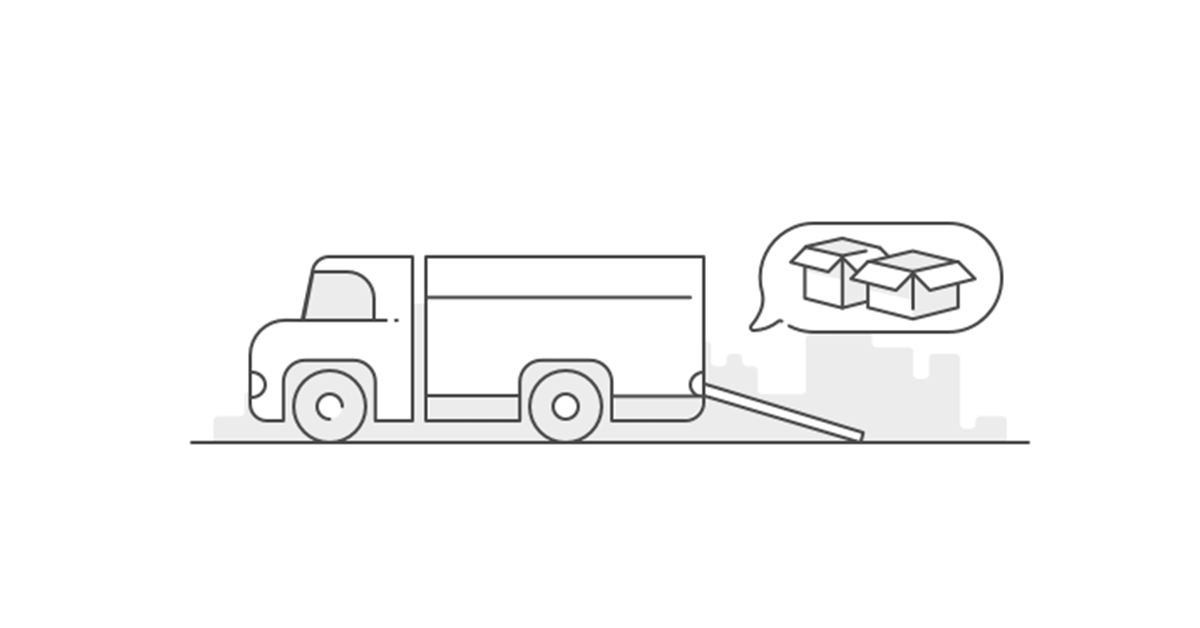 Let's dive into the essentials:
Hire a moving company
Take care of home repairs
Clean out closets
Pack up non-essential items
Transfer utilities
Pack essentials
1 month before moving: Get organized!
Hire a professional moving company
It can be pricey, but hiring a professional moving company is the easiest option if you're trying to cut down on hassle. Most companies have different levels of service. You can save money by boxing your own belongings—or splurge by having the company do the packing and unpacking for you.
Don't book the first company you find online. Research reputable companies (check the Better Business Bureau or Moving.com's directory). Make sure to ask three important questions:

1. What's the company's U.S. Department of Transportation license number?
2. Does the company have moving insurance?
3. Are they licensed for interstate moves (if you're moving out of state)?

To get the most accurate price estimate, ask the moving company to make an in-house estimate. By law, a moving company can only give you standard rates over the phone, not specific estimates.

Moving companies have very strict rules and regulations, so make sure to check them out beforehand. There are also USDA regulations to follow. For example, you'd probably guess that it's illegal to transport firearms, fireworks, toxins, and explosives across state lines. But did you know that plants are also on this list? So if you're moving from California to Kansas, you might have to reconsider bringing your garden with you.
Here's the full USDA list of things you can't move across state lines.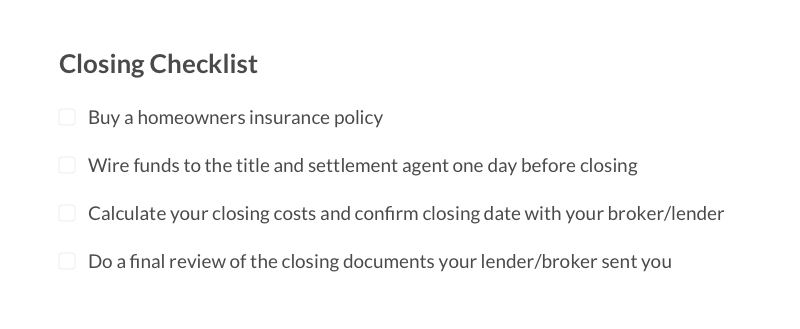 Money-saving tip: If you have some control over when you move, mid-week and mid-month are the times where moving companies have the cheapest rates.
Take care of repairs in your new house
If you can get the keys to your new home before your scheduled move-in date, take care of any necessary repairs, like electrical issues or bathroom leaks.
Doing this in advance will help you get ahead of the curve. It's hard to know how long repairs can take, so make sure to give yourself about a month.
In some circumstances, your home's previous owners might have handled certain repairs for you… but they probably won't have given the place a new coat of paint or installed that built-in bookshelf you've been dreaming on—so get on it!
Btw, while you're handling repairs, make sure to take measurements of every room in your new home, including doorways, and any tight spaces you'll need to navigate. Then measure any tall, wide, or oddly shaped items you'll be bringing with you on moving day. A little advance planning will save you from unwelcome surprises (like a couch that gets stuck in your new front hallway).
Clean out your closets

There's no better time to go through your closets. Take out each item of clothing you own: If you haven't worn it in a year, it's probably time to part with it.

Try holding a clothes swap for good quality items, and invite friends to bring their own hoard. (Depending on where you live, of course, this should wait until the pandemic is under control.) Clothing swaps are more effective than dumping your giveaways at Goodwill. Most Goodwills are overrun with clothing nobody wants—and eventually end up destroyed in a landfill, says Adam Minter, author of Secondhand. Instead, locate shelters or smaller charities you can donate good quality clothing to.
And if you're in the mood, try and declutter as many rooms as you can! Even if your new house is bigger than the last, there's no reason to hold on to useless objects. Make a 'sell,' 'donate,' and 'trash' pile for anything you don't use.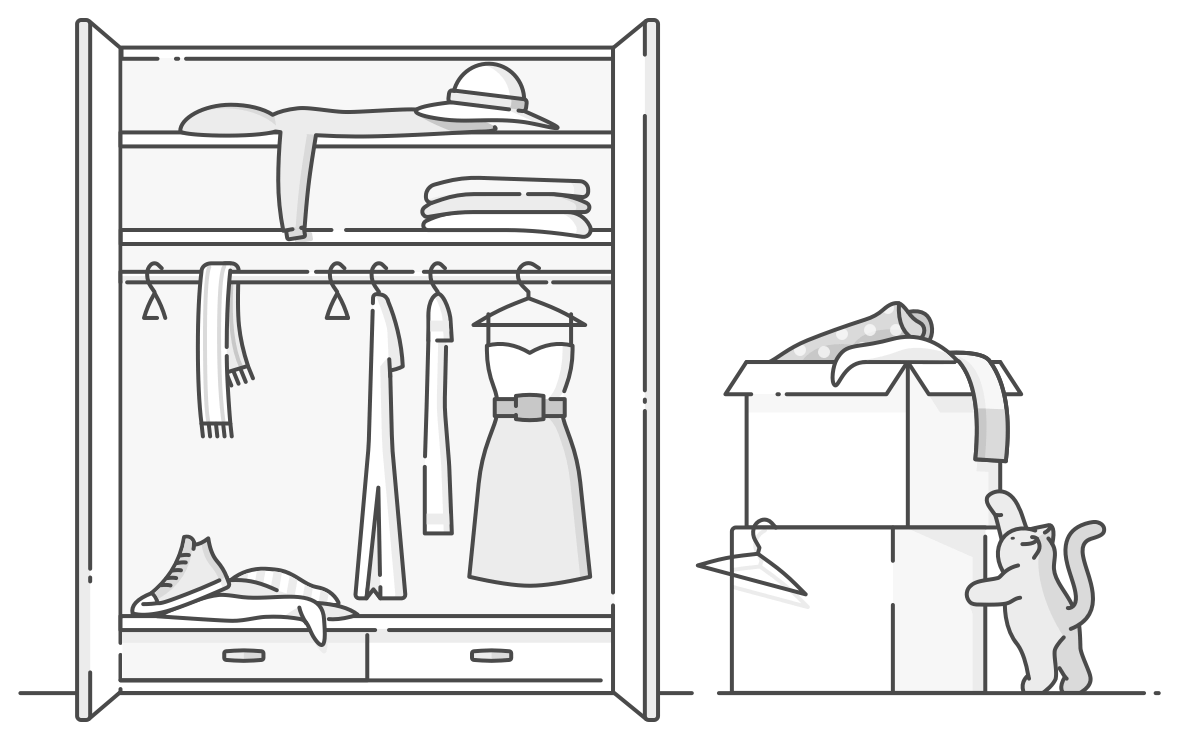 One to two weeks before moving: Showtime!
Pack up non-essential items

Begin by gathering up anything you don't use on a regular basis, like your high school yearbooks and that lacrosse stick down in the basement.
When choosing packing boxes, consider an environmentally friendly moving solution like Rent-a-Green Box. They deliver sturdy, stackable boxes, and come to pick them up once you're done using them. You'll be saving the planet, as well as a bit of money—it's actually cheaper than buying wasteful cardboard boxes.

Don't forget to keep a running list of each packed box: its contents, what room it belongs in, and whether it's fragile. Later, you can compare this to your moving company's inventory sheet.
And don't attempt to pack up your entire house in one day—you'll get burnt out. Try and tackle one room (in its entirety!) every day or so.
Pro tip: Take photos of your valuable items while you're packing in case of future breakage or loss.

Transfer your utilities
Contact your utility service providers (phone, internet, cable) and let them know you're moving. Schedule disconnect dates with your water, gas, and electric company, and don't forget to have all your connect dates sorted for your new home, before moving day. If your electricity doesn't work on the day of the move, it'll be a serious hassle.
This is also a great opportunity to figure out if you're getting the best bang for your buck. Compare service providers' pricing. There are endless green hacks you can use to lower your electricity bills.
Now that you're (hopefully) in the swing of things, go ahead and update your employer, banks, credit card provider, driver's license, and subscription services with your new address. Then visit USPS.gov or your local post office to officially change your address.
Tip: Before dismantling anything to pack away, take a photo of how it's set up so you can easily assemble it again on the other side.
Pack essential items
You're on the last lap! Go ahead and pack up all the stuff you use on a daily basis.
Set aside two final boxes: one for things that you use every day, and another for valuables and important documents.
That first box should include everything you need for the first 24 hours in your new home: a toothbrush, medications, laptop, set of clothes, and anything else you think you'll need. The second box should include all the important items you never want to lose, like your passport, marriage license, birth certificate, cash, and valuables.
These two boxes should travel with you, not with the moving company.
Tip for the final week countdown: Schedule a cleaning in your new home to make it a truly fresh start.

Keep on track
That wasn't so hard, was it? With the right planning, there's no need to start packing months in advance of a move. It's all about keeping organized and on track. Of course, once there's still work to be done after you've landed in your new home. Follow along as we take you through everything you should keep in mind once you've officially made your move.
It's also worth mentioning that you should take a look at our homeowner insurance coverages just to keep your mind at ease.