Dog Boarding Kennels: Pros, Cons, Costs, & More
PTO: Pooch time off.
In an ideal world, your best friend would never have to leave your side. But chances are that at some point, you will need to leave on a work trip or go on a pet-free vacation, and your dog will need to stay behind.
In these situations, dog boarding kennels offer a convenient solution—but it's important to carefully choose the kennel that's right for your dog, so you can bid your pup farewell and maintain your peace of mind.
Here's what we'll cover:
Dog boarding vs. dog sitter
If you need to leave your dog behind, you'll have two main care options to choose from: Boarding or hiring a dog sitter. We'll break down the pros and cons of each. 
Dog boarding at a glance
Your dog is cared for by multiple staff members
There's lots of activity, and your dog will be in close quarters with other dogs
Feedings and walks occur on the boarding facility's schedule
Your dog may receive one-on-one attention, including playtimes and multiple walks per day
In most situations, staff go home at night, but some kennels may employ overnight staff
Pros
You won't have to worry about your dog spending long periods of time at home alone.
Social dogs may do well in boarding facilities, particularly when they are comfortable being around many other dogs.
Depending on the facility's setup, your dog may have access to a run directly off of the kennel, giving them plenty of space to move around.
Cons
Dogs who aren't highly social or reactive around other dogs might not thrive in a boarding environment.
Dogs who thrive on lots of personal attention each day may not receive enough individualized attention in a boarding situation.
Dogs who are highly excitable may be overwhelmed or overstimulated in the busy boarding environment.
If your furry friend requires extensive medical care, an average boarding kennel may not be the best place for them. In this case, you may want to find a kennel that is associated with a veterinary facility.
When it comes to your pet's behavior at a boarding facility, there might a some unknowns, "Just because a dog may act one way at home does not mean that they will act the same way at a boarding facility." notes Alisa Agin, owner of Lap Of Luxury Pet Resort in Sunbury, Ohio. "Pets are like children in that they respond differently in different environments, and that they have good days and bad days."
Agin encourages pet parents be in consistent communication with the boarding facility, so they can give their dog the training they need to better thrive in a boarding environment. This means getting a thorough report on your pup's behavior, both good and bad.
In the end, we all want your pet to have a great vacation with us while you are on yours!

Alisa Agin, owner of Lap Of Luxury Pet Resort
Pet sitting at a glance
Your dog stays in your home and is cared for by one person
The pet sitter can provide your dog with lots of individualized attention, including playtimes and walks
Your dog enjoys the reassurance of being in their home environment
Feedings and walks occur on your dog's schedule
Sitters may stay overnight, so your dog isn't alone for long periods of time
Pros
Your dog can stay right at home, which can help to minimize stress for more anxious dogs.
Older dogs and dogs who are less active and social may benefit from a quieter environment, while not being exposed to the busy, active environment of a boarding facility.
Cons
Like you, your sitter will likely leave for large parts of the day, which your dog might be fine with, but might not feel worth the costs.
Pet sitters tend to have less experience than kennel staff, so if your dog needs specialized medical care, hiring a pet sitter might not be the best solution. A pet sitter with many references and pet experience will likely be more costly.
If a pet sitter has an emergency while you are away, you might be left scrambling to find someone who can care for your dog in their place.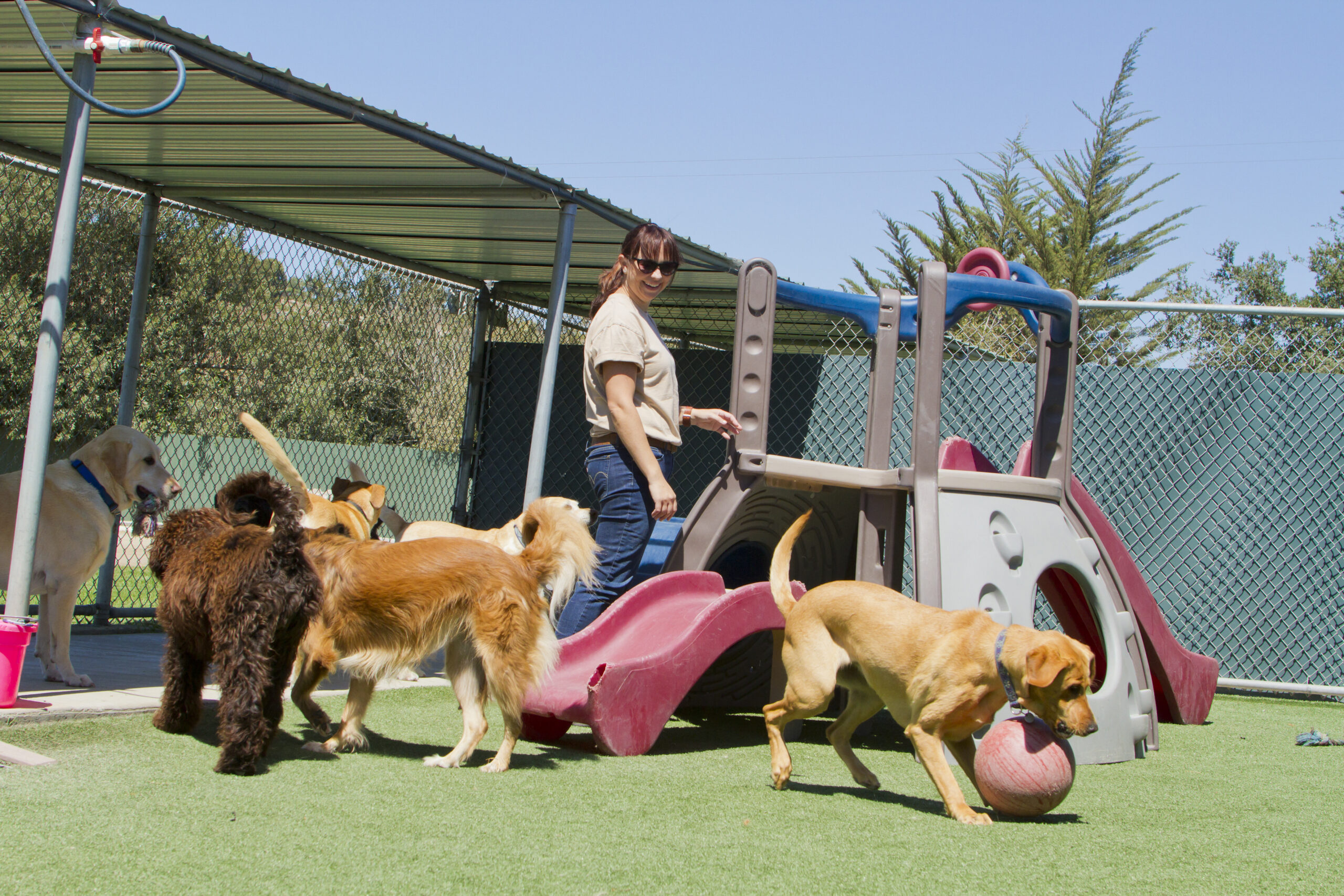 How much does boarding your dog cost?
Boarding services can vary in price depending on the facility, the location, and any additional options, like grooming services or specialized medical care.
Overnight boarding can start around $50 a night and go up to more than $100 per dog per night. You may pay more for a larger space for your dog, and some kennels give you the option of adding on extra playtime, special treats, and even grooming services to make your pup's stay extra-luxurious. Rates may also increase during holidays when demand is the highest.
Dog boarding checklist
Finding the right boarding facility for your pup will take some time and energy. Asking plenty of questions, getting on the phone with the facility, and even visiting can give you the peace of mind of being able to choose a safe, quality temporary home for your pooch.
Questions to ask at a boarding facility
Asking the right questions can help you to determine if a facility is right for you and your pup. Here's some good questions to get the ball rolling:
What are the vaccination requirements?
Are dogs required to be spayed or neutered?
How many staff members are working at all times?
How many times will my dog go out on potty breaks?
When do you give meals?
Will my dog ever interact with other dogs in boarding, like in group play?
What training and experience does your staff have?
How do you handle veterinary emergencies that might occur during a dog's stay?
What are the pick up and drop off times? (Like human hotels, these times might be somewhat fixed).
How do you handle reactive dogs or anxious dogs?
What to look for when visiting a boarding facility
A pet boarding facility should welcome visits from pet owners. Once you've seen pictures, read lots of positive reviews (or better yet, have spoken to someone who has had first-hand experience), go ahead and schedule a time to visit. Once you're there, keep your eyes peeled for the following:
Spacious, comfortable kennels that are climate-controlled and appropriately sized for your dog
Beds that elevate the dogs off of the hard ground
Cleanliness. It probably won't smell like a bed of roses in there, but a base level of cleanliness should be expected!
Well-maintained kennels and fencing
Food storage areas designed to protect food from rodents and other pests
Courteous, kind, and knowledgeable staff
Cameras set up in boarding suites and/or common play areas
Kennel red flags
If you notice any of these red flags while visiting or interviewing a boarding facility, turn around and keep looking!
Dirty, smelly kennels
No vaccination requirements
No spay/neuter requirements
Play yards or outdoor runs with broken or weak fencing
Large playgroups of dogs that are unsupervised or under supervised (one staff person to 15 dogs is typically considered a safe dog-to-staff ratio)
Lack of an emergency plan for dogs who need first aid or veterinary treatments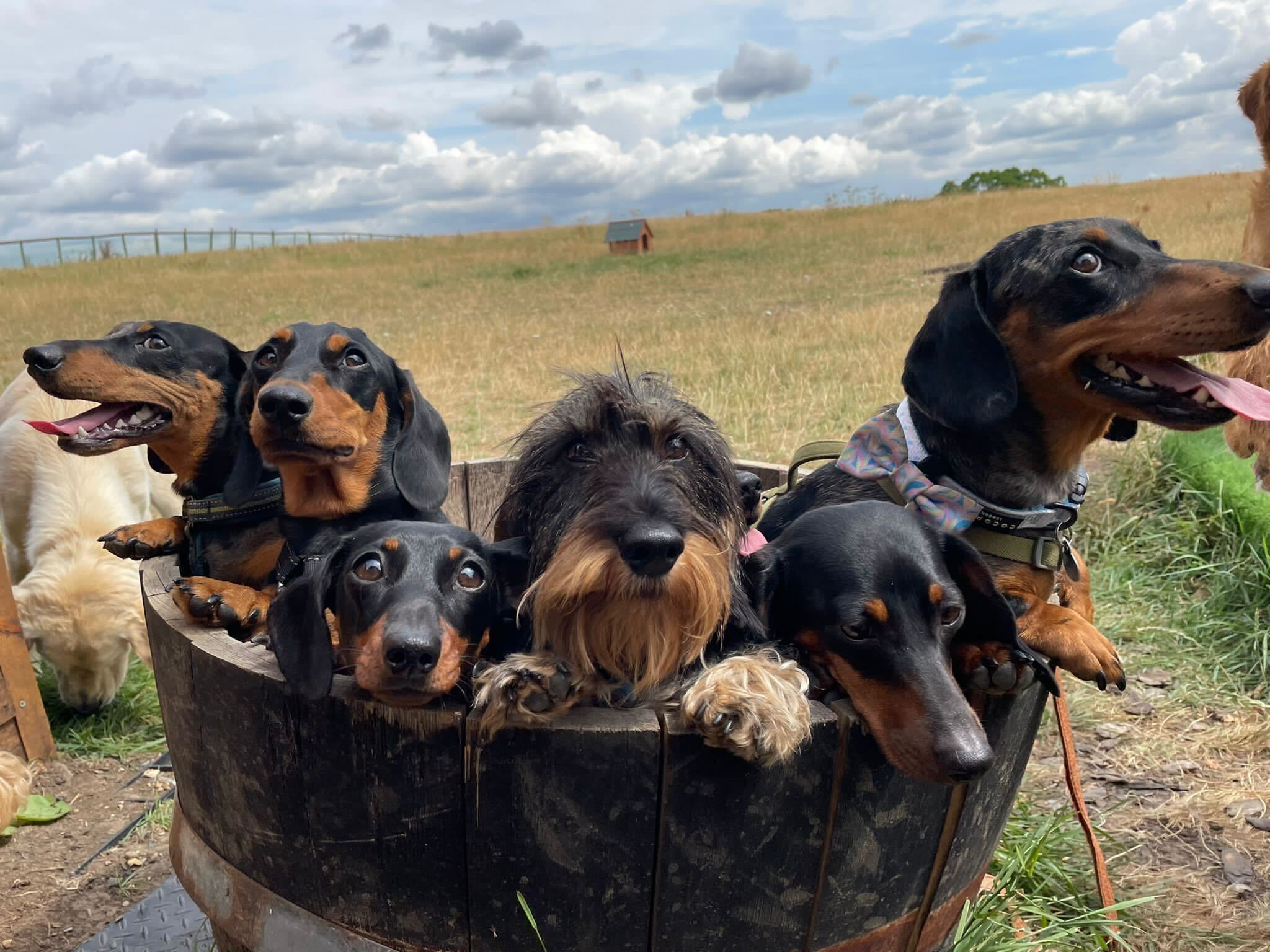 Preparing your pup to be boarded
This checklist can help you to prepare your pup for their boarding stay:
Sign your pup up for pet insurance. Some facilities might require that pets have an active dog insurance policy before their stay. That way, if your dog gets sick or injured during their stay, you have an easy way to help pay for their care.
Vaccinations. In the weeks leading up to your pup's stay, double-check the facility's vaccination requirements, and call your vet to make sure your dog is up-to-date, especially the Bordetella (kennel cough) vaccine. Get a copy of your dog's vaccination certificate to bring to the boarding facility.
Fecal tests. In addition, some facilities might require a negative fecal test before your pup's stay. Even if it isn't required, it doesn't hurt to get one of these just in case so you don't unknowingly expose other guests to parasites.
Creepy crawly prevention. Check that your dog's flea and heartworm medication is up-to-date.
Medication. If your dog is on medication, make sure that you have enough medication to last through your dog's stay, plus extra in case of delays.
Food. Bring enough of your dog's food to last the stay. Ask the facility what they require—some facilities might request individually labeled portions. Pack an extra 2–3 day's worth of food in case your trip gets delayed.
Supplies. Gather other items, like your dog's bed or favorite toys. Double-check with the boarding facility to make sure those items are allowed.
By the way, in addition to a base accident & illness policy, pet health insurance can help cover some of the expenses as you get your pup ready for their vacay. When you add a Preventative or Preventative+ package, you can get reimbursed for a bunch of healthcare perks like vaccinations and flea/heartworm medication.
Before we go…
When you take the time to find a fantastic boarding facility for your dog, you will have the peace of mind of knowing that your dog is well cared for while you're away, so you can enjoy a vacation, attend a conference, or go to that family reunion with confidence.
You will want your dog to be healthy, safe, and happy in the facility that you choose, so if you know you'll need to board your pup, start your search as early as possible so you have plenty of time to find the right facility for your pup and sort out their vaccination needs.
We know you'll miss your dog while you're away, and we know they'll miss you right back. When you finally reunite at the end of your trip, you can swap photos, stories, and lots of kisses!