Oklahoma Pet Insurance Guide
Cover your Sooner State pet and get your vet bills paid for.
Oklahoma pet parents: Whether you've got a tabby in Tulsa or an Otterhound in Oklahoma City, you've come to the right place to learn about pet insurance.
We'll take you through the hidden gems and insider tips of being an Oklahoma pet parent, and while we're at it, we'll go through the ins-and-outs of pet insurance so you can keep your furry companion (and your wallet) covered.
What is pet insurance?
Pet insurance assists in covering the costs of your vet bills. You pay a premium each month to the insurance company, and in return, you can care for your canine or feline fur fam without having to worry about how much it will cost.
With Lemonade pet insurance, there are numerous ways to customize your policy with our coverage options:
To begin with, a base Lemonade pet health insurance policy will assist in covering the costs of medication, tests, and treatments if your cat or dog has an unexpected accident or illness.
A base policy is excellent for the unexpected things in your fur fam's future. Still, Lemonade also offers preventative care packages, which are designed to keep your pet healthy and help cover expenses you're probably paying for anyway. By adding this package to a Lemonade policy, you'll also get access to a live medical chat option and will get covered for all kinds of things—like your annual blood tests, vaccinations, wellness exam, and more. There may be some applicable exclusions.
Lemonade offers a Preventative, Preventative+, and a Puppy/Kitten Preventative package. Depending on your pet's age, this package covers things like spaying/neutering, vaccinations, microchipping, and flea and tick treatments.
You can also customize your Lemonade policy with a mix and match of optional add-ons like: physical therapy, vet visit fees, dental illness, behavioral conditions, and end-of-life and remembrance—to help take the bite out of pricey treatments, services, and trips to the vet.

Here's an example of how a Lemonade pet insurance policy works:
Buy a policy. You answer a few quick questions about your German Shepherd, Domino, and build your pet's policy with the help of our friendly AI chatbot. The monthly premium you pay is determined by various factors, primarily things that you can customize, like your annual deductible, co-insurance, coverage package, and the annual limit on your plan. (If you would like, you can take a deeper dive into how pet insurance works to help you create your perfect policy.) Pet insurance coverage with Lemonade can cost as low as $10/month. Here's a handy breakdown of the whole (simple) process.
Go to the vet. You rush Domino to the vet after he broke his leg from playing too rough at the dog park. The exam, x-ray, and cast cost you $1,000. Woof. But since you have pet insurance, you don't have to worry about the total amount. Find out what we cover here.
Get your money back. Domino is safely on the mend, and you get up to a $900 reimbursement back in your pocket from Lemonade!
It's worth noting that as your dog ages, they will require more veterinary care and treatments, which is why it pays to take out a pet insurance policy for your dog as early as possible. If you try to sign your 13-year-old dog up for insurance for the first time, they might be declined due to their age; either way, they're more likely to have pre-existing conditions that won't be covered by insurance. But if you get your new puppy a Lemonade policy right away, you'll be able to continue renewing their policy as they age.
Apply now to get your free pet insurance quote.
Protect your pet from Oklahoma threats
Snakes
While the natural beauty of Oklahoma's rolling prairies and wooded Ouachita Mountains can be awe-inspiring, it conceals some deadly animals which can strike at both humans and pets alike.
Oklahoma is home to 46 native snake species, of which seven are poisonous: the copperhead, the cottonmouth and five rattlesnake species: the western diamondback, the timber, the prairie, the western massasauga and the western pigmy.
Not only are they poisonous, these species are territorial and will bite rather than flee when confronted. This habit has given the western diamondback a reputation for being one of the most prolific biters in the country and in some areas the cause of the majority of snakebite deaths. Meanwhile, one study found that the cottonmouth will choose confrontation with an intruder over flight in 78% of cases, but its natural habitat only extends to the southeast of the state. Of more concern in Oklahoma is the prairie rattlesnake as it's found throughout the Great Plains which cover much of the state.
Fatal snake bites are most common in dogs, because they tend to be curious and try to play with them. If your dog is bitten, it is likely to be on the face or neck as they try to catch the snake, and also because thick fur can shield the bite on other parts of the body.
It's a good idea to be aware of the symptoms of snake bite poisoning, as you may not be with your pet when it happens, especially if you live in a rural area and your dog is free to roam. You may not see the bite itself as there will be severe swelling which typically obscures it, but there may be bleeding.
Other symptoms include agitation, excessive panting and drooling, vomiting and diarrhea, weakness and dizziness, seizures, and collapsing. If the bite was from a pit viper such as a copperhead or prairie rattlesnake, the flesh around the bite will immediately become discolored as the venom kills it off.
In all cases seek emergency treatment from your vet straight away, as even if the bite isn't poisonous, it can cause permanent damage.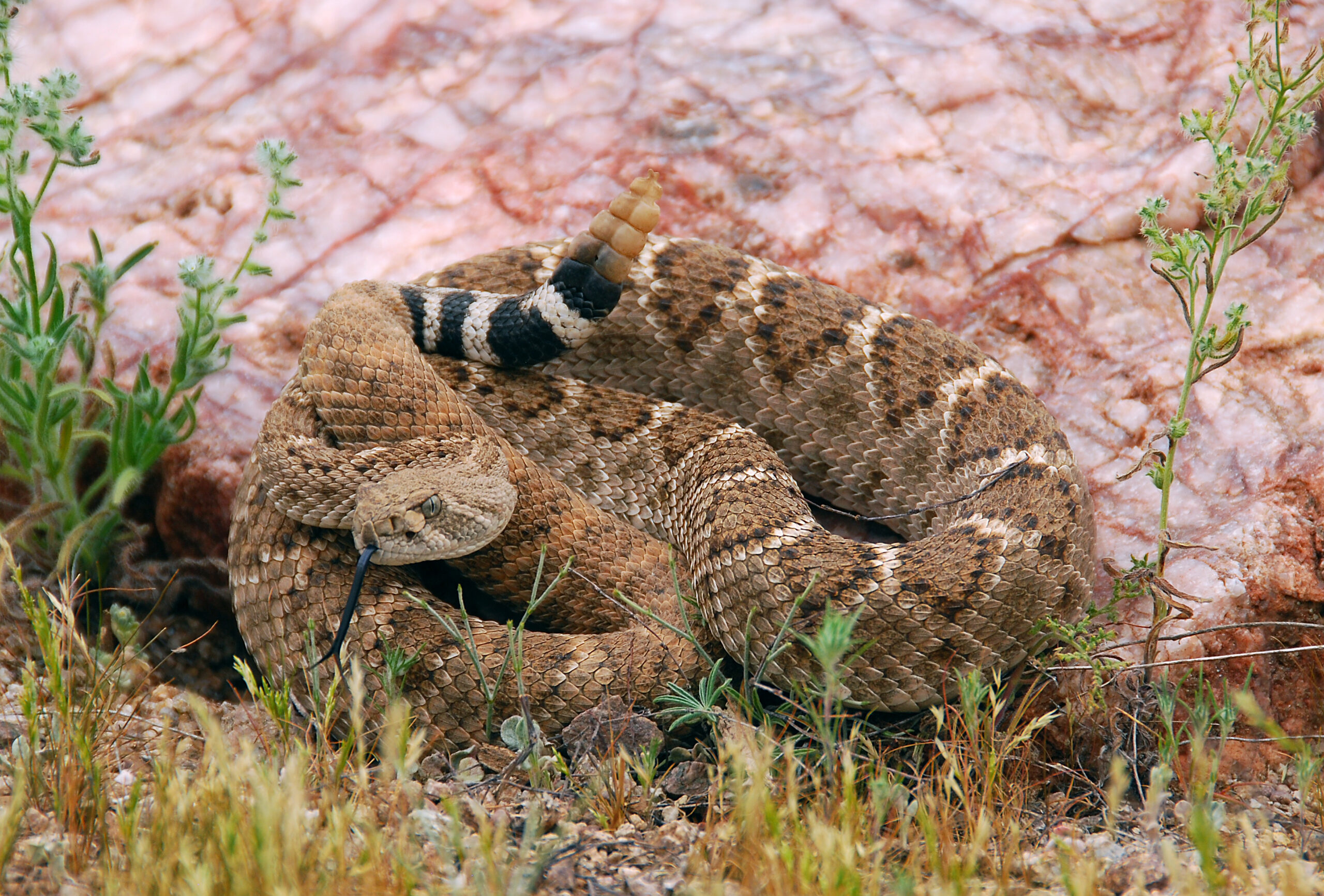 Tornados
Oklahoma sits firmly within 'Tornado Alley' – the area running through central USA from South Dakota in the north to Texas in the south in which tornadoes are most common. On average the state is hit by 52 tornados a year and the frequency has been increasing over the last 70 years.
Protecting your pets (and the rest of your family) during a tornado comes down to being prepared ahead of time. It is possible to buy purpose-built tornado shelters, but a section of your basement, or an internal room on the ground floor with no windows can also work well.
Keep the shelter stocked up with food and medical supplies at all times, and don't forget to include provisions for your pet. All pets will appreciate a familiar blanket, but you should also include any medications, their up-to-date records, and a spare leash for your dog. If you have cats, include a litter tray and litter.
As a storm approaches, bring your pets inside and keep them there, so that you're not looking for them if a tornado strikes. Animals tend to have a 'safe space' in which they hide if scared by storms; figure out where they're likely to be so that you don't waste time looking for them when you need to get to the shelter. Better still, train your dog to enter the shelter on command, and get your cat used to her carry box so that you don't have to wrestle with her to get her into it when the time comes to enter the shelter. In Oklahoma, tornadoes are most common in April and May. In early spring, carry out regular drills with the family on getting to the shelter.
After a tornado has passed, animals may be scared and disoriented (just like people). While it's a good idea to have your contact information on a collar in case you do get separated from your pets, collars can come loose. For that reason, you might want to consider getting them microchipped, so that you can be reunited if they do stray. There will also likely be a lot of debris, glass and other dangerous materials on the ground, so protect paws – and be aware that water on the ground could be contaminated.
Top Oklahoma dog parks
Energetic pup? Let them run wild in one of Oklahoma's many off-leash dog parks. Just make sure your pup is up-to-date on their vaccinations and spayed or neutered before you let them cut loose.
Paws Valley Dog Park, Pauls Valley. Set up by a local group of dog lovers, Paws Valley offers 1.5 acres of off-leash fun. Agility equipment and other obstacles are dotted throughout the area for your canine friend to explore, while shady areas and doggy (and human) drinking fountains are on hand for warmer days.
Edmond Dog Park at Bickham-Rudkin Park, Edmond. With four acres of space to run, your dog won't be bored at Edmond dog park. A large grassy area is complemented by trails for exploring, and lake access for safe swimming.
Norman Community Dog Park, Norman. Offering two acres of grass for dogs to run in, the park is split to accommodate large and small dogs in separate areas. Shrubs and trees give the park a natural feel, and there are water fountains on hand for warm weather. The park is located just over the road from a pond, which is a popular stop-off point for Fido – but keep him on the leash.
Bark West Dog Park, Jenks. This park is a must for those hot summer days thanks to the numerous trees offering plenty of shade for your dogs as they romp about on the well-maintained grass. There's also a gazebo for humans to catch some shade, and a water point with a fresh-water drinking fountain and paddling pools to splash in.
Myriad Dog Park, Oklahoma City. Urban pups need to stretch their legs too, and this park located in the downtown area by the botanical gardens lets them do just that. The ground is AstroTurf to ensure dry conditions underfoot all year round, and the area has been landscaped to give the dogs plenty of interest when exploring.
Support Oklahoma-based pet businesses
Support small Oklahoma businesses while keeping your best friend totally pampered!
A1 Pet Emporium, Oklahoma City. Good health begins with good nutrition, which is why A1 Pet Emporium specializes in natural, high quality pet food, free of additives, preservatives, wheat, soy, corn and other cheap fillers. The friendly knowledgeable staff at their four stores in Oklahoma City, Norman and Edmond can help you find the right food for your pet, and they stock accessories too.
Barking Dog Bakery & Boutique, Oklahoma City. A healthy diet isn't just about healthy meals, to ensure your pet stays in tip top condition, treats and snacks should be healthy too. The healthy dog bakery has developed a range of tasty treats, freshly baked in house, so treats no longer have to be a guilty pleasure.
Snoots Pet Photography. Broken Arrow Our pets are a part of our families, making the time we have with them precious. What better way to honor them than with a professional photography session in an outdoor setting that lets your four legged friend's personality shine through? Snoots takes fun, lively, colorful pictures of your pets that you'll treasure for years to come.
Reigning Cats and Dogs, Marietta. At this boarding kennel in Marietta, the cats and dogs reign supreme, which is why the staff treat them like royalty. Offering luxury accommodation with oodles of natural light, regular play throughout the day, grooming services, and plenty of treats, your pets won't want to leave.
Animal Acupuncture, Tulsa. We all hope our pets will never fall sick, but if they do, they deserve the best care on offer. The vets at Animal Acupuncture offer a range of therapies including acupuncture, water therapy, physical therapy, chiropractic care and massage, all designed to compliment the routine care offered by your own vet.
Before we go…
Isn't being a pet parent just the best? The companionship, the kisses, the laughter! Pets really add so much to our lives. The love that Oklahoma pet parents have for their furry companions is real. Woof. We love our pets, but sometimes those vet bills can take a real bite out of our wallets, which is why more and more pet parents are choosing to get covered with dog insurance or cat insurance. Learn more about how much pet insurance costs, and whether or not pet insurance is worth it for you.