Oklahoma Homeowners Insurance Guide
Cover your home in the Sooner State.
Whether you prefer the lush, green rolling hills of Tulsa or the livelier city living in Oklahoma City, Oklahoma is a state that has it all. Right in the center of the United States, Oklahoma combines Western history, Southern charm, and Native American traditions. Add in gorgeous, rugged nature, dozens of state parks, and an authentic Americana vibe, and you've got the Sooner State!
Homeowners insurance is a must to protect you financially if something happens to you, your belongings, or your property. If you're enjoying a visit to Broken Bow Lake, not far from the Texas and Arkansas border, and someone breaks into your home, you'll want homeowners coverage. Maybe you've visited the National Weather Center in Norman and know all about the damage hailstorms and other weather woes can cause. Oklahoma residents know they live in the heart of Tornado Alley, making homeowners insurance an absolute must.
What does Oklahoma home insurance cover?
Oklahoma has a lot to offer. Quality education, a low cost of living, friendly people, college football, and some of the best barbecue in the country are just some reasons the Sooner State is a great place to live. The state is full of jaw-dropping natural wonders such as wildlife and nature preserves, towering waterfalls, the Great Salt Plains, scenic routes, the unique Gloss Mountains, and over 200 man-made lakes.
However, there are also some natural disasters and weather risks that accompany the state's natural beauty. In Oklahoma, floods, tornadoes, hailstorms, thunderstorms, ice storms, wildfires, and snowstorms are all possible, each bringing damage in its wake.
While it may be true that no insurance policy can cover homeowners from every single potential mishap, the right homeowners policy can help you manage financially in the event of many possible situations.
You likely already know that a home insurance policy is really important to have, but you may be unsure about all of the specific details. We've got a very extensive, plain English guide here, so you'll be able to delve into the specifics of Oklahoma homeowners insurance. For now, we'll outline the basics so you can get a good sense of what down the basics for you here, so you can get a handle on what a homeowners insurance policy covers.
Dwelling
'Dwelling coverage' is one of the primary coverage options you'll want. It helps pay for damages to the structure of your home. So if your pipes burst when the cold weather hits, damaging your walls, or a windstorm knocks down trees, damaging your home, you'll have the peace of mind of knowing you're covered.
Other Structures
Policyholders, take note: If one of the dangers described above causes damage to your driveway, fence, shed, or other structures on your property, your homeowners insurance has you covered.
Loss of Use
Should you be unable to live in your home due to covered damages, loss of use coverage can help pay for a temporary place to stay and basic living expenses such as food, laundry, parking, etc. Your insurance carrier will have a list of covered loss types for you to check out.
Personal Property
Personal property coverage protects your stuff both inside and outside your home. So, if your couch is ruined due to a burst pipe or your laptop is swiped at a coffee shop, homeowners insurance has your back. With Lemonade, if your insurance claim is approved, you'll receive the replacement cost of your personal belongings back in your pocket.
Liability coverage
If your neighbor slips and falls on an ice sheet on your driveway, you could be held liable. Personal liability coverage is an essential component of home insurance coverage. If someone is injured on your property or anyone on your policy causes damage to someone else's property or stuff, your insurance company should have you covered.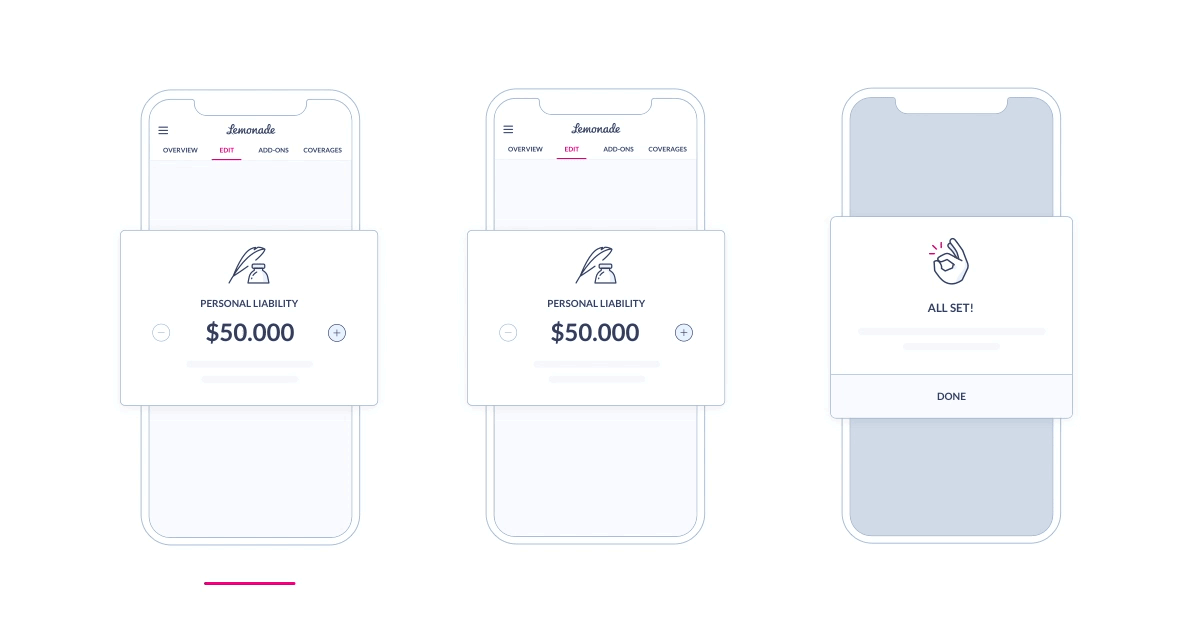 Medical Protection
Wondering about additional coverage that's worth considering as part of your insurance options? If your neighbor needs to go to the hospital because of that slip and fall, your coverage will kick in to cover the medical payments. Home insurance covers you if a guest gets injured at your place or if you accidentally cause injury to someone outside your home.
How much is home insurance in Oklahoma?
There isn't a standard policy price for homeowner's insurance for residents of Oklahoma so it's hard to say what the best home insurance is. Of course, the owner of a Nichols Hills mansion will pay a different monthly premium than a college student who owns a two-bedroom home in Norman. Your credit score will also factor into the home insurance rates you're offered, and rates vary among home insurance companies.
According to Bankrate, Oklahoma residents pay more than the average American when it comes to homeowners insurance rates. In Oklahoma, the average cost of homeowners insurance is around $3,519 per year. In comparison, the national average for homeowners insurance is $1,477. How much your homeowners insurance costs depends on your coverage limits, your insurer, your property, and your deductible. You can get a home insurance quote from many providers.
What are the different types of homeowners insurance?
Lemonade offers two types of homeowners insurance policies: one for single-family homes (called HO3 in insurance-speak) and one for condo insurance (HO6). There are minor differences between the two, and you'll choose the right policy depending on the type of home you're looking to insure. A key difference is that homeowners own and are responsible for everything on their property (home, garage, fence, etc.). Condo owners with HO6 policies are only responsible for the outermost walls of their unit, inward.
The best neighborhoods to be a homeowner in Oklahoma City
Crown Heights/Edgemere Heights
Crown Heights/Edgemere Heights is conveniently located just a few minutes north of downtown Oklahoma City. It offers quiet, tree-lined streets with beautiful homes, including classic Tudors, Mediterranean-style houses, and sprawling bungalows. Crown Heights/Edgemere Heights has some of the best public and private schools in the state, making it a popular choice for families who want a quiet neighborhood with urban amenities nearby. Median home prices in Crown Heights/Edgemere Heights are $355,000, according to Redfin.
If you love delicious Oklahoma food, head to Iron State Urban Barbecue or VZD's Restaurant & Bar for some delicious eats and a wide range of beers on tap. Head to the Jewel Box Theatre, the longest-running community theater in Oklahoma City. Summertime brings the Paseo Arts Festival to Crown Heights/Edgemere Heights so you can get your culture on.
Mustang
Mustang, a suburb in Southwest Oklahoma City, is ranked one of the best places in Oklahoma for families. It's a safe, wholesome town, with average home prices on Zillow listed at $231,414. Mustang offers farmhouse-style single-family homes with large backyards and spacious ranch houses. If you commute to Downtown Oklahoma City for work, your ride will take just 30 minutes from Mustang.
You can enjoy outdoor activities in Mustang's Wild Horse Park, a 158-acre haven of green filled with sports fields, hiking trails, and playgrounds. Mustang's Town Center has a rec center, exercise classes, and a great library. Go berry picking at Agape House Berry farm, or try your hand at grape picking at Sand Stone Spring Vineyard. Feeling hungry? Delicious cuisine is easy to find in Mustang. Head to Luigianos and be sure to try the shrimp scampi, or tuck into tasty tacos and fajitas at Toledo's Mexican Restaurant.
Edmond
Just north of Oklahoma City, Edmond consistently shows up on lists of ideal places to live in Oklahoma. It's a safe, affordable suburb of the city that offers ranch-style homes and cottages along with larger Tudor and Craftsman homes with larger property sizes and big yards. According to Zillow, the average home price in Edmond is $300,472. Edmond offers top-notch public and private schools and is home to Oklahoma Christian University and the University of Central Oklahoma.
Arcadia Lake in Edmond offers boating, fishing, and camping, or you can join Oak Tree National and get your golf game going! You can take in a musical or dance performance over at the Armstrong Auditorium or shop 'til you drop at Spring Creek Plaza. If you're hungry in Edmond, try some Thai food at Panang or order up some classic diner comfort food at the Around the Corner Restaurant. It's easy to see why Edmond residents love calling this neighborhood home.
Nichols Hills
Nichols Hills offers upscale living with a warm, friendly vibe. Just 15 minutes north of Downtown Oklahoma City, Nichols Hills is an affluent suburb considered one of the safest places to live in Oklahoma City. The average price of a home in Nichols Hills was $825,417 according to Zillow. Different styles of homes in Nichols Hills include ranches, Tudors, Colonials, and even condos.
You can join the Oklahoma City Golf & Country Club in Nichols Hills, which offers sports and recreation for the whole family or go for a run on the trails of Grand Boulevard Park. Delicious eateries in this upscale neighborhood include Chae Cafe, West, or Tokyo Japanese Restaurant. While not a cheap place to live, Nichols Hills offers homeowners an outstanding quality of life.
Oklahoma businesses that will help you make your house a home
Graeber Design Custom Furniture is based in Edmond, Oklahoma. Since 1996, William Graeber has designed and built original, high-quality custom furniture. Graeber Design has been featured in HGTV and House Beautiful. Offering true craftsmanship, the sleek pieces of furniture at Graeber Design are functional works of art.
If you're looking for premium high-end fabrics for upholstery and drapery, you'll want to check out Fabric Factory OKC. They've got one of the largest collections of fabric you can find anywhere and an in-house workroom where they can create custom bedding, pillows, and drapery. Fabric Factory sources over 5,000 fabrics and patterns from around the world and has a 10,000 square foot showroom.
Oklahoma owned and operated Plenty Mercantile offers sustainable, cost-effective lifestyle goods that homeowners can feel good about purchasing. They source a cool, quirky collection of unique products and gifts that you can't get anywhere else. Whether you want something to liven up your home or are looking for something special for a friend, Plenty Mercantile truly has plenty to offer.
Looking for rustic handcrafted furniture for your home? Grain and Grange is based in Oklahoma City and creates unique, custom furniture and accessories. Be sure to check out their resin furniture, custom light fixtures, and metal-base tables that will be heritage pieces you'll treasure.
Fun facts that make Oklahoma great
The state capitol building in Oklahoma City is the only one in the world with an oil well situated directly under it.
Cimarron County in Oklahoma is bordered by more states than any other county in the United States: Oklahoma, Texas, New Mexico, Colorado, and Kansas.
The parking meter was invented in Oklahoma City.
The first Sonic fast-food restaurant opened in Shawnee, Oklahoma in 1953.
Oklahoma is home to four mountain ranges: Wichita Mountain in the south with its large wildlife refuge, the Ozark Mountains in the northeast with steep valleys and caves, The Ouachita Mountains that include a national forest, and south-central Oklahoma's Arbuckle Mountain, home to low, rocky hills.