Oklahoma Renters Insurance Guide
The sooner you cover your stuff in Sooner State, the better
Planning on moving to Oklahoma? You'll want to make sure you cover your stuff with renters insurance.
Oklahoma has something for everyone, from affordable housing to family-friendly activities and excellent business opportunities for entrepreneurs and large corporations alike.Although Oklahoma may seem very remote, this "Big Friendly" state is growing rapidly and has a vibrant history.
Moving to a new location can be difficult, even if you are mentally prepared and know what to anticipate, especially if you don't have insurance for your belongings.That is why we put together this guide for you with everything you need to know about renters insurance in Oklahoma.
Here's what we'll cover:
What does renters insurance cover in Oklahoma?
Renters insurance is designed to prepare you for the worst-case scenarios. As tranquil as Oklahoma is for the most part, personal items can still become destroyed or stolen. That's not a great way to begin a new chapter, especially as a renter. Being insured means your personal property is protected from damages or loss. It also means you are protected if someone is injured at your rental, which we will discuss shortly.
It's always a good idea to take precautions and insure your possessions. Suppose you live in a rented house or apartment. In that case, your landlord's insurance won't cover your personal property if it gets ruined or goes missing due to a fire, theft, or unexpected circumstances. Additionally, some policies cover certain expenses like temporary housing if your rental is uninhabitable due to damages caused by a covered loss.
Personal Property
'Personal property' coverage ensures that your personal belongings are always protected, whether you're relaxing at your apartment or off traveling across Europe. So if your living room furniture is ruined due to water damage from that burst pipe, or your phone is stolen while you're taking a trip to Europe, your renters insurance policy has your back to assist you with the replacement cost.
Loss of Use
No place is immune from disasters. They happen everywhere, every time, to everyone. Coverage is exceptionally critical, especially if you cannot live in your rental due to a cover loss (such as a fire or windstorm). Your 'loss-of-use coverage reimburses you for temporary housing and additional living expenses such as food, laundry, hotel parking, and more.
Liability Coverage
No one wants anyone being injured or anything being destroyed on their watch. It can cost you a lot. Fortunately, liability coverage pays for financial damages done to others you are responsible for (i.e., if your dog injures a guest). Under such circumstances, your insurance company should cover legal fees, property damage, and water damage.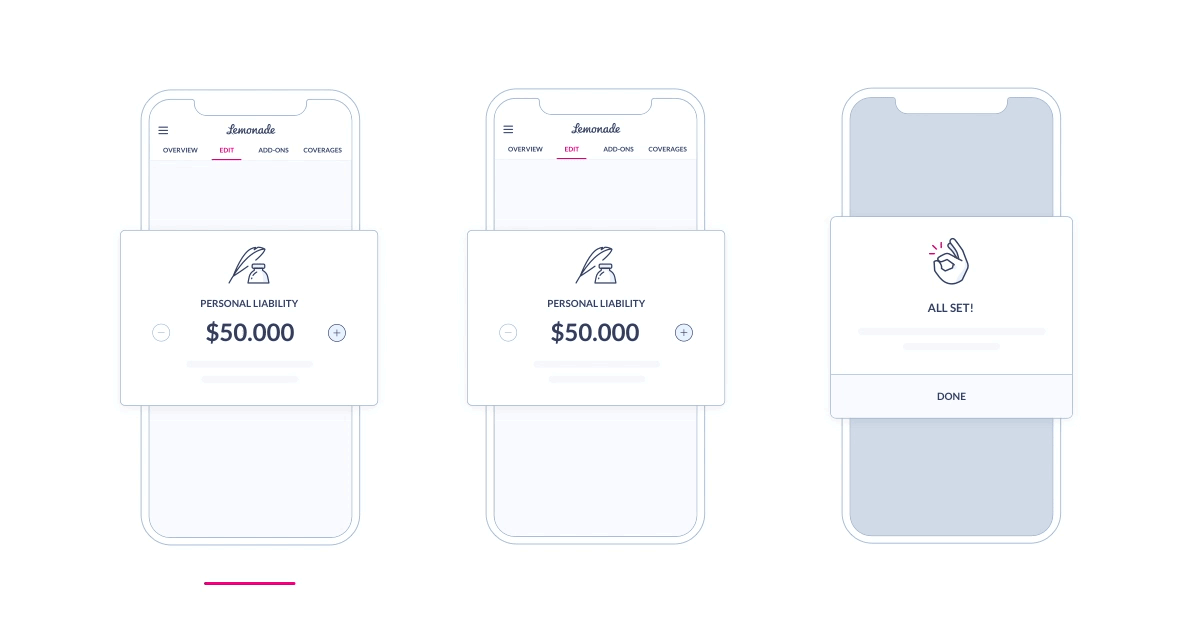 Medical Protection
Your medical insurance provider covers medical expenses if your guests get injured at your place or if you accidentally hurt people outside of your home. Note that your renter's insurance policy does not cover medical payments if you or someone with you is injured—your renter's policy only covers non-residents and guests.
Is renters insurance required in Oklahoma?
While no federal law requires tenants to be insured, some landlords may require proof of renters insurance as part of the contract. It's worth looking into, especially if you are not prepared to pay a hefty sum out of your pocket for damages you didn't cause or face a lawsuit. Renters insurance doesn't only give you financial coverage; it also gives you peace of mind. People spend sleepless nights worrying about their items. Having renters insurance will allow you to sleep a little better. Trust us.
Signing up for a renters insurance policy with Lemonade is easy.
Being insured gives you more breathing space and takes a lot off your shoulders. Stolen or damaged property is never good news for anyone. Not having any coverage makes matters even worse. You owe it to yourself so take full advantage of it.
When signing up, your landlord may ask to be added as an interested party on your policy.
They will be notified when you make any changes or cancellations with your policy. The Lemonade app makes it super easy for you to add them.
How much does renters insurance cost in Oklahoma?
Cost is something to factor in when exploring renters insurance policy options. Renters insurance in Oklahoma averages at around $30/month across the state.
The exact cost of your renter's insurance will depend on your property coverage amount, your liability and medical bills coverage, your deductible, and any Extra Coverage you might want to sign up for (more on that below).
What is the right amount of renters insurance coverage to get?
The amount of coverage you get is determined by how many things you have and their value. As mentioned before, renters insurance covers temporary housing when your rental is no longer liveable due to cover loss, liability, and medical expenses.
With a Lemonade policy, you can set coverage limits for these categories. Even though lower coverage limits might save you a few dollars on your monthly insurance premium, they may also leave you with insufficient coverage should you ever need to file a claim. As part of the process, you will also have to determine your deductible.
It is a balancing act between your lifestyle and your property. You can apply to see your renter's insurance quote in minutes. This will also give you a sense of what type of insurance is available.
If you have valuables that are expensive or very important to you – engagement rings, an heirloom, musical instruments, fancy artwork, or high-end digital cameras – you can add 'scheduled personal property coverage' for those items. At Lemonade, we call it 'Extra Coverage'—here's a lot more info about that.
Best places for renters to live in Oklahoma
Oklahoma City
"Horse Show Capital of the World," Oklahoma City offers a variety of family activities, cuisine, and culture.
There's something for everyone in OKC, whether watching an OKC Thunder game, visiting the Paseo Arts District, or visiting the National Cowboy and Western Heritage Museum. Housing is affordable here, with rent average at $813 for a two-bedroom place. For renters, this allows them to live the city life without breaking the bank.
Tulsa
Don't be fooled. Tulsa is anything but some sleepy Midwest oil town. Centrally located, the city is one of the 50 largest in the nation, with more than a million residents. This city is modern, clean, and even more metropolitan than its larger neighbor and state capital to the west. The city has skyscrapers with dramatic Great Plains views and a gleaming BOK Center in the downtown area.
Besides being an excellent place for beef lovers, Tulsa is a growing tech, healthcare, and finance hub. The city has a diverse population, over 40% of whom are non-white, and rich history. Its cosmopolitanism has made it a top destination for arts, culture, and nightlife in Oklahoma.
Tulsa has plenty to offer renters in the up-and-coming Ozark Plateau region. Rent for a one-bedroom apartment in the cheapest large city in Oklahoma goes for under $700 on average.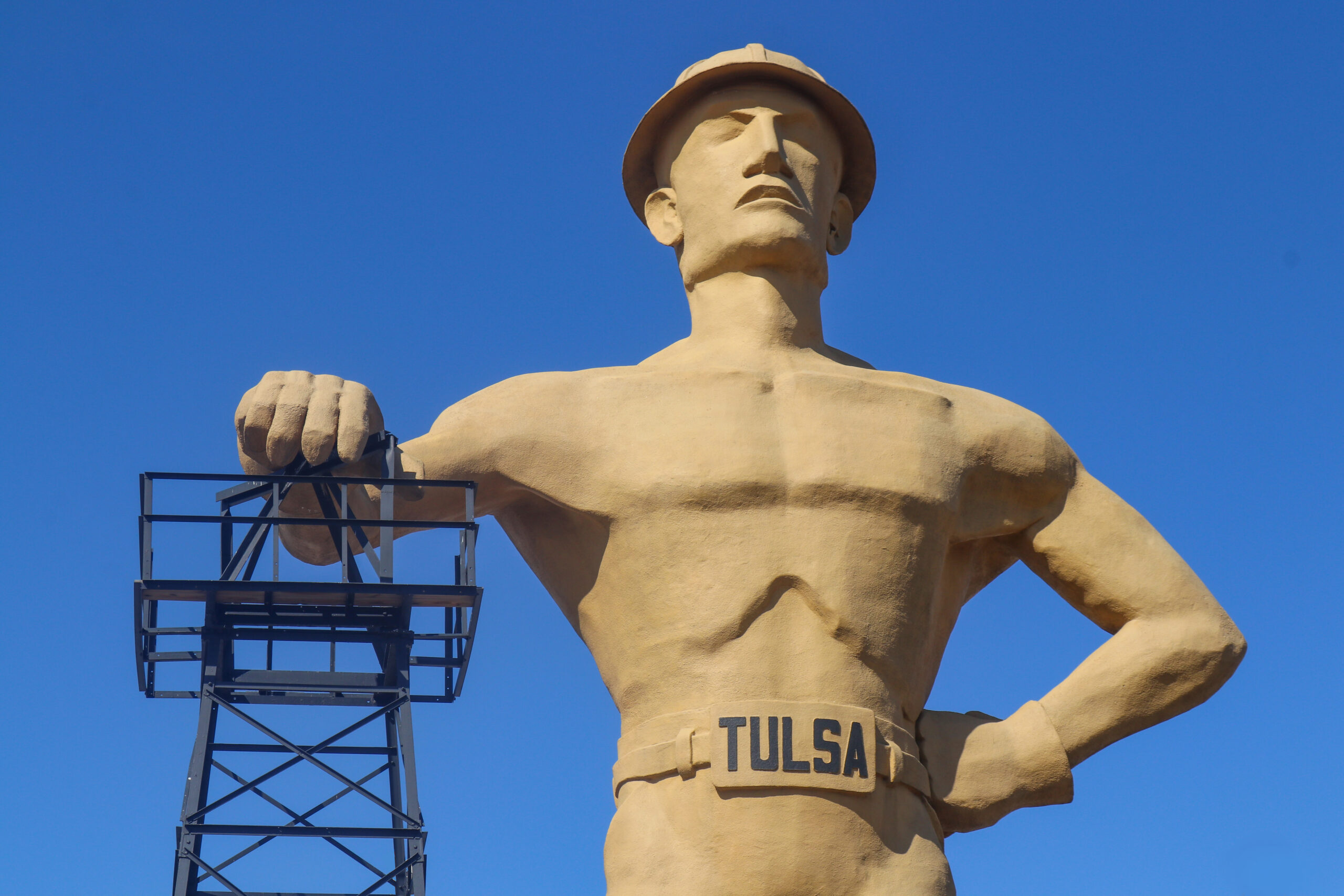 Stillwater
Oklahoma State fans will be pleased to learn that their beloved Cowboy town is one of the cheapest locations to live in Oklahoma. One-bedroom apartments in Stillwater, a Frontier Region college town, cost an average of $668 per month.
Stillwater is a full-fledged Southern Plains small city college town that is situated roughly halfway between Oklahoma City, Tulsa, and the Kansas border.
It was a "beautiful prairie spreading out beneath the golden rays of an autumnal sun," according to Washington Irving. The university is the hub of activity, but Stillwater has lots to offer urban dwellers. The 45,000-person city has a famous music scene, numerous museums, and cultural institutions. The National Wrestling Hall of Fame is even located in Stillwater.
Oklahoma businesses that will make your rental a home
The Mathis Brothers can help you turn your brand-new rental into something special. Established in 1960, The Mathis brothers revolutionized the furniture industry by offering everyday low prices on their items. Today, the company is one of the largest independent furniture retailers in the United States. You're sure to find what you need to furnish any room in your home with locations in Tulsa and Oklahoma City.
Unless you plan on eating out all the time or using a laundromat, having your appliances is a necessity. Agnew Appliances & Furniture is sure to have everything you need. This family-owned and operated business has been proudly serving locals with quality furniture and appliances for over 30 years. They sell high-quality used appliances such as freezers, refrigerators, and stoves. Furthermore, extensive appliance warranties are included with every purchase. They also provide high-quality washers, dryers, and ovens.
MOTIF Fine Home Hardware. Explore the world of handcrafted home hardware such as: pulls, knobs, door hardware, and locksets. MOTIF offers high-quality kitchen lighting, hardware, sinks, faucets, pot fillers, and accessories. They are Oklahoma's go-to source for high-quality decorative bathroom and kitchen hardware. They collaborate with designers, homeowners, builders, and architects to provide exceptional service and create timeless living spaces.
Interesting facts that make Oklahoma awesome
The Oklahoma Land Rush might have sparked Oklahoma's early beginnings. The state was built on Black Gold. All of it began in Tulsa. In the early 1900s, oil was discovered near "Red Fork," a neighborhood that still exists today on the southwest side of town.
Oklahoma's State Meal consists of chicken fried steak, fried okra, squash, cornbread, barbecue pork, biscuits, sausage and gravy, grits, corn, strawberries, black-eyed peas, and pecan pie. Yum!
Humpty Dumpty Stores and Standard Food Markets' Sylvan N. Goldman invented the first shopping cart to allow people to buy more at the grocery store. On June 4, 1937, he unveiled his creation in Oklahoma City.
Forests cover 24% of Oklahoma.
Oklahoma sits on Tornado Alley, with the state racking up the highest number of tornadoes – approximately 62 tornados a year.