16 Apartment Hunting Tips to Find Your Dream Rental
Moving is a drag. Let's make it a little easier.
As if moving weren't tough enough already, you also have to find a place to move to. But with a little bit of planning, your search need not be so daunting.
Follow these 16 easy steps, and you'll land a sweet new crib in no time.
1. Set a budget
Your head might be filled with visions of exposed brick walls and stunning rooftop vistas, but make sure to have realistic goals.
In setting your budget, factor in the costs of rent, utilities, broker fees (which can often be as high as a full month's rent), the security deposit, and any possible extra fees. Determining how much rent you can afford will make your hunt more efficient.
2. Scout locations
Target neighborhoods that suit your current lifestyle. When researching an area, you should consider its proximity to work, its public transit options, and, of course, its overall vibe: quiet and family-centric, or boozy and bohemian?
Whatever your idea of the "perfect" neighborhood may be, try to keep your options open by checking out at least a couple of different areas. And we've got some advice if you still haven't even figured out what city you want to move to.
3. Write out your rental 'wish list'
Whether you want a central location, in-unit laundry, or a gym, deciding what's essential to you will help determine what to look for in an apartment.
Order by priorities and what things are "must-haves" VS "nice-to-haves." And be practical: Sure, it'd be nice to have a stainless steel Sub-Zero fridge or a fancy Japanese toilet, but is it worth sacrificing the closet space?
4. Start your search online, but back it up with word-of-mouth recs
Use reliable websites—Zillow, Realtor.com, Apartments.com—to browse listings, compare prices, and gather information on different neighborhoods and buildings.
Leave your contact info or request more info if a listing really speaks to you (but keep in mind that doing this to excess might leave you inundated with broker messages).
Don't rely exclusively on the internet to do your research: Advertise your move far and wide, mining your entire network for leads. Word-of-mouth is often the best way to find the hidden gems.
5. Schedule viewings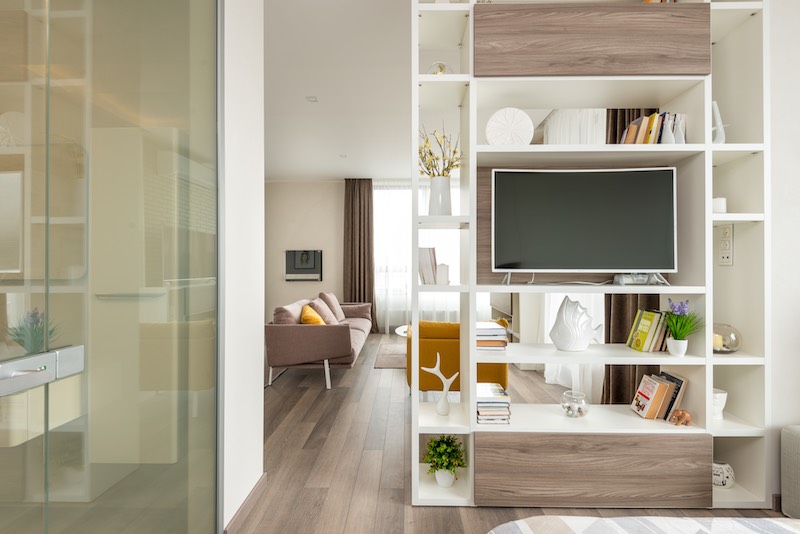 Block out at least a weekend to look at places. Online photos and Google Street View never tell the full story; you'll definitely want to see your future apartment and neighborhood IRL. Plan to start early in the morning to give yourself ample time to hit up multiple properties and avoid rushed decisions.
6. Don't be shy: Ask all the questions
Inquire about the lease terms, utilities, building maintenance, and whatever else comes to mind. Unsure what to ask? Here's every question you might want to bring up before committing.
7. Look with an eagle eye
Check for signs of pests, mold, leaks, broken fixtures, and overall cleanliness during your walk-through. Follow our handy apartment walkthrough checklist to make sure you don't miss anything.
8. Take pictures
Snap photos or videos during your visits for reference later. You might want to start each set of pictures off by photographing the exterior of the building, with its address number visible, so you can keep the properties you visited straight in your mind.
9. Gather your documents
The market moves fast, so make sure to have all the necessary documents in line once you're ready to pounce on a place. This typically includes your ID, proof of income, and rental history. Your prospective landlord will likely require a credit check. Being prepared can expedite the process.
10. Prepare your proof of income.
Make sure that you're able to meet your landlord's income requirements. In some cities like New York, you'll need to furnish proof that your annual salary (or you and your roommates'/partner's combined salary) is 40x one month's rent.
If you don't reach that bar, you may need to secure a guarantor whose annual income is 80x monthly rent. But if you aren't able to meet these steep and often prohibitive requirements, there are still ways to get around them.
11. Submit your application
Once you find a place you like, submit your application ASAP. If you'd like to boost your chances of acceptance in a competitive rental market, check out our advice on ingratiating yourself with the landlord.
12. Read the lease!
Yes, we know it's boring—but thoroughly read through the lease agreement. Ensure that you understand the terms, restrictions, and what is expected from you as a tenant.
It might feel like a waste of precious time to read every word, but don't skip the fine print. You'll need to know all of your rights as a tenant should any problems arise later.
13. Search for reviews of your landlord
Before signing, you should also look for reviews of the landlord or apartment complex for any signs of malpractice or general shadiness. Popular review sites include Open Igloo, Rate The Landlord, Rate My Landlord, WYL, and ApartmentRatings.
14. Negotiate, within reason
If possible, negotiate the terms of your rent. Whether it's the rent amount or lease duration, a little negotiation could save you a lot of money.
And don't rely on verbal agreements—get everything in writing. If, for example, your landlord tells you that a cat is OK, but the lease specifies "no pets," make sure that the lease itself is amended to allow cats.
15. Plan a move-in inspection
Before moving in, do a final walkthrough. Document any existing damage—scuffs on the wall, cabinets missing handles, a wonky oven—to ensure that you're not held responsible down the line.
This will come in handy when you need the landlord to do some repairs, or when you've moved out and are waiting to get your security deposit back.
16. Get renters insurance
Haven't you heard? The right renters insurance can help protect your valuables against damage from fire, burst pipes, theft, and so much more. It will also give you personal liability coverage that will protect you should a friend injure themselves at your banger of a housewarming party.