The 12 Best Cities for Young Professionals
Hungry for a change? Consider making a move.
If you're reading this, you're probably looking for a change. Maybe you're not in love with where you live. Maybe you think fresh scenery—a new zip code, a new state!—might make all the difference. But the question remains: What's the best city for a young professional?
First of all, we understand that the term "young professional" is a bit cringe-y. After all, the longer phrase—young urban professional—is the genesis of "yuppy," and few people proudly self-identify as yuppies.
That said, let's take a look at the 12 best places that we personally think young professionals might thrive in, based on a combination of existing data points and good ol' subjective opinion.
The explosion of remote work means that you don't necessarily have to live where you work—and you can prioritize your move based on personal taste, rather than "where the office is."
We've left out some obvious suspects—like New York and Los Angeles—in favor of some less-expected options.
And the nominees are:
Austin, TX
For the startup entrepreneur who likes a bit of grit
Don't let the city's slogan—"Keep Austin Weird"—lead you to think you need multiple piercings and a guitar to fit in here. Indeed, Austin has been rapidly changing for a while now.
That's in part to the influx of new residents, which have made Austin the second-fastest growing city in the U.S. by some measures. Companies like Whole Foods are headquartered in Austin, and tech biggies like Dropbox and Apple and Tesla have a strong footprint here, earning the area the nickname of "Silicon Hills." Tech Crunch went so far as to dub Austin "a city of unicorns and tech giants."
"Some of the best things in Austin are still cheap: the free side of Barton Springs, hiking the Greenbelt, Zilker Park, visiting the Capitol, bat-watching under the Congress Avenue Bridge. And take advantage of the surrounding areas! It can be eye-opening to take a wine tour in Fredericksburg, camp in Bastrop, or hike Hamilton Pool Preserve."


Pri Maheshwari, Lemonade's Social Strategy lead

Add to that the cultural draw (from South by Southwest to Austin City Limits and art institutions like The Contemporary) and the thriving LGBTQ+ scene and you've got an oasis of entrepreneurship and creativity that bucks stereotypes of Texas.
Atlanta, GA
For the striver with cinematic ambitions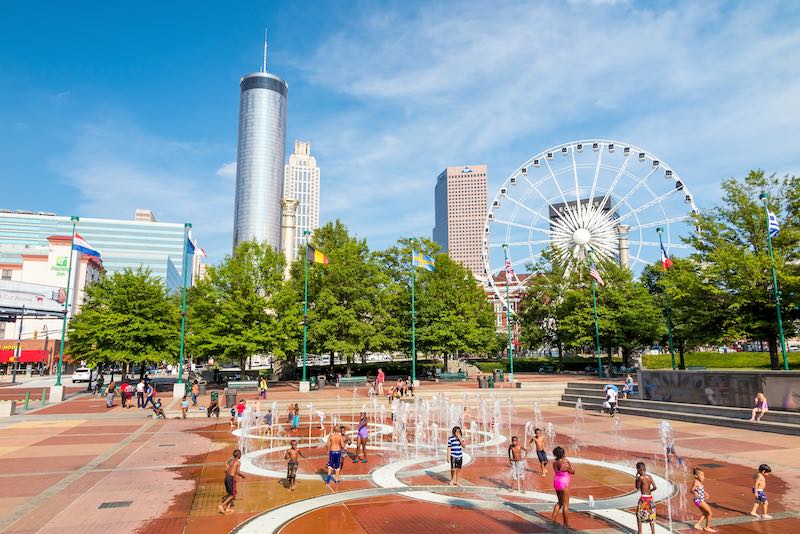 Atlanta has a long history as a center for transportation and commerce, plus the entertainment industries—specifically film and music. Today it's one of the most diverse economic hubs in the United States, dubbed "Silicon Valley of the South" by some. It's also home to academic powerhouses like Georgia Tech.
75% of Fortune 1000 companies host operations in the city, including Coca-Cola, Home Depot, UPS, Delta Airlines, and Mercedes Benz USA. Smaller brands like Mailchimp are also based in the city.
In addition, Atlanta is home to a surprising number of film and television studios, such as Turner Studios, Tyler Perry Studios, Williams Street Productions, and more (tax incentives have made Georgia a favorite of Hollywood projects).
Atlanta's rich history has made it one of the top cities for young people to live in. From the thriving music and dance scenes, to exhibitions at the High Museum of Art, there is always something to do in Atlanta. In addition, the city hosts a blooming and growing LGBTQ+ community—the third largest among major U.S. cities.
Columbus, OH
For the college football fan looking for a friendly city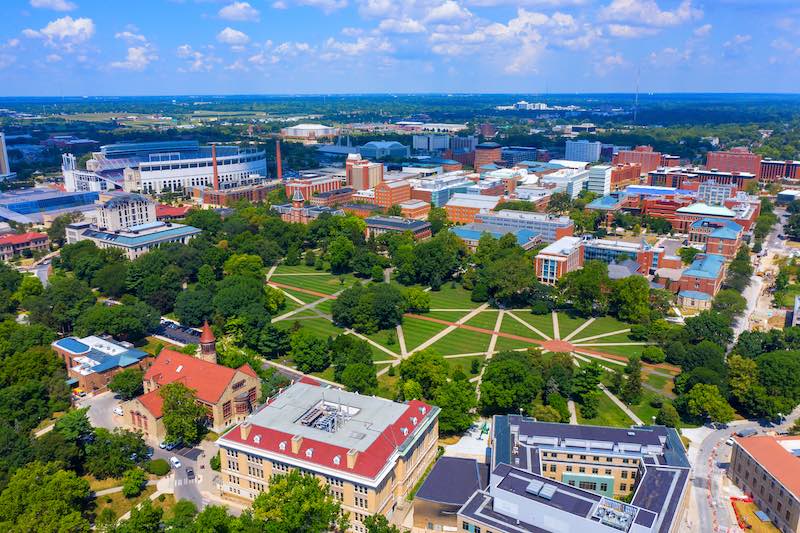 Ohio, you ask? Yes, Ohio! As one of the largest cities in the Midwest, Columbus has long been a financial and industrial hub.
Its economy has remained relatively strong even during nation-wide downturns, making it a great place for young professionals to start out, as it's one of the better urban spots in terms of affordability. It's home to a number of U.S. Fortune 500 corporations such as Alliance Data, Mutual Health Insurance Company, and others.
As a city, Columbus is friendly, lively, and cultured. It hosts art museums, theaters, and a world-renowned zoo. Oh, and yes, it is also home to the Ohio State University Buckeyes, one of the great college football dynasties of our time.
Denver, CO
For the entrepreneur who hikes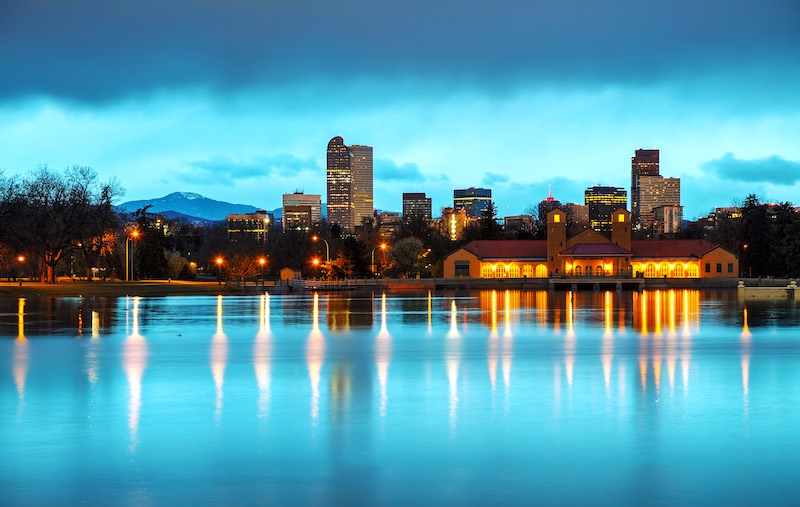 The "Mile High City" was founded during the gold rush, so it has a long and storied business history. In 2019, Denver was ranked the 4th best city in the United States for a business career by Forbes Magazine.
Startups like Sondermind, Pie Insurance, and Strive Health call Denver home. Bigger brands—from Coors to Crocs—are headquartered within the city or nearby.
With its beautiful scenery, sunny weather, great parks system, and ample job opportunities Denver is great if you thrive on outdoor activities. It's home to 6 professional sports teams, and locals brag that you're able to get out onto the golf course in Denver any day of the year, even in January.
If your tastes veer more toward "beer and buds," Denver is also a great place to hunt for a career in the beer or cannabis business. Marijuana has been legal since 2012 in Colorado, and cannabis-centric companies like Vangst, Green Genomix, Wurk, and Cova Software all are based in Denver.
Portland, OR
For the eco-conscious techie who bikes to work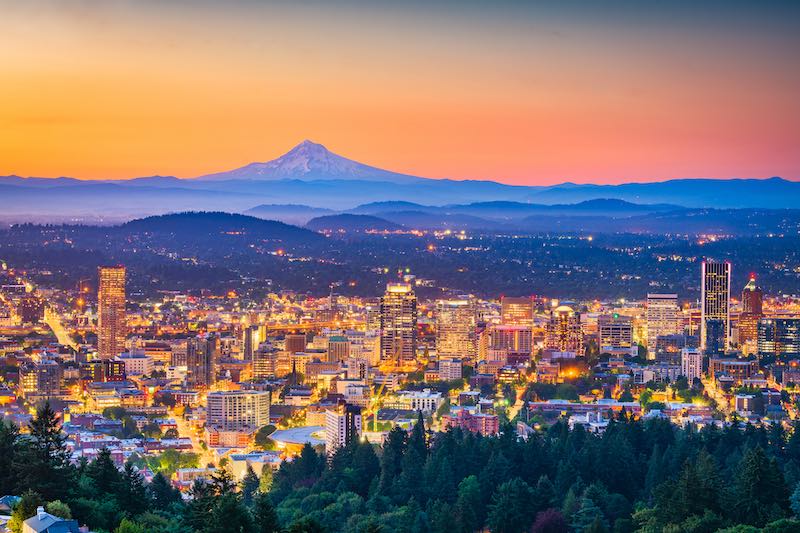 Portland is a city for tech. It hosts nearly 1,200 tech companies in the metro area, including the tech giant Intel and smaller brands (SeatGeek, Kinship, dotdotdash). Portland is also a hub for athletic companies such as Adidas, Nike, and others.
Until around the 1960s Portland had a reputation as a rough-and-tumble port town. However, since then it has made progressivism and eco-consciousness its calling card (as a certain TV show has satirized into the popular consciousness). It's a welcoming city overall, with a thriving LGBTQ+ scene.
It was one for the first cities in the United States to integrate alternative types of transportation into its public transportation system, and in October, 2009 it adopted a climate change plan that would see the city cutting their greenhouse gas emissions by 80% by 2050. Portlanders love the environment so much that they're fanatical about doing things outside, despite the hefty rainfall the city gets each year.
Kingston, NY
For the remote creative who's over big city life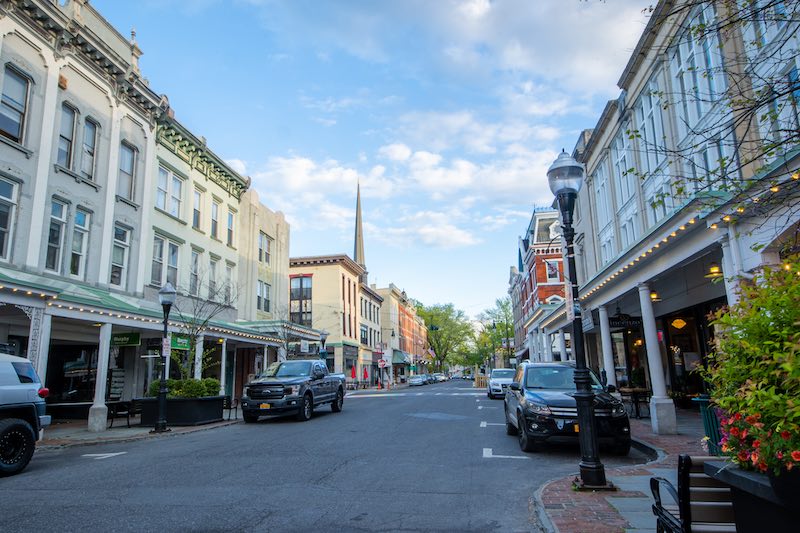 Kingston, New York is one of the oldest cities in the state. Located at the foot of the Catskill Mountains, this small city has a vibrant arts community, incredible architecture, and a bustling waterfront district.
How did it land on this list? Post-pandemic, it's home to a slew of new arrivals who migrated out of New York City in search of a different pace of life. This makes it a particularly tempting destination for members of the creative class who work remotely, and can do their job anywhere there's wifi.
"Living in Kingston from a professional standpoint has been invaluable for a number of reasons. I have a great work/life balance. There's time and space to think and engage creatively. It's easier to do the self-care thing: I have instantaneous access to nature and quality food, and I'm able to be more present in all areas of life. Since moving up, the quality of my work—and the relationship I have with it—changed instantaneously, for the better."


Anna Mackenzie, freelance creative director
"I feel fortunate to know some really talented people here," says Anna Mackenzie, who relocated to Kingston after leaving NYC. "Everyone I know is in varying creative fields which makes for an inspiring mix: one is a vintage dealer, a podcast producer, a costume designer, and a lifestyle photographer. It's so nice to connect and share not only professionally, but on a personal level, too."
Pittsburgh, PA
For anyone who loves bridges and beer
Once the home of America's steel industry, garnering it the nickname of the "Steel City," Pittsburgh has remained steady—even as its main source of industry floundered. A major revitalization of the city's downtown has also allowed a vibrant arts, nightlife, and restaurant scene to spring up.
Home to Carnegie Mellon University and the University of Pittsburgh, the city is a hub for robotics, healthcare, nuclear engineering, finance, education, and more. Pittsburgh is home to 10 Fortune 500 companies (the Kraft Heinz Company, PNC Financial Services) and also has outposts of tech giants like Google. It's also the HQ of Duolingo, the app you've been using to try and learn basic Spanish for the past 4 years!
Pittsburgh also has a rich history of culture, with great museums, arts, music, and theater, from the Carnegie Museum of Art to the Andy Warhol Museum. If that's not your thing, the sports culture is energetic here. "Transfers from other cities are surprised at how much we love our Steelers, Penguins, and Pirates," says Pittsburgh-based Lemonade actuarial analyst Brandon Dargay.
Chicago, IL
For young families or families-to-be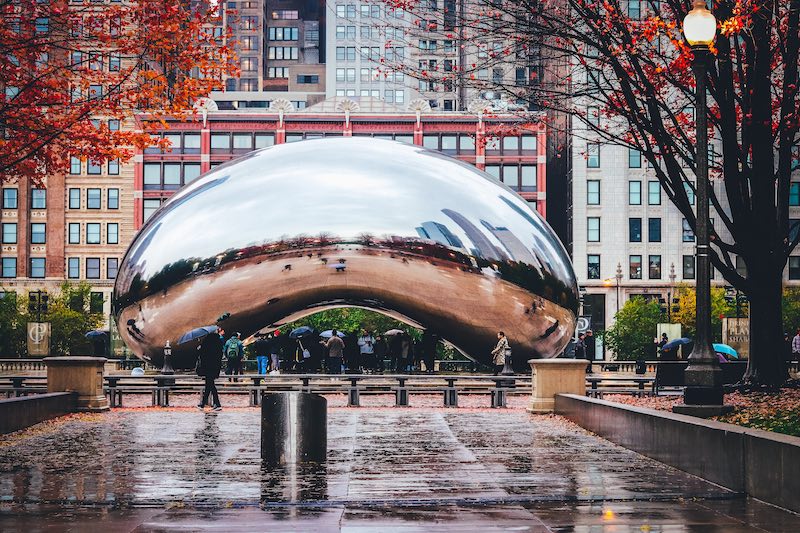 As a world financial center, the "City of Big Shoulders" is home to the Chicago Stock Exchange, the Chicago Board Options Exchange, and the Chicago Mercantile Exchange. It hosts three Dow 30 companies and numerous Fortune 500 companies.
Chicago is an amazing city for professionals. Some of the world's leading companies are headquartered or located here, including Accenture, Salesforce, McDonald's, Boeing, Amazon, and Deloitte. It's also home to an eclectic mix of startups, from BlueChew to DFIN.
"Chicago offers a bit of everything. Different neighborhoods have unique vibes. I live in Lincoln Park, which is a perfect balance for my lifestyle. My kids' school is a 5 minute walk away. Our apartment is centrally located and offers convenient amenities. There's a free zoo and parks nearby for the kids to explore, and plenty of restaurants and bars for date nights with my wife."


David Berkovits, BlueChew's Director of Marketing
Yes, the winter is cold, but the summer is close to perfect. Hanging out on Lake Michigan, enjoying a meal at Navy Pier, and endless bike rides are the ideal antidote to shake off those frigid months.
Boston, MA
For the twentysomething who craves an academic atmosphere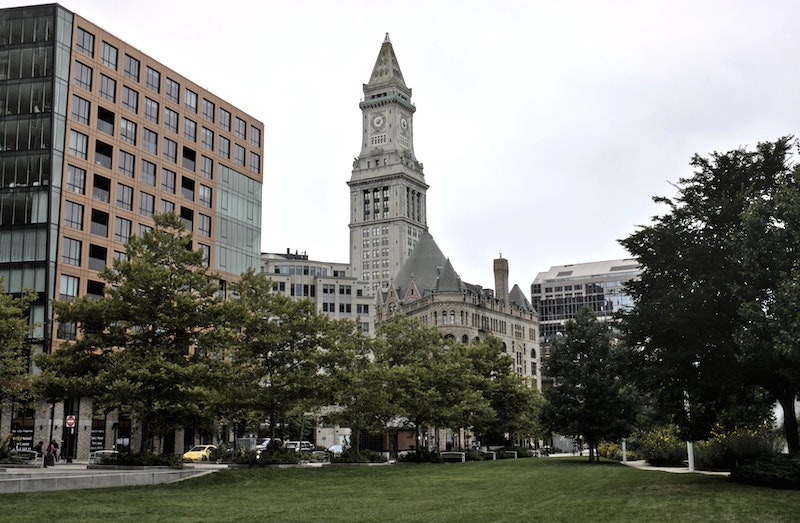 Boston is one of the oldest cities in the United States, with one of the richest histories. Once a bustling port, it is now one of the 30 most economically powerful cities in the world.
Boston and its neighboring towns are home to some of the world's best universities and academic institutions, from Harvard to MIT, Tufts, and Northeastern. It is a hub for biotechnology, institutes of health, venture capital firms, and tech. It is also, still an active seaport, and quirkily enough, home to several large active footwear companies such as Converse, Reebok, New Balance, and more.
There are downsides to Boston, as many current or former residents might tell you. Restaurants and public transportation tend to close early, and social life may seem centered around the college age set, which might make older millennials feel left out. But if you know what to expect, Boston can still surprise and delight.
Hoboken, NJ
For the Manhattan commuter who wants more space & lower taxes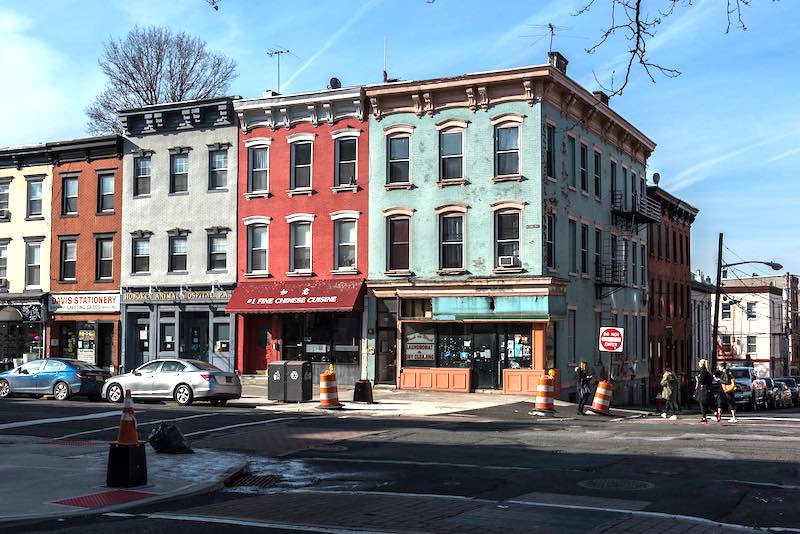 With direct and easy access to lower Manhattan via the PATH train (or a ferry, if you're feeling fancy!), Hoboken combines proximity to New York with perks like more space, an absurd number of bars, plentiful parks for both children and dogs, and the lack of hefty NYC taxes. This makes it a very tempting home base for anyone working on a hybrid schedule who still has to commute into the city a few days a week.
Hoboken is also very close to Jersey City, with its own wealth of culture and nightlife. And if you've got kiddos, a 15-minute drive will land you at the American Dream mall—a surreal spot that boasts an indoor water park and a ferris wheel.
Trying to get in your 10,000 daily steps? Hoboken is very walkable, and it's not necessary to have a car. if you do decide to keep one for weekend jaunts upstate, just know that parking can be a bit of a headache.
Nashville, TN
For someone who wants health benefits with their honky-tonk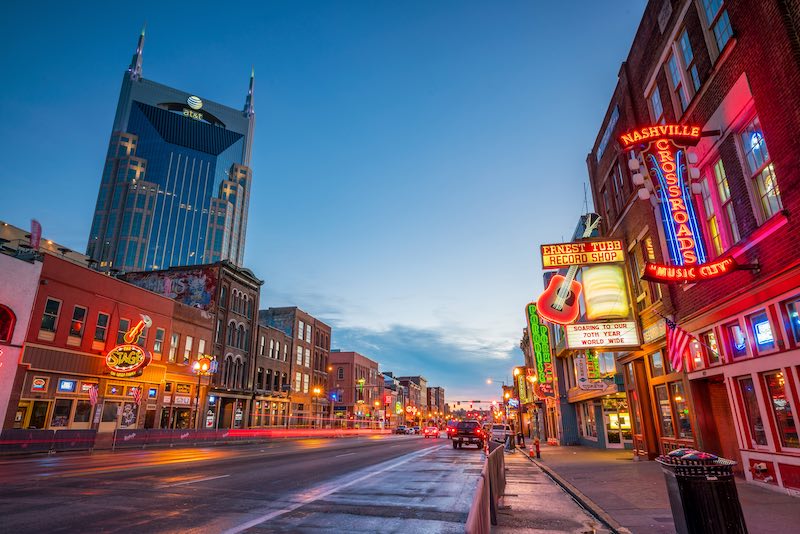 Nashville is a city with character, and in modern times, it's become a proper "Southern boomtown." That's one reason why new residents are heading to the city at impressive rates.
There are a number of Fortune 500 companies located in Nashville (Bridgestone Americas, Ernst and Young, Dell, Deloitte, Nissan North America) as well as companies like Asurion and XOi Technologies. It is also a hub for healthcare, and is home to almost 300 healthcare-related companies—Episode Solutions, XSOLIS, Newquest LLC, and ICA among them.
Of course, life is more than work. Nashville is also a renowned center for live music—and not just of the country variety. Its foodie scene is worth drooling over.
San Francisco, CA
For the Web3 aspirant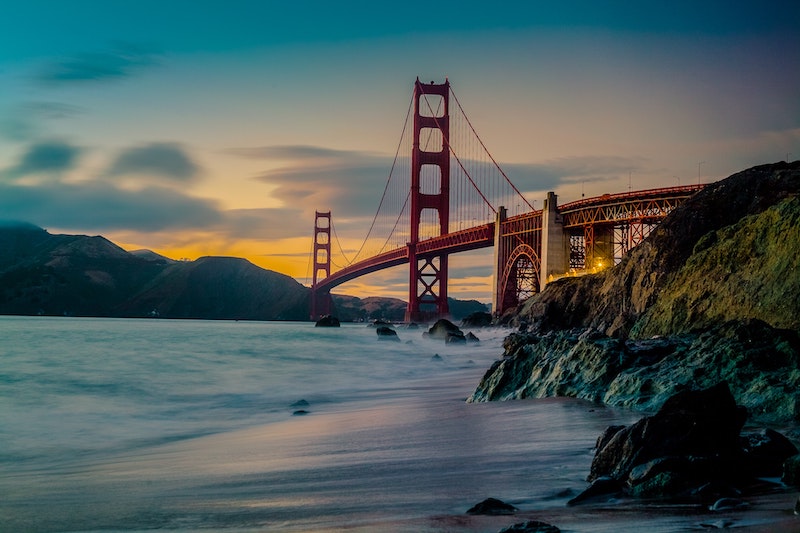 If you've been living under a rock, San Francisco is a hub for tech and the service economy. Household names like Google, Twitter, Uber, and Airbnb are based in or near what prides itself on being the "Tech Capital of the World."
In addition, it is a hub for high-tech and biotechnology, home to the California Institute for Regenerative Medicine, the California Institute for Qualitative Biosciences, the Gladstone Institute, and more.
San Francisco has a history of being one of the most LBGTQ+ friendly cities in the world. It was home to the first openly lesbian-rights organization, and the first openly gay man to be elected to public office. San Francisco Pride is one of the oldest and biggest Pride parades in the world.
Young professionals might want to start their apartment hunt in specific neighborhoods, like SOMA (South of Market) or the Mission.
And no matter where you live, escaping the urban bustle is fairly easy. The city is home to several parks, including Golden Gate Park, which offers miles of hiking and biking trails, as well as the San Francisco Botanical Garden and the California Academy of Sciences.
Yes, rents can be outrageous, and gentrification in the city has proceeded at a whiplash-inducing pace that isn't good for anyone. But we're still holding out hope for SF's long-term future as a great home base for tech entrepreneurs, creatives, and other young professionals.
Before we move on…
Relocating can be a real slog, but we've got an out-of-state moving checklist to follow before you pack up and head to Austin…or Kingston…or Portland…or to an entirely different city (perhaps one that landed on our list of the best cities for renters concerned about cost, housing availability, and renters' rights).
And no matter where you end up living, renters insurance can give you peace of mind if bad stuff happens (like a pipe bursting in your bedroom, or someone pilfering your laptop at the local coffee shop). Click below to get a Lemonade Renters quote in just a few minutes.
Regarding sources: Population and median age data is taken from the U.S. Census. Cost of living, average monthly salary, and rent data is from Numbeo (no comparable Cost of Living data available for Kington, NY or Hoboken, NJ, and no reliable salary data available for Kingston). Average renters insurance prices are based on Q1 2023 data.
A few quick words, because we <3 our lawyers: This post is general in nature, and any statement in it doesn't alter the terms, conditions, exclusions, or limitations of policies issued by Lemonade, which differ according to your state of residence. You're encouraged to discuss your specific circumstances with your own professional advisors. The purpose of this post is merely to provide you with info and insights you can use to make such discussions more productive! Naturally, all comments by, or references to, third parties represent their own views, and Lemonade assumes no responsibility for them. Coverage may not be available in all states.