Austin Renters Insurance Guide
Cover your stuff in the City of the Violet Crown.
Austin residents know they've found a great place to call home. The Texas capital is often considered one of the best places to live in America.
Known as the Live Music Capital of the World, crowds flock to Austin to catch the highly-anticipated South by Southwest and Austin City Limits music festivals. The beautiful Colorado River runs through this highly walkable place. Affordable housing, friendly people, and a thriving job market make Austin one of the best cities for young professionals.
Austin offers big city conveniences alongside Texas charm. The city's many tech companies, innovation firms, and startups have earned the city the nickname "Silicon Hills." Apple, Google, and Oracle are just some of the big names on the Austin tech scene.
Whether you're in Austin to study, work, play, or anything in between, you'll want to cover your stuff with renters insurance. We'll take you through the basics of renters insurance coverage, and also review some of the coolest neighborhoods and hidden gems to explore in and around Austin.
Here's what we'll cover:
What does renters insurance cover in Austin?
Okay, so you get that a renters insurance policy is a great idea in theory… but you're probably curious about the average cost of renters insurance and what renters coverage can actually do for you. Let's break down the components of what your policy covers and your coverage options.
Personal Property
'Personal property' coverage makes sure your personal belongings are protected, whether you're relaxing at your apartment or off traveling across Europe. So if your living room furniture is ruined due to water damage from that burst pipe, or your phone is stolen while you're taking a trip to Berlin, your renters insurance policy has your back to assist you with the replacement cost.
Loss of Use
What about if disaster strikes? If you can't stay at your home because of covered losses (like a fire or windstorm), your 'loss of use' coverage provides reimbursements for temporary housing and additional living expenses such as food, laundry, hotel parking, and more.
Liability coverage
If someone is injured in your apartment, or anyone on your policy causes damage to someone else's property or stuff, your insurance company should have things like legal fees and property damage covered.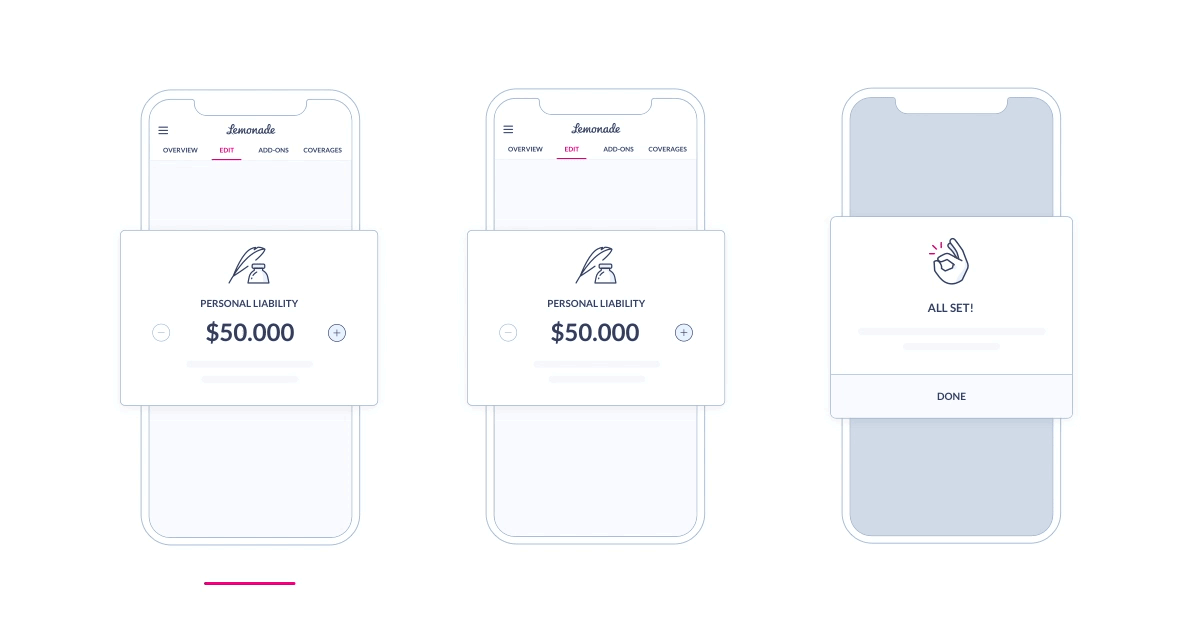 Medical Protection
Your insurance provider covers medical expenses if your guests get injured at your place, or if you accidentally hurt people outside of your home as well. Note that your renter's insurance policy does not cover medical payments if you or your roommates are injured—only non-residents and guests.
Is renters insurance required in Austin?
While there's no law requiring that you purchase renters insurance in Austin, your landlord might specifically require it. And if your lease specifies that you need renters insurance, well… that's that.
The good news is that it's easy to sign up for a renters insurance policy with Lemonade. When you get renters insurance, you'll thank yourself later if your stuff gets stolen or damaged! When signing up, your landlord might request they be added as an 'interested party' on your policy.
This just means they'll be kept in the loop when you make any policy changes—or if you cancel your policy. It's super easy to add them using the Lemonade app.
What's the right amount of coverage to get?
There's no easy answer to that question, and it depends on how much stuff you have to cover and what it's worth. As mentioned above, your policy has a few main categories: Contents (your stuff); Loss of Use (temporary living expenses); and then personal liability and medical bills.
You're able to set the coverage limits for these categories when you sign up for a Lemonade policy. Lower coverage limits might save you a few bucks on your monthly insurance premiums—but they might also leave you with insufficient coverage when you have to make a claim. You'll also need to figure out your deductible. It's a balancing act that requires you to think about your property and lifestyle. Take a few minutes to apply to see your renter's insurance quote to get a sense of your insurance options.
Also, if you've got valuables that are especially pricey or important—things like engagement rings, fancy cameras, musical instruments, or artwork—you can add 'scheduled personal property coverage' for those items. At Lemonade, we simply call it 'Extra Coverage'—here's a bunch more info about that.
The best neighborhoods for renters in Austin
Clarksville
The eclectic neighborhood of Clarksville has a mix of homes, condos, and apartments. This neighborhood is easily walkable and just a short ride to nearby Downtown on the CapMetro bus. The Clarksville Community Development Corporation, or the CCDC, works to maintain the neighborhood's unique character and provides several families with affordable housing. According to Apartment Guide, the average price of rent in Clarksville is $2,954.
Landmarks continue to dot the historic neighborhood, including Pease Park, Hezikiah Haskell House, Swedish Hill, and the Wally Workman contemporary art gallery. BookPeople, the largest independent bookstore in Texas, can be found in Clarksville, as can well-known music spot Waterloo Records. The original Whole Foods is there and has grown in size to encompass several floors—and an ice skating rink in winter!
For great eats in Clarksville, check out Taco Flats, with an all-day menu that ranges from breakfast tacos and waffles in the morning, to meat, fish, and chicken tacos, appetizers, and refreshing cocktails throughout the rest of the day. Or head to Lin Asian Bar for Dim Sum and Asian homestyle favorites like noodles, soups, rice dishes, meat, and chicken favorites.
Hyde Park
Hyde Park is a welcoming, diverse neighborhood known as Austin's original suburb. Diverse home types, including colorful bungalows, duplexes, Tudors, and Victorians can be found on Hyde Park's tree-lined streets. People of all ages flock to Hyde Park for its prime location, culturally-rich vibe, and unique character. The average price of rent in Hyde Park is $1,730 according to RentCafe.
Several historic homes can be found in Hyde Park's Shadow Lawn Historic District. You can visit the Elisabet Ney Museum and view a collection of her sculptures, or watch a performance in the Hyde Park Theater.
Shipe Park offers residents athletic and leisure options, including a pool, tennis courts, and basketball courts. Golfers will enjoy the nine-hole Hancock Golf Course. The neighborhood is dog-friendly and highly walkable.
South Lamar
South Lamar attracts renters who are looking for the next new neighborhood to call home. Whether you enjoy a lively, urban vibe, or find solace in the nearby hiking trails (or both!), South Lamar has it all.
South Lamar has expanded and undergone much development in the last two decades, along with much of Austin. Apartments, stores, and restaurants can be found all along South Lamar Blvd. According to RentCafe, the average price of a rental in South Lamar is $1,918.
Get your culture on at Austin Art Garage, where local artists exhibit their works. For fun, play a round of mini golf at Peter Pan or take in a local performance at the ZACH Theatre. The Lady Bird Hike-and-Bike Trail and Zilker Park are within close walking distance of the neighborhood. The Barton Creek Greenbelt is nearby as well.
Downtown
As you'd expect, if something is happening in Austin, it's probably happening Downtown. Startups and tech offices are often based downtown, along with live music, tons of dining options, and lively nightlife.
Residents of Downtown Austin get the best that the capital has to offer. You'll find lofts, condos, and apartments throughout the neighborhood. The average rental price in Downtown Austin is $2,977, according to Apartment Guide.
Tour the famous Texas state capitol building or visit the Romanesque Driskill Hotel where Governors' Balls have been held. Take in sweeping views of the city skyline and the Colorado River, or walk along picturesque Lady Bird Lake. Near the lake, you'll find the modern six-story Austin Library with an onsite café and rooftop garden.
Rent a paddle boat or kayak from the Austin Paddle Shack. Or visit the Red River Entertainment District where you're likely to catch a memorable live music performance. To get a good sense of the state's past, go to the Bullock Texas State History Museum.
These Austin businesses will make your rental a home
Random facts that make Austin great
"Austin Chalk" is the crumbly, white rock that makes up the dramatic cliffs over Lake Austin. 66 million years ago, the area where Austin sits today was completely underwater. Ten explosion craters, as known as underwater volcanoes, helped to create the city's white, rocky cliffs.
Nearly a million people live in Austin, but they're not its only residents. The largest bat colony in North America also calls Austin home. Between March and October, 1.5 million bats come out from under the Ann W. Richards Congress Avenue Bridge just before sunset.
Austin resident Vince Hanneman has been collecting castoff objects and pieces of scrap like bottles, bike parts, lawn mower parts, ladders, and kitchen utensils since 1988. They form his Cathedral of Junk, which is open to visitors and built strong enough to defy demolition orders by city engineers.
The Texas State Capitol building in Austin is the largest domed state capitol building in America, and is built of sunset-red granite. It stands at 566 feet long, 288 feet wide, and over 302 feet tall.
13 moonlight towers illuminate Austin by night. Popular in the late 1800s throughout the US and Europe, Austin's towers are the only surviving ones in the world. The towers were fully dismantled and restored in 1993 as part of a $1.3 million project.