San Antonio Renters Insurance Guide
Cover your stuff in the Alamo City.
Whether you're in San Antonio to work, play, learn, or anything in between, you'll want to cover your stuff with renters insurance.
San Antonio is the seventh most populous city in the Southern United States and coming in second for the most populous city in Texas, right after Houston. It is the oldest city in Texas and has a rich, vibrant history dating back to the 1718 when Spanish explorers from Mexico established a mission there called Mission San Antonio de Valero, which was later called the well-known Alamo. Besides history, San Antonio offers residents an abundance of culture and beautiful, well cared for neighborhoods to call home.
We'll take you through the basics of renters insurance coverage, and also go through some of the coolest things to see and do in the City of San Antonio.
Here's what we'll cover:
What does renters insurance cover in San Antonio?
So you know that renters insurance policy is a great idea to protect you from theft or break ins, but you're probably curious about what it actually covers and the cost of renters insurance. Let's take a look at your coverage options and explore this in detail.
Personal Property
'Personal property' coverage makes sure your personal belongings are protected, whether you're relaxing at your apartment or visiting Pennsylvania's other major city of Pittsburgh. So if your living room furniture is ruined due to water damage from that burst pipe, or your phone is stolen while you're taking a trip to Berlin, your renters insurance policy provides peace of mind that you're covered.
Loss of Use
What about if disaster strikes? If you can't stay at your home because of covered losses (like a fire or windstorm), your 'loss of use' coverage provides reimbursements for temporary housing and additional living expenses such as food, laundry, hotel parking, and more.
Liability coverage
If someone is injured in your apartment, or anyone on your policy causes damage to someone else's property your insurance company should have things like legal fees, property damage and water damage covered.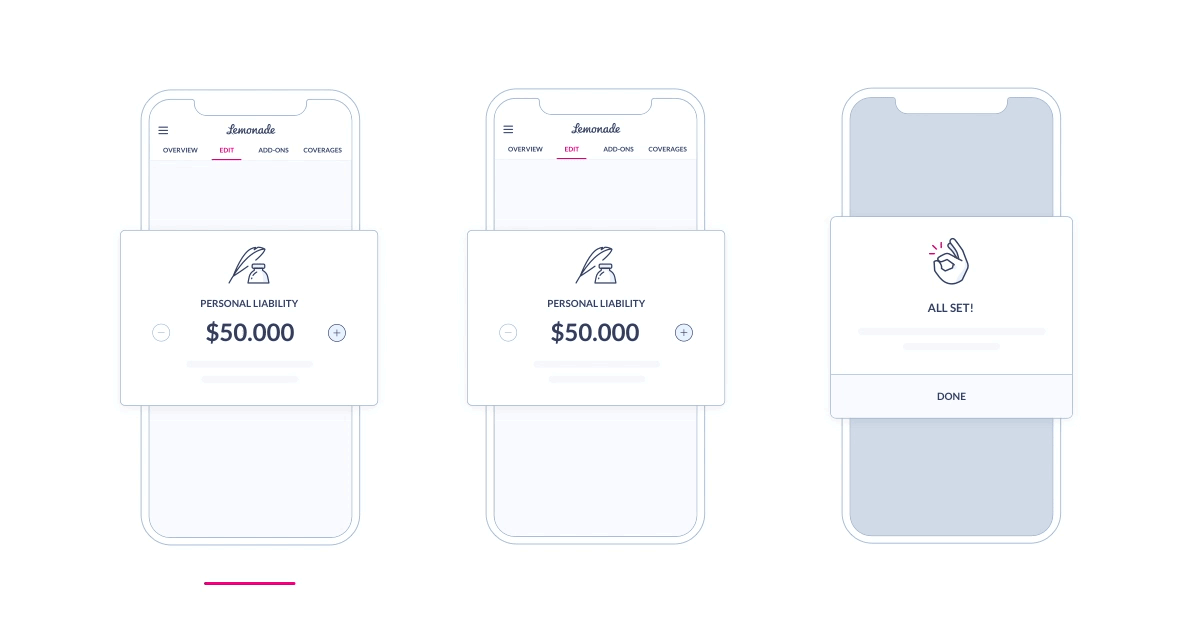 Medical Protection
Your medical insurance provider covers medical expenses if your guests get injured at your place, or if you accidentally hurt people outside of your home. Note that your renters insurance policy does not cover medical payments if you or someone residing with you are injured—your renters policy only covers non-residents and guests.
Is renters insurance required in San Antonio?
There is no city or state law requiring renters to purchase a renters insurance policy, but some buildings and landlords do require it.
The good news is that it's incredibly simple to sign up for a renters insurance policy with Lemonade. Of course, you hope you'll never actually need it. But you'll thank yourself later if something gets damaged or stolen for your home. When signing up for Illinois renters insurance, your landlord might request they be added as an 'interested party' on your policy. This just means they'll be kept in the loop when you make any changes to your renters insurance coverage —or if you cancel your policy. It's super easy to add them using the Lemonade app.
How much does renters insurance cost in San Antonio?
On average, renters insurance in San Antonio will set you back around $22 a month, or around $264 a year.
The exact cost of your renters insurance will depend on your personal property coverage amount, your liability and medical bills coverage, your deductible, as well as any Extra Coverage you might want to sign up for (more on that below).
What's the right amount of renters insurance coverage to get?
There's no one size fits all answer to this question. It really depends on how much property you have as well as what it's worth. Our renters insurance policies have a few primary categories, including: Contents (your stuff); Loss of Use (temporary living expenses); and personal liability and medical bills.
Once you purchase a plan with Lemonade, you can customize it by selecting your coverage limits for each category. Lower coverage limits might save you a few bucks on your monthly premiums—but they might also leave you with insufficient coverage if you need to make a claim. You'll also need to figure out your deductible. Determining how much coverage you need takes is a balancing act. To help you get a better understanding, take a few minutes to apply to get a renters insurance quote and to get a sense of your insurance options.
Also, if you've got especially valuable items—such as engagement rings, fancy cameras, musical instruments, or artwork—you can add 'scheduled personal property coverage' for those items. At Lemonade, we call this 'Extra Coverage.' To learn more, take a look at this article.
The best neighborhoods to be a renter in San Antonio
Tobin Hill
Lying just north of the city center, Tobin Hill is one of San Antonio's oldest urban neighborhoods and is a designated historic district. Residents can find a wide range of architectural styles in this neighborhood including late Victorian homes, trendy bungalows, and English or Tudor style residences.
The average monthly rent for a one bedroom apartment is $750, making it an affordable place to live with lots of things to do.
For outdoor space, Crockett Park offers residents an abundance of greenery for playing outside with kids or picnicking. Residents can even rent spaces or gazebos in the park for large events or birthdays.
Terrell Heights
Terrell Heights sits northeast of downtown and offers residents a quiet, suburban feel. It's full of greenery and gorgeous landscapes and more homes are being built each year.
The average monthly rent for a one bedroom apartment is $695 and offers renters plenty of options of places to live.
Terrell Heights borders the popular neighborhood, Alamo Heights, providing plenty to see and do.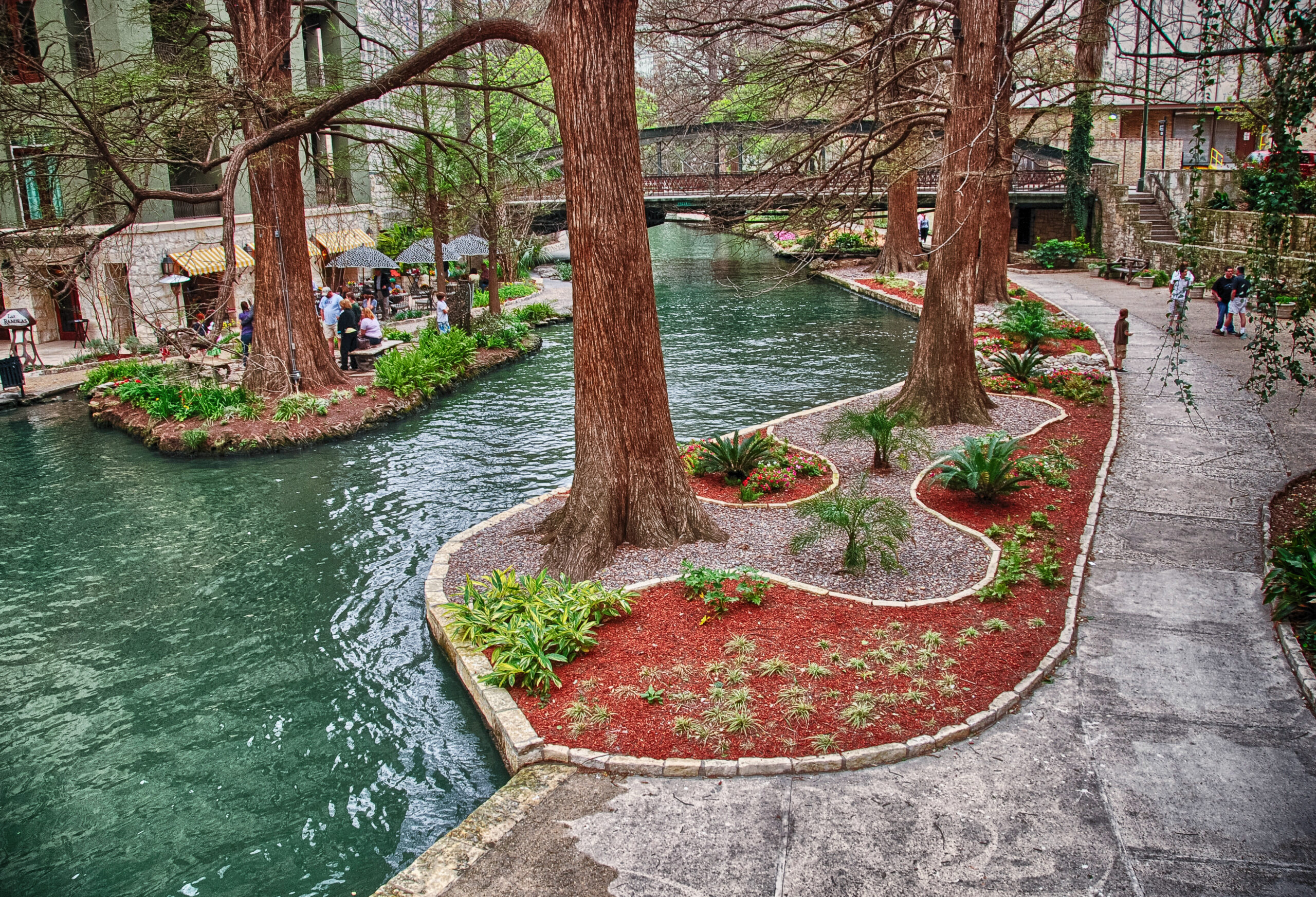 King William
This historical neighborhood in the southern Arts District is vibrant and full of life. Local artists, breweries, locally owned shops, and restaurants make up this exciting part of San Antonio. King William lies along the San Antonio river, offering residents water activities, like paddle boarding and kayaking.
The average monthly rent price for a one bedroom apartment is on the higher end compared to other neighborhoods on our list, at approximately $1,600. For this, residents get to live in one of the most eclectic, exciting neighborhoods with lots of fun things to do.
Mahncke Park
This neighborhood is located northeast of Downtown. Two large parks are situated here, Mahncke Park and an even larger park, Brackenridge Park. For those who want to live in an urban environment but still have a great outdoor feel and lots of greenery, you'll love Mahncke Park.
The average monthly rent here for a one bedroom apartment is $995.
One of the primary draws of Mahncke Park are the San Antonio Botanical Gardens. offering both lush gardens and a research institute, take a stroll through the gardens to learn about the wonders of the natural world or consider throwing your next event there.
Far West Side
The Far West Side is a growing neighborhood that encompasses a few other smaller neighborhoods, including Alamo Ranch and Rainbow Hills. Lackland Air Force Base is located here, drawing many military residents to the area.
The average monthly rent for a one bedroom apartment is $912.
The Far West Side is a great San Antonio neighborhood for families with kids. Aquatica San Antonio offers kids waterslides in the hot summer months and The Government Canyon State Natural Area offers campsites, hiking, and biking trails when you want to get outside.
These San Antonio businesses will make your house a home
Domestic Provisions.This European shop sells both antique and modern furniture for homes and gardens. Check out their unique selection of patio furniture and garden decor, as well as their shabby chic dressers and dining room tables!
Joyeux. Owned by Jack and Dy Lynne Dabney, this furniture boutique offers a variety of pieces that combine the owners' versatile tastes. Modern meets antique in this 10,000-square-foot barn that's been converted into their fabulous store.
Agave Ranch. This is San Antonio's go-to store for unique and rustic Mexican-style decor and furniture. Colorful Hacienda furniture, hand-painted pottery, and a variety of lighting concepts offer your home the true feel of Texas
UpMarket. The chic, designer-curated collection at UpMarket is for those who want to create a beautiful, unique home that keeps up with the latest trends in home styling. Designers help bring your vision to life by customizing your home to suit you.
Random facts that make San Antonio great
San Antonio is the most visited city in Texas, and the 17th most visited in the country.
What's the most visited attraction in all of Texas? You guessed it: The Alamo!
The Milam building located in downtown San Antonio was the first high-rise office building in the country to have air conditioning.
One of the most well-attended events in Texas history was in 1987 when Pope John Paul II visited San Antonio, and held a mass where more than 350,000 people attended.
The largest Mexican market outside of Mexico is the Historic Market Square, located in San Antonio.