Indiana Renters Insurance Guide
Cover your stuff in the Hoosier State.
Looking for renters insurance in Indiana? Well, you've come to the right place!
Wherever you go in Indiana, the state is overflowing with natural wonders to discover. Indiana has unbelievable canyons, picturesque waterfalls, meandering creeks and rivers, sandstone gorges and sand dunes, peaceful wilderness reserves, spectacular caves, expansive forests, and diverse habitats full of wildlife.
From skywalks to cornfields, top-notch universities to town fairs, Indiana is an ideal place to settle down. Residents also enjoy low taxes and low crime rates. In Indiana, the cost of living is also lower than the United States average.
Whether you're in Indiana to study, work, play, or anything in between, you might want to cover your stuff with renters insurance. We'll take you through the basics of renters insurance coverage and also go through some of the most incredible cities and hidden gems to explore in the Hoosier State and beyond.
Here's what we'll cover:
What does your renters insurance cover in Indiana?
Okay, so you get that a renters insurance policy is a great idea in theory… but obviously you're curious about what it can actually do for you. Let's break down the components of what your policy covers and your coverage options.
Personal Property
'Personal property coverage makes sure your stuff, your personal belongings, is protected, whether you're relaxing at your apartment or traipsing across Europe. So if your living room furniture is ruined due to water damage from that burst pipe, or your phone is stolen while you're taking a trip to Berlin, your renters insurance policy has your back.
Loss of Use
What about if disaster strikes? If you can't stay at your home because of covered losses (like a fire or windstorm), your 'loss of use coverage provides reimbursements for temporary housing and additional living expenses such as food, laundry, hotel parking, and more.
Liability coverage
If someone is injured in your apartment or anyone on your policy causes damage to someone else's property or stuff, your insurance company should have things like legal fees and property damage covered.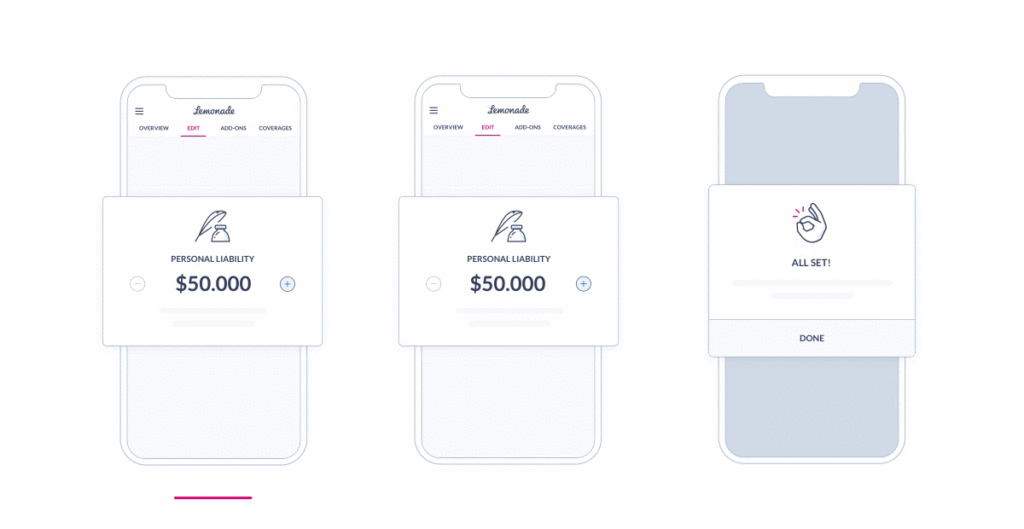 Medical Protection
Your insurer covers medical expenses if your guests get injured at your place or if you accidentally hurt people outside of your home as well. Note that your renters insurance policy does not cover medical payments if you or someone residing with you is injured—only non-residents and guests.
Is renters insurance required in Indiana?
While there's no law requiring that you purchase renters insurance in Indiana, your individual landlord might specifically require it. And if your lease specifies that you need renters insurance, well… that's that.
The good news is that it's easy to sign up for a renters insurance policy with Lemonade, and you'll thank yourself later if your stuff gets stolen or damaged! When signing up, your landlord might request they be added as an 'interested party' on your policy. This just means they'll be kept in the loop when you make any policy changes—or if you cancel your policy. It's super easy to add them using the Lemonade app.
What's the right amount of coverage to get?
There's no easy answer to that question, and it depends on how much stuff you have to cover and what it's worth. As we discussed above, your policy has a few main categories: Contents (your stuff); Loss of Use (temporary living expenses); and then personal liability and medical bills.
You're able to set the coverage limits for these categories when you sign up for a Lemonade policy. Lower coverage limits might save you a few bucks on your monthly premiums—but they might also leave you with insufficient coverage when you have to make a claim. You'll also need to figure out your deductible. It's a balancing act and one that requires you to think about your property and lifestyle. Take a few minutes to apply to see your renters insurance quote to get a sense of your insurance options.
Also, if you've got valuables that are especially pricey or important—things like engagement rings, fancy cameras, musical instruments, or artworks—you can add 'scheduled personal property coverage' for those items. At Lemonade, we simply call it 'Extra Coverage'—here's a bunch more info about that.
Top Indiana rental destinations
Indiana is known as the "Crossroads of America," but you should do more than just pass through. Hoosiers get to enjoy Indiana's seemingly endless state, county, and town fairs and friendly people. Whether you are looking to enjoy all four of Indiana's distinct seasons, or the affordable, quality neighborhoods, you can find the good life in the Hoosier State.
Indiana boasts excellent universities, a serious sports culture, beautiful nature, music festivals, and a foodie haven of local restaurants. Low taxes and a low cost of living make it the perfect place to call home.
Carmel
This town was ranked the best place to live in all of Indiana state by Niche.com. Carmel is an excellent place to raise a family, and excellent schools provide a first-rate education. The neighborhoods are safe and clean and there is a thriving arts scene with numerous entertainment venues. This affluent suburb is just a short drive, less than thirty minutes, to Indianapolis, making it ideal if you prefer a smaller town to life in the big city.
Carmel enjoys extremely low unemployment coupled with the highest average income in the state. The average cost of a rental in Carmel is around $1,288 a month.
Fun fact: Carmel has earned the nickname "Roundabout Capital of the U.S." This is because the city has about 140 roundabouts. It is also home to one of Indiana's first electronic automated traffic signals.
Places to visit:
Carmel Arts and Design District. Come stimulate your senses in this beautiful, must-see area. Located in the heart of Old Town Carmel, the Carmel Arts and Design District might be the most exciting place to shop in Carmel. The district is full of art galleries, fine dining, interior designers, showrooms, and antique stores. The world-class library is not to be missed!
Flowing Well Park. Take a stroll through the peaceful park, hike on the wooded trail, romp through the Cool Creek. On the way, make sure to visit the artesian well where you can drink the best natural water. You can bring empty water jugs and fill up at "Old Faithful," discovered in the 1800s.
Monon Trail. The whole of Monon Trail is located in the state of Indiana. This awesome linear park connects different parts of the city and the state. There are great places to stop in Broad Ripple, over the White River, Nora, and Carmel. The Monon Trail will encourage you to plan your bike or hike through Central Indiana on this rails-to-trails paved path.
Fishers
Another Indianapolis suburb, Fishers, was ranked as the top place to live in the nation by Money Magazine. The suburb takes the number two spot on the list of best places to live in all of Indiana, according to Niche.com. It has also been ranked the best place to buy a house in the Indianapolis area. Fishers is exceptionally family-friendly, has highly rated public schools, quality housing opportunities, and still enjoys a thriving nightlife.
This suburb is not a cookie-cutter location, but rather a place with its own identity and flourishing downtown district. Slightly less affordable than the rest of Indiana, renting a home in Fishers averages out to be about $1,357.
Fun fact: Fishers was originally called Fisher's Switch. It was also known as Fisher's Station, a stop on the Peru & Indianapolis Railroad line. The name changed in 1098 when the post office dropped the "Switch," leaving just the name Fishers.
Places to visit:
The Nickel Plate District. The heart of Fishers can be found downtown in the Nickel Plate District. This is an area for strolling and relaxing for tourists and residents alike. There is year-round entertainment, weather permitting. Enjoy this cultural hub that includes a farmer's market, an amphitheater, murals, galleries, a public library, breweries, and street art.
Conner Prairie. Have you ever wished you could travel back in time to see how people lived in the 19th century? Conner Prairie is a living history museum, whose mission is to use the past to shine a light on the future. Indiana's first Smithsonian affiliate, the museum's activities cover history, science, nature, and art.
Ritchey Woods Nature Preserve. If you are looking for beautiful hiking trails, this 127-acre park is the perfect place to visit. The park features greenways, and nine gorgeous nature trails for biking, hiking, running, walking, or just to have a place to unplug. Ritchey Woods is also home to several programs and events, such as Keep Fishers Beautiful Spring Service Day and National S'mores Day.
Zionsville
Zionsville is a suburb of Indianapolis, and the number three best place to live in all of Indiana, according to Niche.com. Residents enjoy a high quality of life, top-tier schooling, over 400 acres of green spaces, trails, and parks. The village-style design, historical architecture, and brick roads create a charming atmosphere. This quaint, tranquil town is also an extremely safe area.
This high quality of life does have a price tag though, with Zionsville having the highest cost of living in the Indy Metro Area. The average cost for a rental in Zionsville is $1,359 per month.
Fun fact: Zionsville was named after William Zion, one of the town's co-founders and a pioneer of Lebanon, Indiana. Zionsville would have been named Marysville, after Mary Cross, the wife of Elijah Cross, the other co-proprietor of the land. However, she declined the honor, and so it was named after William Zion instead.
Places to visit:
Hopwood Cellars Winery & William Rose Distillery. For those with a refined palette, this is one of the best places to enjoy fine wine and live music. Locally owned and operated by Zionsville native Ron Hopwood, this winery and distillery began as a passion project and became something more. Its unique ambiance and inviting atmosphere will make it your new favorite spot.
Mulberry Fields. Mulberry Fields is a 38-acre park with multi-use athletic fields, sports facilities, a skate park, a splash park, and open fields. There are pathways for biking or hiking, a large hill, and prairie-meadow plantings with interpretive signage. Make sure to check out the original farmstead preserved for educational purposes.
Zion Nature Sanctuary and The Zionsville Nature Center. If you are on a mission to learn more about the natural environment in Central Indiana and Zionsville specifically, the Zionsville Nature Center is for you. It is full of educational and inquiry-based activities, exhibits, and programs for this purpose. The Zion Nature Sanctuary is a 10-acre park adjacent to the Zionsville Nature Center with nature trails, wooded areas, wetland areas, and a shelter used as an outdoor classroom.
Indianapolis
The capital of Indiana is home to almost half of the best places to live in the entire state. According to Niche.com, Broad Ripple, Delaware Trails, Devon, and Allisonville make the list for the top ten best neighborhoods, and they are the top four best neighborhoods in Indianapolis. It's also one of America's best cities for women in tech, and Indy is an emerging tech hub. The city boasts over 200 parks, has a citywide collaborative approach to education, a flourishing culture and art scene, and a thriving nightlife.
Aside from having some of the best neighborhoods, not only in Indiana but in the United States, Indianapolis is actually one of the most affordable largest cities in the nation. The cost for a rental in Indianapolis is $992 on average.
Fun fact: Perhaps another reason why Indianapolis is the best place to live is that it is home to the largest children's museum in the world! The Children's Museum of Indianapolis is 472,900 square feet and welcomes over 1.2 million visitors a year.
Places to visit:
Newfields: The Indianapolis Museum of Art. Discover the masterpieces of Rembrandt, Picasso, or Cezanne, Abstract Expressionism, Minimalism, Pop Art, Neo-Impressionist paintings, and more! Newfield is committed to DEIA: Diversity, Equity, Inclusion, and Access, and provides accessibility options for all of its visitors. This center for nature and the arts is a 152-acre campus with a vast array of attractions, including the National Historic Landmark Lilly House, a beer garden, Fairbanks Park, The Miller House and Garden, and more!
The Children's Museum of Indianapolis. This award-winning museum has five floors of exhibits and is arranged according to three domains: the American Collection, the Cultural World Collection, and the Natural World Collection. Before you go, you can decide your family's favorites: art, dinosaurs, science, space, or sports, and then build your experience based on age. This is a place to return to over and over again for new adventures!
White River State Park. If you are looking for the ultimate urban escape, look no further. This 267-acre urban park in downtown Indianapolis includes the Indiana State Museum and IMAX theater, Eiteljorg Museum of American Indians and Western Art, NCAA Hall of Champions, the Indianapolis Zoo, White River Gardens, Concert Lawn, and Victory Field. If that weren't enough, you can also go biking, hiking, or rent a boat or a segway to explore the White River Trail or the Cultural Trail.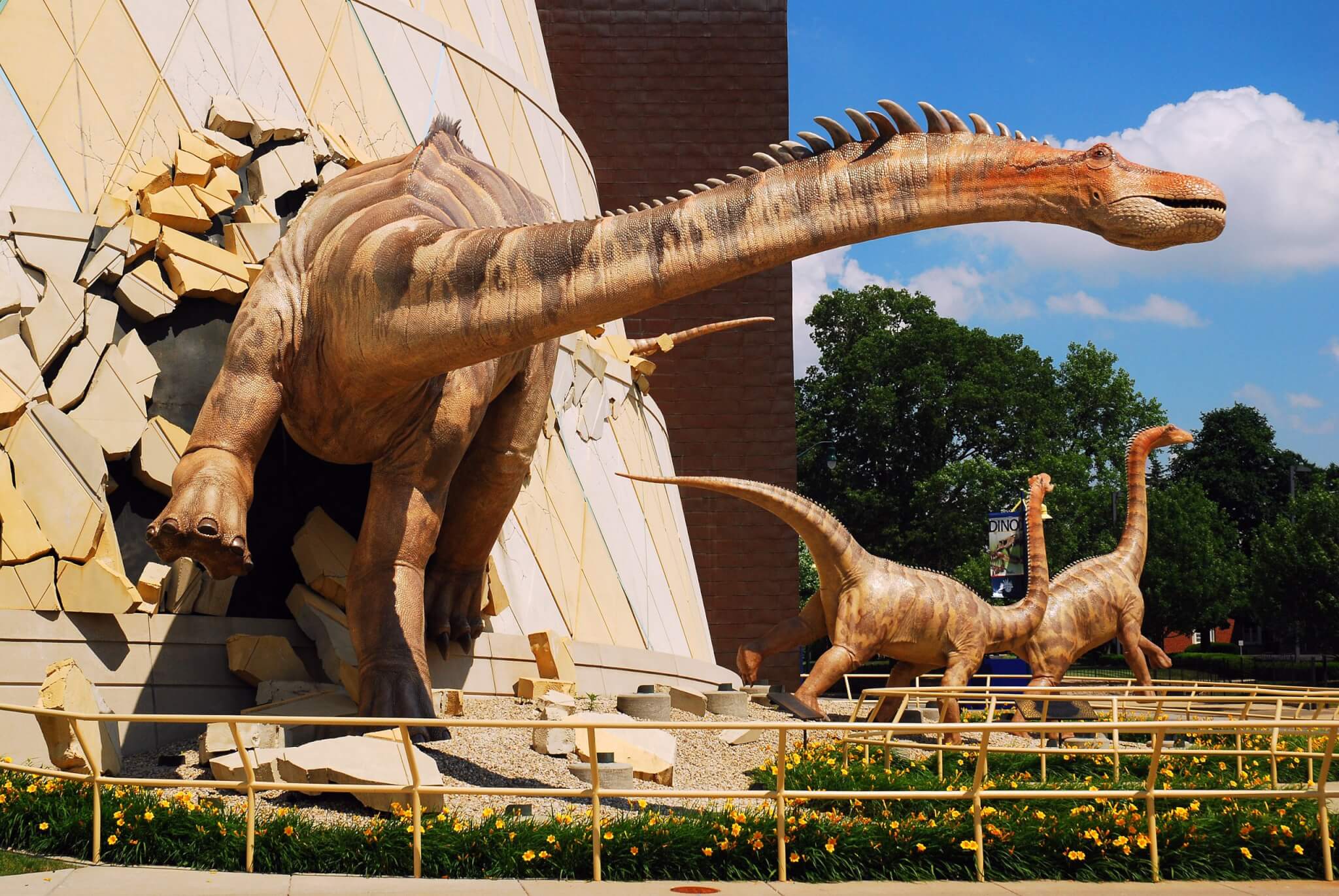 Other cities and towns to consider:
Granger: A suburb of South Bend, Indiana, Granger is the fourth best place to live in the state, according to Niche.com. This small town with a rural feel, with highly rated schools and quality housing is a great place for families. There are beautiful county parks in the area. Average rent: $1,024.
Meridian Hills: This suburb of Indianapolis is the fifth-best place to live in the state, and the number one place to retire in Indiana, according to Niche.com. There are affordable ranch-style houses and exceptional senior living communities. The town has hilly terrain, mature trees, and winding streams, plus a real sense of community. Average rent: $925.
Westfield: Another suburb of Indianapolis, Westfield is the seventh-best place to live and the fifth-best place to raise a family in Indiana, according to Niche.com. The quality of life is high, there is excellent infrastructure, and the area feels expansive. Average rent: $1,209.