3 Steps for an Effortless Move-In Day
Beer and pizza not included.
Let's be honest: Moving into a new apartment can be a drag.
Even if you're moving for an exciting reason—like landing a new job ,or getting a place with your partner—it's still a pain: lost items, time away from work, extra stress.
Home is supposed to be your oasis for calm, but when it comes to dismantling your life and breaking it down into not-so-proverbial boxes, things can get a little stressful. This is doubly the case if you're moving from one state to another.

There's no need to lose your cool. Here are our apartment moving tips for a (relatively) pain-free move.
1. Pay it forward, give your stuff away
Yard sales are so 90's. And it's such a drag to sell stuff online. Our vote: Give it away! Better yet, try to find an organization near you that'll give your stuff to those in need.
If you have some extra dress clothes lying around, Career Gear for men or Dress for Success for women will outfit someone in need for job interviews that could change their life.
If you've switched over to a Kindle or iPad it's time to find a new home for your book friends. Children's shelters, schools in underfunded districts, and even prisons are all in need. And if you happen to have an old cell phone, we urge you to consider donating to the National Coalition Against Domestic Violence – they partnered with Cellular Recycler to refurbish and resell phones, with profits supporting victims of domestic violence.
Convinced that less is more but not sure how to let go? Here are some handy tips to know what should (or shouldn't) make the cut: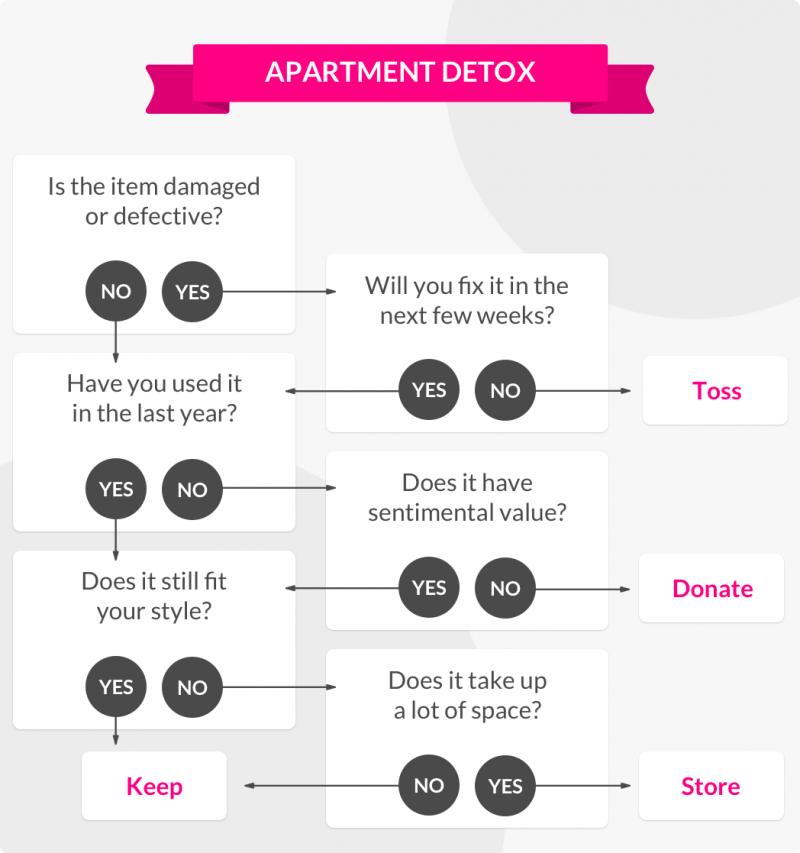 Not only will less stuff make your moving day much easier, but it's also a secret to mentally decluttering your life: win-win!
2. Update in stages
We're in a digital age, yet still, your address is the one physical thing that'll cause you a lot of paperwork (yes, actual paper) and time.
There are a shocking number of places you need to update your address, especially if you're moving out of state. It makes carrying a sofa up three flights of stairs look like a breeze. But there are ways to make it slightly more manageable. The trick here is to break it down now, so you won't end up procrastinating (or paying the consequences) later!
While you may need to update some companies/people a month in advance, there are others you can probably get away with updating until after you're all moved in.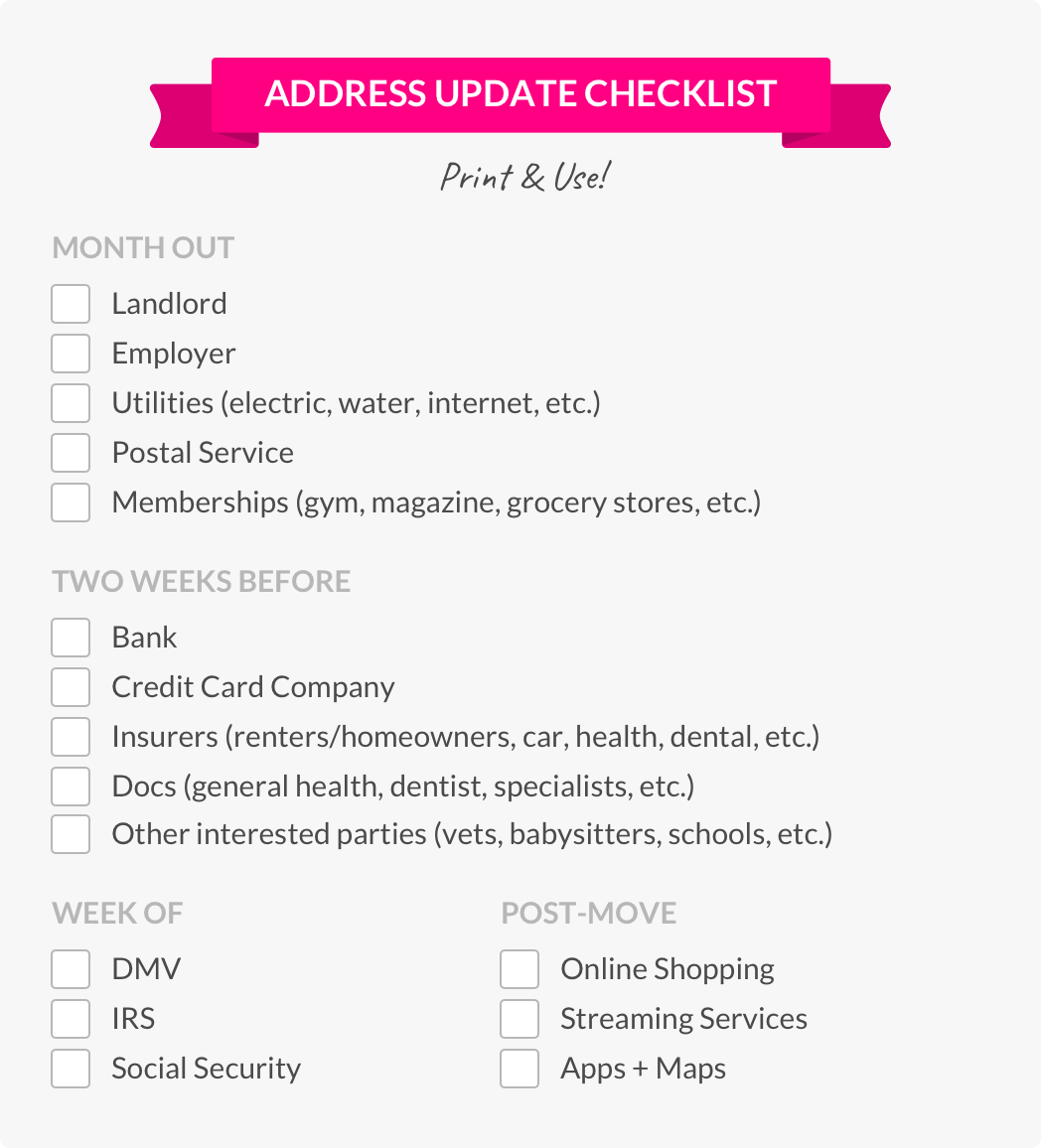 Pro Tip: Make sure to pre-schedule utilities around three weeks in advance. Unfortunately, one of the most dreaded phone calls is also the most essential. If you want water, electricity, and internet when you get to your new place, make sure to contact all of your providers beforehand. Tell them when you plan to move, and schedule in-house visits if needed so you won't spend the first night in your new place in the dark (or without Netflix).
Last but not least, update your network. We admit this one may seem like a no-brainer, but there are legit considerations here. For instance, what about your Grandma who still sends you cold hard cash for your birthday? Or those friends who like sending their wedding invitations by mail? Once you have your new address, make sure you let everyone know. BCC'ed emails, Facebook status updates, and group texts are all pretty good ways to get the job done.
3. Visualize your move
Wouldn't it be awesome if you could know every glass that would break or box that'd be lost on moving day, in advance? While we don't have the ability to see the future, we can help you prep like you do.
Document everything
One of the most common things people complain about when moving is lost or damaged items. It also doesn't happen to be covered by your apartment renters insurance or homeowners insurance company, so it kinda falls between the cracks, and financial responsibility falls squarely on you.
If you use a moving company, as a majority of movers do, check to see you're covered – if anything does happen, you can always file a claim. Also be sure to take pics of your current and new place to show your landlords, let them know of any issues asap.
While you're at it, add documenting your stuff to your apartment move in list – it's a great way to ensure that if anything ever happens to it in the future, you'll be able to seamlessly make a claim with your insurance provider.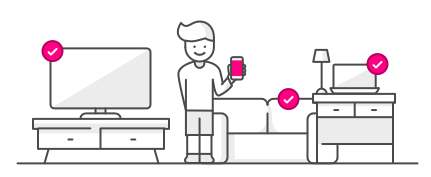 Pack according to your new place
Once everything is documented, this step may be a bit easier. The trick to a painless move is packing with your new place in mind (not your old). It may seem simple, but it'll make a big difference.
Get access to your new place and figure out what's going where. Maybe the bedroom is smaller but you have a huge walk in closet. Or perhaps the kitchen has less cabinets and more open shelving. No matter what the setup of your new apartment, it won't be like your old one, and you'll have to figure out how to fit all of your stuff.
This way the question of "where does this go" becomes obsolete.
The secret to a stress-free move is knowing where your stuff is going before you even put it into the box.
Sort by use
One of the most underutilized tricks out there, labeling boxes, is an amazing way to keep your moving experience cool, calm, and collected. Label every box by room (yes, your bathroom and closets as rooms) then prioritize with colored stickers. And then account for use. We suggest using red for the most relevant boxes (stuff that you'll need on moving day and the first week or so in your new place) and blue/purple for things that you barely ever touch.
For example, say you're moving in May, you'd probably want to put red stickers on all of your summer stuff in the "bedroom" box.
Also, make sure you have a few boxes labeled "essentials" full of, well, essentials! It's funny we pack away the simplest of things – our phone charger, or toothbrush – only to see it resurface weeks after moving. Don't let this happen! Be proactive. Make a list of everything you (may need to) use within the next two weeks, and pack this stuff away in your essentials boxes… and then put a million red stickers on them.
Pay it forward
If you're planning on moving, or know a friend that's moving, pay it forward – bookmark these handy tips to save you a lot of confusion and anxiety down the road and make moving a more joyful experience, just as it should be! Haven't found the right place yet? Read 5 Questions You Need To Ask When Renting An Apartment to help you find the right place!