San Diego Renters Insurance Guide
Cover your stuff in America's Finest City.
Whether you're in San Diego to study, work, play, or anything in between, you'll want to cover your stuff with renters insurance. We'll take you through the basics of renters insurance coverage, and also cover some of the coolest neighborhoods and hidden gems to explore in and around the city.
Here's what we'll cover:
What does renters insurance cover in San Diego?
Okay, so you get that a renters insurance policy is a great idea in theory… but you're probably curious about what a renters policy can actually do for you. Let's break down the components of what your policy covers and your coverage options. Here are the main types of coverage you'll want to know about:
Personal Property
'Personal property' coverage makes sure your personal belongings are protected, whether you're relaxing at your apartment or off traipsing across Europe. So if your living room furniture is ruined due to water damage from that burst pipe, or your phone is stolen while you're taking a trip to Berlin, your renters insurance policy has your back to assist you with the replacement cost.
Loss of Use
What about if disaster strikes? If you can't stay at your home because of covered losses (like a fire or windstorm), your 'loss of use' coverage provides reimbursements for temporary housing and additional living expenses such as food, laundry, hotel parking, and more.
Liability coverage
If someone is injured in your apartment, or anyone on your policy causes damage to someone else's property or stuff, your insurance company should have things like legal fees and property damage covered.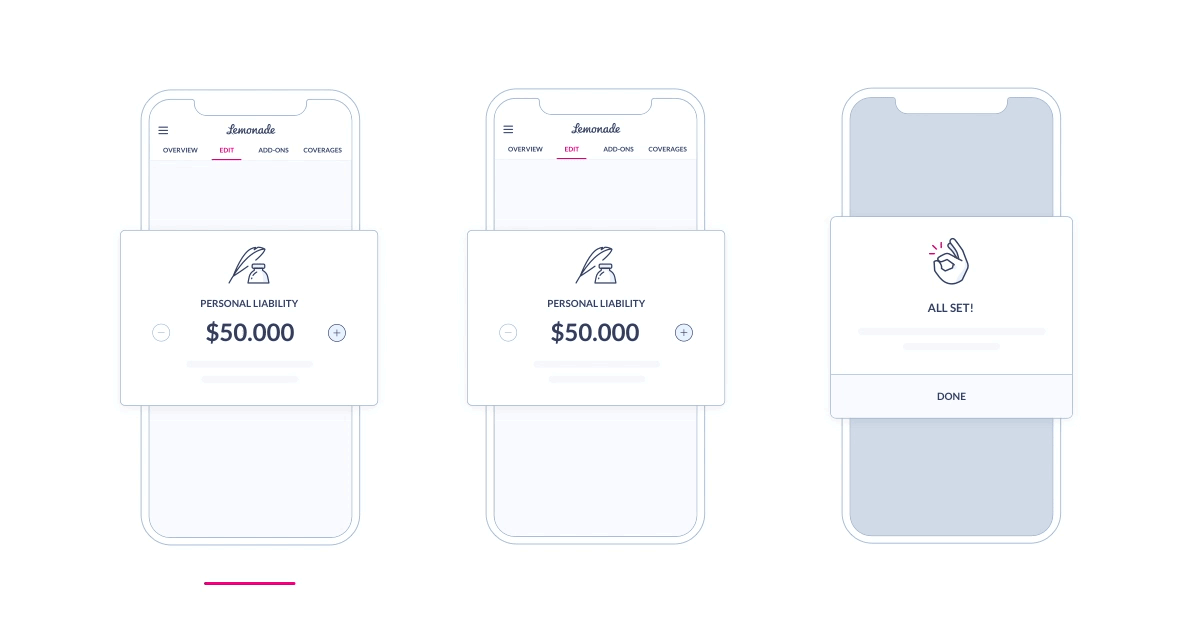 Medical Protection
Your insurance provider covers medical expenses if your guests get injured at your place, or if you accidentally hurt people outside of your home as well. Note that your renters insurance policy does not cover medical payments if you or your roommates are injured—only non-residents and guests.
Is San Diego renters insurance required?
While there's no law requiring that you purchase renters insurance in San Diego, your landlord might specifically require it. And if your lease specifies that you need renters insurance, well… that's that.
The good news is that it's easy to sign up for an affordable renters insurance policy with Lemonade. When you get renters insurance, you'll thank yourself later if your stuff gets stolen or damaged! When signing up, your landlord might request they be added as an 'interested party' on your policy.
This just means they'll be kept in the loop when you make any policy changes—or if you cancel your policy. It's super easy to add them using the Lemonade app.
How much does renters insurance cost in San Diego?
Here's the average cost of renters insurance across several cities in California:
| City | Average monthly cost | Average annual cost |
| --- | --- | --- |
| Los Angeles | $22 | $273 |
| San Diego | $14 | $177 |
| San Jose | $17 | $200 |
| San Francisco | $18 | $211 |
| Fresno | $17 | $201 |
On average, renters insurance in San Diego will set you back around $14 a month, or $177 a year.
The exact cost of your renters insurance will depend on your personal property coverage amount, your liability and medical bills coverage, your deductible, as well as any Extra Coverage you might want to sign up for (more on that below).
What's the right amount of renters insurance coverage to get?
There's no easy answer to that question. Renters insurance rates depend on how much stuff you have to cover and what it's worth. As mentioned above, your policy has a few main categories: Contents (your stuff); Loss of Use (temporary living expenses); and then personal liability and medical bills.
You're able to set the coverage limits for these categories when you sign up for a Lemonade policy. Lower coverage limits might save you a few bucks on the cost of renters insurance—but they might also leave you with insufficient coverage when you have to make a claim. You'll also need to figure out your deductible. It's a balancing act, and one that requires you to think about your property and lifestyle. Take a few minutes to apply to see your renters insurance quote to get a sense of your insurance needs.
Also, if you've got valuables that are especially pricey or important—things like engagement rings, fancy cameras, musical instruments, or artwork—you can add 'scheduled personal property coverage' for those items. At Lemonade, we simply call it 'Extra Coverage'—here's a bunch more info about that.
The best neighborhoods for renters in San Diego
Linda Vista
Linda Vista is known as the heart of San Diego. This charming neighborhood overlooks Mission Bay and the Pacific Ocean, so it's no surprise the neighborhood's name means "pretty view" in Spanish. Linda Vista is centrally located, making it easy to get around on the roads and by public transportation. The average monthly rent for a Linda Vista apartment is $2,335, according to RentCafe.
Families love Linda Vista's school system, library, skateboard park, and the Bayside Community Center, which offers classes, programs, and services to benefit the entire community. The University of San Diego is the jewel of Linda Vista, and students come from around the world to study in its halls. Tecolote Canyon Natural Park and Nature Center provides ample trails for locals to hike, bike, and jog.
Mission Valley
The site of the first Spanish settlement in California, Mission Valley boasts beautiful views and a convenient location. It's easy to get around Mission Valley on foot or by trolley. Residents often say they live just 15 minutes away from anywhere they need to go in San Diego. 66% of Mission Valley residents are renters, so you'd be in great company. RentCafe reports that the average cost of rent in Mission Valley is $3,051.
The neighborhood is a shopper's paradise, with lots of retailers and high-end shops at the Fashion Valley Mall and home furnishings galore at Living Spaces. San Diego State University's new extension is in Mission Valley, as is Riverwalk, a vibrant, new live-work-play area along a large river habitat.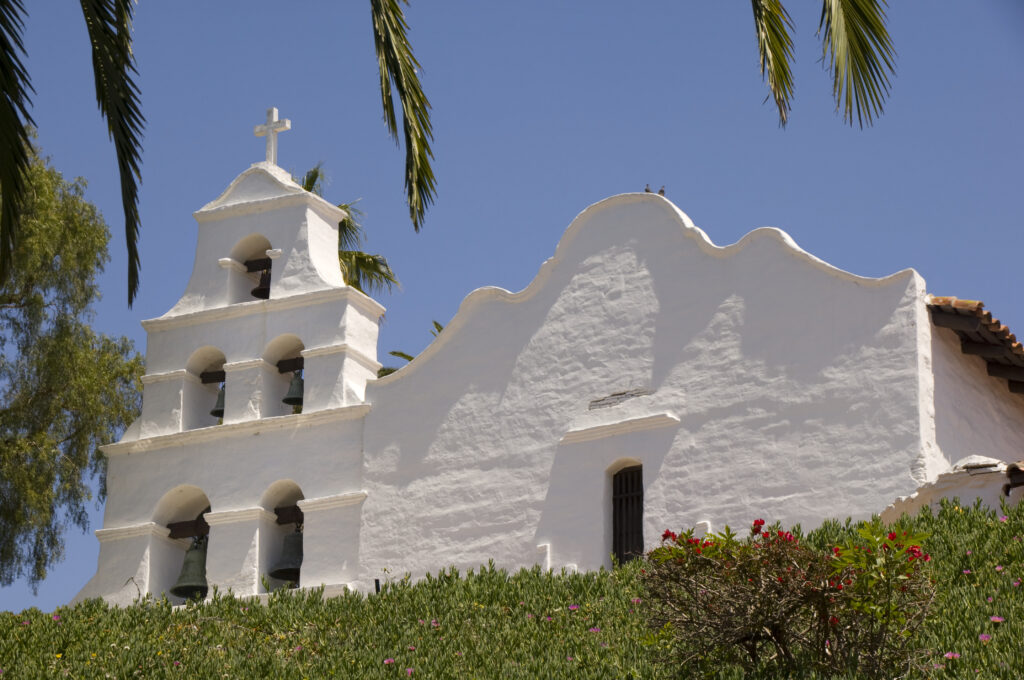 Little Italy
If you love fun, food, and great culture, Little Italy may be the perfect San Diego neighborhood for you. This historic neighborhood features art galleries, unique stores, charming flower pots on every corner, and lots of delicious Italian eateries. Restored Spanish-style bungalows can be found in Little Italy, as can lofts, condos, and townhouses. The average price of a rental in Little Italy is $2,947 according to RentCafe.
It's easy to get around on foot in Little Italy, which is rated one of the most walkable neighborhoods in the city. Amici Park is where neighborhood residents get together to play bocce ball, walk their dogs, and enjoy Little Italy's famous festivals. The Little Italy Mercato is a lively weekly farmer's market that takes place every Saturday, rain or shine.
Carmel Valley
If you're looking for a friendly, vibrant suburban neighborhood that's still within the city of San Diego, check out Carmel Valley. Top-rated schools like Carmel Del Mar and Torrey Pines High School make this a highly desired area for families. Community events and activities abound at the Carmel Valley Recreation Center and the busy local library. It costs an average of $3,944 to rent an apartment in Carmel Valley, according to RentCafe.
Nature lovers enjoy the breathtaking beauty of Carmel Valley. The beaches nearby are great places to swim, surf, and play. Nearby Torrey Pines State Natural Reserve is one of only two protected places in North America to see rare native Torrey Pine trees. For more hiking trails and gorgeous fauna, you can visit Los Penasquitos Canyon Preserve.
These San Diego businesses will make your rental a home
Family-owned and operated WeldWood Furniture creates unique, quality custom pieces so you can "surround yourself with awesome things". Work with the design team to bring your vision to life. WeldWood pieces can add a personal touch to every room of your house.
Greathouse Furniture & Patio will help you make the most of your indoor and outdoor living space. For nearly 20 years, Greathouse has sold practical and beautiful pieces to satisfied San Diegans. You can use their custom design services for truly personalized service, or reupholster a piece you already own to match your current needs and taste.
As a renter, you may need to restore, repair, or refinish some of your wood furniture. Woodmasters Workshop in nearby Encinitas is the place to go for all of your restoration needs. Tim and his talented crew will make sure the results exceed your expectations.
With nearly four decades of experience in quality custom window treatments and upholstery, Ashoo Fabrics & Drapery will give your San Diego home that cozy, personal touch. It's your go-to location for luxurious drapes, hardware, custom bedding, decorative pillow throws, and all the accessories you'll need to make your rental feel like home.
Random facts that make San Diego great
Farm-tastic!
San Diego County is home to the largest number of small farms in the US (over 7,000!) and is the American city that produces the most avocados! In Oceanside, you'll even find an organic avocado farm owned by musician Jason Mraz!
Water, water everywhere
San Diego imports between 80-90% of its water – that's 168 million gallons a day!
Ready for takeoff
San Diego International Airport may have just one runway, but it sure is busy! It's the busiest one-runway airport in the country, and the second-busiest in the world.
It's not whether you win or lose
San Diego loves its sports, but the city has never won a Super Bowl, a World Series, or an NBA Final title. Supposedly, the San Diego Chargers brought a curse on themselves in 1970 when they traded wide receiver Lance Alworth to the Dallas Cowboys.
We'll cross that bridge – when it opens
The city's Coronado Bridge opened in 1969. The first person to officially drive across it? Then-governor Ronald Reagan.