San Francisco Renters Insurance Guide
Cover your stuff in the Bay Area.
One of the best cities for young professionals in all of America, San Francisco calls to those looking for a change of scenery and a bit of adventure.
Although the city is known for its billion-dollar tech companies (we're looking at you, Silicon Valley), coffee shops that accept Bitcoin, and high-end neighborhoods, San Francisco is very much down-to-earth. Whether it's upscale bars perched atop Nob Hill or the bustling shopping district in Union Square, every nook and cranny of the city by the bay is distinctive.
While living in San Francisco can be exciting, you'll want the best renters insurance coverage possible. This article will explain what kind of coverage you get as a renter and take you on a tour of some of the best neighborhoods in San Francisco.
Here's what we'll cover:
What does renters insurance cover in San Francisco?
If you are moving from the East Coast, living in San Francisco may feel like a different world altogether.
San Francisco's renters make up about 65% of households—twice the national average. Whether you live alone or with roommates, renters insurance protects you against everything from break-ins to theft.
Not sure what renters insurance is? Is this your first time hearing about this? Many people don't know about it. It's pretty simple. For starters, renters insurance ensures you have a financial backup in the event your stuff gets damaged, stolen, or lost. That means all your possessions are covered in case of a fire or a break-in.
There is a lot more to it, though, and we will walk you through what renters insurance covers (and what it doesn't) and your coverage options.
Personal property
Personal property coverage protects your personal belongings, whether you're relaxing at your apartment or traveling across Europe. For instance, if your living room furniture is ruined due to water damage from a burst pipe or your phone is stolen while taking a trip overseas, your renters' insurance policy will cover the replacement cost.
Loss of use
What happens when disaster strikes? Your kitchen is flooded from a hurricane, or your apartment catches fire. Where will you go, and what becomes of your destroyed or lost possessions from these disasters? Things happen that are beyond our control. But you can take control with your loss of use coverage which reimburses you with temporary housing and additional living expenses like food, hotel parking, laundry, and more.
Liability coverage
Injuries do happen. If someone is injured in your apartment or anyone on your policy damages someone else's property or belongings, your insurance company should cover legal fees and property damage.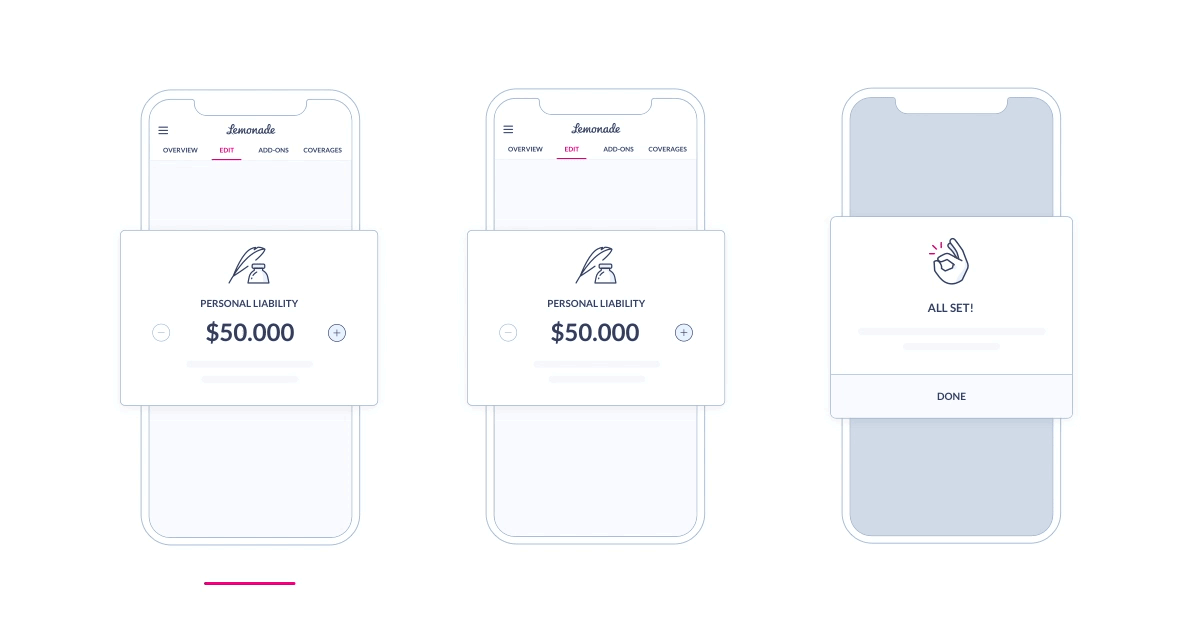 Medical Protection
Your insurance provider will cover medical expenses if your guests are injured at your home or if you accidentally injure people outside your home. It is important to note that your renter's insurance policy does not cover medical expenses if you or your roommates are injured—only non-residents and guests are protected.
Is renters insurance required in San Francisco?
While you are not legally required to purchase renters insurance in San Francisco, it's a good idea that you do. Depending on where and who you rent from, your landlord may ask you to buy a policy before signing a lease.
It works to your and your landlord's advantage. For instance, being insured means your landlord can quickly fix any property damages, and you don't have to shell out a single penny for them.
Fortunately, you can sign up for a renter insurance policy, and it's quite easy with Lemonade. Once you are insured, you will be thankful for your coverage should your stuff get stolen or damaged. When signing up, your landlord may ask to be added as an interested party on your policy.
They will be notified when you make any changes or cancellations with your policy. The Lemonade app makes it super easy for you to add them.
How much does renters insurance cost in San Francisco?
San Francisco is one of the most expensive cities to live in. Property costs are extremely high. Does that mean you will be paying an arm and a leg for renters insurance in San Francisco? Not always.
The average cost of renters insurance in San Francisco is about $22/mo. The exact cost of your renters insurance will depend on your personal property coverage amount, your liability and medical bills coverage, your deductible, and any Extra Coverage you might want to sign up for (more on that below).
What is the right amount of renters insurance coverage to get?
Renters insurance in San Francisco covers more than just your personal belongings. As mentioned before, it also covers temporary housing expenses if you can no longer live comfortably in your rental due to a covered loss and medical expenses.
The good news is that you'll be able to set coverage limits for these categories once you've signed up for a Lemonade policy. Although lower coverage limits might save you a few dollars on your monthly insurance premiums, they may also leave you with insufficient coverage when you need to make a claim. You will also need to determine your deductible. It's a balancing act that requires you to consider your property and lifestyle. It takes minutes to apply to see your renters insurance quote. That way, you can also get a sense of your insurance options.
If you have valuables that are expensive or very important to you – engagement rings, an heirloom, musical instruments, fancy artwork, or high-end digital cameras – you can add 'scheduled personal property coverage' for those items. At Lemonade, we call it 'Extra Coverage'—here's a lot more info about that.
Best neighborhoods for renters in San Francisco
Mountain View
Are you a young tech professional looking to live in the heart of Silicon Valley? Mountain View is calling for you.
Just south of Palo Alto, Mountain View is home to many famous big tech companies like Google and its parent company Alphabet's Headquarters, the Googleplex, LinkedIn, Mozilla, and many start-ups for tech enthusiasts their sink teeth into. Googleplex is a conglomerate of over 20 buildings open to the public, a great place to walk around and admire the green spaces, creative public art, and self-driving cars that Silicon Valley is renowned for.
The average cost of rent in Mountain View is $3,375/month.
Although not located in San Francisco proper, it's a great place to live, especially since the city's commercial areas have been reinvigorated and renewed with Google employees' salaries.
Mountain View's central hub is Castro Street, between Alma Street and El Camino. Restaurants, bookstores, and coffee shops make it the perfect place to spend the weekend.
If that is not enough, you can also visit the Computer History Museum, the NASA Ames Research Visitor Center, Eagle Park, Stevens Creek Trail by the Bay, and the Shoreline Park and Lake, all great places to relax after a week of work.
Nob Hill/Russian Hill
Great for young professionals looking to enjoy some iconic views in San Francisco and live near the waterfront. The average cost or rent in the area is about $3,000/month.
Bustling neighborhoods like Russian Hill and Nob Hill are in the center of San Francisco. Russian Hill is home to one of San Francisco's most famous postcard views: the famously crooked Lombard Street. An international and local tourist attraction allows one to mingle with other travelers. You'll be able to experience idyllic San Francisco vibes without the traffic or TikTokkers since this is the only major tourist attraction in the area.
This area will get you into shape in no time with a ton of hills! They will also give you incredible views of the Golden Gate and Bay bridges and other big city landmarks.
A skyline to make your mouth water, restaurants to fill your belly, and hills to keep you active, it's all here!
North Beach & Fisherman's Wharf
Want to feel like you are living in a postcard? North Beach and Fisherman's Wharf are as close as you'll get. Several things make the San Francisco Bay Area beautiful, including the Golden Gate Bridge, waterfront views, and hilly terrain. Fisherman's Wharf and North Beach offer all of these and some of the city's most popular tourist attractions. The average cost of a rental in Fisherman's Wharf is about $2,2450
Among San Francisco's top attractions is Fisherman's Wharf, home to Pier 39. Here, you'll have this attraction nearby, so you'll enjoy wandering there on weekends and weekdays.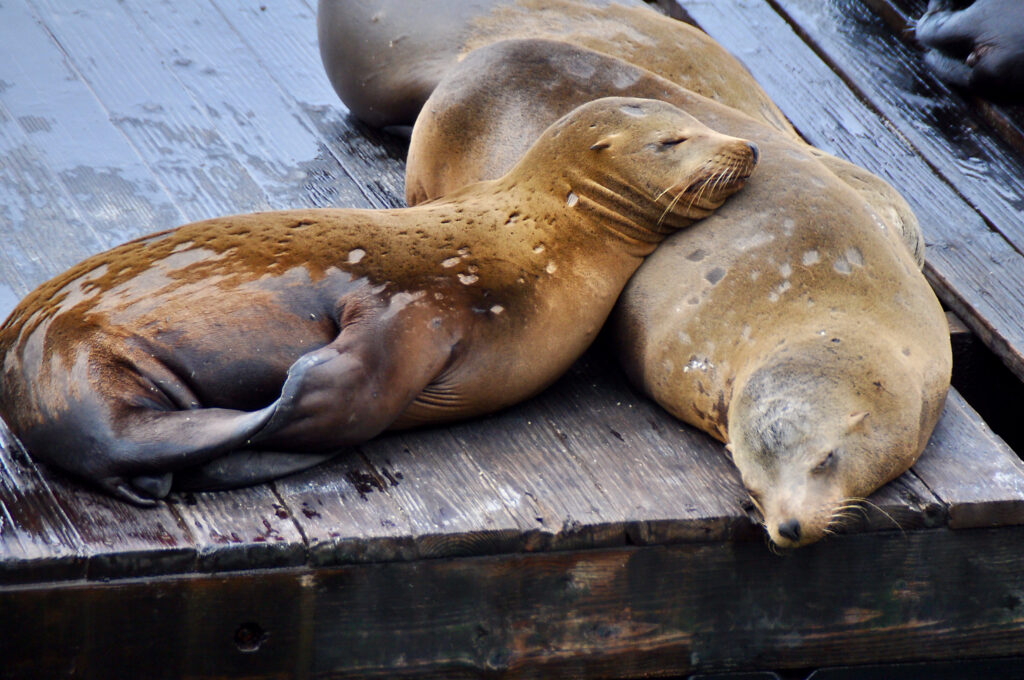 Embarcadero/Financial District
If you are a young professional who enjoys waterfront views and can afford high-rise living, Financial District can be the perfect spot for you. The average cost of a rental in the area is about $2,680/month.
True highlights of the San Francisco Bay area include the Financial District and the Embarcadero neighborhood. While there is not much in the way of late-night entertainment, it makes up for it with many things to do during the day and waterfront views hot enough to brew a cup of tea.
Are you looking to grab a bite to eat on the way to work? Plenty of cafes and restaurants fuel you up for a long day ahead.
You have the Exploratorium, which hosts year-round exhibitions, the Waterfront Restaurant, the Pacific Heritage Museum, and the Ferry Building, all of which are excellent for days when you need an escape from your 9 to 5 job.
San Francisco businesses that will make your rental a home
Although you are just renting, you want your apartment/house to feel like a home, and nothing does that more than furniture. Located in a former firehouse (circa 1916), Batch is a next-gen showroom that actively promotes purchasing as an experience. Opening dresser drawers, jumping on a loveseat, peering into cupboards, and chilling out supine on a rug are all 100% encouraged and all part of the fun in this high-ceilinged, warehouse-like business that is set up like a home.
Modernists and people who like to choose their furniture, especially lighting, from a carefully curated collection of exquisitely made items are sure to be drawn to The Future Perfect. It showcases studio-produced, unique limited editions, and partnerships with illustrious craftspeople and gifted designers like Charles de Lisle, Piet Hein Eek, Mathew Hilton, Lindsey Adelman, and Piet Hein Eek. The sleek yet luxurious mattresses, couches, chairs, and tables provide style and sophistication to any space they are placed in. In and of themselves, the tabletop goods, cashmere shawls, hand-blown glassware, and objets d'art are worth a visit.
Have you envisioned your dream kitchen? Monark can help make it a reality. They have an inventory of every appliance you need to design your perfect kitchen, from refrigerators, freezers, ovens, stove tops, dishwashers, and more! When you enter one of their showrooms, you'll find a warm space stocked with kitchen appliances ready for you. Additionally, they carry kitchen appliances from the finest brands in the country. You might find your favorite model or what you've been looking for. Visit one of their showrooms, and their helpful staff will assist you through.