Tennessee Renters Insurance Guide
Cover your stuff in the Volunteer State.
Looking for renters insurance in Tennessee? Well, you've come to the right place!
Wherever you go in Tennessee, there are plenty of natural wonders to discover. Tennessee State has expansive caverns and cave systems, incredible waterfalls, foggy mountains, winding rivers, fjord-like rock formations, mountainous vistas, and picturesque countryside skyways. 
Tennessee boasts an incredible music scene, low taxes, a thriving job market, highly regarded educational institutions and The Great Smoky Mountains, Tennessee is an ideal place to settle down. In Tennessee, the cost of living is also lower than the United States average.
Whether you're in Tennessee to study, work, play, or anything in between, you might want to cover your stuff with renters insurance. We'll take you through the basics of renters insurance coverage, and also go through some of the most incredible cities and hidden gems and beyond to explore in the Volunteer State.
What does your renters insurance cover in Tennessee?
Okay, so you get that a renters insurance policy is a great idea in theory… but obviously you're curious about what it can actually do for you. Let's break down the components of what your policy covers and your coverage options.
Personal Property
'Personal property coverage makes sure your stuff, your personal belongings, is protected, whether you're relaxing at your apartment or traipsing across Europe. So if your living room furniture is ruined due to water damage from that burst pipe, or your phone is stolen while you're taking a trip to Berlin, your renters insurance policy has your back.
Loss of Use
What about if disaster strikes? If you can't stay at your home because of covered losses (like a fire or windstorm), your 'loss of use coverage provides reimbursements for temporary housing and additional living expenses such as food, laundry, hotel parking, and more.
Liability coverage
If someone is injured in your apartment or anyone on your policy causes damage to someone else's property or stuff, your insurance company should have things like legal fees and property damage covered.
Medical Protection
Your insurer covers medical expenses if your guests get injured at your place or if you accidentally hurt people outside of your home as well. Note that your renters insurance policy does not cover medical payments if you or someone residing with you is injured—only non-residents and guests.
Is renters insurance required in Tennessee?
While there's no law requiring that you purchase renters insurance in Tennessee, your individual landlord might specifically require it. And if your lease specifies that you need renters insurance, well… that's that.
The good news is that it's easy to sign up for a renters insurance policy with Lemonade, and you'll thank yourself later if your stuff gets stolen or damaged! When signing up, your landlord might request they be added as an 'interested party' on your policy. This just means they'll be kept in the loop when you make any policy changes—or if you cancel your policy. It's super easy to add them using the Lemonade app.
What's the right amount of coverage to get?
There's no easy answer to that question, and it depends on how much stuff you have to cover and what it's worth. As we discussed above, your policy has a few main categories: Contents (your stuff); Loss of Use (temporary living expenses); and then personal liability and medical bills.
You're able to set the coverage limits for these categories when you sign up for a Lemonade policy. Lower coverage limits might save you a few bucks on your monthly premiums—but they might also leave you with insufficient coverage when you have to make a claim. You'll also need to figure out your deductible. It's a balancing act and one that requires you to think about your property and lifestyle. Take a few minutes to apply to see your renters insurance quote to get a sense of your insurance options.
Also, if you've got valuables that are especially pricey or important—things like engagement rings, fancy cameras, musical instruments, or artworks—you can add 'scheduled personal property coverage' for those items. At Lemonade, we simply call it 'Extra Coverage'—here's a bunch more info about that.
Top Tennessee rental destinations
Tennessee is known for having the best music scene in the country. Whether you are looking to enjoy the mild seasons with incredible weather or world-class dining, you can live the good life in the Volunteer State. On the practical side, the state boasts top-notch hospitals, highly rated schools and universities, and a thriving job market. For some rest and recreation, the state is home to impressive scenery and plenty of options for outdoor activities. Low taxes, an affordable cost of living, and some of the best cities to live in in the country make it the perfect place to call home.
Nashville
Not only is Nashville the music capital of the United States, but according to Niche.com, five out of the top ten best places to live in Tennessee are located in Nashville. The best neighborhoods in Nashville are Elliston Place, Hope Gardens, Music Row, Scarritt Peabody, and Sulphur Dell (North Capitol Area).
Also, US News ranked Nashville at the number thirty overall best place to live in the United States and number one in Tennessee. Nashville is famous for being the home of country music, the Grand Ole Opry, and the Ryman Auditorium, the Mother Church of Country Music. It is also a place where artisanal crafts and locally sourced products flourish. 
Beyond a booming music scene, the city has a flourishing job market (so much so that we consider Nashville one of the best cities for young professionals in America). average cost of a rental in Nashville is around $1,581 a month.
Fun fact: If you have always wanted to visit the Parthenon, but have not had the chance to make it to Athens, Greece, not to worry. The only replica of the Parthenon can be found in Nashville at Centennial Park.
Places to visit:
Centennial Park. Centennial Park is a 132-acre cultural center. The Parthenon is the highlight of the park. Inside is a 42-foot recreation statue of Athena. The replicas, both of the building and the statue, are fully built to the scale of the Greek original. The space doubles to serve as Nashville's art museum. Visit these monuments that honor ancient classical architecture. While you're there, check out the rest of the premier park, including Lake Watauga, a beautiful sunken garden, and more.
Hurry Back. Located in the top neighborhood of Elliston is Hurry Back, a friendly spot for beer and a bite to eat. Locally owned and operated by the Cobb Family, part of the bar's mission is to preserve the authenticity of Elliston, one of Nashville's most important cultural districts. They offer an ever-changing selection of drafts and an all-American menu of eats to accompany the beer, plus vegan options.
Grand Ole Opry. It is hard to think of Nashville without mentioning the Grand Ole Opry. The Grand Ole Opry is the show renowned for putting country music on the map. Established in 1925, it has been the longest continuously running live radio program in the world. Check out live performances, tours, and other ways to experience the Opry.
Brentwood
If you're looking for an area outside of the big personality of Nashville, the rolling hills and greenery of Brentwood might be the place for you. This suburb of Nashville is the number three top place to live in Tennessee, according to Niche.com. Brentwood is highly rated for top-notch public school education and is a great place to raise a family. The area has fourteen parks, perfect for outdoor enthusiasts.
Despite Tennessee's well-earned reputation as having a low cost of living, the affluent Brentwood area has the highest cost of living in the state. However, it makes up for it in quality of life. Renting a home in Brentwood averages to be around $1,734.
Fun fact: While Nashville gets all of the glory, the country music capital may owe some of its success to the WSM Radio Tower in Brentwood. The tower, which was the second tallest building after the Eiffel Tower at the time of its construction, served as an early transmitter for Nashville radio stations. WSM Radio's Barn Dance broadcasts eventually became the Grand Ole Opry.
Places to visit:
Crockett Park. Crockett Park, the second largest park in Brentwood, is an outdoor recreation center. The over 164 acres of open fields host many activities and events. The park is home to first-class athletic fields and facilities such as Eddy Arnold Amphitheater, the historic Cool Springs House, the Williamson County Parks & Recreation Indoor Soccer facility. Come hang out at the community playground and the Wonder Trail, or try a game of frisbee golf.
Deerwood Arboretum & Nature Center. Explore the twenty-seven acres of Deerwood, nestled along the Little Harpeth River, with ponds and wildflower meadow. The arboretum was chosen as "Arboretum of the Month" and a Level 2 state-certified arboretum. Enjoy the over sixty tree species that line the trails and showcase butterflies, migratory birds, native trees, and other wildlife. There are also jogging trails and bike paths so you can exercise while enjoying nature.
Soy Bistro. This family-owned and operated restaurant has served big flavors in Brentwood for over a decade. They serve high quality, bold, Korean-inspired dishes. Everything is prepared in-house and made to order. From their hot chicken Korean tacos to their crispy dumplings to their kimchi fries, Soy Bistro has been described as exquisite and a hidden gem in the heart of Tennessee.
Franklin
This town is number five for the best place to live in all of Tennessee and is the second-best suburb in the Nashville area, according to Niche.com. Highly-rated public schools, diversity, and being a great place for families have earned Franklin its high scores. The schools in Franklin have been nationally recognized.
Possessing more than historical charm and highly rated schools, Franklin is also bustling with over 200 restaurants, the highest concentration in Tennessee. The average cost for a rental in Franklin is$1,744 per month.
Fun fact: Perhaps the strongest evidence of the good life in Franklin is the wild growth spurt of the town. The city has experienced a residential and commercial boom since 1980, causing the population to grow 500 percent.
Places to visit:
Lotz House Museum. Lotz House is a Civil War house museum. It is a source of history that tells the compelling story of the times and holds antiques from the Civil War Era. The house is located at the heart of the Battle of Franklin and was the most heavily damaged house of the battle. The space offers guided tours of the house, battlefield tours and archeological tours.
Carnton. This farm built-in 1826 is home to one of the most dramatic events of the Civil War and also related to the Battle of Franklin. A variety of tours are offered, including a classic house tour, a slavery and the enslaved tour, a behind-the-scenes tour, and more. There are also comprehensive tours of the Spring Hill and Franklin Battlefields. The McGavock Confederate Cemetery is also nearby.
Downtown Franklin. Downtown Franklin is a top travelers' choice and America's favorite main street district. The historic area is bustling with an eclectic mix of boutiques, antique shops, restaurants, art galleries, and book stores. There are a plethora of options for where to eat, shop, or things to do, plus seasonal events.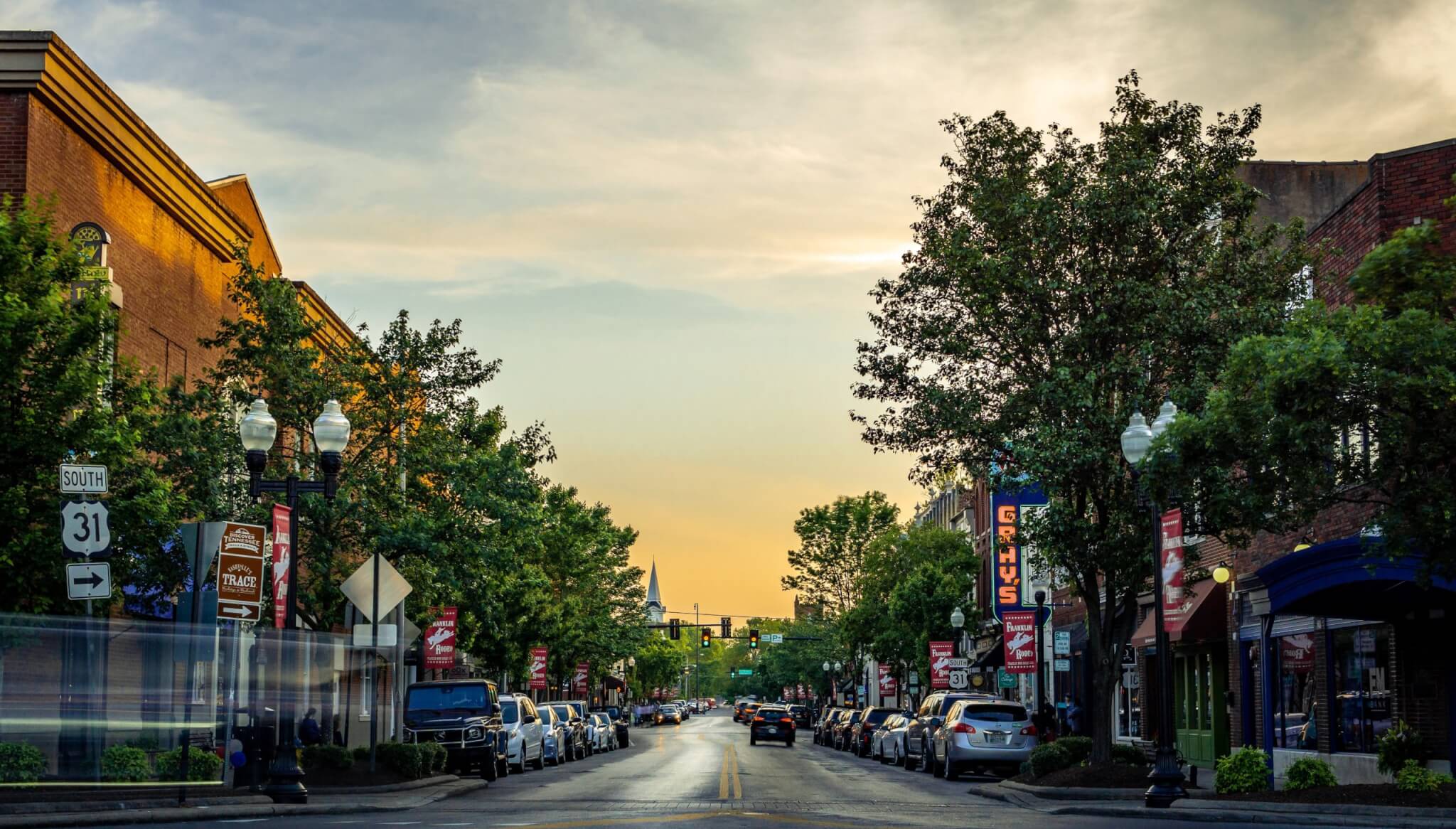 Germantown
This Memphis suburb is the number one best place to live in the Memphis area and makes the top ten, coming in at the ninth best place to live in all of Tennessee, according to Niche.com. Germantown is an excellent place to raise a family. Residents enjoy a low cost of living while simultaneously benefiting from one of the highest incomes in the state. Germantown has gorgeous neighborhoods and an abundance of twenty-nine parks, green spaces, sports complexes, and exceptional facilities. The city hosts many annual events, including the Germantown Festival and the Germantown Charity Horse Show.
The town also offers top-quality public and private schools, top healthcare providers and facilities, and a wealth of history. The cost for a rental in Germantown is $1,709 on average.
Fun fact: The Arbor Day Foundation has named Germantown a "Tree City USA" consecutively for twenty-three years. This recognition is earned by cities that cultivate an urban forest for its numerous benefits to the environment and general quality of life.
Places to visit:
Oaklawn Gardens. Meander through paths and botanical gardens in these six acres of lush greenery. Oaklawn Gardens is a lovely, tranquil place to relax or go for a stroll. There is an old city jail, power station, train caboose, railroad crossings, and a railway car for a blast-from-the-past experience! The property also includes a home originally built in the 1850s.
Germantown Performing Arts Center. The Germantown Performing Arts Center is a multidisciplinary performing arts facility. Its mission is to present high-quality artistic endeavors to engage and educate. World-renowned performing artists from diverse genres, rotating visual art exhibits, numerous community events, and educational activities take place year-round.
Wolf River Nature Area. Short hikes or nature walks, trails and forest; whether you are looking for a pleasant place for a bike ride or a stroll, or to enjoy rich wildlife, there is something for everyone at Wolf River Nature Area. The area has meeting points with the Wolf River Greenway trail, Kennedy Park, the beach at Epping Way, Lucius Burch State Natural Area (located in Shelby Farms, Memphis, right on the northern border of Germantown), The Germantown Greenway, Riverwoods State Natural Area, to name of a few!
Other cities and towns to consider:
Nolensville: This small suburb of Nashville is a small, close-knit community. According to Niche.com, it is the sixth-best place to live in Tennessee and the second-best place to raise a family in the Nashville area. There are excellent schools and a strong local economy. Average rent: $1,085.
Chattanooga: Chattanooga is the smallest of the metro areas on the best places to live list. According to the US News, the city is the number three best place to live in Tennessee and is number 49, just making the cut for the top 50 out of 150 best places in the country. Chattanooga residents enjoy a low cost of living. Average rent: $1,182.
Memphis: Tennessee's second most populous metro area could not be left without an honorable mention. According to US News, it comes in at 143 out of 150 for the best places to live in the country. The city is a medley of Southern charm with city living. Average rent: $967.
---
BTW, we've started offering car insurance in Tennessee! Woohoo! Learn more about our brand-new, earth-loving coverage here.