Wisconsin Renters Insurance Guide
Get your stuff covered in the Badger State.
Looking for renters insurance in Wisconsin? Well, you've come to the right place!
Wherever you go in Wisconsin, natural beauty surrounds you. Wisconsin boasts stunning sea caves, towering waterfalls, freshwater lakes, mysterious caves, breathtaking limestone cliffs, scenic marshes, and expansive farmlands.
Wisconsin residents enjoy high-quality education, top healthcare, affordable housing, midwestern hospitality, and beautiful vistas. It is also known as the "land of cheese" (Wisconsin is the only state with a licensed Master Cheesemaker program modeled after those in Europe), has a record number of waterslides, and is a pioneer in freshwater technology.
Whether you're in Wisconsin to work, study, play, or anything in between, you might want to cover your stuff with renters insurance. We'll take you through the basics of renters insurance coverage and also go through some of the coolest cities and hidden gems to explore in America's Dairyland and beyond.
What does your renters insurance cover in Wisconsin?
Okay, so you get that a renters insurance policy is a great idea in theory… but obviously you're curious about what it can actually do for you. Let's break down the components of what your policy covers and your coverage options.
Personal Property
'Personal property coverage makes sure your stuff, your personal belongings, is protected, whether you're relaxing at your apartment or traipsing across Europe. So if your living room furniture is ruined due to water damage from that burst pipe, or your phone is stolen while you're taking a trip to Berlin, your renters insurance policy has your back.
Loss of Use
What about if disaster strikes? If you can't stay at your home because of covered losses (like a fire or windstorm), your 'loss of use coverage provides reimbursements for temporary housing and additional living expenses such as food, laundry, hotel parking, and more.
Liability coverage
If someone is injured in your apartment, or anyone on your policy causes damage to someone else's property or stuff, your insurance company should have things like legal fees and property damage covered.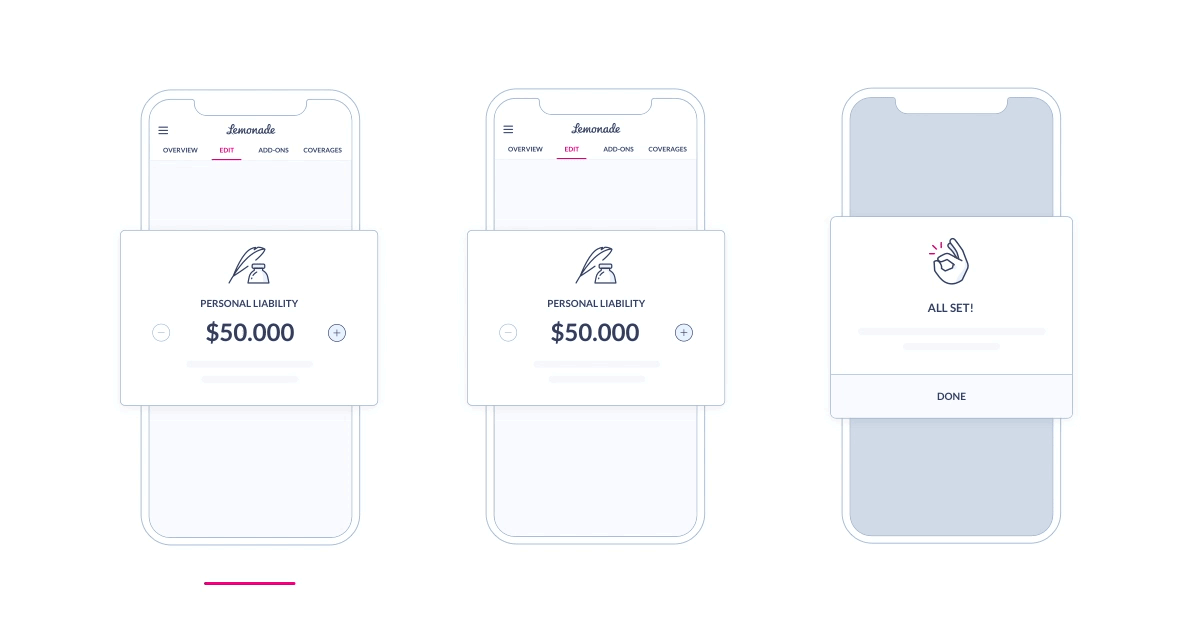 Medical Protection
Your insurer covers medical expenses if your guests get injured at your place or if you accidentally hurt people outside of your home as well. Note that your renters insurance policy does not cover medical payments if you or someone residing with you is injured—only non-residents and guests.
Is renters insurance required in Wisconsin?
While there's no law requiring that you purchase renters insurance in Wisconsin, your individual landlord might specifically require it. And if your lease specifies that you need renters insurance, well… that's that.
The good news is that it's easy to sign up for a renters insurance policy with Lemonade, and you'll thank yourself later if your stuff gets stolen or damaged! When signing up, your landlord might request they be added as an 'interested party' on your policy. This just means they'll be kept in the loop when you make any policy changes—or if you cancel your policy. It's super easy to add them using the Lemonade app.
What's the right amount of coverage to get?
There's no easy answer to that question, and it depends on how much stuff you have to cover and what it's worth. As we discussed above, your policy has a few main categories: Contents (your stuff); Loss of Use (temporary living expenses); and then personal liability and medical bills.
You're able to set the coverage limits for these categories when you sign up for a Lemonade policy. Lower coverage limits might save you a few bucks on your monthly premiums—but they might also leave you with insufficient coverage when you have to make a claim. You'll also need to figure out your deductible. It's a balancing act and one that requires you to think about your property and lifestyle. Take a few minutes to apply to see your renter insurance quote to get a sense of your insurance options.
Also, if you've got valuables that are especially pricey or important—things like engagement rings, fancy cameras, musical instruments, or artworks—you can add 'scheduled personal property coverage' for those items. At Lemonade, we simply call it 'Extra Coverage'—here's a bunch more info about that.
Top Wisconsin rental destinations
Affordable housing, exciting sports, widely available fresh produce, historic buildings, the great outdoors, not to mention Wisconsin's array of waterparks and water-themed attractions. These reasons and more make it easy to see why The Dairy State would make for an ideal place to settle down. Whether you are a native-born Wisconsin or part of the growing influx of new "cheeseheads", it's worth finding out why Wisconsin is one of the best places to live in the United States.
Whitefish Bay
This Milwaukee suburb prides itself on its unique character. Whitefish Bay is the best place to live in Wisconsin, according to Niche.com. That's probably because it has highly-rated public schools and is thought of as a great place to raise a family. The village lies on the scenic Lake Michigan. It is full of gorgeous parks, beaches, bluffs, and history.
Whitefish Bay is one of the most expensive places to live in the state, but that's the price for high-quality living. The average cost of a rental in Whitefish Bay is $1,451.
Fun fact: In 1889, a Milwaukee beer baron opened a resort at an exclusive location on a lake called Century Resort. After it closed down in 1914, the land was converted into a residential area. These are the not-so-humble origins of Whitefish Bay.
Places to visit:
Klode Park. A stunning view of the lake and a peaceful spot to relax in are just part of the offerings of Klode Park. Lying west of Lake Michigan, you can enjoy sitting on the top of the bluff or the sandy shoreline. The park also features tennis courts, a warming house, a community playground, and ice-skating in the winter.
Old World Wisconsin. Take a walk through history and experience the stories of those who established lives in the New World. Through storytelling, you will learn the perseverance it took to create communities in an unfamiliar landscape. Experience history in a new way at Old World Wisconsin through over 600 acres of picturesque land and 60 restored, beautiful historic houses.
Big Bay Park. Stroll down the paved path down Lake Michigan's shoreline with a scenic view of the lake. At an elevation of 581 feet, sunset from the top of the hill is breathtaking. Be on the lookout for enchanting snow and ice formations in the winter. There's plenty to do in Big Bay Park, including paddle boarding and sailing on the beach in the summer.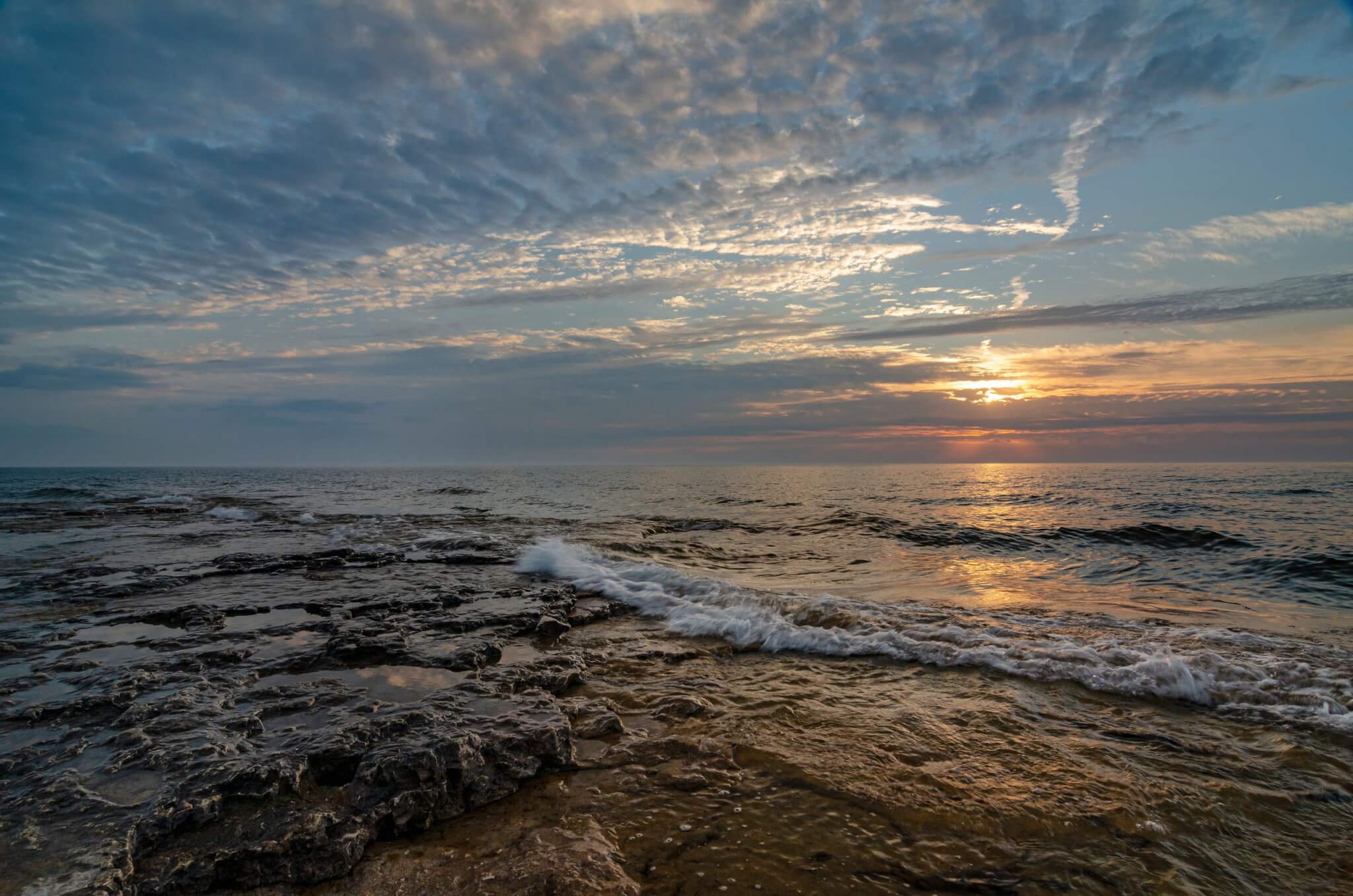 Elm Grove
According to Niche.com, Elm Grove is the number two best place to live in Wisconsin and the number one best place to retire in the state. The village, located in Waukesha County, has highly rated public schools, and is a great place to raise a family. It has been considered the best suburb in America. Elm Grove, also known as "The Grove," is committed to the environment. There are plenty of green spaces and trails for nature lovers to enjoy.
With year-round events and a strong sense of community, Elm Grove is the type of place people came back to raise their families. The average cost of a rental in Elm Grove is around $1,241 a month.
Fun fact: Bird City Wisconsin recognized the village with the title of "Bird City" for its efforts to protect and manage green spaces, reduce threats to birds, and erect nesting structures. Elm Grove is officially part of the Bird City Organization.
Places to visit:
Sunset Playhouse. If you are looking for joy and perseverance, camaraderie, and hard work all in one place, you'll find it at a Sunset Playhouse performance. The theater is well-supported by showtime-loving volunteers. Sunset Playhouse School for the Arts has been educating and inspiring children and adults alike since 1960. They hold auditions where everyone is welcome to try out for every show!
Fazio's Sweet Moments Sweet Life. Locally owned and operated by a chocolatier couple, this charming shop is worth a visit, especially if you have a sweet tooth! Fazio's creates Italian-themed artisan chocolates inspired by their heritage. They also offer vegan artisan chocolates, classic chocolates, truffles, "seasonal delights," and authentic gelato. Don't miss the one and only gondola chocolate box.
Elm Grove Village Park. Elm Grove Village Park is a lovely place for a picnic in a gazebo or pavilion. Go for a hike, bike ride, walk along the trail that encompasses the lake, or enjoy a fishing day. This local park includes baseball diamonds, nine tennis courts, two sand volleyball courts, basketball courts, playground equipment, a sledding hill, a heated swimming pool, and even a new splash pad!
Shorewood
The Village of Shorewood, only a mile by a mile-and-a-half, is bike-friendly, pedestrian-friendly, and architecturally diverse. Shorewood is the number three best place to live in Wisconsin, according to Niche.com. This urban village is the densest community in Wisconsin and is a great place to raise a family. Shorewood has a school district that has been recognized for its excellence. Just ten minutes from downtown Milwaukee, the village is, "At the Edge of the City and the Heart of Everything."
Shorewood residents have the luxury of being close to everything: Lake Michigan, Milwaukee, higher education institutions, and bike trails, and parks. The average cost for a rental in Shorewood is approximately $1,374 per month.
Fun fact: Shorewood used to be called the Village of East Milwaukee. It was renamed Shorewood in 1917.
Places to visit:
Shorewood Nature Preserve. Sometimes you need a calm escape into nature. The preserve is a beautiful getaway. Beautiful trails wind along the water or into the forest, where you can go for a hike or explore the rocky waterfront with a sandy beach. The trails are decked with diverse wildflowers and mushrooms. You might catch sight of deer or bats!
Hubbard Park. Hubbard Park is five acres of scenic parkland that has received landmark status. The area has plenty to offer. You can go hiking or biking on the Oak Leaf Trail or fishing in the Milwaukee River. While you're there, stop by the Hubbard Park Lodge and Riverclub, where you can dine in the evening, have Sunday brunch, or hang out in the heated winter camp domes of the Hubbard Beer Garden!
Estabrook Park. Nestled along the east bank of the Milwaukee River, you'll find this beautiful urban green space, which was also the first public beer garden since Prohibition. Estabrook Park features a skate park, a dog park, sports courts, and segments of the Oak Leaf Trail. It is known for its beer garden, where you can sip a cold one on a bluff just above a waterfall!
Kohler
Located in Sheboygan County, along the Sheboygan River, lies the Village of Kohler, a garden/industrial community. This community is the fourth best place to live in Wisconsin and the number one best place to buy a house, according to Niche.com. The village is family-friendly with quality public schools, charming homes, and diverse recreational and cultural activities.
The Village of Kohler is one of the nation's first and finest planned communities. The cost for a rental in Kohler is $1,018 on average.
Fun fact: Walter J. Kohler conceived the dream of designing Kohler Village as a planned community. An architect from the prominent landscape firm who designed the village, Frederick Law Olmsted, was the same one who designed New York's Central Park.
Places to visit: 
Bookworm Gardens Have you ever wished you could meet The Three Bears, hop on the magic school bus, explore the 100 Acre Wood, dig for dinosaur bones, or go through Peter Rabbit's patch? This bookworm's haven is a whimsical botanical garden inspired by your favorite children's books, nature, and imagination. Find your happy place in the place where books come to life! You can taste some of the magic in this video.
Waelderhaus. Waelderhaus is an Alpine-style Austrian museum house with artwork, sculptures, carvings, furniture, and tapestries. The name means "house in the woods," and it is a tribute to architecture unique to the Bregenzerwald tradition. This beautiful structure sits on a high bluff overlooking the winding Sheboygan River.
Art Preserve of the John Michael Kohler Arts Center. Named in honor of the founder of Kohler, the Art Preserve is a museum and a campus of John Michael Kohler Arts Center, which houses a collection of sculptural works and an internationally renowned collection of artist-built environments. Visit this experimental space where the relationship between the artist and place is revealed.
Other cities or towns to consider:
Fox Point: This family-friendly village is one of the wealthiest villages in Wisconsin. Fox Point is the fourth-best suburb to live in Wisconsin and the fifth-best place to live in the state, according to Niche.com. Residents experience one of the highest quality of life in the state, and yet it's not the most expensive place in the state. Average rent: $1,507.
Brookfield: Located in Waukesha County, Brookfield is an affluent town. The town is the sixth-best place to live in Wisconsin and the third best place to buy a house in Wisconsin, according to Niche.com. Brookfield has stellar education, nightlife, and a diverse restaurant scene. Residents enjoy good salaries. Average rent: $1,413.
Cedarburg: Situated on the beautiful Cedar Creek, Cedarburg is a blend of old and new. Residents enjoy the nostalgic appeal of museums, historic inns, specialty shops, and restaurants. Cedarburg is the number one best suburb to buy a house in Wisconsin and the seventh-best place to live, according to Niche.com. Average rent: $1,180.