Every 24 seconds, a fire department in the United States responds to a fire. 
We hope you're never part of this stat – but in case you are, you'll need to know what to do in the event of a fire, and how your homeowners insurance can protect you from financial loss.
Here's how to take care of your home following a fire – and how your insurance can help. 
Is smoke damage covered by homeowners insurance? 
When would homeowners insurance not cover fire damage?
Filing a claim for fire damage
Is it safe to stay in a house with smoke damage?
How do I clean up fire damage?
How much does it cost to fix or repair fire damage?
How to prevent a fire
Is smoke and fire damage covered by homeowners insurance?
Yes – coverage for smoke and fire damage are both included in a basic homeowners insurance policy, aka HO3. The smoke doesn't need to come from a fire within your house – smoke damage to your home from a neighbor's fire is also covered. Your homeowners insurance will also cover you for damage caused by wildfires. 
A basic HO3 policy insures the following: 
1. Your house, or in insurance lingo, dwelling
Referred to as dwelling coverage, this protects you from damages to your place (your home)
2. Other structures on your property
Things like your driveway, fences, sheds, and other structures that live on your property are also covered by homeowners insurance.
3. Your personal property
Personal property refers to the stuff you own. Your household insurance has your back whether your stuff is at home, or anywhere else. So say your shed burns down with a bunch of power tools inside – you'll be covered. Take note: there may be sub-limits on certain valuable things like jewelry and artwork: make sure to get extra coverage for them, or in insurance lingo, schedule personal property,  when buying your policy.
4. Additional living expenses
If your place becomes uninhabitable due to fire or smoke then you might be covered under something called "loss of use," and your insurance company may help pay for a temporary place to stay and basic living expenses such as food, laundry, parking, etc.
5. Personal liability
Personal liability means if for some reason someone gets injured on your property and it's your fault, or you/anyone named on your policy causes damage to someone else's property or stuff, your insurance company should have you covered. 
6. Medical payments to others coverage
Let's say a guest hurts her wrist after escaping from your home fire – she'll have hospital bills to pay. This is where your medical expenses coverage may kick in. 
When would homeowners insurance not cover fire damage?
The only time your insurance won't cover a fire is if you, or anyone named on your policy, caused the fire on purpose. That's considered an intentional act and is never covered in insurance.
Btw, take note of the difference between open perils and named perils.  A HO3 policy has 'open perils' coverage for your home structure (dwelling coverage), which means the structure of your home and extended structures are covered for every kind of damage, except for the specific exclusions listed in the policy. When it comes to your personal property, you're covered under a 'named peril' policy. Named perils are a bunch of bad things listed in your policy that could happen to your home structure or your personal property. These perils include fire or lightning, windstorm or hail, explosion, riots, aircraft, vehicles and smoke and a bunch of other things we hope will never happen. 
Named Perils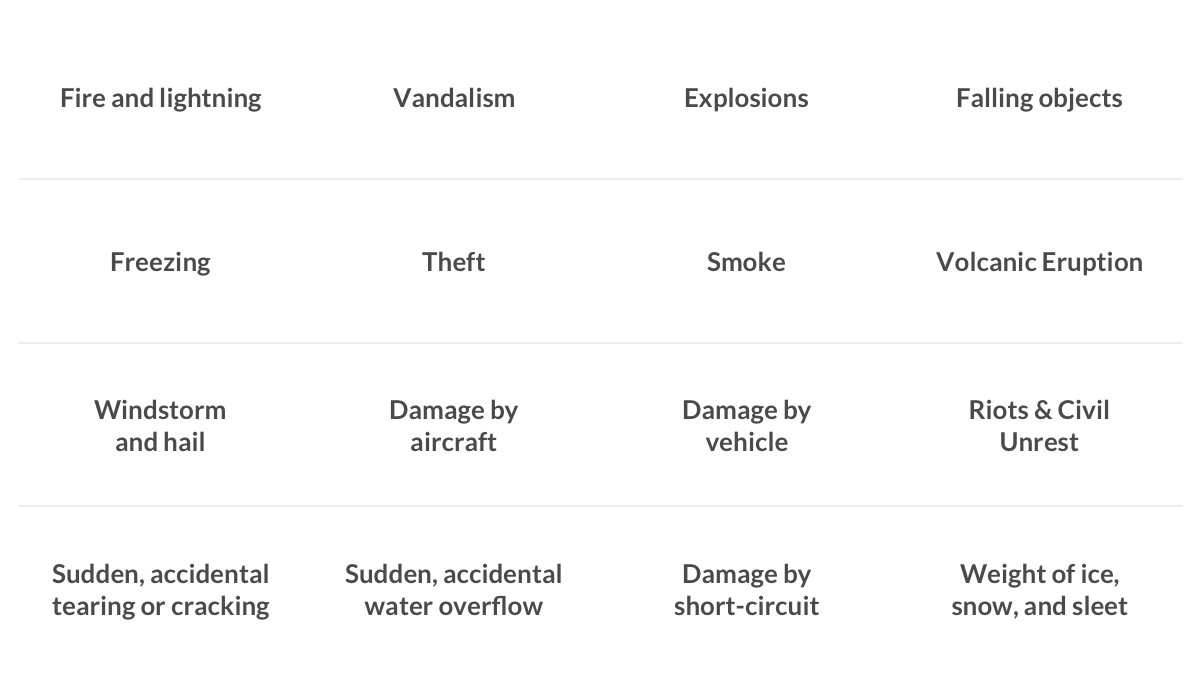 Filing an insurance claim 
If you need to make an insurance claim for fire damage, it always helps to have photos or videos showing the damage. Photos and videos help your insurance company handle claims fast, and figure out whether to send a restoration vendor or an investigator for more complex claims. Obviously, that's not always possible after a major fire (safety first), so wait until the fire department gives you the green light to safely go in.

Jonathan S., a Claims Experience Advocate at Lemonade, helps people navigate the fire claims process every day. When it comes to loss of use one of six categories in your homeowners insurance policy, you'll want to keep in mind his advice:
"Be sure to keep your receipts for any out of pocket emergency costs after a fire displaces you from your home."  
If you're not sure how much homeowners insurance coverage you need – here's how to find out. 
Is it safe to stay in a house with smoke damage?
The first step after a fire is calling emergency services. Once the fire is out and you can enter your property, call your insurance company. They'll assess what happened, and see if you need temporary housing while the extent of the damage is determined. Your homeowners policy could reimburse you for additional expenses while your home is uninhabitable, remember that loss of use category? Here's when that kicks in. 
The next step is to find a reputable cleanup company that specializes in fire damage. Check for companies in your neighborhood that have a high customer satisfaction rating on sites like Google, Yelp, Angie's List, or the Better Business Bureau. These specialized smoke damage mitigation companies clean and restore furniture, electronics, clothing, and textile items after they're damaged by smoke or water. 
Just because the fire is out and you're allowed to enter your home, doesn't mean it's safe to move back in. Smoke and soot can stick to the walls, furniture, and floors – which is not only smelly and unattractive but also potentially damaging. Smoke and soot can also affect your health, and fires can release dangerous toxins. Colin Ruggiero from Mesothelioma.com warns about the consequences of breathing unsafe air:

"If inhaled, these fibers become embedded into the lungs and can lead to mesothelioma, an aggressive form of cancer with chronic and often fatal symptoms." 
How do I clean up fire damage? 
If the damage is extensive, don't deal with it alone. Contact a professional restoration company to help you. They'll make a fire damage assessment and thoroughly assess the structure of your home. They also might conduct a water damage restoration company if the fire caused a burst pipe. Once the restoration company has given you the go-ahead, you can also clean up some basic water damage by following these steps from the Red Cross, but make sure to double-check with the restoration company that it's safe to clean up basic damage on your own.
How much does it cost to fix or repair fire damage?
The cost of repairing fire damage depends on the extent of the damage. Fire damage restoration typically costs homeowners between $3,157 and $29,118, with a national average of $13,761, according to Home Advisor. Here's a summary of fire damage treatments and their typical price ranges: 

The average price of your clean up is heavily influenced by which state you live in, and the extent of the damage. You can use this survey to find out approximately how much your home will cost to repair.
How to prevent a fire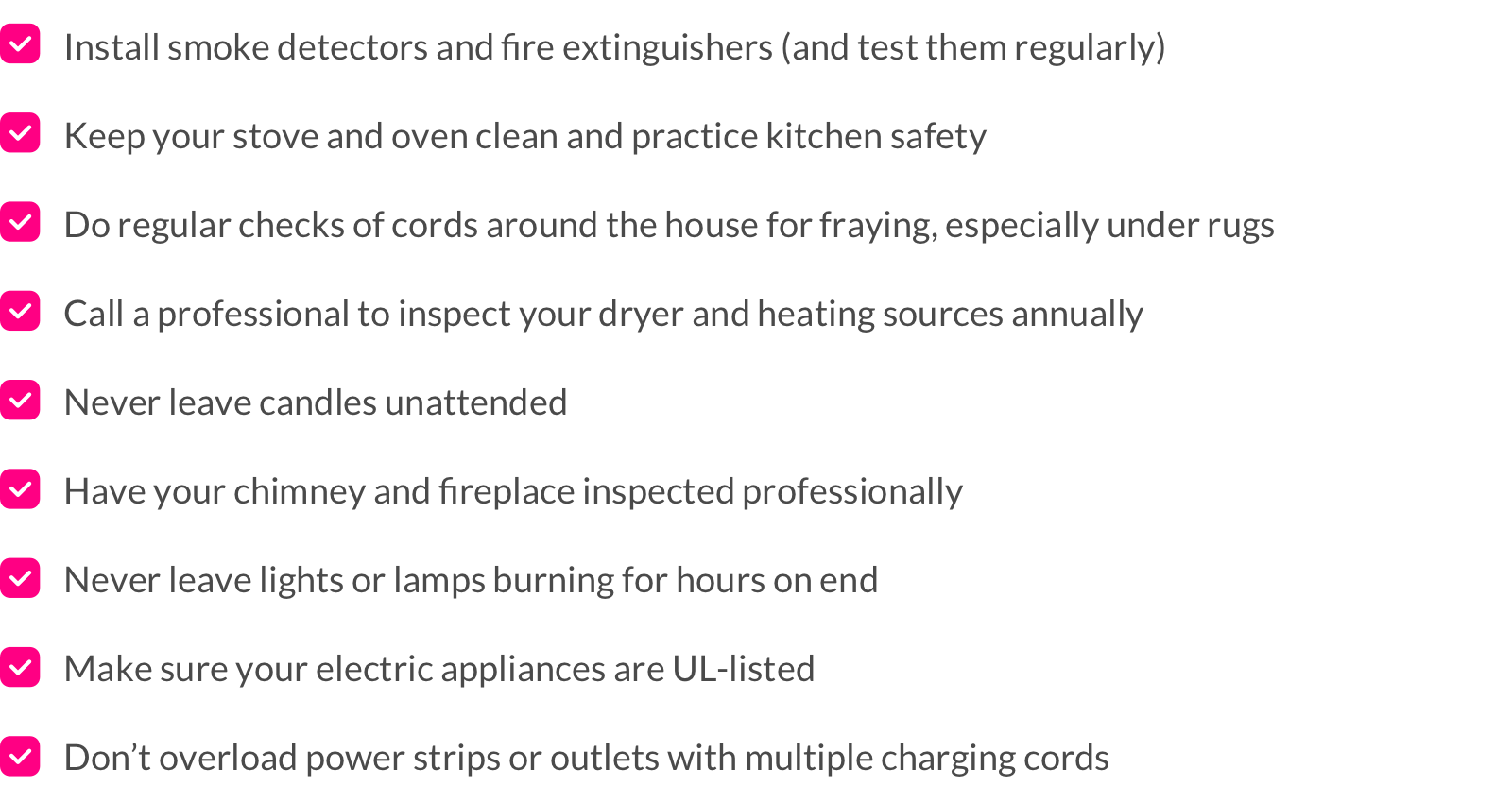 When the going gets tough 
While you can't completely avoid fires, you can minimize the damage it does to your home. Homeowners insurance is there to protect you in your time of need (even when you feel that things are out of control). Ultimately though, if you follow fire safety guidelines, it can keep you, your loved ones and your home out of harm's way. Stay safe!