Does Homeowners Insurance Cover Flooding?
Keep your head above water, no matter what happens.
Every year in the U.S., floods cause around $10 billion in damage and displace over 75,000 Americans from their homes. So knowing how your homeowners insurance policy relates to flooding is pretty important.
In the U.S., most states from the East Coast West to North Dakota, South Dakota, Nebraska, Kansas, Oklahoma, and Texas are hit the hardest by flooding—as well as Colorado. The East and Southeast United States bear the brunt of flooding, with hurricanes, tropical storms, and extreme weather putting millions of people—and their homes—in the direct path of destruction.
We'll take you through flooding and your homeowners insurance policy, and break down some tips and tricks on how you can protect your home from flooding in the first place. 
Here's what we'll cover:
Does homeowners insurance cover flooding?
First, let's define some basic terms. A 'flood' is considered to be any water that comes from an outside source such as a pond, lake, ocean, or river. 'Surface water' is any water that touches the surface of the ground before seeping into your house (including rain water that might pool around your foundation).
A homeowners insurance policy does not cover damage caused by flooding or surface water (the same goes for renters insurance, by the way). That's because flooding is a pretty common occurrence, and you can purchase a separate, government-sponsored policy for floods— aptly called flood insurance.
Your homeowners policy could provide coverage for other types of water damage though, involving things like broken pipes, roof leaks, and overflow from appliances.
If you live in a flood zone, having flood insurance should be a priority. In fact, if you have a mortgage in an area that's known to flood, your bank or lender might even require you to take out a flood insurance policy to protect your home (since the property is their investment, too).
You can use the FEMA flood map to determine if your address is at a high risk of flooding, and if purchasing flood insurance might be a smart idea to help protect your home.
Why doesn't homeowners insurance cover flooding?
Flooding from an extreme weather event is so common and apt to cause serious damage that all home insurers can't provide coverage for it in standard home insurance.
Every insurance policy has certain situations that are excluded from coverage and this is just one of the causes of loss that isn't covered. This isn't unique to Lemonade, it applies across the industry.
A note on flood insurance rates
The national flood insurance program (NFIP) has been a government-subsidized flood coverage since 1968 for those living in locations at a high-risk for flooding.
Until August 2021, the average annual premium for flood insurance was $739, but this modest amount might have been misleading to homeowners, as the price didn't reflect the real risk of living in these flood-prone areas.
FEMA decided to adopt a new pricing system for flood insurance, called Risk Rating 2.0, which prices flood insurance based on the actual risk—which will perhaps cause some real estate developers and homeowners to think twice before purchasing property in these flood-prone areas as premiums increase.
According to the New York Times, the price increases of Risk Rating 2.0 will be notable:
"331,000 single-family homes around the country will face a significant rise in costs. More than 230,000 households will see increases up to $240 in the first year; an additional 74,000 households will see costs rise by as much as $360. For about 25,000 single-family homes, additional costs could reach as high as $1,200."
Bad storm brewing? Here's how you can protect yourself
If there's a bad storm coming your way, here are some ways to prepare yourself and your home from flooding, and some of the other damage that can come along with extreme weather.
Stock up your emergency kit
Ready.gov provides a handy list of items you should keep easily accessible in plastic bins or a duffle bag. Start building your kit during your regular shopping trips, so you can slowly start to prepare yourself—rather than making a mad dash to the store the night before a storm is due.
Your kit should include:
3 days' worth of water (one gallon per person, per day)
3 days' worth of non-perishable food
Flashlight
First aid kit
Can opener
Whistle
Cell phones and back-up batteries (more on this below)
Unplug electronics
If there's a lightning strike through a powerline, it can cause the surrounding homes' power to surge. If your devices are plugged in, the burst of electricity will easily destroy your electronics.
To put it in perspective: In America, our gadgets are designed to use around 120 volts of electricity. The average power surge can send millions of volts of electricity through your electronics.
Unplug it all to protect your stuff from frying, and to avoid the risk of electrical fires.
Charge your cell phone
If you're at risk of losing power in the coming days, charge your cell phone so you can easily stay connected during a big storm. Invest in a couple of portable back-up power banks, and make sure they're fully charged as well. This way, you can access a few days of battery life in a pinch.
Move valuables
Before a storm rolls in, get your valuables off the ground. These personal belongings will be the first to be destroyed if your home gets flooded (and probably won't be covered by your homeowners insurance).
Roll up expensive rugs, empty the bottom row of your bookshelf, and try to pack up or relocate electronics like your TV, stereo, and gaming consoles. Move these items to higher ground to keep them safe until the storm passes.
Plan for your pets
We know that keeping your pets safe during a big storm is your top priority. That flatscreen TV is expensive, but your fur fam is priceless! Here are some action items to keep your pets safe and calm in the wake of a big storm:
Consider boarding your pets elsewhere. If you can drive your pet to stay with a friend or a kennel that's outside the storm's path, this can often be the simplest solution to ensuring your pet stays safe.
Bring your outdoor pets inside. Do you have a cat that likes to roam? Their wanderlust should probably take a backseat until the storm passes.
Make sure your pets have ID on their collars and/or are microchipped. In the event your pets run off during the storm, this will help you reunite more easily.
Stock up on pet food, medicine, and supplies. Your pets should have enough food, litter, and medicine to last them a week or more. Keep supplies in a high, dry place, or simply pack them up with your emergency kit.
Move everything upstairs. Food and water bowls, beds, crates, toys, and litter boxes should be relocated to higher ground.
Keep your pets calm. You know your pet better than anyone. Playing music can help distract some pets from thunderstorms, thundershirts can help reduce anxiety, or you can invest in some calming treats to maintain the chill vibes.
Perform regular maintenance
When it comes to flood prevention, the best defense is maintenance. Poor maintenance can leave your home even more vulnerable to flooding—but thankfully, a few regular check-ups and tune-ups will keep your home more prepared for heavy rainfall and flooding.
Start by clearing your roof, cleaning your gutters, and checking your sump pump to lower your home's chances of flooding if terrible weather rolls into your area.
Before we go…
When a big storm is on the horizon, preparation is key. Prioritize your safety above everything else, and do your best to keep calm.
And hey—if you want to do your part to reduce flooding and help the environment, learn more about supporting America's wetlands. These unique ecosystems act as natural sponges, absorbing heavy rain, purifying fresh drinking water, all while providing a rich habitat for an abundance of plants and animals. By helping to conserve wetlands, you're also helping prevent flooding to surrounding homes.
Which states currently offer homeowners insurance?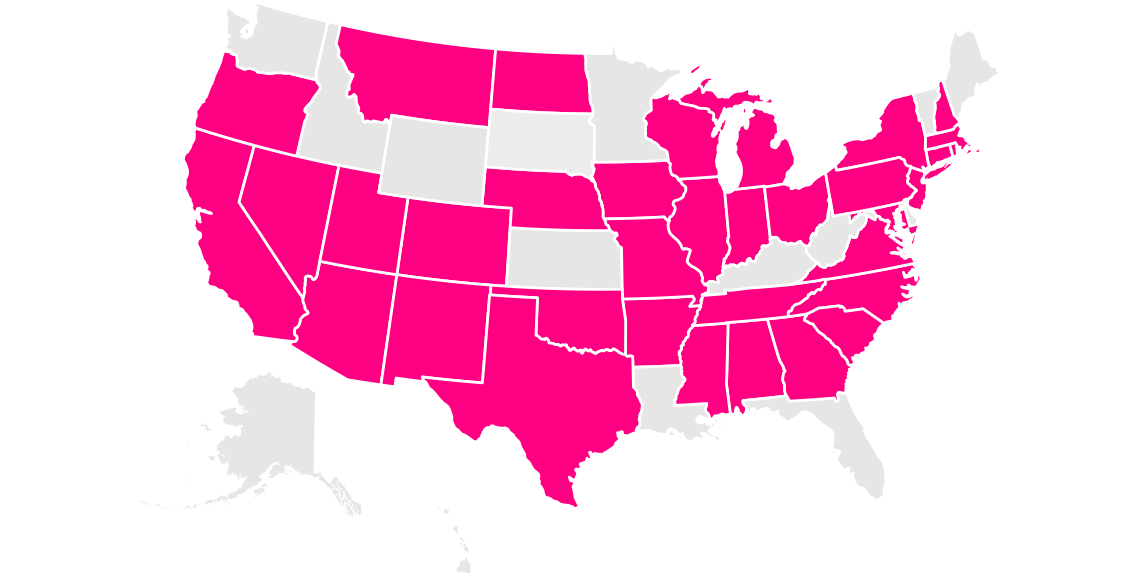 Arizona, California, Colorado, Connecticut, Georgia, Illinois, Indiana, Iowa, Maryland, Massachusetts, Michigan, Missouri, Nevada, New Jersey, New York, Ohio, Oklahoma, Oregon, Pennsylvania, Tennessee, Texas, Virginia, Washington, D.C. (not a state…yet), and Wisconsin.