Toyota Corolla Insurance: A Complete Guide
So, where can I get the best coverage for my Toyota Corolla?
The Toyota Corolla just might be the most popular car in the world. Two Corollas are sold every minute, so it's not surprising that it was the best-selling car model worldwide in 2021, according to Statista.
As a Corolla driver, you have the opportunity to choose Toyota Corolla insurance that works best for your needs. Whether you're driving down to the food co-op for your weekly supply of kombucha, or carpooling the neighborhood kids to soccer practice, you should feel confident that your car insurance has your safety, your wallet, and the planet in mind. That's where Lemonade car insurance comes in.
We offer Corolla drivers super customizable coverage options, great bundles, discounts for things like safe and low-mileage driving, and so much more. Wondering if Lemonade Car is the best car insurance option for your Toyota Corolla?
Here's what we'll discuss:
And just a quick FYI—Lemonade, Inc. is not affiliated with or endorsed by Toyota Motor Corporation or its subsidiaries.
Where does Lemonade Car offer Toyota Corolla insurance?
Lemonade Car is constantly growing and expanding. If you want to see if Lemonade Car is currently available in your state, check here and start a quote (if we haven't made it to your state yet, you'll be able to sign up for updates via our waitlist).
Can I customize insurance coverage for my Toyota Corolla?
Yes! Lemonade Car coverage for your Toyota Corolla is extremely customizable. Besides needing some bodily injury and property damage liability coverage—which are both required by law to get behind the wheel in almost all cases—you'll be able to tailor your coverage, limits, deductibles, start date, and more to your needs.
We offer multiple avenues for our policyholders to customize their car insurance policy with additional coverage—like comprehensive coverage and collision coverage (if you're confused about those distinctions, we clear it up here).
Once you have both comprehensive and collision insurance on your policy, you can also include things like temporary transportation coverage and extended glass coverage to help keep you and your Toyota Corolla protected.
Want to keep your Corolla's precious cargo protected too? That's where medical payments coverage (MedPay) can come in handy. MedPay could help pay the medical bills if you, your passenger, or family member got injured in a car accident.
You might be looking for "full coverage" car insurance—which is a term people use to describe a combination of insurance coverages designed to 'fully' cover you in the event of an accident. With Lemonade Car, that's an option. It's important to understand though that a full coverage policy doesn't mean you're covered for everything, nor does it guarantee your claims will be approved. Deductibles will apply for most of these coverages, and you'll only be covered up to the liability limits you set.
Keep in mind: The coverages and minimums that you're required to drive your Toyota Corolla will vary by state, but you'll probably want more coverage than the bare bones version you're legally mandated to get. The question of whether or not you need additional coverage depends on you and the amount of financial protection you believe you need.
How can I save money on my Toyota Corolla car insurance costs?
There are so many ways you can save on your premium when you drive your Toyota Corolla with Lemonade Car. Automobile insurance rates depend on a lot of factors, with a major point of interest for insurance providers being your car's make, model, and model year.
Lemonade car insurance puts an emphasis on your actual driving behavior, driving record, and the number of miles you drive when determining the fairest price to insure your Toyota Corolla. You could lower your car insurance premium by driving with the Lemonade app—which gives you the chance to show us how awesome (and safe) of a driver you are every six months when your policy renews.
We reward low-mileage drivers with savings, and if you need to cover more than one car on your policy, you become eligible for a multi-car discount on your premium. Also, when you bundle your Lemonade Car policy with any of our other insurance products—like renters, homeowners, or pet insurance—we'll automatically apply a discount.
Safety features that keep you even more protected on the road—like anti-lock braking systems, alarms, and airbags (or the latest Toyota Safety Sense™ feature)—could also help lower your Corolla insurance costs.
How does Toyota Corolla's safety profile compare to other cars?
A lot of factors determine how safe you are on the road—like traffic conditions, or the weather. But how safe your own vehicle is also makes a major difference. So you might be wondering: How does the Toyota Corolla stack up to the competition?
Great news… the 2022 Toyota Corolla 4-door sedan, 4-door hatchback, and Cross 4-door SUV were among the IIHS's Top Safety Pick + winners for small cars and small SUVs.
The Insurance Institute for Highway Safety (IIHS) releases vehicle safety ratings each year. They conduct tests like track tests and crash tests, as well as evaluations of headlight systems and child seat attachment hardware on lots of major car makes and models. Then they use the results to determine each car's crashworthiness (how well a vehicle protects its occupants in a crash) and its crash avoidance and mitigation (technology that can prevent a crash, or lessen its severity).
Other top performers in the IIHS tests include the Honda Civic, Mazda 3, and Hyundai Tucson. Want to see how Toyota Corolla ranked in previous years? Check it out here.
Keep in mind: Driving a car with a high safety rating—like a Toyota Corolla—could be a great start to protecting you and your precious cargo, depending on the model year and condition. Of course, the choices you make behind the wheel also determine how safely you'll get from point A to point B.
At Lemonade Car, the way you drive matters. That's why we use the Lemonade Safety Score—which pulls together several factors about your driving during every 6-month term. Behaviors like texting and harsh braking will lower your score, while easing in and out of turns or daytime driving (when there isn't traffic) will improve it. Driving safely with the Lemonade app can lower your insurance premium.
What additional safety features can a Toyota Corolla offer?
Toyota Corollas can come equipped with lots of features for your safety and convenience. Depending on which features you select, your 2022 model could include:
Toyota Safety Sense™ 2.0 (TSS 2.0)
Blind Spot Monitoring
Rear-Cross Traffic Alert
Advanced Airbags
Star Safety System™
Depending on the age and mileage of your Toyota Corolla, you may be covered by Toyota for certain upkeep and emergency services on your car.
For example, when you buy a new Toyota Corolla, you'll automatically be signed up for ToyotaCare. With this program, you're eligible for a no-cost maintenance plan—which covers normal factory scheduled service for 2 years or 25,000 miles (whichever comes first)—for things like tire rotations and oil and filter changes. You'll also get 24-hour roadside assistance in the continental US and Alaska for 2 years, regardless of your mileage.
Wondering if your Toyota Corolla is eligible for this program? Check it out here. To get started, you'll need to type in your vehicle identification number (VIN)—which you can find on the VIN sticker, located on the inside of your driver's side door in the door jamb. There's also ToyotaCare Plus, that offers even longer protection if your Corolla meets certain criteria.
Keep in mind: Even if your Toyota Corolla isn't eligible for ToyotaCare or ToyotaCare Plus, you can get roadside assistance free of charge for each car on your Lemonade Car policy, up to 3 times a year, per car. This service is available anywhere in the United States or Canada. All you need to do is drive with the Lemonade app and enable permissions and location services.
Are Toyota Corollas eco-friendly?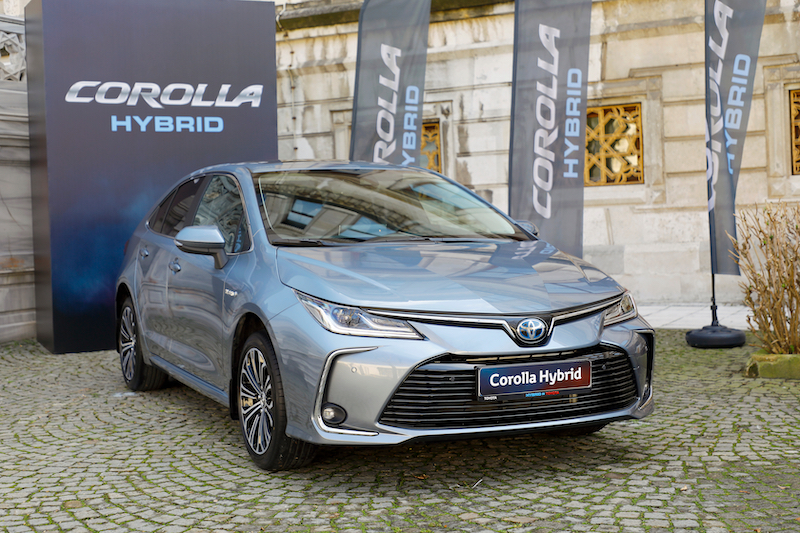 The 2020 Toyota Corolla and its hybrid model were named "Green Car of the Year" by Green Car Journal. The car earned this honor based on its environment-friendly features, like fuel efficiency and substantial carbon emission reduction.
And as the 2023 Toyota Corolla models roll out, there will be four new hybrid grades:
LE AWD grade
Sporty SE grade
SE AWD grade
Premium-focused XLE grade
If you drive one of the many Toyota Corolla Hybrid models, you could be eligible for a hybrid discount on your Lemonade Car policy.
Keep in mind: Until there comes a day when Toyota goes fully carbon-neutral, your Corolla will still be powered by some fossil fuels—which results in the release of carbon emissions.
That's why at Lemonade Car we plant trees based on your mileage to help shrink your carbon footprint from driving. We're also proud to be the first US insurance company to publicly forswear investment in fossil fuels. It's our small way of making the world a little bit greener, and helping us all breathe a little bit easier.
Get ready to Co-roll-a…
So, what's the best car insurance for your Toyota Corolla? Glad you asked. We're a bit biased, but… when you cover your Toyota Corolla with Lemonade Car, you can enjoy great coverage, score savings and discounts, and help make the planet a little greener for generations to come.
Ready to take Lemonade Car for a spin in your Corolla? Click the button below to get your quote.